Prosciutto Wrapped Asparagus with Parmesan cheese and lemon is a quick and easy spring appetizer or side dish that's perfect for Easter, Mother's Day or any occasion.
I have been wanting to make prosciutto wrapped asparagus for the longest time. I think I originally saw this easy appetizer either on TV or in magazines. And then, of course, it's all over Pinterest this time of year.
If you're looking for an easy Easter appetizer, this is it! This easy appetizer recipe is also perfect for Mother's Day brunch or any occasion, really.
My family is crazy about asparagus -- It's actually the Hubs' favorite veggie. So every spring, we kind of go overboard and eat as much as we can. Usually, I make sauteed asparagus with bacon, lemon and Parmesan or Sheet Pan Chicken with Asparagus.
Really, this prosciutto Parmesan asparagus is just a different version of our favorite Easter side dish, and it's actually a lot easier to make! And don't let the exotic sounding name fool you. It may sound like it's complicated, but it's actually a very easy appetizer, and it's ready in just about 10 minutes.
What Exactly is Prosciutto?
Prosciutto is basically Italian dry-cured ham. It's cut into very thin slices -- We're talking paper thin here.
Where Can You Buy Prosciutto?
You should be able to find prosciutto prepackaged in the deli area of your local grocery store. You can also find it in specialty stores or your local butcher shop.
Is Prosciutto Expensive?
It can be a little pricey. So even though I got mine on sale, I wanted to make it last a little longer, and I gently tore the slices in half.
Prosciutto is also salty, and even though I happen to love salt, I found that I didn't need to add any salt to this dish. You totally can if you want, and in fact, I did the first couple of times I made this. But the next time, I left it out, and the asparagus was just as tasty.
How to Make Roasted Prosciutto Wrapped Asparagus
All you do is gently tear the prosciutto in half and then wrap the slices around the asparagus spears. Pop them into the oven for about 10 minutes, and they're just about done.
If you don't want to tear the prosciutto, use one slice per asparagus spear, or make asparagus bundles by wrapping the meat around 3 spears.
I added some grated Parmesan cheese and a few squirts of fresh lemon juice to the asparagus right when it came out of the oven, for a little extra flavor. Honestly, the flavor is incredible!
It's crisp, crunchy and slightly salty. You also get a burst of freshness from the lemon.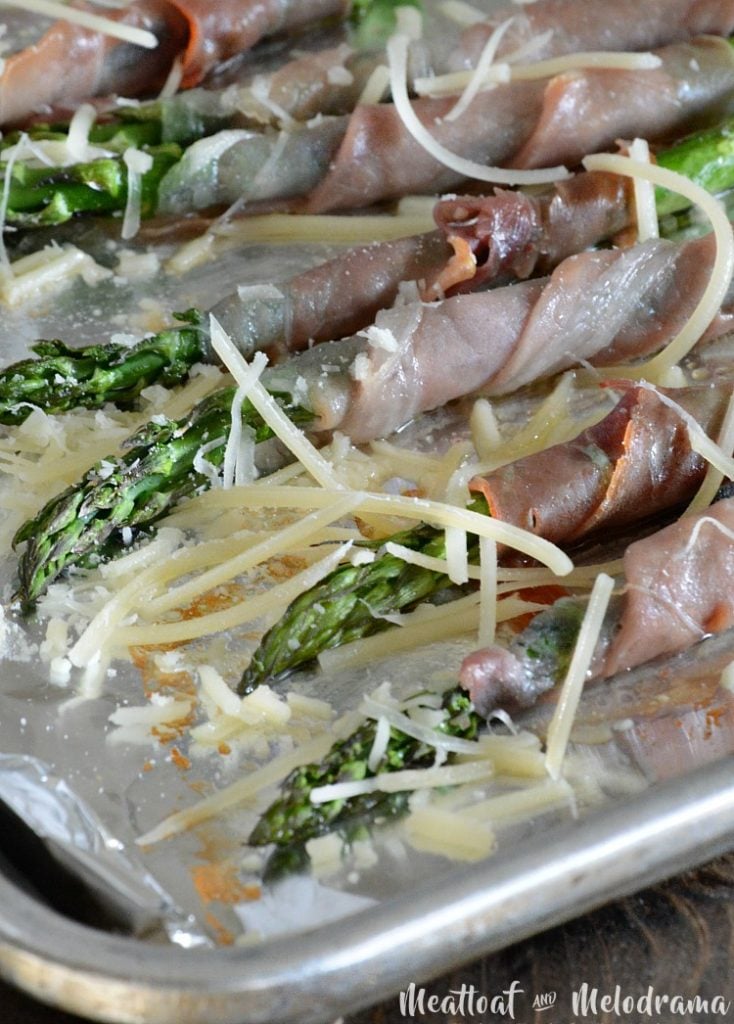 Seriously, friends, you have got to try making roasted asparagus wrapped in prosciutto. You'll love it!
Is there a Prosciutto Substitute?
If you can't find prosciutto, you can use thin slices of bacon instead of prosciutto. In a pinch, you could even use very thin slices of ham, although the flavor won't be the same.
Prosciutto Wrapped Asparagus Recipe
Recipe
Prosciutto Wrapped Asparagus
Prosciutto Wrapped Asparagus with Parmesan cheese and lemon is a quick and easy spring appetizer or side dish. Fresh asparagus spears are wrapped with thin slices of prosciutto and roasted until crisp then topped with shredded Parmesan cheese and fresh lemon juice. Perfect for Easter or any occasion!
Ingredients
1

tablespoon

olive oil

1

bunch

fresh asparagus spears, washed and trimmed --about 16

8

slices

prosciutto, thinly sliced, torn in half

¼ cup

shredded

parmesan cheese
Instructions
Preheat oven to 425 degrees

Line a baking sheet with heavy duty aluminum foil, and drizzle olive oil over foil

Carefully, tear prosciutto pieces in half, and wrap around asparagus

Bake for 10 minutes or until asparagus is slightly tender and prosciutto is slightly crisp

Top with shredded Parmesan cheese and drizzle with lemon juice
Nutrition information is estimated. Please do your own calculation to fit special diets.
Nutrition
Calories:
48
kcal
Carbohydrates:
1
g
Protein:
1
g
Fat:
3
g
Saturated Fat:
1
g
Cholesterol:
4
mg
Sodium:
43
mg
Potassium:
103
mg
Vitamin A:
340
IU
Vitamin C:
2.6
mg
Calcium:
11
mg
Iron:
1
mg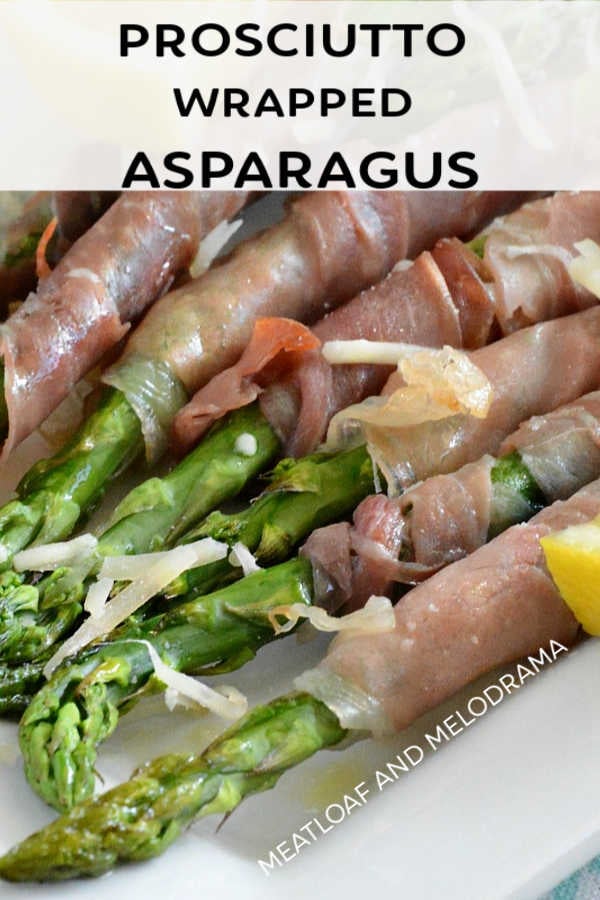 We loved munching on this roasted Parmesan prosciutto wrapped asparagus, and I'm definitely making it for a quick and easy Easter appetizer. You could also enjoy it for just about any special occasion this spring.
Happy Cooking,

Recipe originally published in 2017 and updated in April 2019