Hi There!

I'm a huge fan of anything rustic, including holiday decorations and crafts. Honestly, I think the reason I like this style so much is that it's practically impossible to get it wrong. Anyway, I've been wanting to make my own wood pumpkins for a long time, and over the weekend, I finally got the chance! We had some leftover wood, and Hubby was kind enough to cut it into different sizes. It wasn't long before the wood blocks magically turned into a rustic Jack o' lantern family and their friend Frankie.




Okay, so it really wasn't magic, but it wasn't hard to do. Hubby cut a 2 X 4 into four wooden blocks and sanded them down.



I was thinking the blocks would make a nice pumpkin family, so I painted them orange and used dark brown paint to shade the edges. One of the blocks had a deep cut, which was fine, but the more I looked at the block, the more I thought it really resembled a scar.



So, I played Dr. Frankenstein and turned the pumpkin into a monster -- a cute monster, though! I just turned the block upside down, painted it green and added some details, including a nicely stitched scar. I also screwed two small bolts into Frankie's neck and very lightly distressed him.



I painted faces on the pumpkins and then distressed them with sandpaper. Since I was aiming for a rustic industrial vibe, I made stems out of nails and wire. First, I coiled the wire until it looked like a spring. Then, I used copper colored metallic spray paint to give the nails and wire a rusty look. I think this was the first time I've ever spray painted nails, but it worked! I hammered the nails into the top of the pumpkins, and then I just topped them with the wire springs.


Here's the rustic Jack o' lantern family.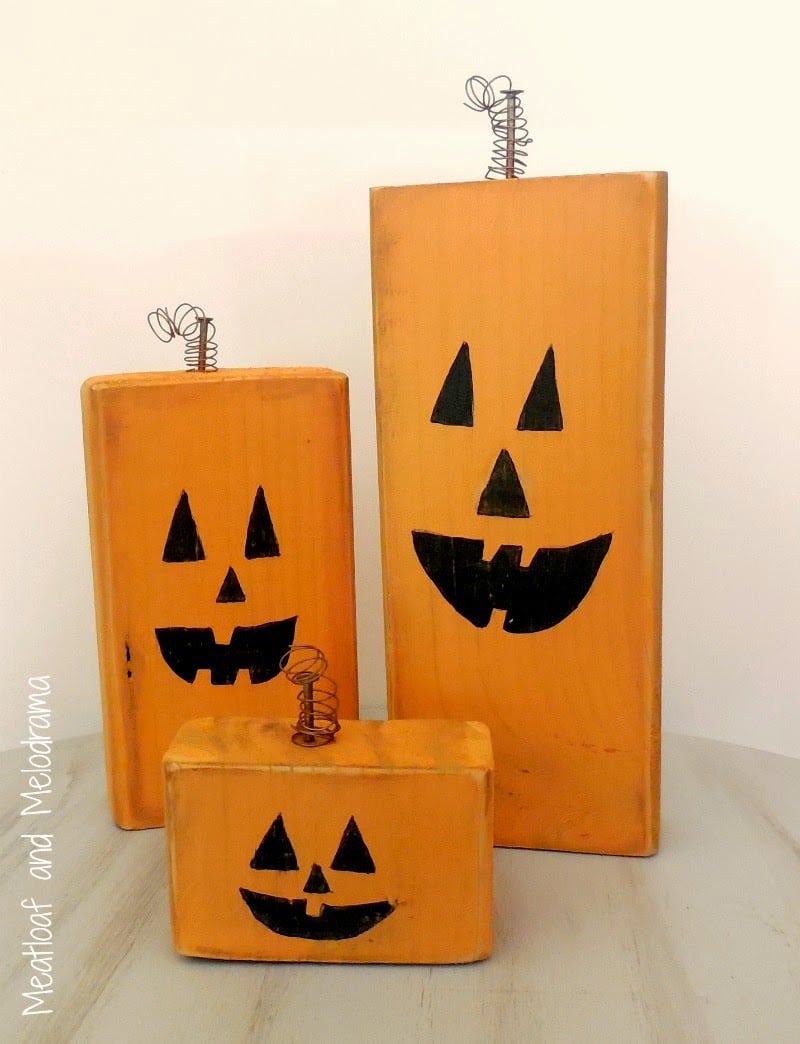 And, here is the the family with Frankie! Don't they look sweet together?




You could always leave off the nails, but I like how they look. Of course, these aren't toys, so don't let the kids play with them! And, since I had everything on hand, I basically got four new Halloween decorations for free -- can't beat that!

Thanks for visiting! Have a wonderful day.

Dee 🙂

Sharing At
Tip Me Tuesday