Sheet Pan Pulled Pork Nachos are loaded with meat, cheese, black beans and your favorite toppings and cooked on a sheet pan for easy clean-up. It's a quick and easy dinner or appetizer made with leftover pork roast and ready in about 20 minutes!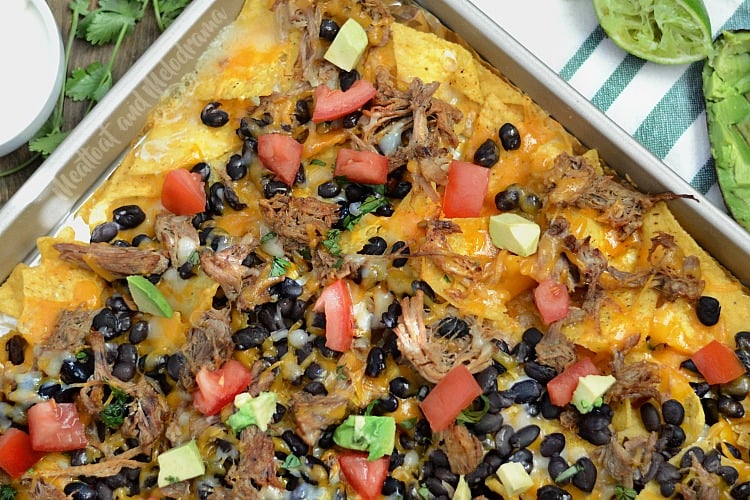 We make pulled pork frequently, and we always have a lot of leftover pork roast. As much as we all love pulled pork sandwiches, the kids don't like to eat the same dish over and over. So, I like to get creative with the leftovers, and I usually make leftover pulled pork nachos the second time around.
Nachos are super popular at my house -- It's all about the cheese! Sometimes we have plain old simple cheese nachos for lunch or a snack. But for dinner, we like to load them up with meat and our favorite toppings -- the more the better!
These particular leftover pork nachos started out as Instant Pot Pulled Pork, but before I started using a pressure cooker, I made pork roast in the Crock-Pot. It doesn't really matter how you make the pork roast as long you have shredded pork to work with!
I use about 2 to 3 cups of pork for the nachos, but it really depends on how much meat you have to work with. Two cups is really ideal because you have the black beans going on, as well. I like to reheat the meat before I layer the nachos, but that's just a personal preference.
Just add the meat and cheese, and then throw on the beans. I usually use a combo of cheddar and Monterey jack, but you could go with pepper jack if you want to spice things up. You could also add a few jalapenos to really take up the heat level!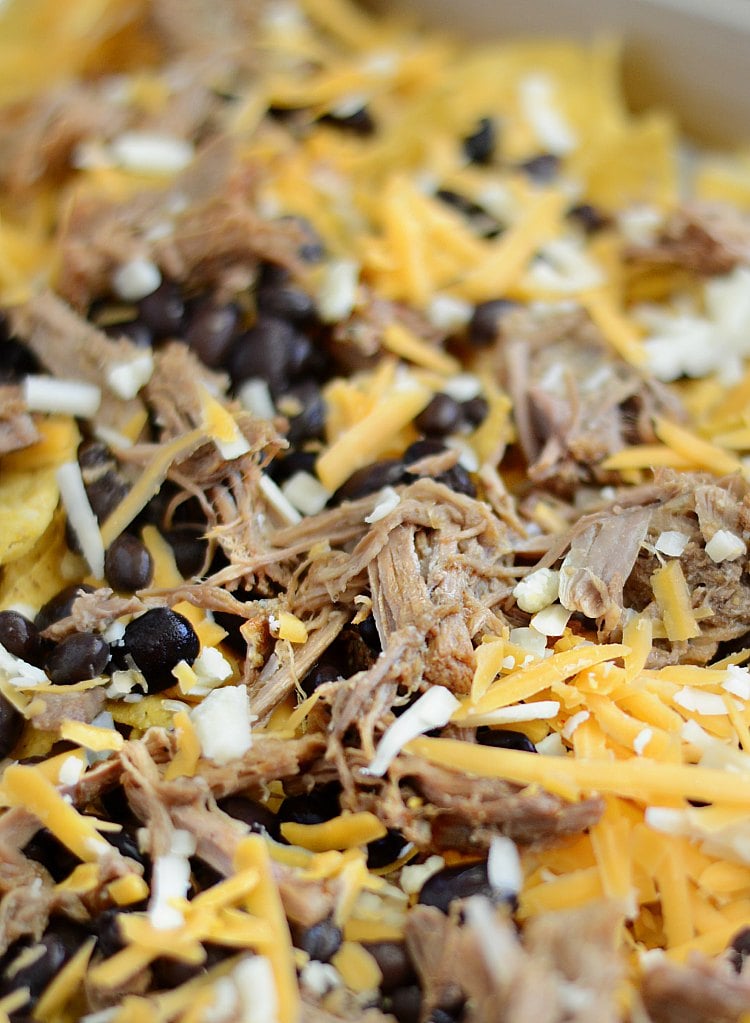 The nachos only take about 10 minutes to heat up and get the cheese all ooey gooey and melted. When that's done, add your favorite toppings, and dig right in!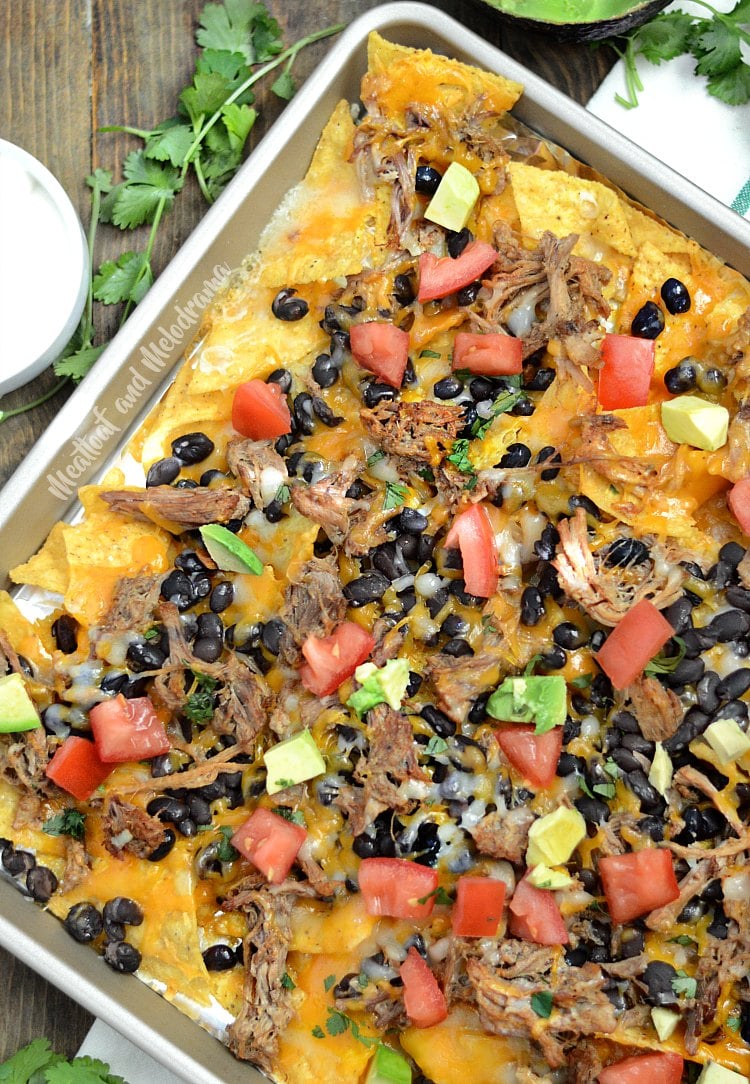 Looking for more leftover pork recipes?
Recipe for Sheet Pan Pulled Pork Nachos
Recipe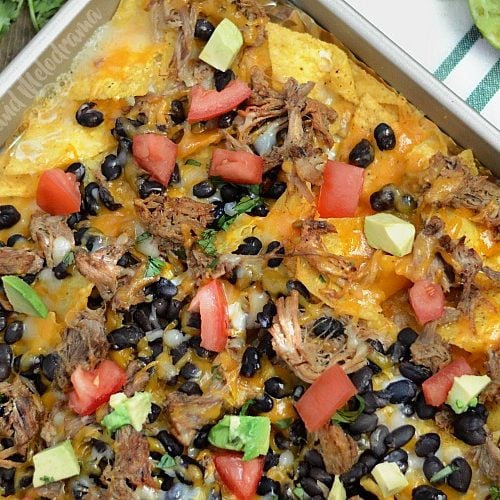 Sheet Pan Pulled Pork Nachos
Sheet pan pulled pork nachos are made from a leftover pork roast and loaded with meat, cheese, black beans and your favorite toppings. It's a quick and easy dinner or appetizer with easy clean-up!
Ingredients
2

cups

pulled pork

½

teaspoon

ground cumin

½

teaspoon

smoked paprika

½

teaspoon

garlic powder

corn tortilla chips

2

cups

shredded cheddar cheese

2

cup

shredded Monterey jack cheese

1

15-ounce can

black beans, rinsed and drained
Instructions
Preheat oven to 400 degrees

Season leftover pork with cumin, smoked paprika, garlic powder and pepper, and heat until warm

Spread tortilla chips evenly oven a baking sheet, and layer pork, cheese and black beans over chips

Bake for 5 to 10 minutes or until cheese completely melted

Remove from oven, and add your favorite toppings, such as diced tomatoes, sliced avocados, guacamole, cream cheese, olives and cilantro
Nutrition information is estimated. Please do your own calculation to fit special diets.
Nutrition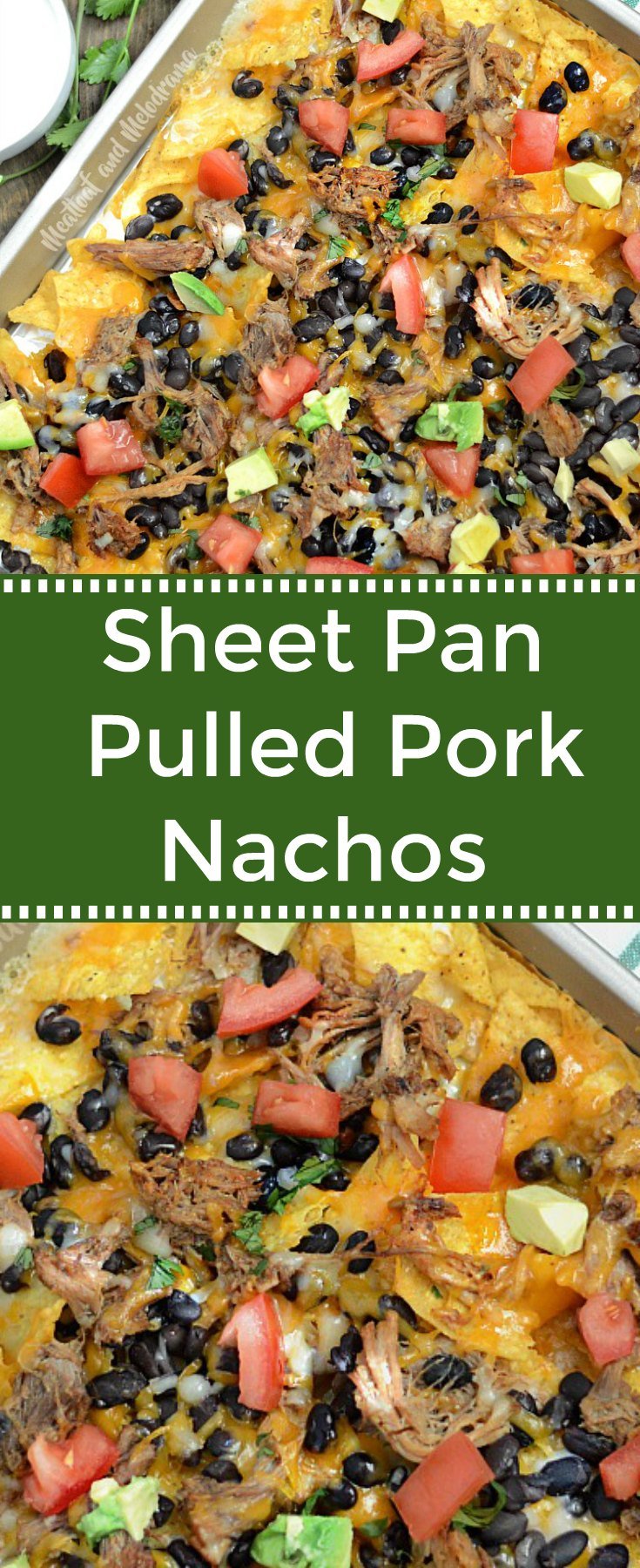 My family gobbled these sheet pan pulled pork nachos right up! I hope you enjoy them as much as we do!
Happy Snacking,