This Instant Pot Pulled Pork recipe makes tender, juicy meat from a pork shoulder roast in the pressure cooker in about 2 hours! Use the shredded porkt for sandwiches, carnitas, nachos or over mashed potatoes for an easy dinner the whole family will love!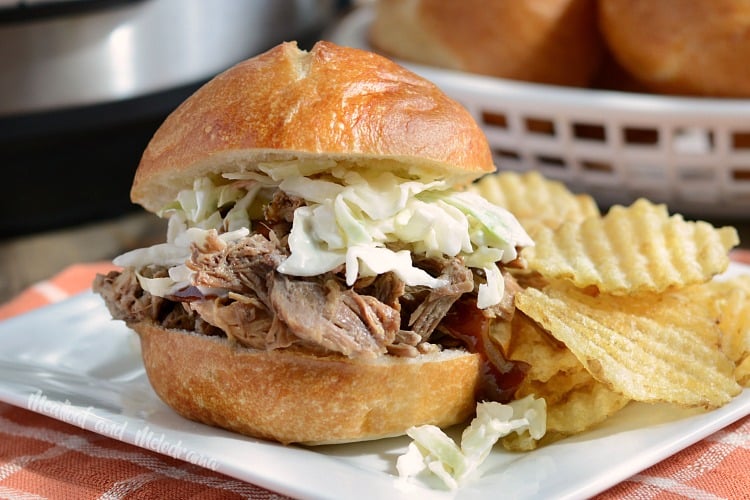 I made pulled pork in the Instant Pot for the first time on New Year's Day, and it was seriously the best pulled pork ever! Actually, it's one of the best Instant Pot recipes ever!
You guys, I'm talking about fork-tender pork that just melts in your mouth in only 2 hours. Yes, two hours in the pressure cooker-- much faster than the slow cooker!
Whenever I make a pork roast for pulled pork, I like to keep the seasonings as simple as possible. This way, I can make just about anything with the leftover pork. I usually serve BBQ sauce on the side for pulled pork sandwiches, and then I add different spices for carnitas and nachos.
How to make easy Instant Pot Pulled Pork
Just season the meat, and then add an onion and some garlic cloves along with a little water. And that's really all you need.
I also like to cut the roast before cooking it in the Instant Pot. This is optional, but it helps the roast to cook evenly and fit better in the pot.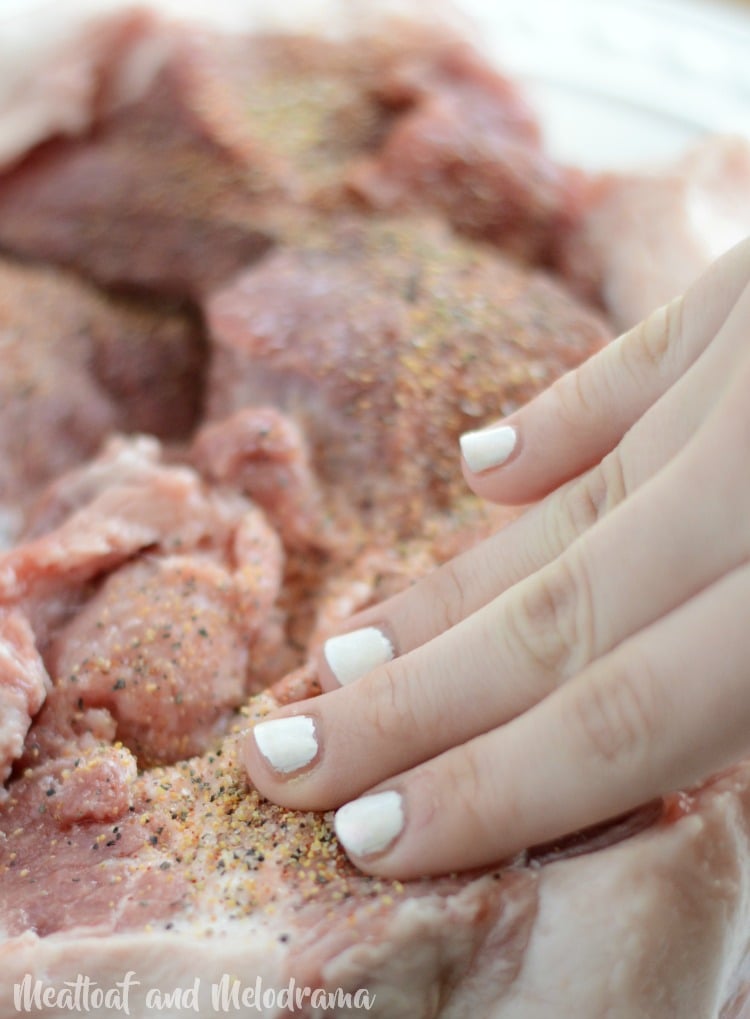 What kind of meat do you use for pulled pork?
The most popular cut of meat for pulled pork is a pork butt roast or shoulder roast. You can use a bone-in pork roast or a boneless one. I've used both, and I didn't notice any difference in flavor.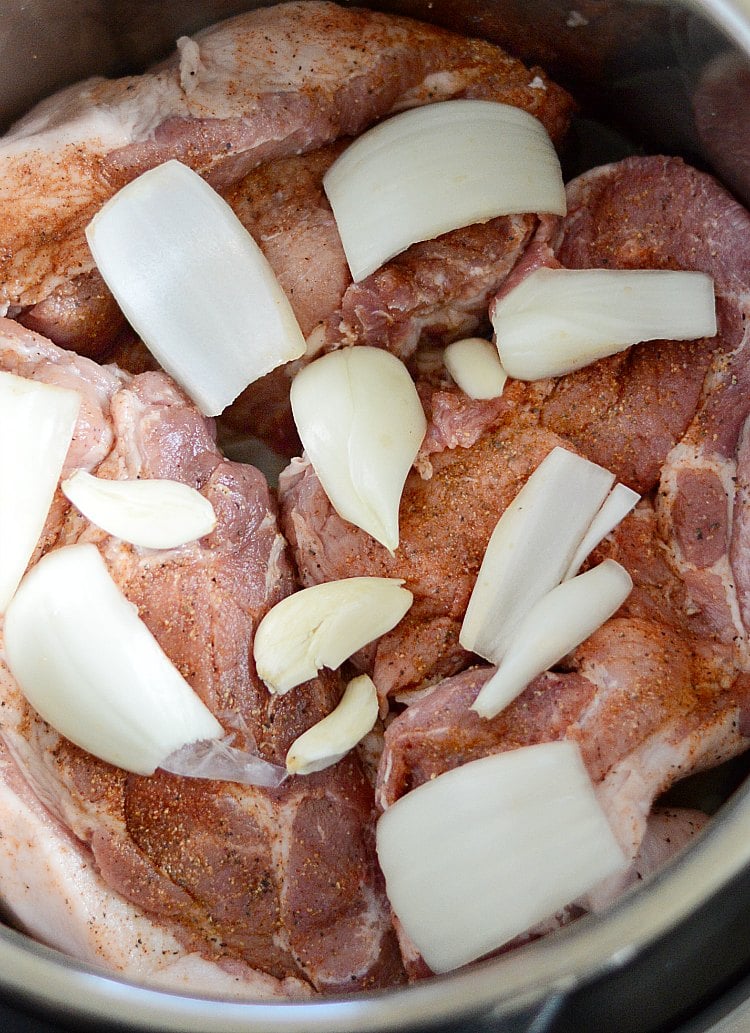 How long do you cook pulled pork in a pressure cooker?
This, friends, is the $64,000 question! And honestly, you will get so many different answers. Since we're dealing with a thick cut of meat, you need to cook it long enough to break down the fat and connective tissues to make it as tender as possible.
I found the best Instant Pot pulled pork cooking time to be 90 minutes followed by a natural release to be the perfect time for making pulled pork in the Instant Pot. And when the time was up, the meat was fork tender and perfectly shreddable, which is exactly what you want for pulled pork!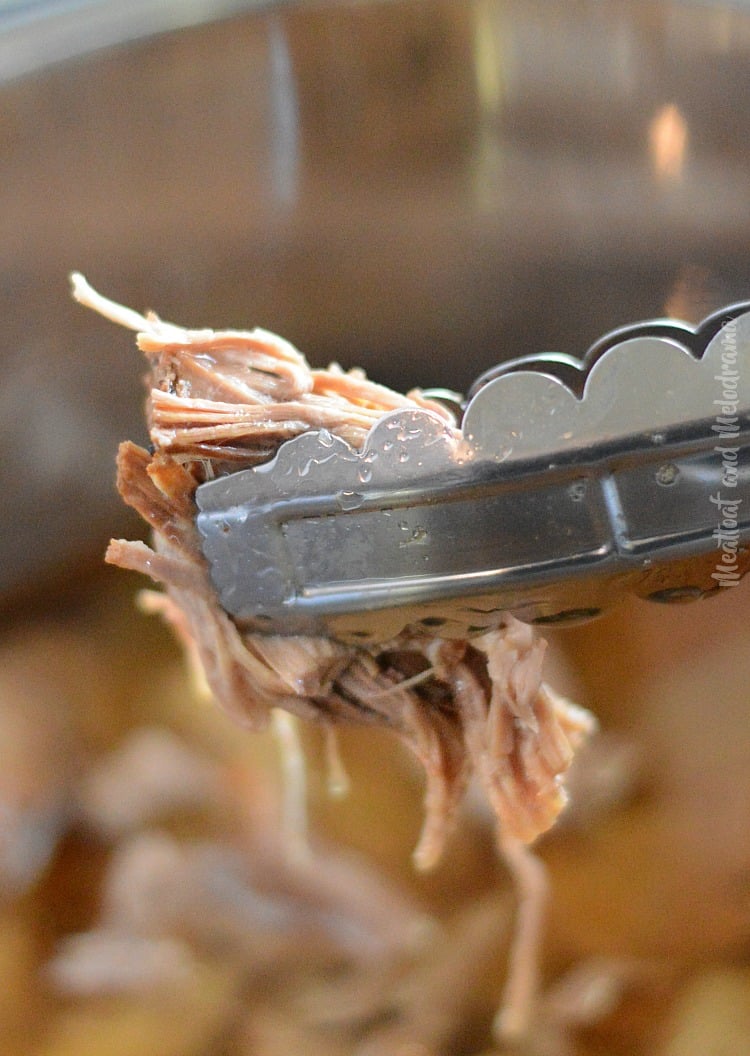 Looking for More Easy Instant Pot Recipes?
Recipe for Instant Pot Pulled Pork
Instant Pot Pulled Pork
This easy Instant Pot Pulled Pork recipe makes fork tender pulled pork in the pressure cooker from a pork shoulder roast. Use it for sandwiches, carnitas or over mashed potatoes for an easy dinner!
Ingredients
1

6-pound

pork shoulder roast (pork butt)

2

teaspoons

sea salt

1

teaspoon

garlic powder

1

teaspoon

smoked paprika

1

teaspoon

ground black pepper

1 ½

cups

water

1

yellow or white onion cut into large pieces

3

cloves

garlic, peeled
Instructions
Cut roast into 3 large pieces, and season with sea salt, garlic powder, paprika and pepper

Add water, then add roast, onion and garlic

Cover, move valve to sealing position, and hit PRESSURE COOK for 90 minutes

Allow natural release, and when pin drops, open lid, shred with forks, and serve
Notes
Recipe made with all natural pork shoulder roast in 8-quart Instant Pot pressure cooker.
Natural release took about 20 minutes 
Nutrition
We're crazy about this easy, perfect Instant Pot pulled pork! I hope you enjoy this recipe as much as we do!
Happy Cooking,