Hi Friends! We're heading into summer now, and you know that means we'll be enjoying lots of easy warm-weather meals — yea! One of the things I like best about this season is the abundance of fresh fruit, and we go through this like crazy during the hot summer months. We do a lot of grilling in the summer, and one of our favorite side dishes is this Tropical Fruit Salad.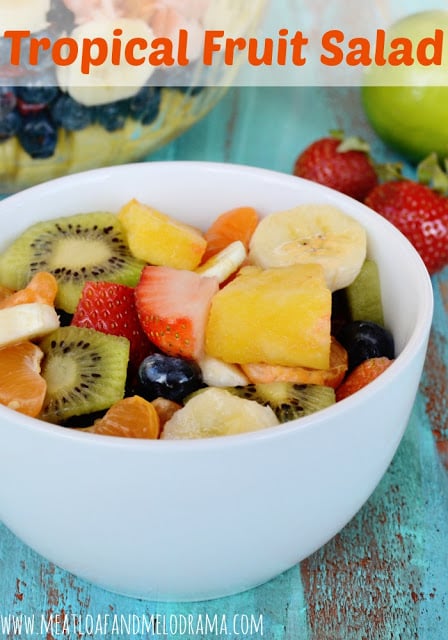 Hubby is the grill master around here, and while he's busy tending to the meat, the kids and I are in charge of sides. The nice thing about fruit salad is that it's so easy to prepare, and the kids can help with the prep work.

Even the younger ones can help wash the fruit, slice bananas or peel the mandarins. Of course, they like to nibble as they work, and I just have to make sure there is enough fruit left over to go into the salad!


Ingredients
1 pineapple

1 pint blueberries

1 pound strawberries

4 kiwis

4 mandarins

2 bananas, sliced thin
Directions
Making the tropical fruit salad is easy. I usually wash everything before cutting it up, even the kiwis. After the peels and skins are removed, start cutting the fruit and layer everything into a large bowl, beginning with the pineapple.
To help preserve the fruit and add some extra shine, I mix the juice of one lime with 2 to 3 tablespoons of honey and drizzle this over the entire salad.
Then, just carefully mix everything together, and keep in the fridge until you're ready to eat.

Of course, you can leave the dressing off and just enjoy the natural sweetness of the ripe fruit. If I don't have a lemon or lime, I serve it as is and just add one banana to the top.



Don't you just love the bright colors? It just screams healthy, and of course it's pretty darn tasty too!


A big bowl of this colorful tropical fruit salad can easily last for at least two meals and can even double as a healthy summer dessert — with or without ice cream!
Thanks so much for stopping by!

You May Also Like