Hello, hello! I'm sharing some sweet treats today that are just a little bit different, so I have a few questions before we get started. Do you like the color purple? What about purple strawberries? Yes, really. Okay, so the fruit isn't actually purple, but the coating is, and even though these candy coated strawberries are just slightly different from the norm, they're flavored with lavender, and they're perfect for spring!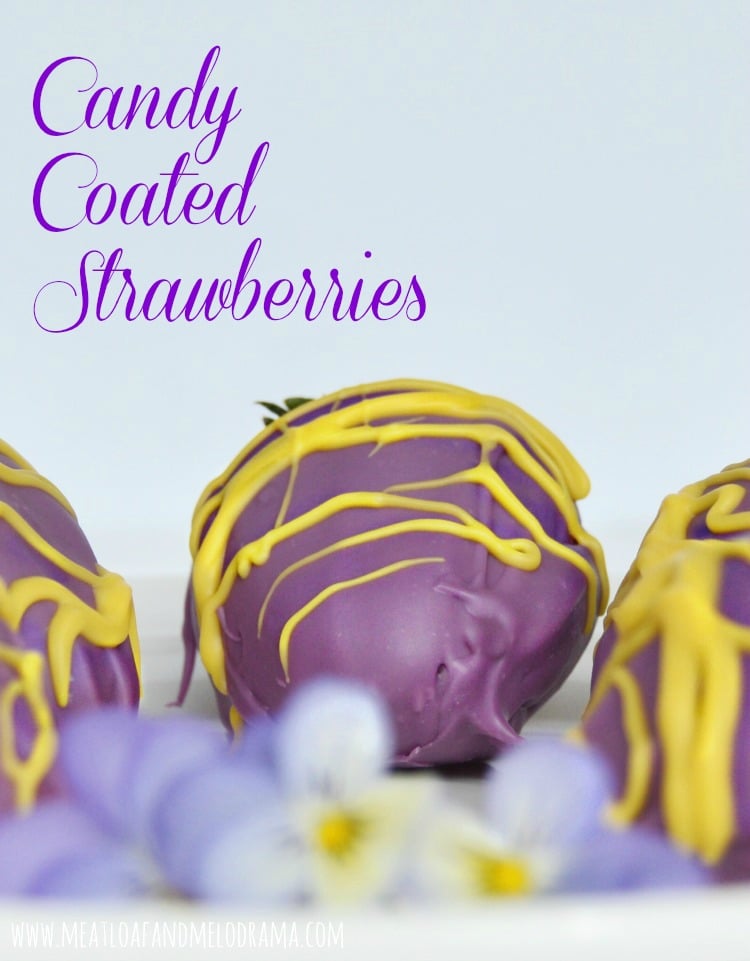 My family just loves chocolate covered strawberries, but we had a bunch of candy melts left over from making Easter treats, and I really wanted to try something different. The candy melts are good enough to eat by themselves, but no matter what color you use, they all taste like vanilla.

Since I had lavender oil on hand, I decided to use some to flavor the candy melts. The result was a sophisticated treat that tastes like it belongs at a spring garden party.
Ingredients
Strawberries, rinsed and dried

1 bag of lavender candy melts

Yellow candy melts for contrast 

Lavender oil or lavender extract, just be sure the brand you use is safe for consumption

The directions are super easy, and I actually prefer working with the candy melts over chocolate. You can follow the directions on the bag for melting, and they only take a few minutes to get to the right consistency for dipping.
After the candy is melted, add one drop of essential oil, and stir well. Since the strawberries were slightly chilled, I found it easier to pour the melted candy over them instead of dipping the berries into the bowl of melted coating.
After each strawberry got a nice coat of purple, I set it on wax paper to dry. Then for a little contrast, I drizzled some melted yellow candy coating over the purple.
It's hard to describe the taste of lavender, but it gave these candy coated strawberries a slightly floral and rather old-fashioned taste — if that makes sense. And like I said, they reminded me of something that would be served at an elegant gathering or garden party. 
Even the family was impressed!
So, you could easily make these candy coated strawberries for your mom on Mother's Day or serve them at a special gathering or even a graduation. You're guests will be impressed!
So tell me — Have you ever worked with lavender extract or oil? Do you like the taste?