This classic creamy cucumber salad is light, cool and the perfect summer side dish for any occasion. It's also super quick and easy to make!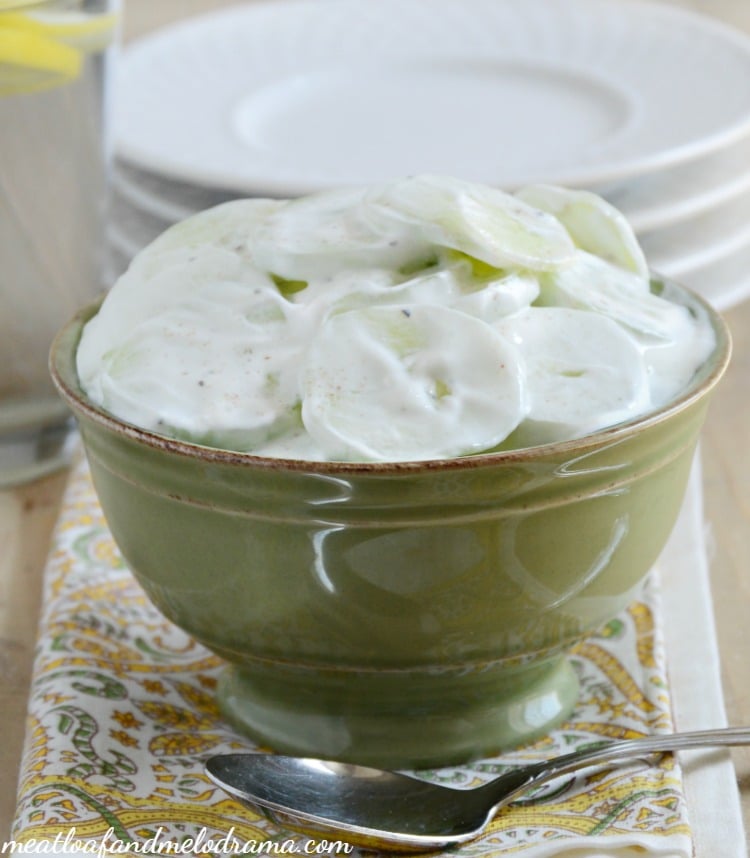 When I was growing up, this sour cream cucumber salad was on the table very frequently during the summer months. Sometimes, my mom would make it and sometimes my grandmother would, but either way, it was always cool, creamy and completely delicious.
We had it with ribs, steaks, burgers — you name it. That's the great thing about this easy side dish — it goes well with pretty much anything. And, you can make it in just a few minutes.
Now personally, I like the taste of cucumbers, and it doesn't matter how they're prepared. I can eat them plain — well, with a little bit of sea salt. I also think the cukes add some awesome crunch to tossed salads, and I love them with a bit of vinegar and olive oil.
And pickles? Wonderful!
Then, of course, there's this old fashioned creamy sour cream cucumber salad. It's made with sour cream, no mayo — and without dill.
I love cucumber dill dip, and dill dip but I don't like dill in cucumber salad! Strange but true!
This quick and easy cucumber salad has been around forever, but you all know by now that I have a huge soft spot for classic retro recipes. I like to serve them every now and then just so that my kids can taste the dishes that their parents and grandparents grew up with, and in this case, I also just love how it tastes.
How to make easy creamy cucumber salad
So basically, you peel the cucumbers and slice them nice and thin.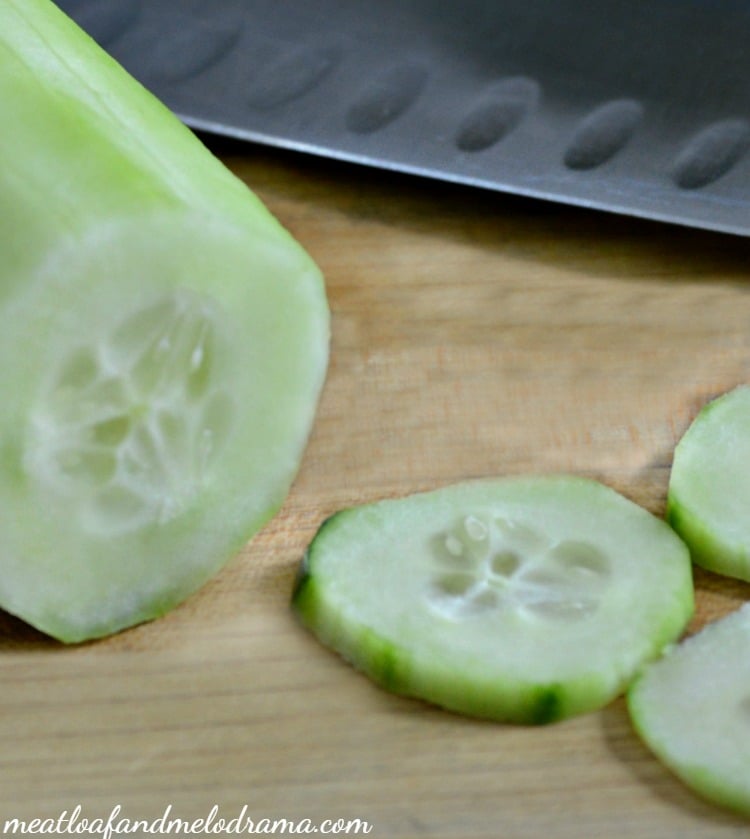 Then, you sprinkle a little bit of sea salt and pepper over the cukes. You can use regular salt if you want, but I love sea salt, especially pink Himalayan salt, so that's what I used.
My kids love helping out with the seasoning, so I usually let them do this part.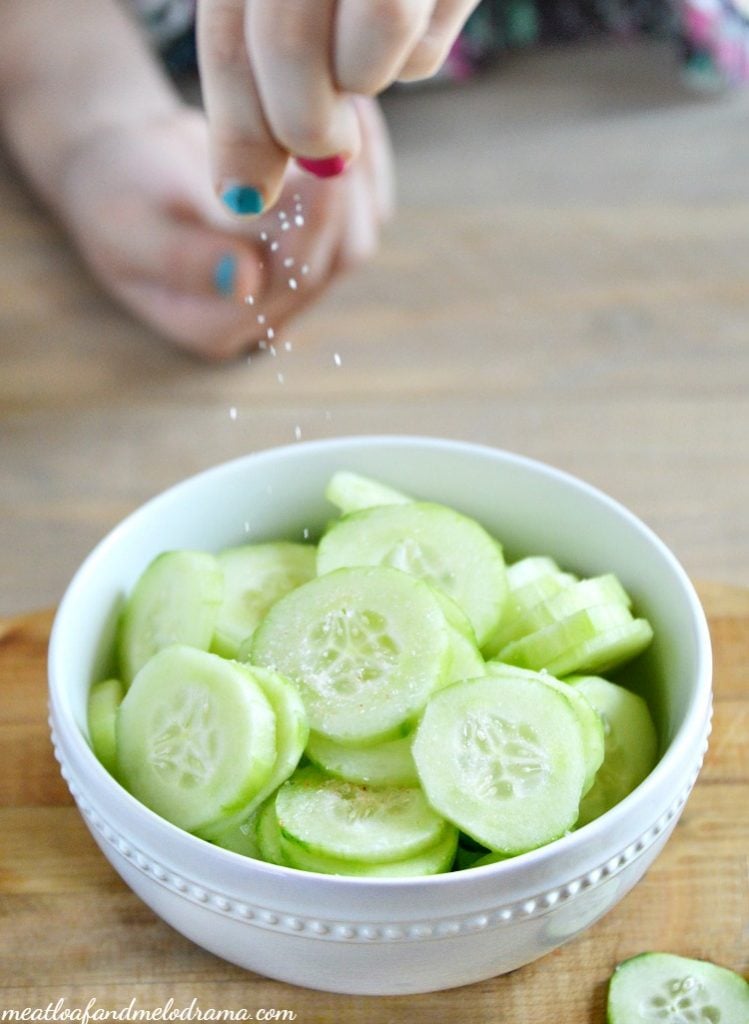 After that, you just add the rest of the ingredients, and you're done!
How long does creamy cucumber salad last?
Cucumbers release a lot of water, so I recommend making this salad not too long before you want to serve it. Or, You can prepare it ahead of time, and stir in the sour cream before serving.
Looking for more easy side salad recipes?
Recipe for easy Creamy Cucumber Salad
Creamy Cucumber Salad
Creamy Cucumber Salad is an easy summer salad or side dish made with sliced cucumbers in a creamy sour cream dressing
Ingredients
3

large cucumbers

washed, peeled and thinly sliced

1

teaspoon

coarse sea salt

1/4

teaspoon

ground black pepper

1/2

cup

sour cream

1/2

tablespoon

vinegar

1/2

teaspoon

sugar
Instructions
Place the cucumber slices in a medium bowl, and season with salt and pepper

In another bowl, mix the vinegar, sugar and sour cream together

Stir sour cream mixture into cucumbers until well coated

Refrigerate until ready to serve
Nutrition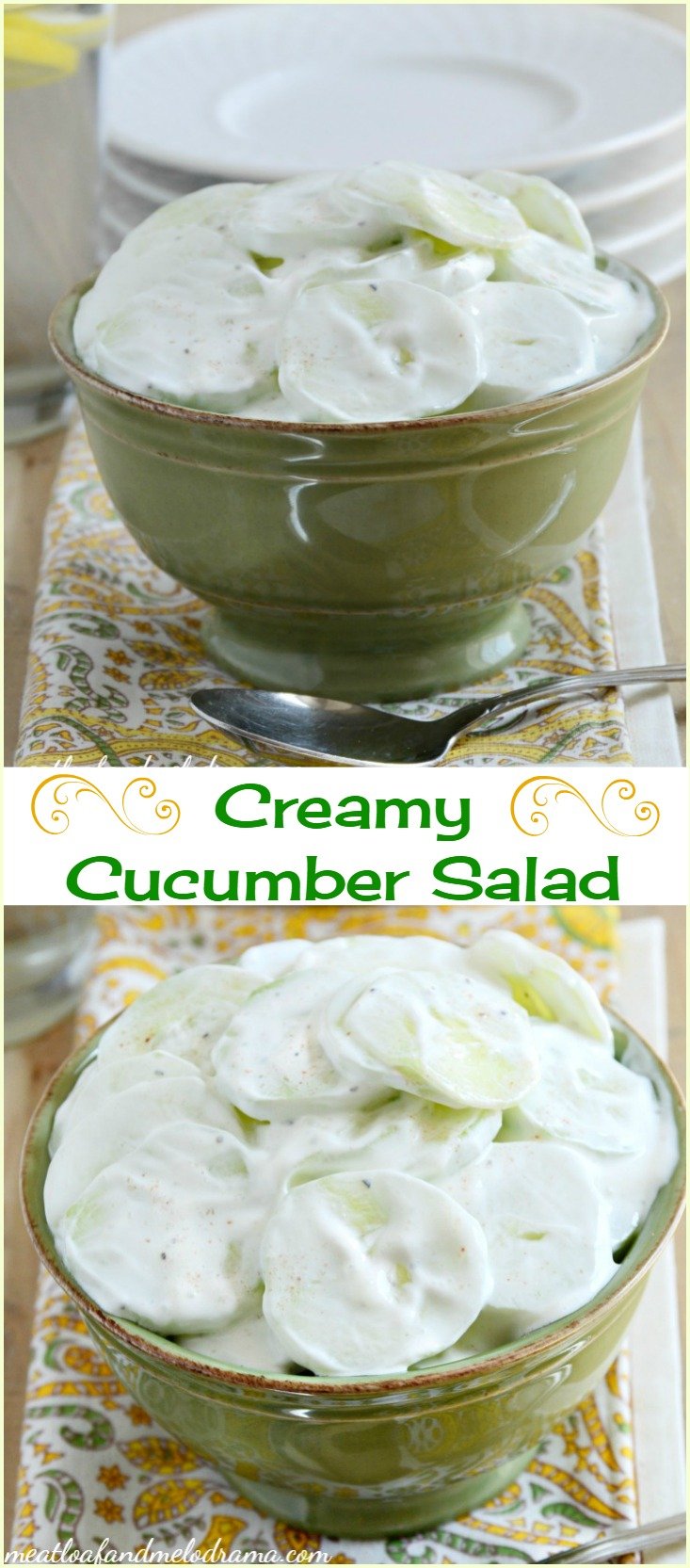 How easy is this?! Anyone else grow up with this creamy cucumber salad? I've seen some recipes that call for dill, which sounds good too, but that's not how my mom and grandma made it.
Have a super day, friends!

Sharing at