This Crescent Roll Apple Dumplings Recipe is a super easy fall dessert made with crescent roll dough and apple slices in a delicious caramel sauce. The secret ingredient in these easy apple dumplings is lemon lime soda!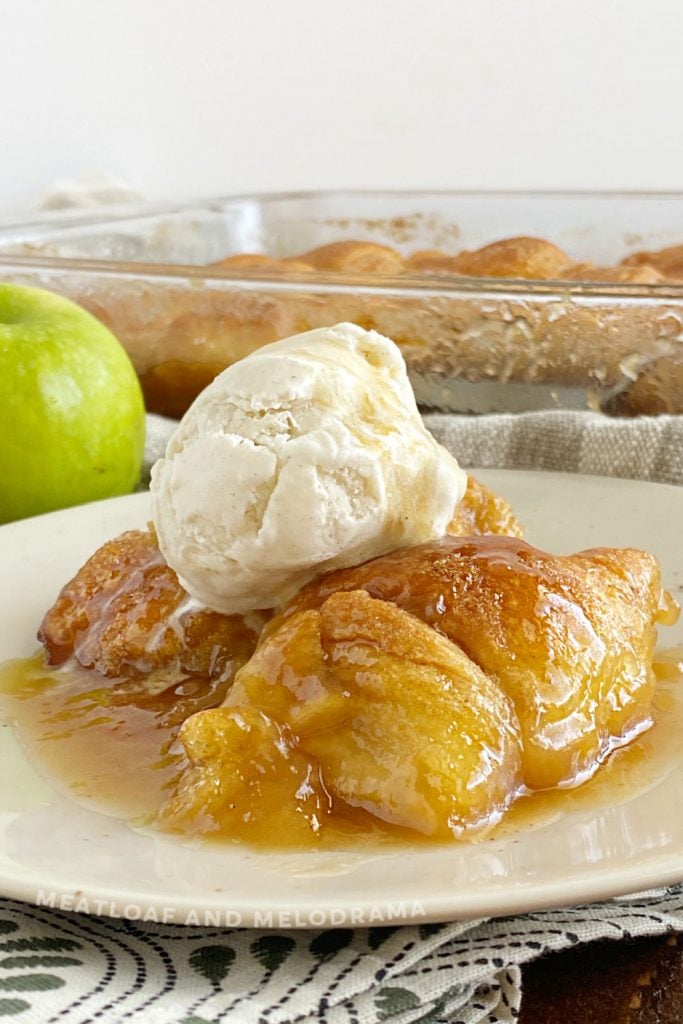 Jump to:
One of the best things about apple picking season is all the delicious apple desserts! We love making apple crisp, apple pie dump cake and baked caramel apples.
Now, we can add these incredibly easy apple dumplings to the list of family favorites! This apple dumplings recipe has been around for awhile -- I actually found a copy in my grandma's recipe stash.
What makes these dumplings so easy is you start out with crescent roll dough. Wrap the dough around an apple wedge, and bake the crescent roll dumplings in a sweet brown sugar butter sauce with a can of Sprite or Mountain Dew.
Sounds odd, but you guys, this works! Add a scoop of vanilla ice cream over the golden brown bites of deliciousness, and enjoy your new favorite apple dessert!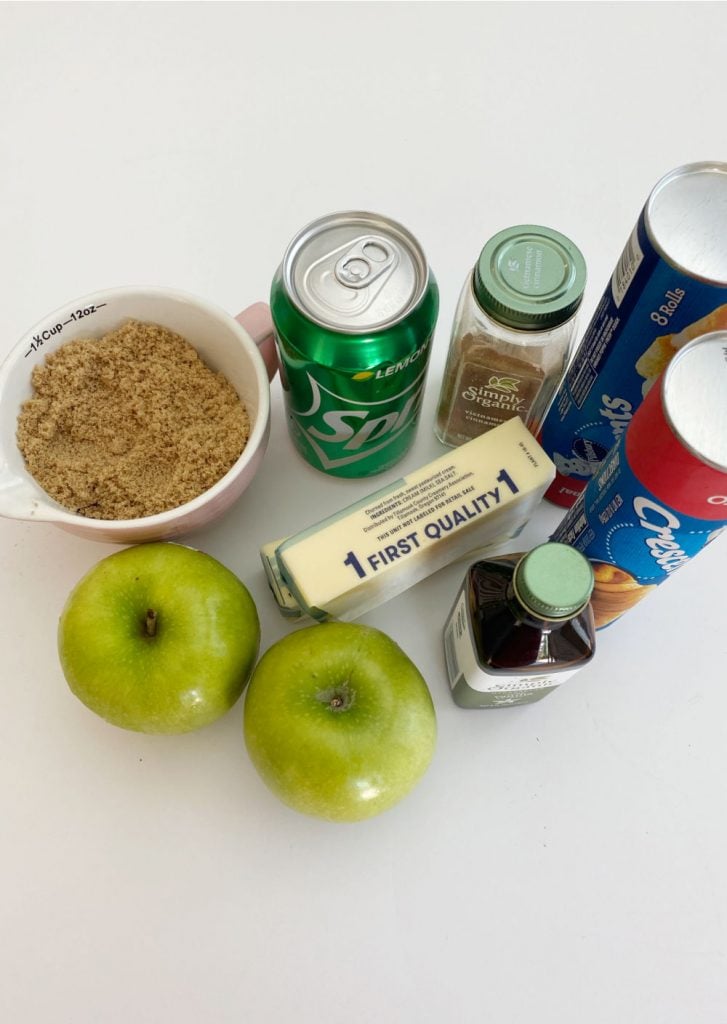 Ingredients
You only need a few simple ingredients to make easy apple dumplings with crescent rolls. You can find them in your grocery store, or you might have what you need in your fridge or pantry:
2 packages of crescent roll dough
2 large Granny Smith apples -- These are the best apples for baking, but pink lady, gala and golden delicious are good, as well
A can of soda pop -- Sprite, Mountain Dew or ginger ale
Butter -- salted or unsalted
Brown sugar -- either dark or light
Cinnamon
Vanilla extract
How to Make Apple Dumplings with Crescent Rolls
This is a very easy recipe, but it does have a few steps. First, you wash, peel and core the apples. Then, slice each apple into 8 wedges. Place in a separate bowl, and sprinkle with cinnamon.
Try to cut the apple slices so they're about the same size. If you get thinner slices, you can use 2 per crescent dough triangle.
Next, open the packages of crescent roll dough. Tear each sheet into triangles using the perforations.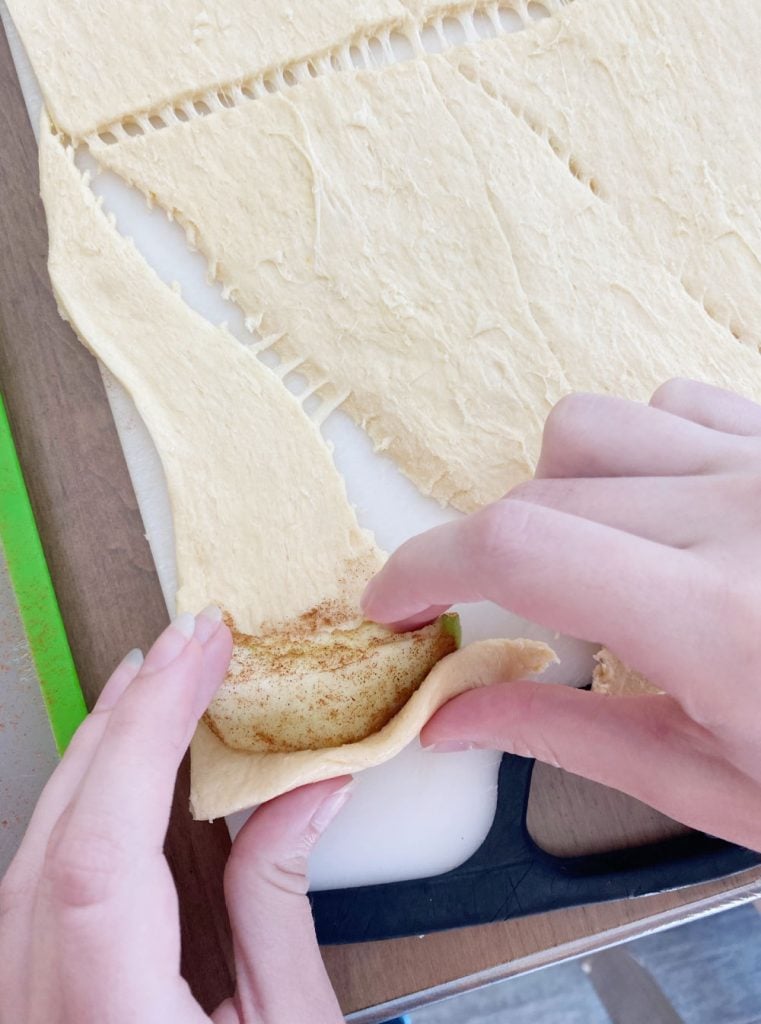 Place an apple wedge on the widest edge of the crescent roll triangle. Then, gently roll the triangle of dough up over the apple, and continue rolling until you reach the the small end.
Both ends of the dumpling should be open. Place each apple dumpling into a greased 9 x 13-inch baking dish. I use butter to grease the dish, but non-stick cooking spray works, too.
You want to leave a little room between them. Then, continue until all of the apples are done.
Now, add the butter and brown sugar to a small sauce pan. Cook on low to medium heat until the butter is melted, stirring gently until you get a smooth caramel sauce.
When the sauce is smooth and completely melted, add the vanilla. Then, pour the sauce over the dumplings.
Make sure to get some of the sauce on each dumpling. It should completely cover the bottom of the pan.
Finally, pour Mountain Dew, or whatever soda you're using, around the dumplings. Try not to pour soda pop on top of the dough.
Otherwise, you'll get soggy dumplings!
The sides of the rolls will be mostly submerged, but the tops should be sticking up over the liquid.
Cooking Time
Place the baking dish into a preheated oven --350 degrees f. And, bake the crescent dough dumplings for 30 minutes.
When done, the tops are golden brown, the dumplings are puffy and the brown sugar sauce is bubbling.
If 30 minutes isn't enough, you can bake them another 10 minutes. But, they should take no more than 40 minutes, tops.
The caramel sauce will continue to thicken up as the dumplings cool. We sprinkled a little bit of white sugar over the tops for a little bit of sparkle.
Aren't they gorgeous? By the way, you can't taste the pop. The citrus flavor just enhances the flavor of the sauce!
Serve these crescent dough dumplings with a big scoop of vanilla ice cream or whipped cream and a little drizzle of caramel sauce on top. And watch this tasty dessert disappear!
How to Store
You can keep this apple dessert on the counter at room temperature for a few hours. Pop it into the fridge overnight.
You can just cover the baking dish or transfer the apples into an airtight container. The apple crescents should keep for a day or 2 before getting soggy.
You can reheat them in the oven. Like most apple desserts, the dumplings are best served warm.
Variations
You can easily add your own substitutions to the original recipe. Add a few golden raisins or chocolate morsels along with the apple slice. Throw in a few cinnamon candies if you like!
Leave out the cinnamon. Or, add pumpkin pie spice or apple pie spice over the apples for extra flavor.
You can use apple pie filling instead of apple slices. If you don't have crescent rolls, try puff pastry. Don't like apples? Use pears or peaches!
Recipe
Crescent Roll Apple Dumplings Recipe
This Crescent Roll Apple Dumplings Recipe is a super easy fall dessert made with crescent roll dough and apple slices in a delicious caramel sauce. The secret ingredient in these easy apple dumplings is lemon lime soda pop!
Ingredients
2

large

granny smith apples

2

containers

crescent roll dough

1

cup

butter

2 sticks

1½

cups

brown sugar

1

teaspoon

vanilla extract

1

teaspoon

ground cinnamon

12

ounces

lemon lime soda

sprite, mountain dew, 7-up, ginger ale
Instructions
Preheat oven to 350 degrees f

Grease a 13 X 9-inch baking dish

Wash, peel, core and slice apples into 8 slices each ( total of 16 slices) Place in small bowl or clean surface, and sprinkle with cinnamon

Open tubes of crescent roll dough, and divide into triangles along perforations

Place 1 apple slice on the wide end of each crescent roll triangle. Roll up dough over the apple slice, leaving ends open. Repeat until all apples and dough are used up

Place dumplings into greased baking dish

Place butter and brown sugar in small saucepan, and melt over low to medium heat on stove. Stir frequently until well combined and smooth. Remove from heat, and stir in vanilla extract

pour caramel sauce over dumplings. The sauce should cover the bottom of the baking dish

Pour Sprite around edges of the baking dish

Bake for 30 minutes or until tops are firm and golden brown, dumplings are puffy and sauce is bubbling

Allow to cool slightly before serving
Notes
You can easily halve the recipe for fewer dumplings. Add just enough soda pop so that the tops of the dumplings are dry.
Sprinkle some white sugar over the dumplings after they are done baking for extra sparkle, if desired.
Nutrition information is estimated. Please do your own calculation to fit special diets.
Nutrition
Calories:
410
kcal
Carbohydrates:
53
g
Protein:
1
g
Fat:
23
g
Saturated Fat:
15
g
Polyunsaturated Fat:
1
g
Monounsaturated Fat:
6
g
Trans Fat:
1
g
Cholesterol:
61
mg
Sodium:
221
mg
Potassium:
124
mg
Fiber:
1
g
Sugar:
50
g
Vitamin A:
740
IU
Vitamin C:
3
mg
Calcium:
48
mg
Iron:
1
mg
I hope you enjoy this easy apple dumpling recipe as much as my whole family does. It's definitely one of our favorite sliced baked apples recipes, and it's such a delicious dessert!
For more easy recipes, be sure to sign up for the weekly newsletter and follow along on your favorite social media!