Hey friends! I just love the look of those reclaimed wood and pallet pumpkins that are so popular now — You know what I mean, right? Well, I don't have any pallets or old wood, but we do have lots of scrap wood. So, I put the Hubs to work, and he cut up some wood so that I could make this DIY monogram wood pumpkin door hanger. I can't wait to use it, and as soon as Halloween's over, this baby's going on the front door!



I'm totally crushing on all things pumpkin lately — in a big way. From pumpkin muffins to pumpkin dip, we've been having our fair share of pumpkin recipes. We even had pumpkin Alfredo last night! So, I thought I'd give the family a break in the food department and do a pumpkin craft instead!

Making the door hanger isn't hard, but you do need certain tools. And, that's when I asked the Hubs for help. He's the wood cutter, and I'm the painter, and this arrangement works out fine for both of us!

Here's how we did it:


Supplies for Monogram Pumpkin Door Hanger
1 X 6 wood fence boards

Coping saw

Glue

Chalk paint ( I used Annie Sloane's Old White)

Craft paint ( I used gold and burnt umber)

Wine cork or round stencil

Wood monogram

Twine
First, the Hubs outlined the shape of a pumpkin on the wood boards. These are 1 x 6 boards, and they're about 15 inches long.

Then, he used the coping saw to cut out the pumpkin shape.


I wanted the door hanger to look rustic, so I didn't even sand the wood. The slats are held together by thinner boards glued to the back.

So, once the pumpkin shape was done, it was time to get to the good part! I painted the boards with Annie Sloane's Old White, but of course you could use any kind of white paint.

I just really liked the color, and I knew I wanted a chalky type of finish for this project. I gave the pumpkin a light coat of paint, and because the wood was so rough, I didn't even sand the paint afterwards.

Then, I used a wine cork to add gold polka dots to the pumpkin. The circles aren't perfect, but that just goes with the whole rustic look.



I enlisted help from my little Diva to paint the monogram. I'm actually not big on monograms, but I really thought this would look nice for fall. And, according to the Diva, the M stands for Meatloaf and Melodrama!

Then, we glued the M onto the pumpkin.



I added a simple twine bow around the stem, and I also used more twine to make the hanger. I wanted to keep it rustic looking, but you could use a bigger, fancier bow if you wanted.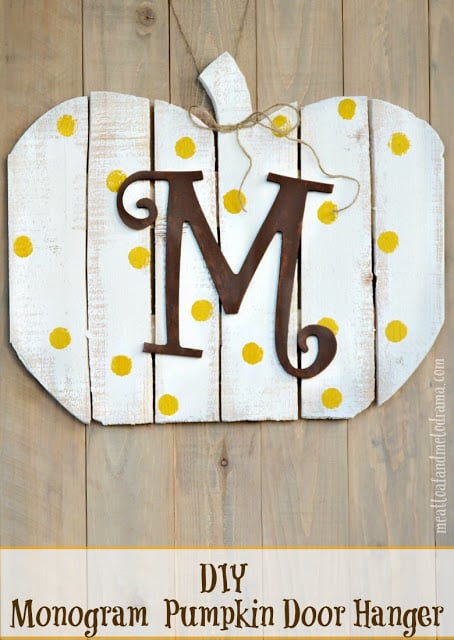 I love how this monogram pumpkin door hanger turned out, and like I said earlier, I cant wait to hang it on the door. And since time is flying by, it won't be long before I can do just that!

Thanks so much for visiting today. I hope to see you again soon!
You Might Also Like