Grandma's Baked Italian Meatball Recipe makes the best homemade meatballs that are oven baked and delicious with marinara sauce over pasta. Your whole family will love this easy meatball recipe for dinner or as a hearty appetizer!
Jump to:
This easy recipe for baked meatballs recipe makes the BEST meatballs ever. You can add them to pasta sauce or make meatball subs for a super easy dinner your family will love!
I tweaked my Grandma's recipe for homemade meatballs and made it even easier than it was. These tender meatballs are made with a combination of lean ground beef and ground pork plus a few simple ingredients.
Then, instead of frying them oil, and making a colossal mess on your stove, you just bake these homemade Italian meatballs in the oven.
No mess, no browning in batches -- They all cook together in just 20 minutes!
Ingredients
You only need simple ingredients for this baked Italian meatballs recipe. You may have most of them in your refrigerator or pantry. Or, you can easily find the ingredients in your local grocery store:
Ground beef -- I use lean ground beef but not too lean. 80/20 works best.
Ground pork -- Use ground pork or Italian sausage for incredible flavor
Eggs -- to help bind the meat mixture together
Bread -- I use 3 slices of fresh bread torn into pieces
Milk -- Mix with the bread to make moist meatballs
Grated Parmesan cheese -- adds delicious flavor
Dry spices -- salt, black pepper, garlic powder, onion flakes and either basil, parsley or Italian seasoning
How to Make Baked Italian Meatballs
First, preheat your oven to 400 degrees f. Then, line a rimmed baking sheet with foil or parchment paper for easier clean-up.
Now, tear the bread into smaller pieces, and add to a large mixing bowl. Pour the milk over the bread to moisten it.
Next, add your eggs, and beat lightly with a fork.
Now, all you do is combine the ground beef with the ground sausage or pork and mix all of the ingredients for meatballs together.
Use your hands, friends. This is the best way to get the most perfect meatballs!
Yes, it's squishy, but it works. Just be sure not to over mix the ingredients or they meatballs may be tough.
As soon as the meat mixture starts to stick together, you can start forming the balls. My kids love helping rolling the meatballs.
We love to make them on a lazy Sunday afternoon and serve the homemade meatballs over pasta for Sunday supper. It's a family favorite that makes one heck of a delicious meal!
Then, gently form the meat mixture into balls. I make 1 ½ to 2 inch meatballs. If you have a small cookie scoop, that works well.
Place meatballs in rows on the prepared baking sheet in a single layer. Then, pop them in the oven, and bake!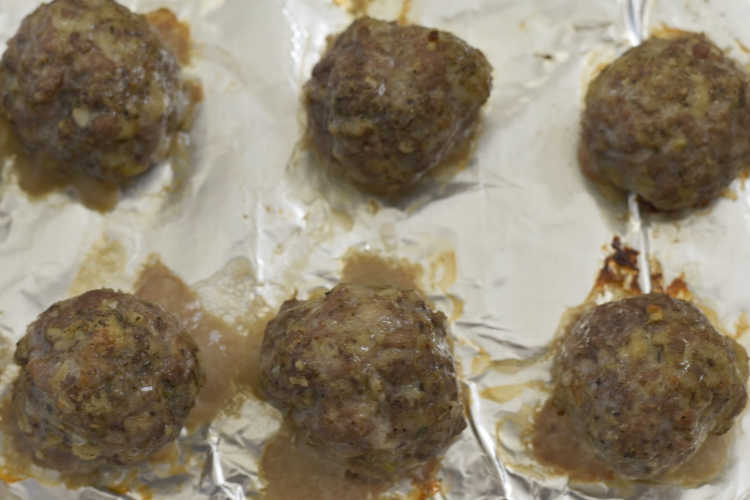 Cooking Time
So, how long to bake meatballs at 400? I bake meatballs at 400 degrees for 15 to 20 minutes.
20 minutes works perfectly in my oven. But since all ovens are different, check the temperature of the meatballs at about 15 minutes.
Baked meatballs are done when they reach 160 degrees internally, according to a meat thermometer. If you're adding them to spaghetti sauce to simmer on the stove, they'll finish cooking there.
If not, take the baked meatballs out when they're completely cooked. You can eat them as is or refrigerate or freeze for later. Great for meal prep!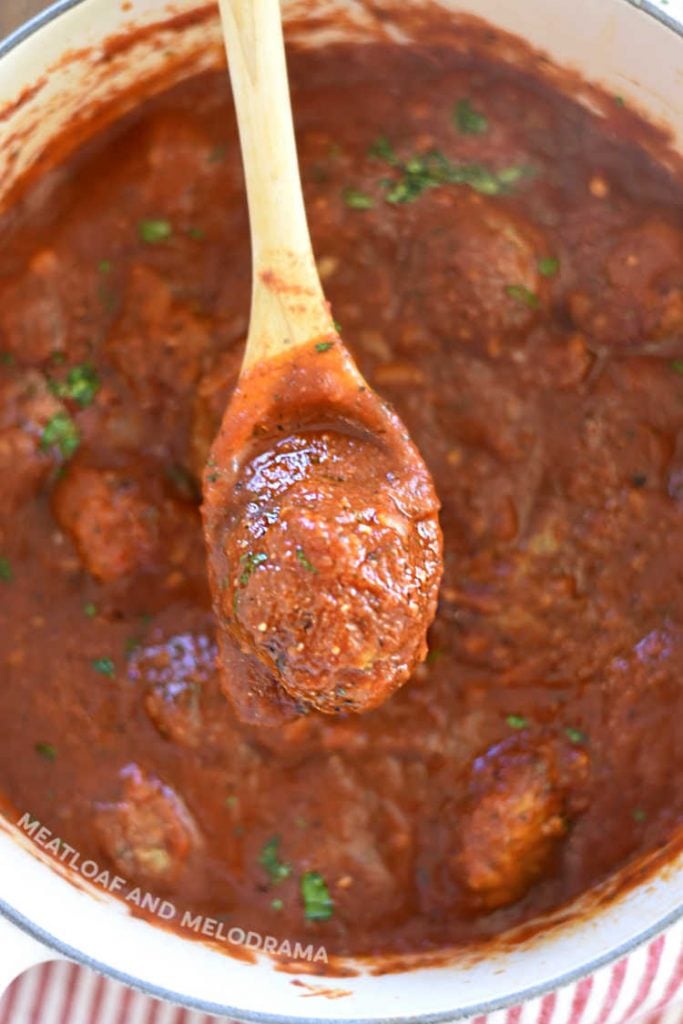 I usually add the meatballs directly to my favorite sauce --my Grandma's homemade spaghetti sauce for the most amazing flavor. Just leave them simmering in a covered pot or Dutch oven until you're ready to eat.
The flavors in the meat make the homemade sauce taste even better. If you don't want to make homemade spaghetti sauce, I recommend Rao's.
We think it has the best flavor, next to homemade. It's what I use in a lot of Italian recipes and it's one of my family's favorites!
You can use this homemade meatball recipe in place of frozen meatballs for Instant Pot Pasta and Meatballs, Instant Pot Grape Jelly Meatballs or Instant Pot Cranberry Orange Meatballs, which can also be cooked in your Crock-Pot or slow cooker.
Variations
You can use ½ cup dry bread crumbs if you don't have fresh. You can also use cracker crumbs or cracker meal if you have it.
For spicier meatballs, sprinkle in red pepper flakes for extra flavor. Use fresh chopped onions in place of dried and fresh minced garlic in place of dried, if desired.
You can also use either Italian seasoning in place of the basil or dried parsley. I use fresh parsley, sometimes if I have it. Fresh herbs always add more flavor.
How to Store and Reheat
Store leftover baked meatballs in an airtight container in the refrigerator. They keep for about 3 to 4 days.
For longer storage, place cooked meatballs in a freezer safe container or storage bag, and freeze. You can use them in any recipe that calls for frozen meatballs. Homemade meatballs are best!
If you have extra sauce, you can freeze them together. Meatballs and sauce reheat easily on the stove or in individual portions in your microwave.
Recipe
Grandma's Baked Italian Meatballs Recipe
Grandma's Baked Italian Meatball Recipe makes the best homemade meatballs that are oven baked and delicious with marinara sauce over pasta. Your whole family will love this easy meatball recipe for dinner or as a hearty appetizer!
Ingredients
1

pound

ground beef

1

pound

ground pork

1

cup

soft torn bread crumbs

3 slices bread

2

tablespoons

milk

¼

cup

grated Parmesan cheese

1

tablespoon

dried minced onions

1

tablespoon

dried basil or Italian seasoning

1

teaspoon

sea salt

1

teaspoon

garlic powder

½

teaspoons

pepper

2

large

eggs
Instructions
Preheat oven to 400 degrees

Line a rimmed baking sheet with aluminum foil or parchment paper

Tear bread into smaller pieces, and pour milk over bread until moist. Add eggs, and beat slightly Add all remaining ingredients to a large mixing bowl, and mix with your hands until mixture is just combined

Form into roughly 2-inch sized balls, and place on baking sheet

bake for 20 minutes or until just brown and internal temperature is 160°

Remove from oven, and add to sauce. Or, let cool slightly, then refrigerate for later or freeze
Notes
Meatballs should be cooked to an internal temperature of 160 degrees. If you're adding them to sauce, they will simmer until done if not at temperature. If serving right away, make sure they're at least 160 degrees before serving.
You can use all beef if you don't have pork, but flavor and texture won't be exactly the same.
Sub ½ cup dried bread crumbs or cracker crumbs for fresh bread crumbs.
Nutrition information is estimated. Please do your own calculation to fit special diets.
Nutrition
Calories:
153
kcal
Carbohydrates:
4
g
Protein:
10
g
Fat:
10
g
Saturated Fat:
4
g
Cholesterol:
52
mg
Sodium:
211
mg
Potassium:
152
mg
Fiber:
1
g
Sugar:
1
g
Vitamin A:
38
IU
Vitamin C:
1
mg
Calcium:
36
mg
Iron:
1
mg
Recipe first published in 2020 and updated in 2021 for clarity and tips
I hope you enjoyed this simple homemade meatball recipe! For more of my favorite pasta recipes and more classic dishes with great flavor, be sure to subscribe to the newsletter!