Instant Pot Pasta and Meatballs is an easy one pot dinner made entirely in the pressure cooker. Add the ingredients, cook and eat -- perfect for busy days!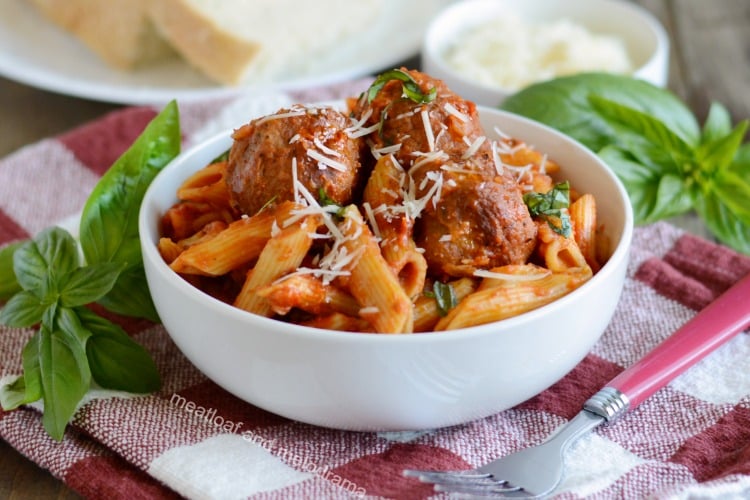 Easy pressure cooker penne pasta and meatballs is one of the easiest Instant Pot recipes you can make. It's definitely one of the easiest Instant Pot dinner recipes I've ever made! Seriously, you just dump everything into the Instant Pot, pressure cook it, and eat!
So, I've been testing out the easiest possible dinner recipes lately. I'm thinking about easy dinners that you can make when you are on vacation or away from home -- with only a few ingredients. See, as much as I love to eat out and try new restaurants when we're on vacation, that gets expensive very fast!
I'm also thinking about easy dinner recipes for crazy busy days or those days when you're tired, the kids are wired, and you can't deal with making dinner from scratch. You get it, right?
The other day I made super quick and easy spaghetti and meatballs in the Instant Pot so that one of the girls could have a quick dinner before heading out to a competition. We liked it, but we like Instant Pot spaghetti with meat sauce more.
So when I needed a quick lunch before another one of our girls was going out with some friends, I switched things up and made meatballs with penne pasta instead of spaghetti. And you guys, my whole family practically inhaled it!
How to make Instant Pot pasta and meatballs
You can use fresh homemade meatballs in the Instant Pot, but like I said, we're all about quick and easy dinners today. I used frozen meatballs, jarred sauce, pasta, spices and a little bit of tomato sauce for extra flavor.
I added a little bit of olive oil to the pot first. Then I put the meatballs on the bottom and layered the uncooked penne pasta over the meatballs.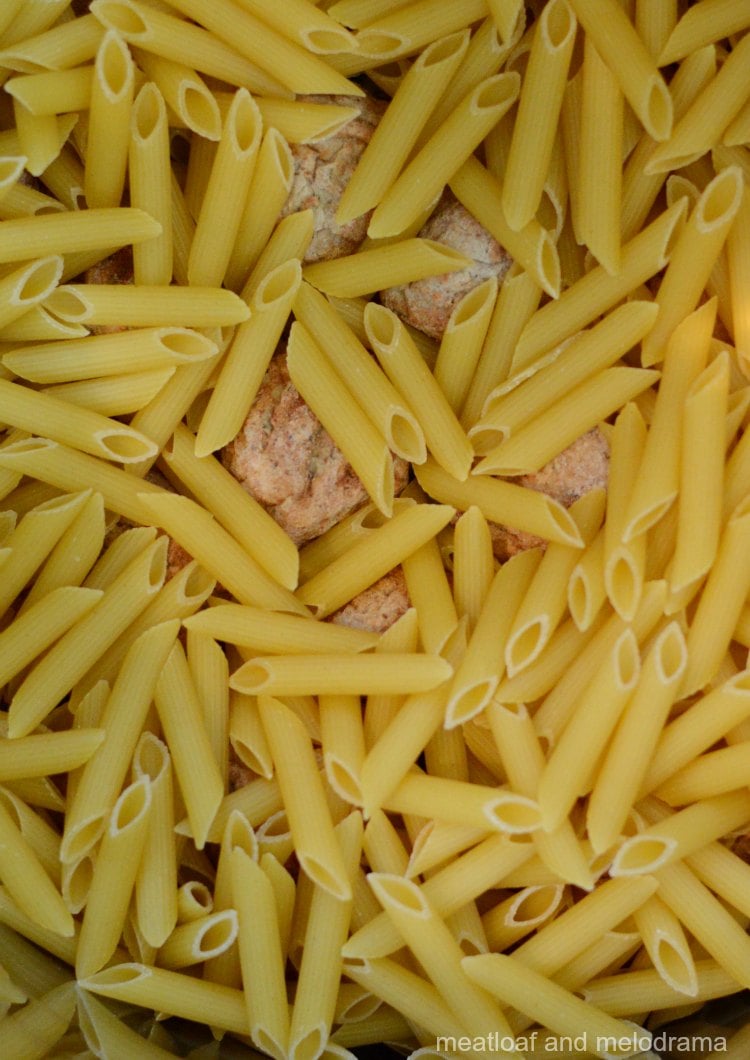 Next, I added an entire jar of marinara sauce, a can of tomato sauce and some spices. Don't mix the sauces -- Just add the water around the sides and over the pasta.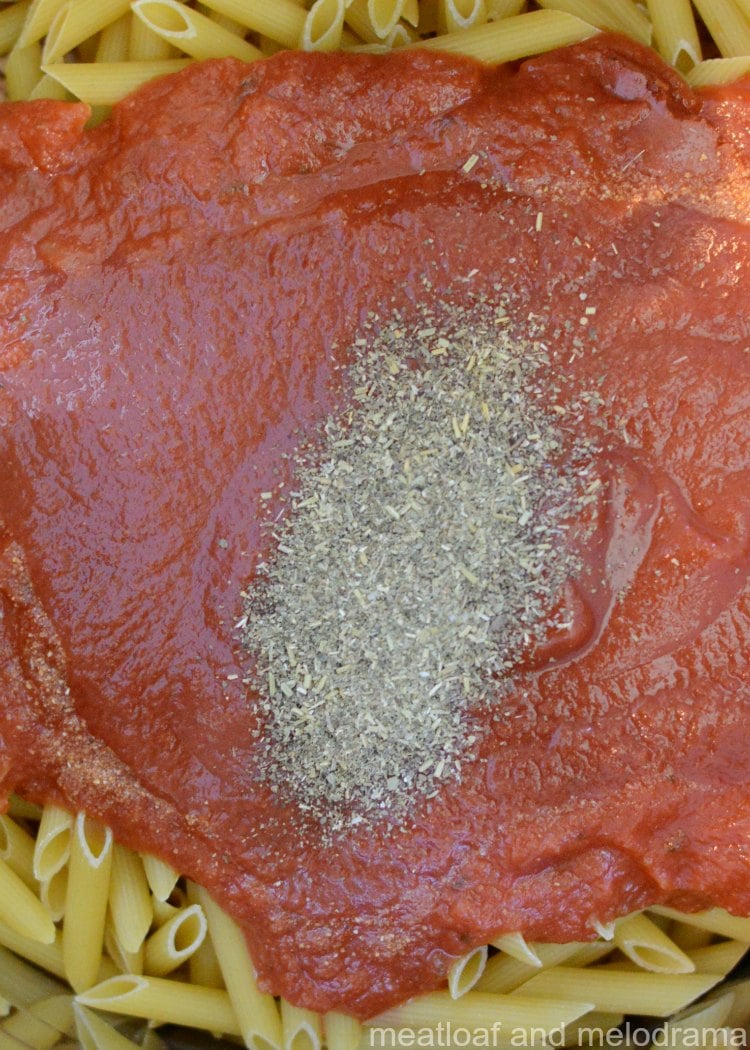 Add some spices for extra flavor, pressure cook the meatballs and pasta, and you've got a delicious one pot dinner! in just a few minutes! I tossed in some Parmesan cheese at the end, but it's optional.
This Instant Pot pasta is really all about the meatballs!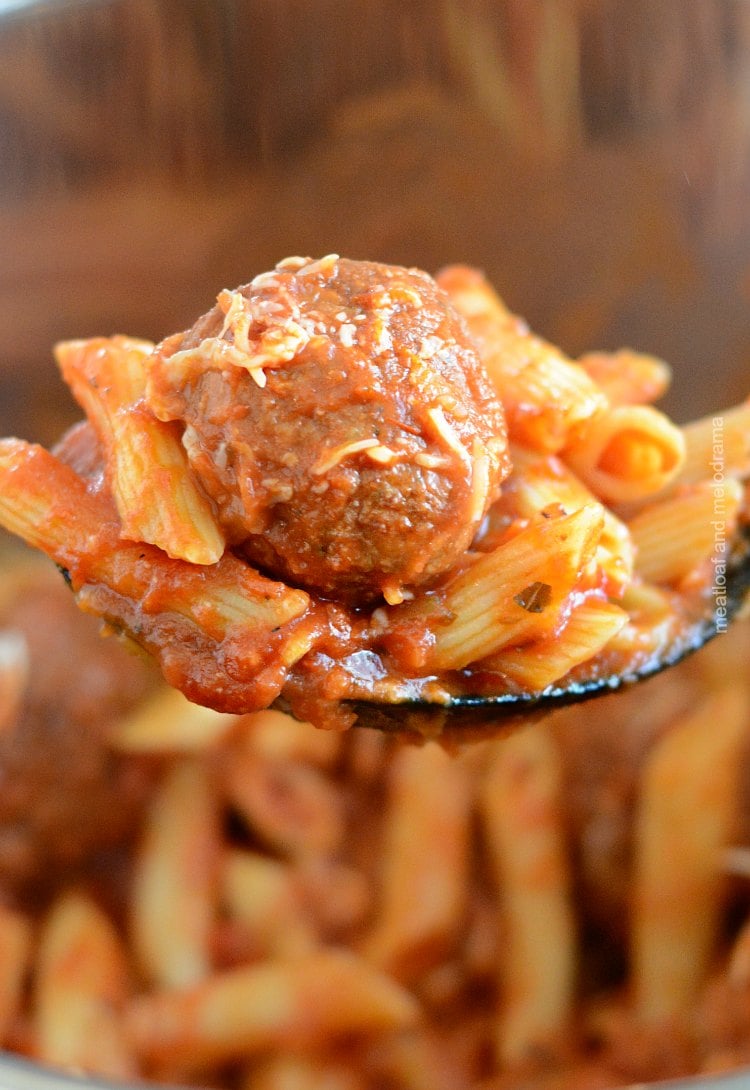 You could add some mozzarella or even a little bit of cream for a completely different pasta dish! And a little bit of fresh basil is the icing on the cake.
But since we're talking about the easiest dump and go Instant Pot dinners in the universe today, you can leave out the extra spices, cream and all that, although the fresh basil does add a nice touch. Just saying.
Looking for more quick and easy Instant Pot dinner recipes?
Recipe for Instant Pot Pasta and Meatballs
Recipe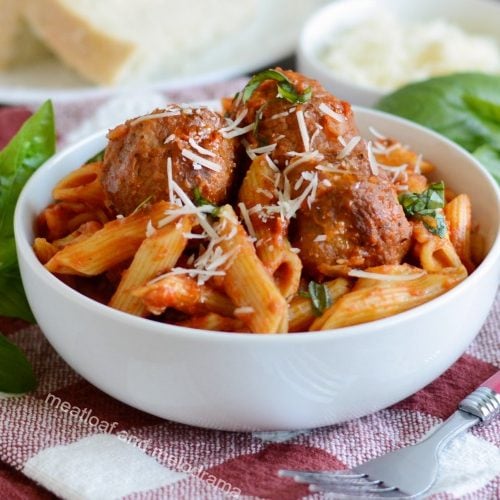 Instant Pot Pasta and Meatballs
Instant Pot Pasta and Meatballs is a quick and easy one pot dinner made in the pressure cooker. It's perfect for busy days and when you're on vacation!
Ingredients
1

teaspoon

olive oil

16

small

meatballs (frozen)

1

16-ounce box

penne pasta (uncooked)

1

24-ounce jar

marinara sauce

1

8-ounce can

tomato sauce (no salt added)

3 ½

cups

water

1

tablespoon

Italian seasoning

1

teaspoon

garlic powder

shredded Parmesan cheese (optional)
Instructions
Spread olive oil evenly over bottom of Instant Pot, and add meatballs

Add pasta over meatballs, and add marinara sauce and tomato sauce over pasta

Pour water around sides and over the pasta, and add Italian seasoning and garlic powder. Do Not Stir

Cover with lid, and turn vent to Sealing position

Hit PRESSURE COOK for 4 minutes. After 4 minutes cook time, do a quick release

When pin drops, carefully open lid and stir pasta and sauce together. Top with Parmesan cheese, if using, and serve.
Notes
Recipe was made in 8-quart Instant Pot and 6 quart using Cooked Perfect Meatballs, Barilla brand pasta and marinara sauce and Hunts tomato sauce. Amounts and cook time are same for both size pressure cookers.
Nutrition information is estimated. Please do your own calculation to fit special diets.
Nutrition
I hope you enjoy this easy Instant Pot pasta and meatballs as much as we do!