Easy Homemade Spaghetti Sauce is made with simple ingredients and is thick, flavorful and delicious over pasta and even better with homemade meatballs.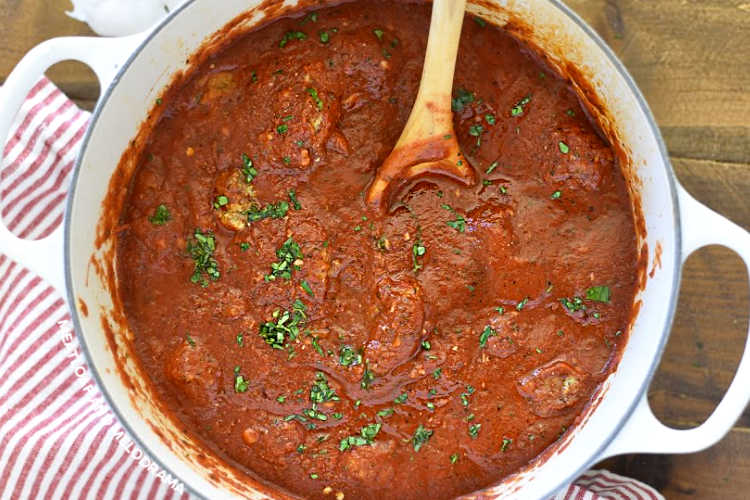 This is my grandma's recipe for homemade spaghetti sauce, and it's the BEST tomato sauce ever. It's super simple, and you can adjust the ingredients to use what you have on hand.
I've made so many different tomato sauces over the years, but I keep going back to this one because it's just that good. This is a thick, rich sauce that clings to your pasta and definitely isn't watery!
Add Homemade Meatballs for extra flavor, or use instead of jarred sauce to make One Pot Spaghetti and Meat Sauce or One Pot Creamy Shells and Beef.
If you have an Instant Pot, use the sauce for Instant Pot Spaghetti and Meat Sauce, Instant Pot Creamy Shells and Beef or Instant Pot Pasta and Meatballs.
How to Make Spaghetti Sauce from Scratch
Start out by cooking your chopped onion and garlic in a little olive oil or vegetable oil. My grandma's recipe actually called for salad oil.
You want to cook the onion and garlic until they just start to soften up. Keep the heat on medium so that the garlic doesn't get too brown.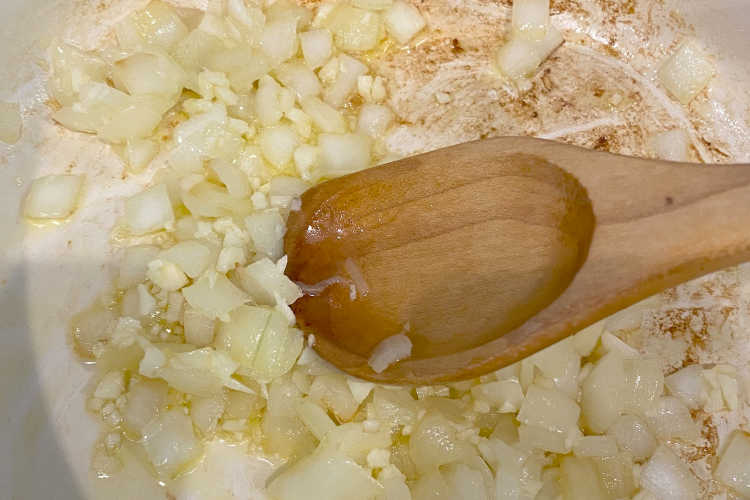 Next, pour in a can of crushed tomatoes. Then, stir in tomato paste, and add water.
I usually fill the empty tomato paste can with water a couple of times and use more after simmering if I think that sauce is a little too thick. It's very easy to get the sauce as thick as you want it this way.
Add salt, pepper and either dried basil, dried parsley, Italian Seasoning or thyme. If you have fresh parsley, you can add some of that, too!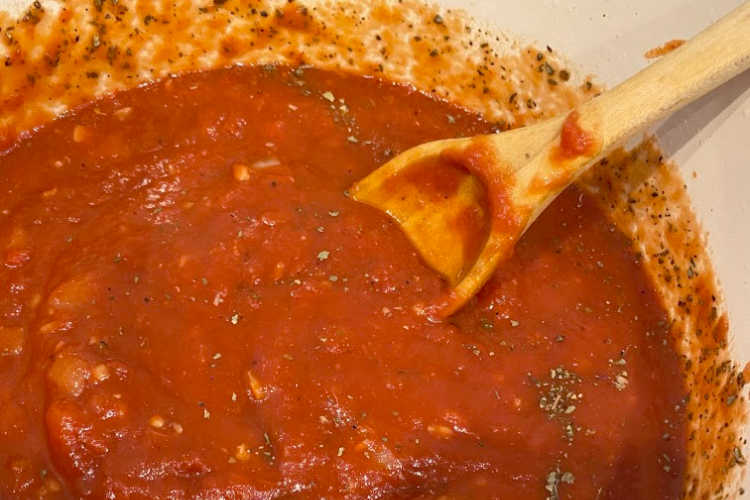 If you're using meatballs, add them to the sauce. Then, turn the heat down, cover, and let it all simmer together.
Note that you can add a teaspoon or two of sugar to sweeten the sauce. This is optional, but it's up to you.
You'll want to allow at least an hour or more to simmer the sauce and bring out the flavor. Yes, I know that takes time, but, this recipe makes a lot, so you can easily refrigerate or freeze some to use on busy days.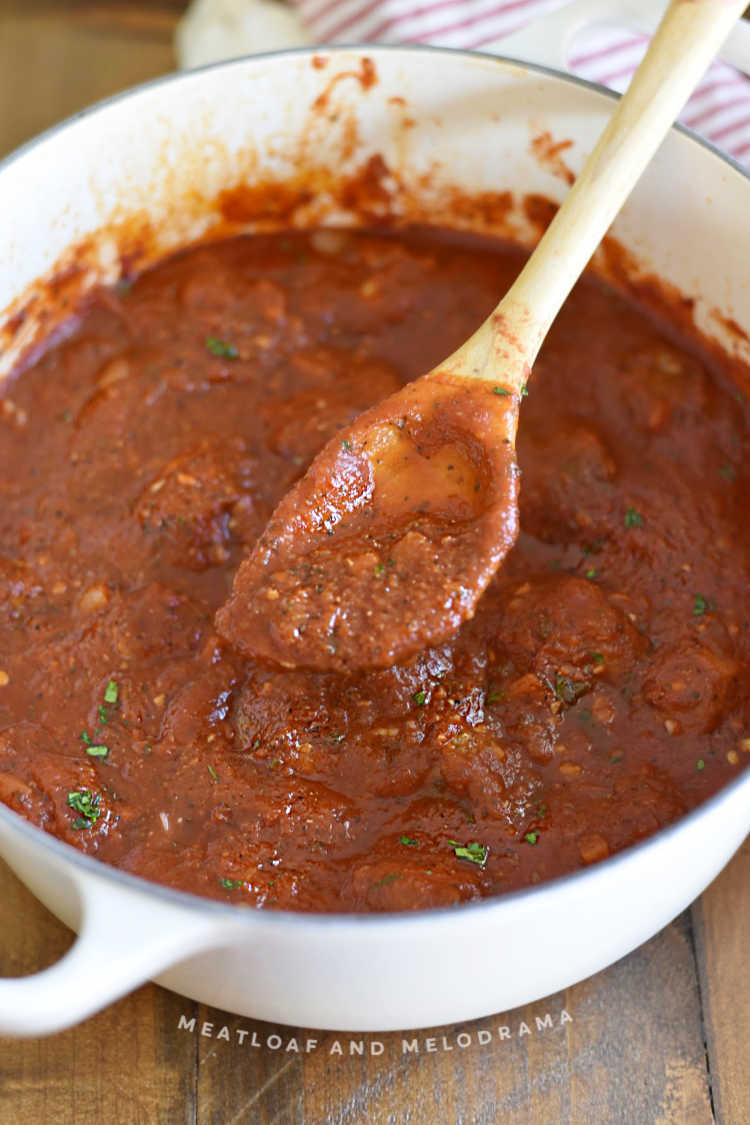 Simple Substitutions
It is so easy to use the ingredients you already have to make spaghetti sauce. Most older recipes were made by cooks who used what was available -- no need to run to the store! You can also customize the flavor to suit your own tastes!
Add garlic powder or dried onion flakes instead of fresh
Use 2 cans of tomato paste and 3 cans of water instead of crushed tomatoes or add in a can of tomato sauce
Season with Italian seasoning, dried basil, oregano or parsley or a combination of these
Use red wine instead of water
Brown a spare rib or two and add to the sauce for extra flavor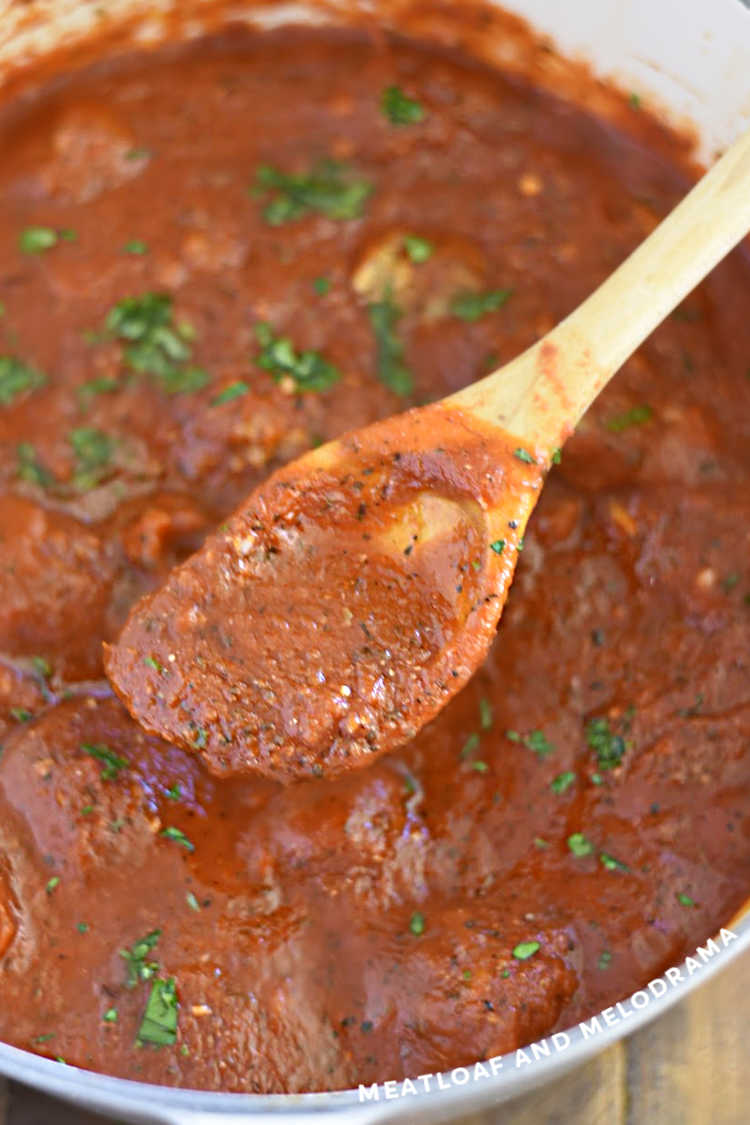 Easy Homemade Spaghetti Sauce Recipe
Recipe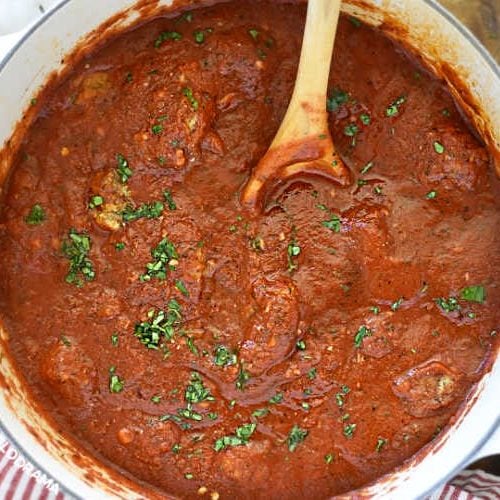 Homemade Spaghetti Sauce
Easy Homemade Spaghetti Sauce is made with simple ingredients and is thick, flavorful and delicious over pasta and even better with homemade meatballs.
Ingredients
2

tablespoons

olive oil

1

medium

onion

chopped

3

garlic cloves

peeled and chopped

28

ounces

crushed tomatoes

6

ounces

tomato paste

12

ounces

water

use empty tomato paste cans

1

tablespoon

dried basil

1

teaspoon

sea salt

½

teaspoon

ground black pepper

¼

teaspoon

dried red pepper flakes

1

teaspoon

sugar

optional

chopped fresh parsley

optional
Instructions
Cook chopped onions and garlic in olive oil until soft over medium heat

Stir in crushed tomatoes and tomato paste

Stir in water (use empty tomato paste can)

Add dried basil, sea salt, pepper and pepper flakes. Add a teaspoon or more of sugar to taste if sauce seems too acidic.

Reduce heat to simmer, cover and cook on low for 1 to 1/12 hours, stirring occasionally to avoid burning. Can add more water to thin sauce if necessary, and add fresh parsley before serving, optional
Notes
Can use garlic powder instead of chopped, onion flakes instead of chopped, and Italian seasoning, dried parsley or oregano instead of or in addition to dried basil.
If adding meatballs, add to sauce before simmering.
Nutrition information is estimated. Please do your own calculation to fit special diets.
Nutrition
Calories:
73
kcal
Carbohydrates:
11
g
Protein:
2
g
Fat:
3
g
Saturated Fat:
1
g
Sodium:
475
mg
Potassium:
435
mg
Fiber:
3
g
Sugar:
6
g
Vitamin A:
445
IU
Vitamin C:
12
mg
Calcium:
47
mg
Iron:
2
mg