Hi Friends!

I thought I would take a quick break from the usual holiday sweets and share my Easy Chicken Soup recipe. I know just about every family has a favorite recipe for homemade chicken soup, and so does mine. But, it's not really something you can put together on the spur of the moment, and sometimes, you just want a decent bowl of soup in a jiffy, especially when you're under the weather. So, I found a few shortcuts that make it a lot easier to get the great taste of homemade soup without all of the work.



Chicken soup is probably the ultimate comfort food, and my mom remembers tagging along while her mom delivered a big pot of soup to sick friends and relatives. And, while my mom would sometimes make us homemade soup, she really preferred the ease of opening a can. I prefer not to use cans because of the high sodium content, but I have no problem using low sodium broth as a shortcut!

Add some cooked chicken and a few other ingredients, and you've got yourself a great meal.

Ingredients:
Meat from 1 medium sized rotisserie chicken, chopped in large chunks

1 large container of low sodium chicken stock

2 stalks celery, washed and chopped, plus a few celery leaves for taste

1 cup carrots, sliced thin

1/2 onion, chopped

2 cloves chopped garlic

1 tablespoon Italian seasoning

salt and pepper, to taste
Saute garlic, onions, celery and carrots in butter or olive oil until tender.
Add chicken stock, cooked chicken, seasoning, celery leaves, salt and pepper.
Simmer until soup is hot, and keep warm until you are ready to eat. Enjoy!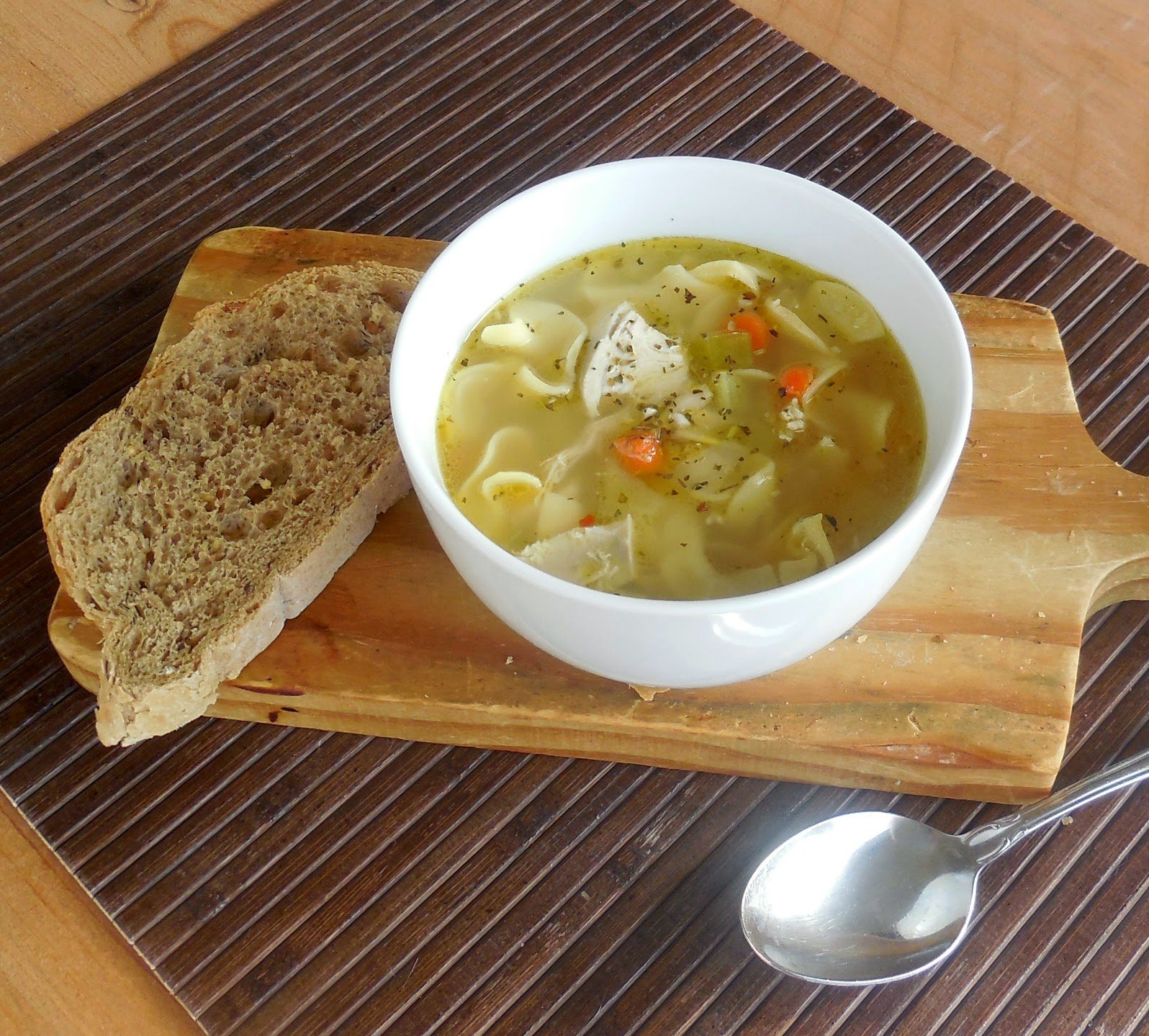 I usually cook some egg noodles separately, or if we have cooked pasta on hand, I'll use that. Some of us like a lot of noodles and some don't, so this just works out better for us. You could always add the noodles to the pot if you want. Some warm, crusty bread goes perfectly with this dish.



If you have any cooked chicken on hand, you could use that instead of rotisserie chicken, but this is what I like to do when I don't have any cooked chicken to start with.

Adding the veggies helps with the homemade taste, and you can add any other seasonings that you like –much better than canned! Plus, the leftovers taste great too.

Do you have any soup shortcuts to share, or do you always cook completely from scratch?

Thanks for stopping by!