Easy Meal Plan 21-One Pan Week is all about quick fix dinners with super easy clean up! It's perfect for the busy week ahead!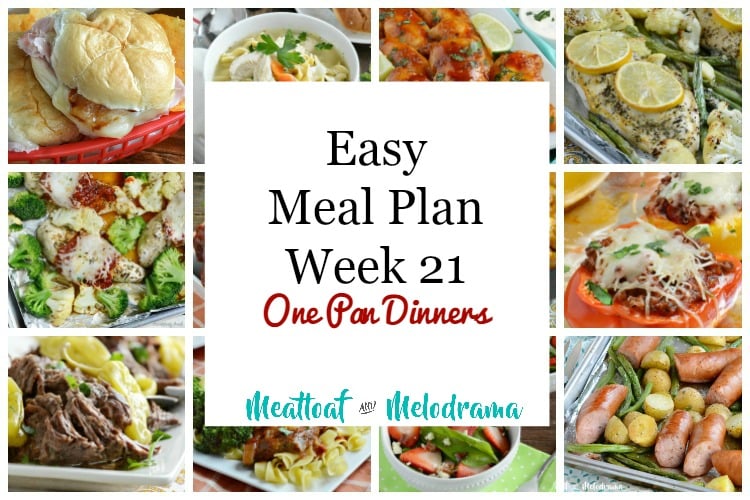 This easy meal plan is for Easter week, so I'm keeping the dinners as quick and easy as possible, and that means lots of one dish dinners. You can even plan for leftovers and not cook as often, especially if you have a smaller family. I know many of you have church services and other plans later in the week, and some of you are just plain busy!
Since we always have ham and Polish sausages for Easter dinner and then tons of leftovers, I pretty much cut out pork this week. Instead, I'm planning for a lot of beef and chicken. Next week, though, is definitely about the leftover pork and other things from Easter.
I'll have our personal Easter menu on next week's meal plan, but I added some suggestions here in case you want to plan ahead.
Easy Meal Plan 21-One Pan Week
Sunday
Sheet Pan Honey Mustard Chicken Dinner – Save the leftover potatoes and reheat them up for Monday's dinner!
Monday
Cheddar Barbecue Meatloaf Muffins
Tuesday
One Pan Creamy Chicken Enchilada Pasta — I know this was on the menu a couple of weeks ago, but I'm craving it again, and you[ll get some delicious leftovers!
Wednesday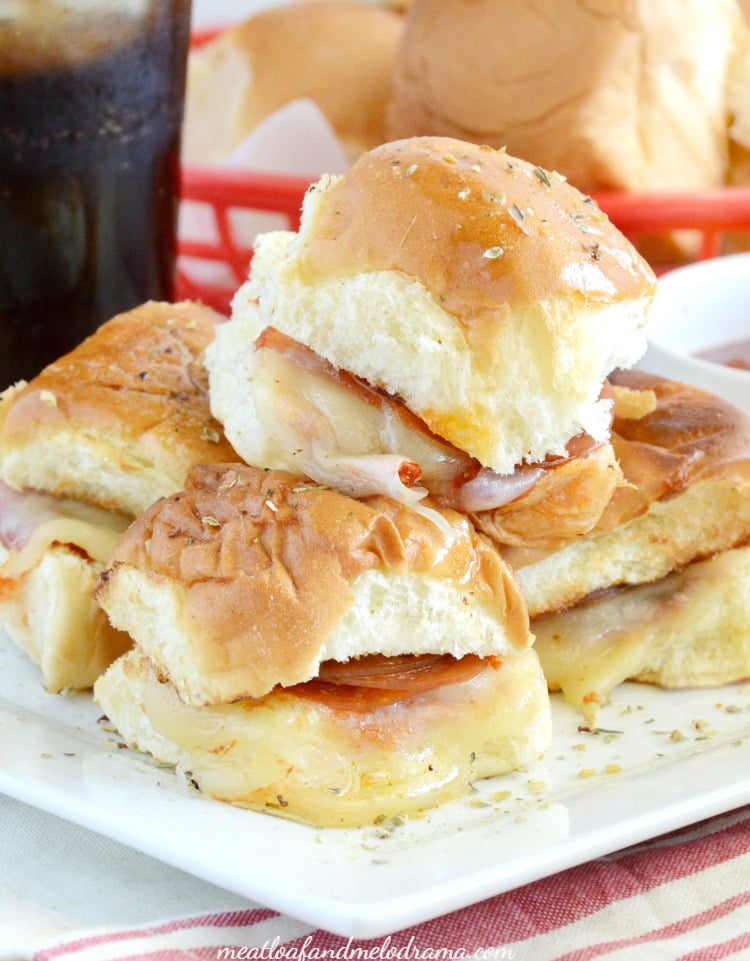 Pepperoni Pizza Sliders – Serve these with an easy side salad or fresh veggies and dip!
Thursday
One Pot Ground Beef Stroganoff
Friday
Take the night off from cooking, and eat out or order in! Or use up any leftovers that you may have.
Saturday
Easy Buffalo French Bread Pizza – Keep things simple while you whip up some Easter Bunny Tail Bark or Bird's Nest Cupcakes! You can also do prep work for Lemon Blueberry Bagel Bake!
Ideas for Easter Brunch and Dinner
Pineapple Teriyaki Crock-Pot Ham, Cranberry Orange Crock-Pot Ham, Strawberry Pretzel Salad , Grandma's Potato Salad
And that's it for the easy meal plan 21-one pan week! Don't forget to download and print this Weekly Menu and shopping list!
Have a super week, friends!