Our Easy Meal Plan Week 13 is perfect for busy weeknights! You've got five quick and easy dinners, an easy snack and delicious ideas for Valentine's Day!
There's no need to stress about what to make for dinner with this week's easy meal plan. We're sharing two easy soups, a hearty casserole and two super easy low carb chicken recipes. There's also a very versatile dip that you can use as a sandwich spread, and a delicious chocolate dessert that would be perfect for Valentine's Day!
The Hubs and I stopped going out to dinner on Valentine's Day when our oldest was a baby. The restaurants were too crowded, and the food was too expensive. It's now four kids later, and we would much rather enjoy dinner with the family at home.
We don't really splurge on the dinner, but I try to make something the whole family enjoys, like Tuesday's Skinny Chicken Parm. This is a dinner that everyone in my family practically inhales — even my pickiest eater.
It's just like the regular version of Chicken Parmesan, only it's lighter and low carb. But, it tastes just as good. Trust me on this! Plus, my version is so easy to make, takes only 20 minutes to bake, and you have hardly any cleaning up to do!
And in case you need another sweet treat, I've also included an easy recipe for strawberry crinkle cookies.My kids love these!
Easy Meal Plan Week 13
Monday
Skinny Orange Chicken from Art from my Table
Tuesday
Sheet Pan Skinny Chicken Parm from Meatloaf and Melodrama
Wednesday
Lemon Chicken Noodle Soup from Vintage Kitty
Thursday
Mexican Chicken, Rice and Veggie Casserole from Suburban Simplicity
Friday
Green Chili Black Bean Chowder from Carrie's Home Cooking
Extras for the Week and Valentine's Day
Chocolate Molten Lava Cake from Smart Little Cookie
Extremely Useful Broad Bean Dip from The Cook's Pyjamas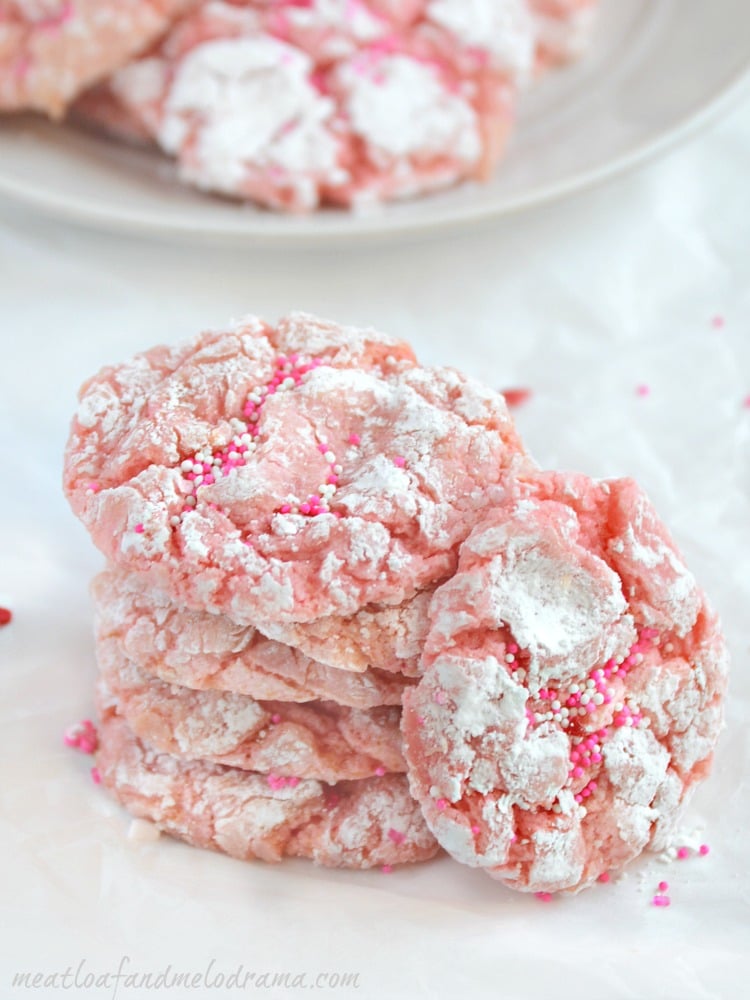 Easy Strawberry Crinkle Cookies
That's it for this week's easy meal plan, friends. If you have any questions, let me know.
Happy Planning,