This Easy Roast Chicken Dinner with vegetables is perfectly cooked in a Dutch Oven for a simple one pot meal the whole family will love.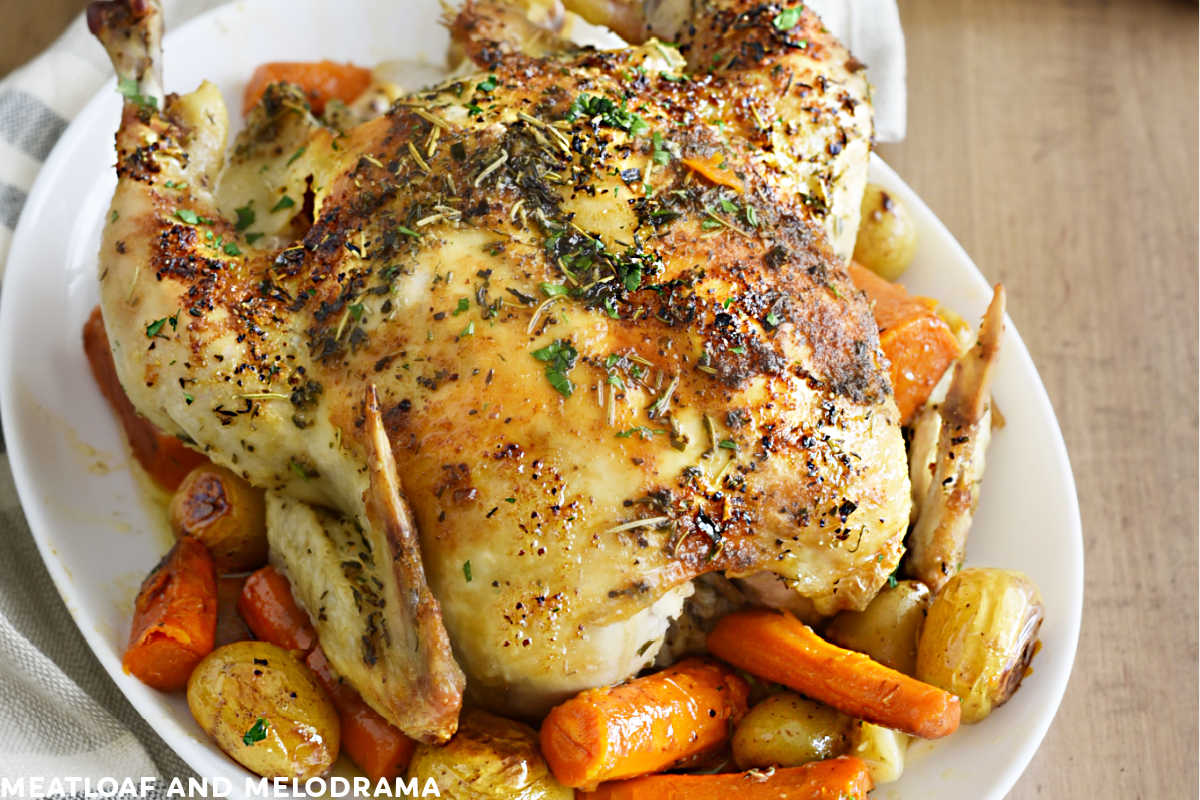 My favorite roast chicken recipe makes the most delicious, flavorful chicken ever! It uses plenty of garlic, herbs, butter and olive oil for crispy skin and tender, juicy meat. Throw in potatoes and carrots, and you've got an easy one pot meal!
Everyone should know how to roast a whole chicken. It's one of those basic recipes that sounds intimidating but is actually very simple. It's perfect for Sunday supper and special enough for company.
This recipe for roasted chicken is super easy -- one of the easiest ones out there. You don't need to truss the chicken -- just season it, throw it into the pot, and cook!
How to Cook Whole Chicken in a Dutch Oven
You can roast a chicken in a baking dish, sheet pan or roasting pan. I love using my Dutch oven because it's big enough to hold everything, and the juices don't splatter everywhere while they cook.
First, take the neck and giblets out of the cavity. If you want to make soup later, you can save the neck and roast with the chicken or separately.
Then, pat the bird dry using a paper towel. This helps the skin brown while roasting.
Next, pour olive oil on the bottom of the Dutch oven, and add some of the carrots, potatoes and onion. You can also cook the chicken by itself, or add just carrots or just potatoes.
Season the inside of the bird, and place a few chopped onions in the cavity. Don't pack it too full, or it won't cook evenly. Place the chicken in the pot, and add remaining carrots and potatoes.
Rub the softened butter over the chicken and under the skin if you want, then sprinkle sea salt, pepper, garlic powder and herbes de Provence over the chicken and the vegetables.
Note -- I love using herbes de Provence seasoning on poultry. It's a blend of Provençal herbs that you can find it in most grocery stores or online. If you can't, Italian seasoning works, too.
Pour a little more olive oil over the chicken. Then, place it into the preheated oven -- uncovered -- and cook!
If the chicken starts to get too dark, you can place the lid on the Dutch oven. Or, you can cover the pan loosely with foil.
How Long to Roast Chicken at 425
The cook time depends upon the weight of the chicken. I try to get chickens that weigh between 4 and 5 pounds -- closer to 5 but not over works perfectly!
I find that a 5 pound chicken takes about 1 hour and 15 minutes to 30 minutes to cook at 425. Start testing at an hour and 15 minutes.
Chicken is done when the internal temperature reads 165 degrees accoring to a meat thermometer. The juices should also run clear, and the legs should move easily.
Rest Before Carving
When the chicken is done, remove from the oven, cover, and let it rest in the pan. This allows the juices to settle and keeps the meat nice and juicy.
After about 10 minutes, you can carve it up, and eat! There will be juices in the bottom of the Dutch oven that you can spoon over before you serve the chicken. Double yum!
You can also use the pan juices to make gravy. Remember to save the chicken carcass to make homemade chicken stock in your Instant Pot!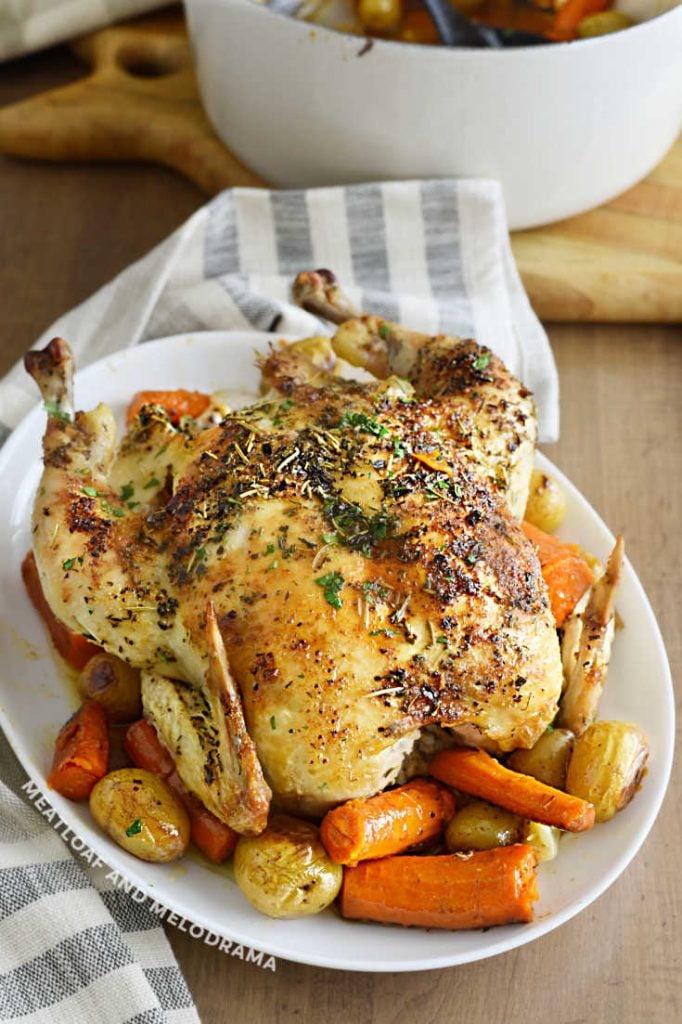 Too hot for the oven? You can try my recipe for Instant Pot Whole Chicken in your electric pressure cooker!
Easy Roast Chicken Recipe with Vegetables
Recipe
Easy Roast Chicken Dinner
This Easy Roast Chicken Dinner with vegetables is perfectly cooked in a Dutch Oven for a simple one pot meal the whole family will love. Recipe makes perfectly cooked chicken with crispy skin and tender, juicy meat every time.
Ingredients
2

tablespoons

olive oil

divided

1

5 pound

whole chicken

5

large

carrots

washed and peeled and sliced into 2 inch pieces

1

pound

small baby potatoes

washed

1

small

yellow onion

peeled and cut into large pieces

3

garlic cloves

peeled

4

tablespoons

butter

softened

1 ½

teaspoons

sea salt

1

teaspoon

garlic powder

½

teaspoon

ground black pepper

1

tablespoon

herbes de Provence seasoning
Instructions
Preheat oven to 425, and add 1 tablespoon of olive oil to the bottom of a large Dutch oven

Remove neck and innards from chicken, and pat skin dry with a paper towel

Place some of the carrots and potatoes and onions in the bottom of the Dutch oven, then place the chicken, breast side up, on top, and place remaining carrots and potatoes around chicken

Season inside with some of the salt and pepper, then place onions and garlic inside

Rub softened butter all over chicken, then season chicken and vegetables with sea salt, pepper, garlic powder and herbes de Provence. Pour remaining olive oil over chicken and vegetables

Place in preheated oven, uncovered, and cook for 1 hour and 15 minutes to 1 hour and 30 minutes. If chicken starts to gets too brown, cover with foil or lid, and remove lid about 10 minutes before done cooking

Chicken is done when internal temperature is 165 according to meat thermometer and juices run clear

Remove from oven, cover and let rest for 10 minutes before carving
Notes
You can cook chicken alone or with just carrots or just potatoes. If Dutch oven is too full, use half of the potatoes.
Chicken can be cooked in a baking dish or roasting pan if you don't have a Dutch oven.
Nutrition information is estimated. Please do your own calculation to fit special diets.
Nutrition
Calories:
202
kcal
Carbohydrates:
21
g
Protein:
3
g
Fat:
13
g
Saturated Fat:
6
g
Cholesterol:
20
mg
Sodium:
696
mg
Potassium:
539
mg
Fiber:
4
g
Sugar:
4
g
Vitamin A:
10282
IU
Vitamin C:
20
mg
Calcium:
49
mg
Iron:
2
mg
Got leftover chicken? Use leftover chicken to make: