Make homemade Vanilla Chocolate Pudding Pops with instant pudding mix and milk. This easy pudding pops recipe makes a delicious summer treat perfect for kids of all ages!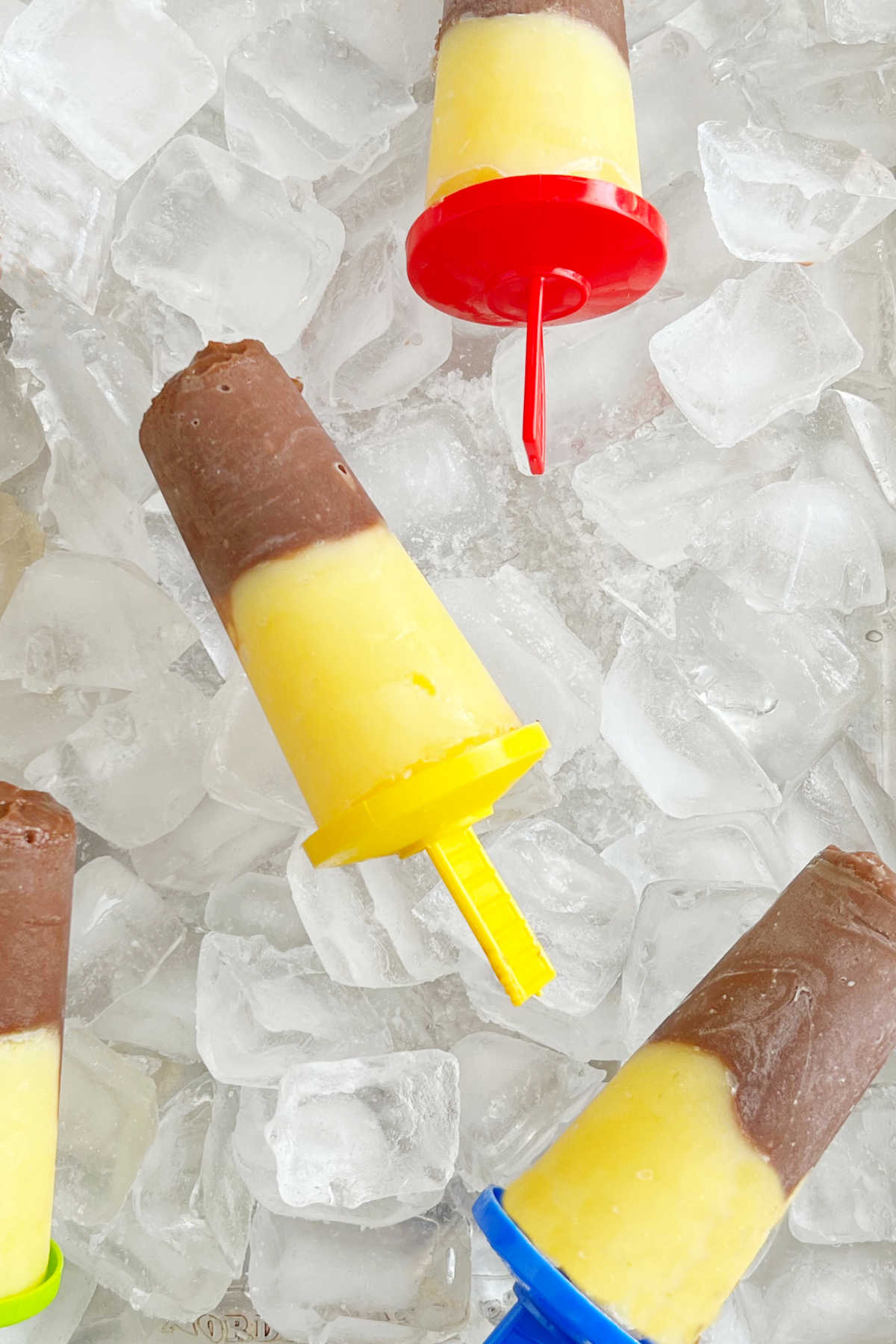 Jump to:
Remember Jell-o pudding pops from back in the day? One of my girls absolutely loves pudding, and even though I'm not a big fan, I love these frozen pudding pops as much as the kids do. They taste like original Jello pudding pops!
Yes, you can freeze pudding! This is a super easy way to make frozen pudding pops. The result is kind of like a creamy Popsicle, and it tastes like frozen Jello pudding. I have seen recipes that add Cool Whip for a creamier texture, but the kids and I like Jello pops this way.
Since I did not want to cook anything on the stove on a hot summer day, we took the easy way out and used instant pudding. I made both vanilla pudding pops and chocolate so that there would be enough left over for the pudding queen to snack on.
If you enjoy homemade frozen treats, try our chocolate peanut butter ice cream, Oreo ice cream and more easy dessert recipes on my desserts page.
Homemade Pudding Pops Ingredients
You only need a few simple ingredients for this pudding pop recipe. They should be easy to find in your grocery store.
Instant pudding mix -- vanilla instant pudding and chocolate instant pudding. I used Jello instant pudding mix, but generic is fine.
Milk -- either whole milk or 2 percent milk. You need 4 cups of milk total for this recipe as you are making 2 boxes of pudding.
You will also need a wire whisk or hand mixer (electric mixer)and popsicle molds to make homemade popsicles.
How to Make Pudding Pops with Instant Pudding
Basically all you do is make Instant pudding. Because we wanted a vanilla chocolate combo, we made one batch of vanilla pudding in a large bowl and a separate bowl of chocolate pudding.
Next, you add some vanilla pudding mixture to your ice pop mold. Then, you spoon chocolate pudding over that. You can reverse the order or swirl the flavors together if you want.
Insert the handles into the molds. Be sure not to fill the popsicle molds too high or the pudding will ooze out of the top!
Then, put the molds into the freezer.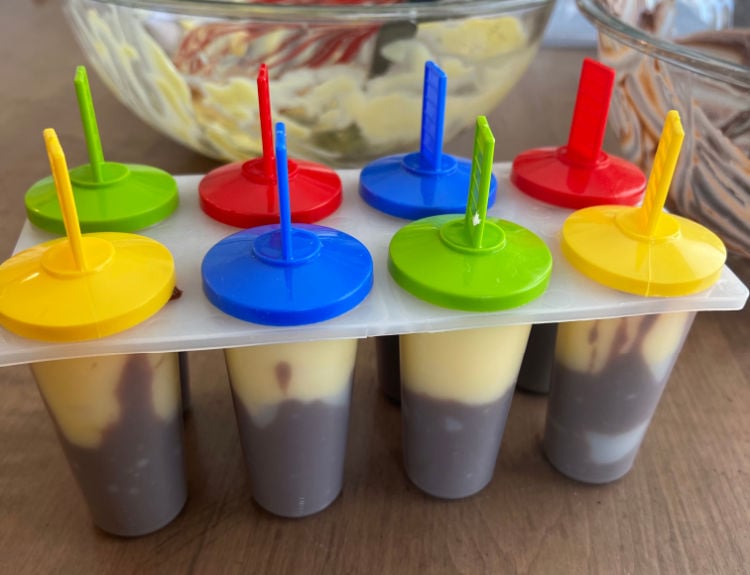 How Long to Freeze
It takes about 4-5 hours for the pudding pops to set. You can leave them in overnight if you want.
How to Easily Remove Pudding Pops from the Molds
I've found the easy way to remove the frozen treats from the molds is to run a little warm running water over the ends of the molds. Just be careful not to let any warm water get near the handles or it may run into the frozen pudding.
You can coat the insides of the ice pop molds with non stick spray, like Pam.
If you have trouble removing the popsicles, use a sharp knife to carefully dislodge the frozen treats from the molds. If the handles come out while you're trying to remove the pudding pops, you can always stick them back in.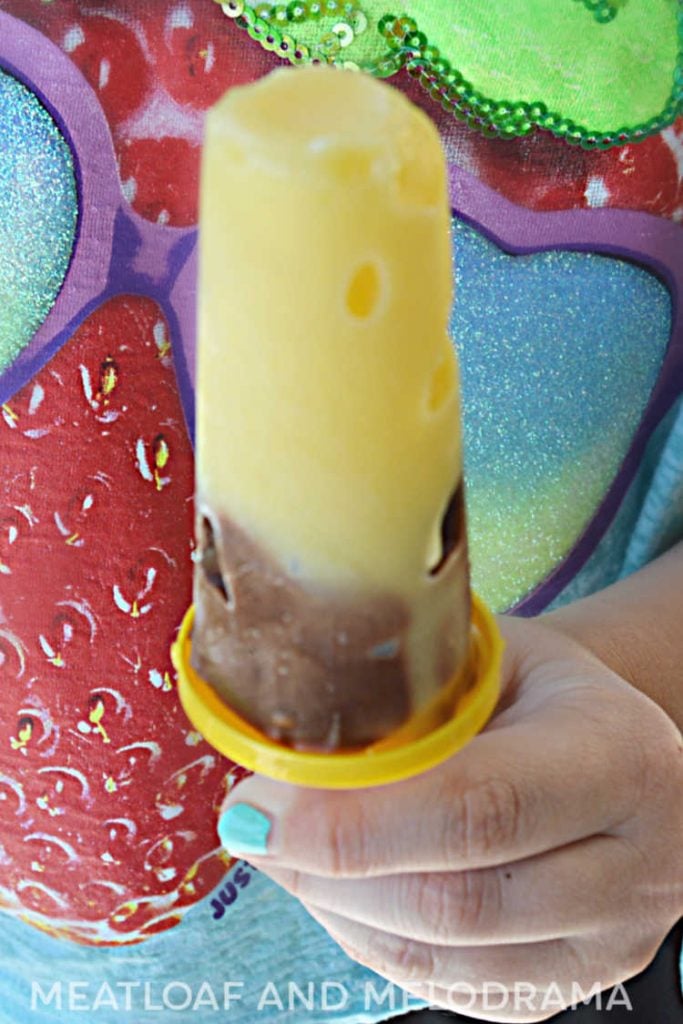 Recipe Variations
You can use any flavor of pudding with this recipe and a combination of different flavors. Use just 1 package of pudding if needed.
Chocolate banana pudding pops are delicious and so are cookies and cream pudding pops. Add some crushed Oreo cookies to these! Use your favorite sprinkles for a pop of color!
For a healthy treat, try making yogurt popsicles or smoothie pops. We like strawberry banana smoothie pops and peanut butter banana smoothie pops.
Recipe FAQ
What can I use instead of a popsicle mold?
You can use small paper cups (Dixie cup), clean empty yogurt cups or muffin tins. Insert clean wooden craft sticks before freezing.
How do you store homemade popsicles?
Store pudding popsicles in a freezer-safe container or in small storage bags so they don't get freezer burn. You can also wrap popsicles in plastic wrap once they are frozen.
Recipe
Vanilla Chocolate Pudding Pops
Make homemade Vanilla Chocolate Pudding Pops with instant pudding mix and milk. This easy pudding pops recipe makes a delicious summer treat perfect for kids of all ages!
Ingredients
1

3.9 ounce box

instant chocolate pudding

1

3.9 ounce box

instant vanilla pudding

4

cups

milk

divided
Instructions
Using 2 large mixing bowls, make 1 batch of vanilla pudding and 1 batch of chocolate pudding. Follow package directions, and use 2 cups of milk for each flavor.

Spoon some of the vanilla pudding into each ice pop mold

Spoon chocolate pudding over vanilla pudding, leaving some room at the end for the handles

Insert handles, and freeze for 4 hours or until frozen solid
Notes
Spray non stick spray into the molds before adding the pudding for easier removal. Run a little warm water over the molds to help dislodge the frozen treats from the ice molds.
You can use any flavor pudding. If you only want one flavor, you may only need 1 box of pudding.
Nutrition information is estimated. Please do your own calculation to fit special diets.
Nutrition
Calories:
40
kcal
Carbohydrates:
4
g
Protein:
3
g
Fat:
2
g
Saturated Fat:
1
g
Cholesterol:
6
mg
Sodium:
39
mg
Potassium:
110
mg
Sugar:
4
g
Vitamin A:
80
IU
Vitamin C:
0.2
mg
Calcium:
94
mg
Did I ever tell you about our summer foodie bucket list? Basically, the kids wrote down all of the recipes they want to try this summer, and these Easy Vanilla Chocolate Pudding Pops were pretty high up on the list. Most of the items just happen to be no-bake desserts or other frozen treats, but hey -- that's what's fun about summertime!
If you try this easy recipe, please leave a star rating and/or comment. For more no-bake dessert recipes and family friendly recipes the whole family will love, sign up for the weekly newsletter and follow on social media.

Recipe first published in 2015 and updated in 2023.