Foil Grilled Corn on the Cob is a quick and easy summer side dish that is tender, sweet, juicy and goes well with t anything else you cook on the grill. You'll love the easy clean-up, too!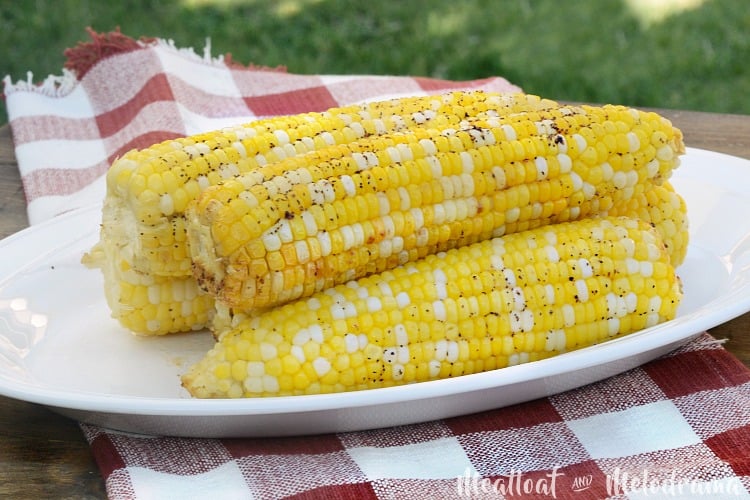 One of the best things about summer is that fresh sweet corn is in season. I don't think I could ever pick a favorite food, other than chocolate, but grilled corn on the cob with plenty of melted butter is definitely high on the list!
My other summer favorites are probably fresh peach crisp, lemon blueberry muffins and classic zucchini bread.
As soon as fresh corn starts popping up in the stores (no pun intended), I start buying it. In fact, we probably make corn on the cob at least once a week. Of course, buying corn from the farmers market is better, and getting it straight from the farm is the absolute best, right?! We don't get out to the farms that often, but whenever I get the chance, I take it.
Growing up, we always had boiled corn on the cob, and I make it this way when it's too hot outside to grill. But a few years ago, I saw a recipe for grilled corn on the cob wrapped in foil on TV, and after trying it, we were all hooked! I even got my parents to start making it this way, and that almost never happens!
There are many ways to grill corn, and you can mix up the seasonings whenever you want. This is my go-to recipe for grilled corn because it's so simple and turns out perfect every time. You only need a few things to make this easy grilled corn in aluminum foil:
Fresh corn on the cob
A grill (we use a gas grill)
Heavy duty aluminum foil
Butter and a few seasonings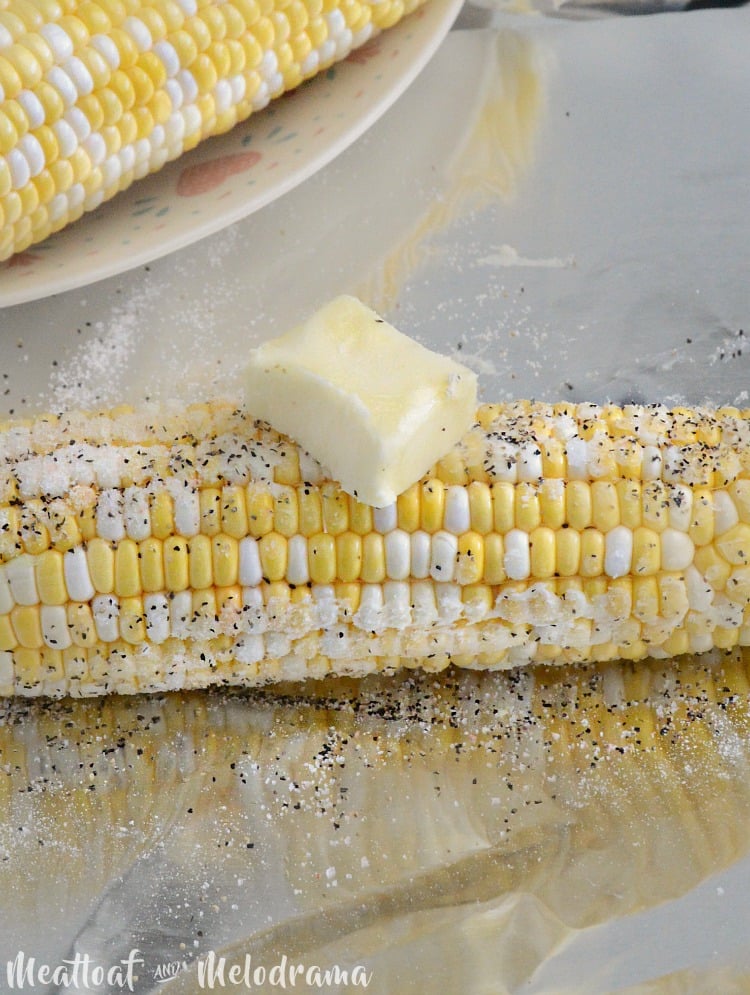 I just tear off a few large pieces of foil, and stack them in a small pile. Then, I put an ear of corn in the middle of the foil, rub some butter over it, season it and put the rest of the pat of butter on top of the corn.
I make a tent with the foil by folding the ends together but leaving a gab between the corn and the top of the foil tent. When you roll the sides of the foil up, make sure there's a little gap there too. It just allows for better air circulation when the corn is cooking.
The Hubs puts the corn on the top rack of the grill and grills whatever meat we're having on the bottom. We usually make tequila lime chicken tenders or chicken breasts, using the same marinade. He flips the corn packets a couple of times on each side so that they grill evenly, and the whole process takes just 15 minutes! Easy, peasy!
You can open the foil to check if the corn is done -- the kernels will be soft but not mushy. It might even be charred brown in a few spots, but personally, I like it this way!
You won't even need to add any extra butter over the grilled corn, but hey -- no judging if you want to!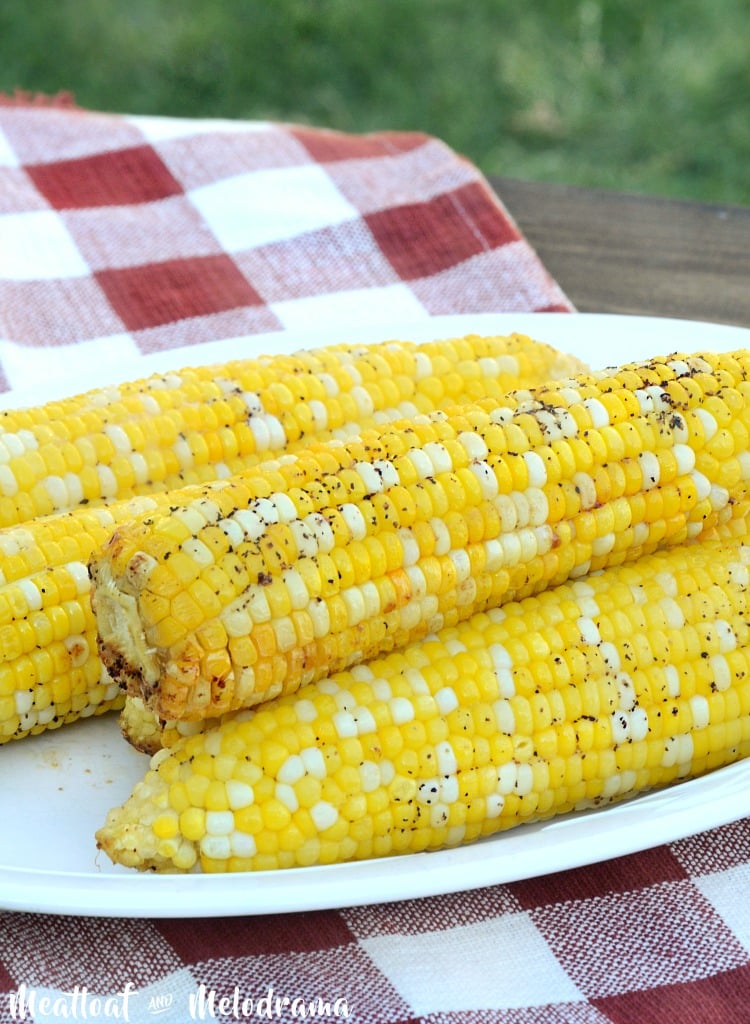 If you can't or don't want to grill corn on the cob, try this easy Instant Pot Corn on the Cob recipe!
How to Make Foil Grilled Corn on the Cob
Foil Grilled Corn on the Cob
Corn on the cob is slathered with garlic butter, salt and pepper then wrapped in aluminum foil and grilled to perfection. It's the perfect quick and easy summer side dish that goes well with just about anything!
Ingredients
5

ears

corn on the cob

4

tablespoons

butter

1

teaspoon

garlic powder

½

teaspoon

sea salt

¼

teaspoon

ground black pepper
Instructions
Place one ear of corn at a time on a large sheet s of heavy duty aluminum foil

Rub part of 1 tablespoon of butter over each ear of corn

Sprinkle evenly with garlic powder, salt and pepper

Place the remaining butter on top of corn, and loosely wrap foil around corn so that there is space between the foil and corn, making sure ends are tightly closed

Arrange corn on top rack of gas grill, over medium heat, with the folded sides up. Close grill, and and cook for 5 minutes, then turn on the side and cook for another 5 minutes, then cook on the other side and cook for 5 minutes more.

Carefully open packets -- the steam is hot -- place on a platter and serve
Nutrition
I hope you enjoy this easy recipe for foil grilled corn on the cob as much as we do! Sharing this recipe at Weekend Potluck.
Happy Summer!