Make Stuffed Cabbage Rolls (Halupki) with beef, pork, rice and tomato soup! Cook in the Instant Pot or oven. Grandma's recipe made easier!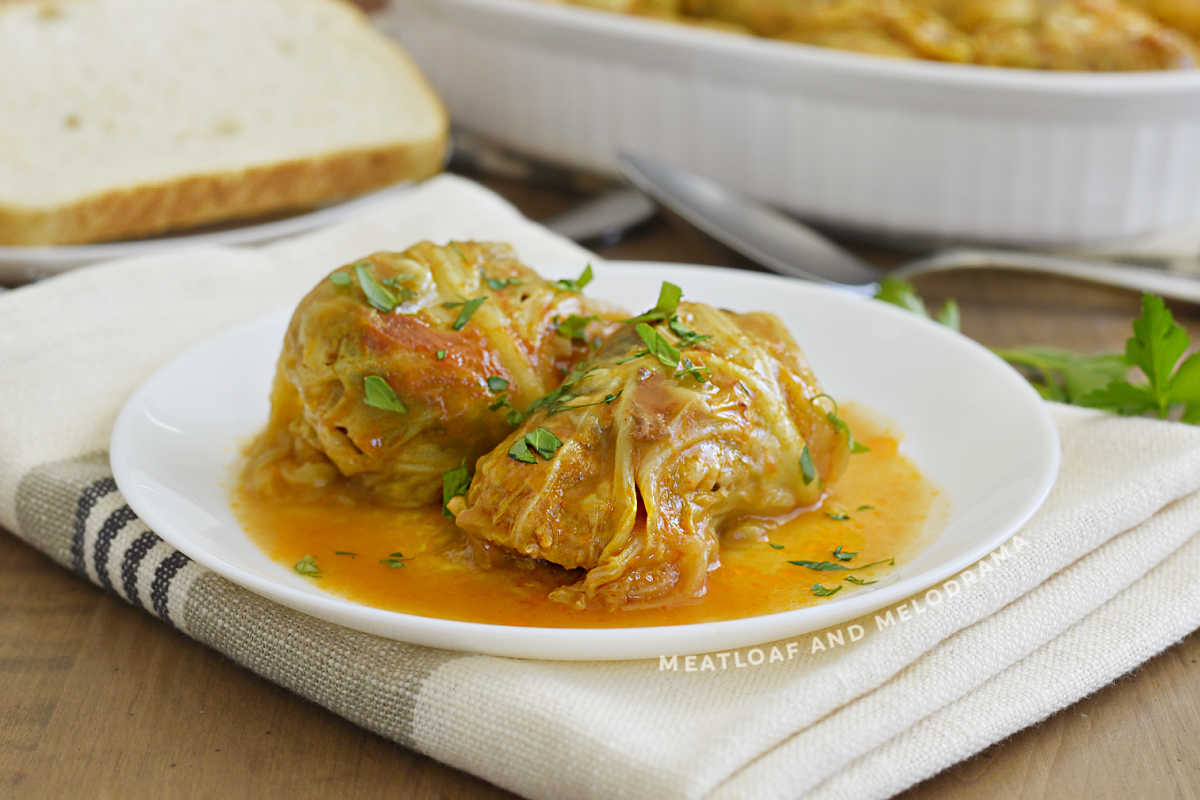 I gave my grandma's recipe for stuffed cabbage rolls a little makeover. I added a little more spice for flavor, and I cooked them in the Instant Pot to save time. You guys, these are absolutely delicious!
Not gonna lie, though. Even with shortcuts, making cabbage rolls from scratch still takes time, which is why I usually make Instant Pot Cabbage Roll Soup, instead!
Grandma always made Slovak Halupki for Christmas, along with homemade Pierogi and Cabbage and Noodles -- Haluski. If you're Polish, you probably know these as Golumpki.
How to Make Cabbage Rolls in the Instant Pot
The most time consuming part of making the rolls is softening the cabbage leaves. You can either pressure cook the whole cabbage for about a minute or boil the cabbage for about 3 minutes on the stove.
Personally, I prefer the stovetop method. Just core the cabbage, and let it sit in simmering water until the leaves start to soften. Then, carefully peel them off, and set aside.
You may have to do this in batches. You can discard the short, tougher leaves near the center or use them for another cabbage recipe.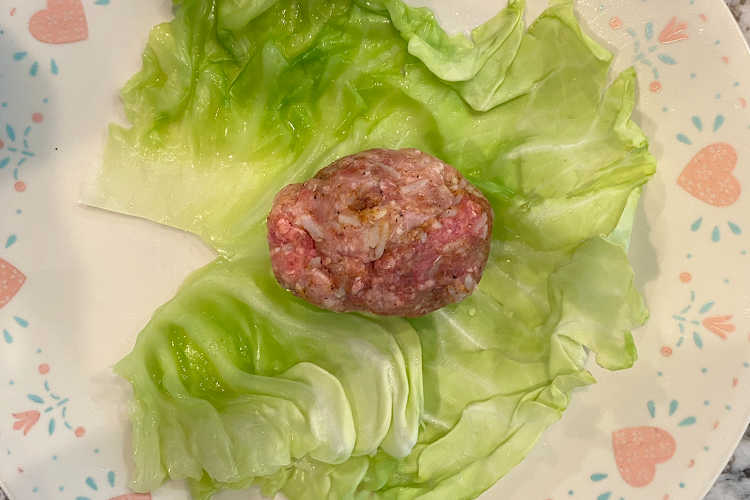 Mix up equal parts of ground beef and pork. Add cooked jasmine rice, salt pepper, garlic powder and smoked paprika. Mix it all up with your hands, and roll some into an elongated ball.
Snip the tough stems of the cabbage leaves off. Just make a v-shaped cut, using a sharp knife or kitchen scissors. Then, place the meat mixture in the center of the cabbage leaf.
Then, fold the leaf over the meat. Roll it up like a burrito, with the stem end down.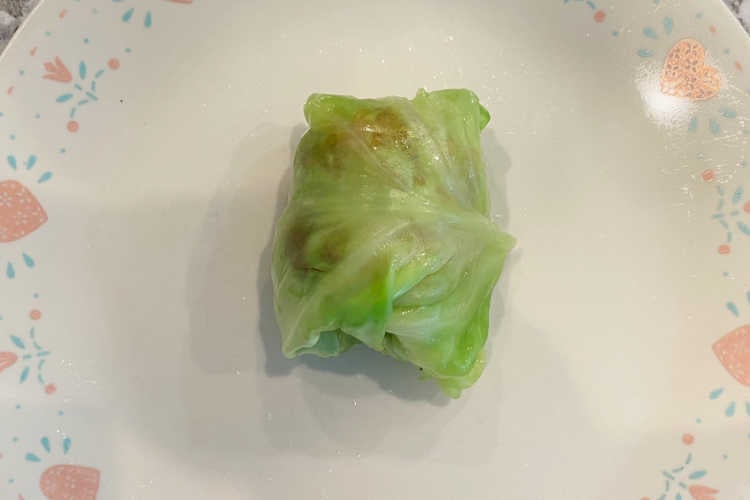 Since I have a large family, I usually make smaller rolls so that everyone gets at least 2. You can either make bigger rolls or cut the recipe in half if you want fewer cabbage rolls.
Now, get out your Instant Pot. I make these in my 8 quart since I have so many to cook. Add beef broth or water, and place the trivet into the pot.
Place some of the cabbage rolls on the trivet, and spoon a little tomato soup over the rolls. Then, add another layer of cabbage rolls, and spoon the remaining layer of soup over the rolls.
Pressure cook the Halupki for 25 minutes. Then, do a quick release, and carefully remove the rolls to a serving dish.
You can either sauté the sauce to reduce it or just pour some over the rolls before serving. If you want a thicker sauce, make a cornstarch slurry or make a paste using flour and water, (zaprashka) and add that to the simmering sauce.
We like the sauce as is, so I don't thicken it up. If you're making the halupki ahead of time, the sauce thickens up in the fridge.
What to Serve with Halupki
You can enjoy the stuffed cabbage rolls by themselves if you want. Grandma usually served them with mashed potatoes, so I make Instant Pot Mashed Potatoes to go with them.
Bake them in the Oven
If you want to bake stuffed cabbage rolls, make sure to save the large outer cabbage leaves if you can. Place them in a baking dish so the outer edges hang over.
Place the halupki into the dish. Mix 1 can of soup with 1 can of water, and pour over the cabbage rolls. Fold the edges of the cabbage leaves over the rolls, and bake at 350 degrees for 2 hours or until done.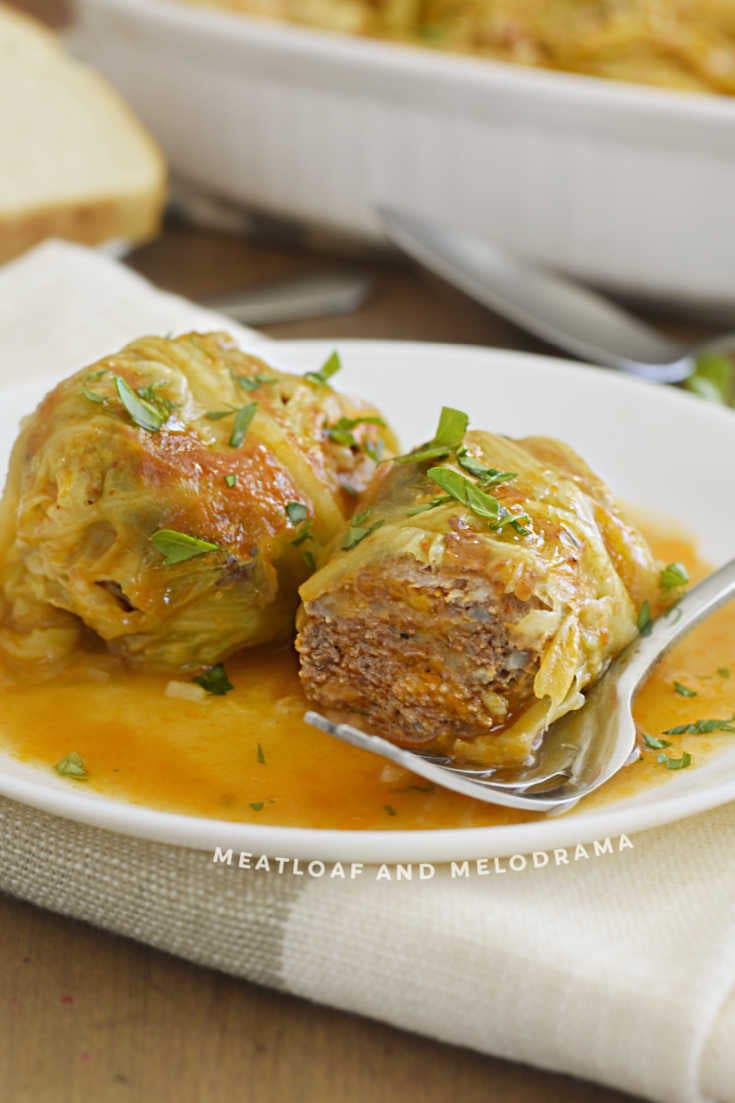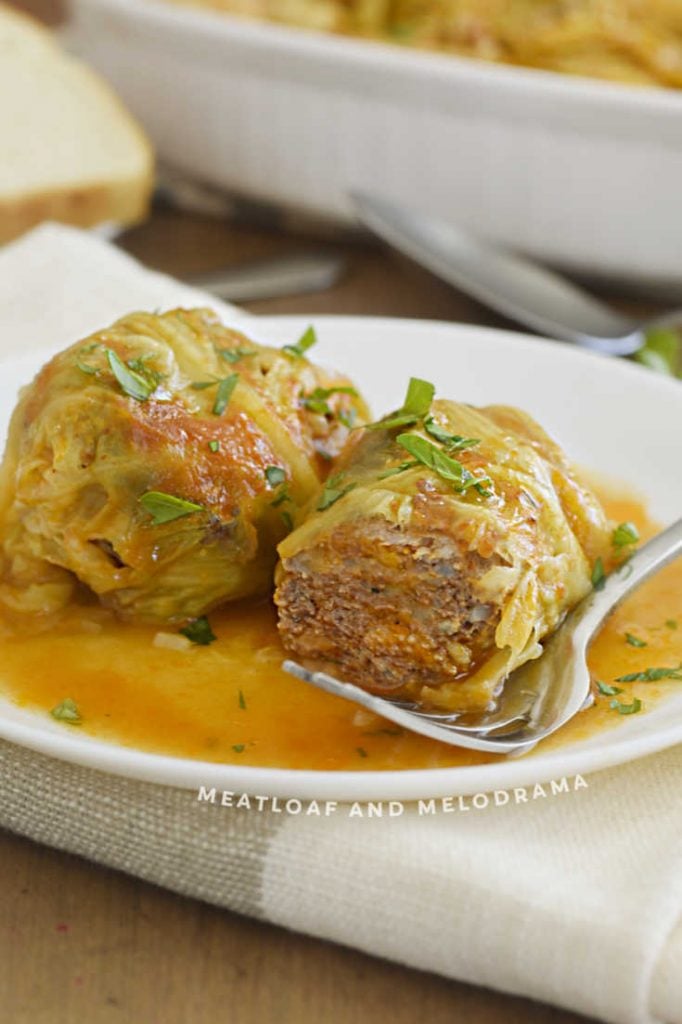 Stufffed Cabbage Rolls (Halupki)
Make Stuffed Cabbage Rolls (Halupki) with beef, pork, rice and tomato soup! Cook in the Instant Pot or oven. Grandma's recipe made easier!
Ingredients
1

medium head

cabbage

or 2 small

1

pound

ground pork

1

pound

ground beef

1

cup

cooked jasmine rice

1 ½

teaspoon

sea salt

1

teaspoon

ground black pepper

1

teaspoon

garlic powder

½

teaspoon

smoked paprika

or regular paprika

1

can

tomato soup

1½

cups

low sodium beef broth or water

use 1 cup for 6 quart
Instructions
Rinse cabbage, peel off large outer leaves, and core cabbage

Fill a large pot or Dutch oven about halfway with water. Bring to a simmer, and place cored cabbage in water for about 3 to 5 minutes. When leaves soften, carefully peel them off, and set aside to cool. You may have to do this in batches until most of the leaves come off.

In a large mixing bowl, combine ground pork, beef, cooked jasmine rice, salt, pepper, garlic powder and smoked paprika. Mix with hands and form elongated meat balls, about 2 tablespoons

Cut thick stems off cabbage leaves in a v-shape, using kitchen scissors or knife. Place cabbage leaf on a flat surface, and place meat mixture in center

Carefully fold up the sides over the meat and roll up, like a burrito. Place seam side down, and finish rolling cabbage

Add beef broth to Instant Pot, place trivet into pot, and place a few cabbage rolls on trivet. Spoon tomato soup over rolls, then place remaining rolls on top. Spoon remaining soup over rolls

Place lid on Instant Pot, make sure valve is in sealing position, and hit PRESSURE COOK for 25 minutes. Pot will take a few minutes to reach pressure

When pot beeps, do a quick release. When pin drops, carefully open lid, and remove rolls to casserole dish or serving platter. Internal temperature should be 160° according to a meat thermometer

Hit sauté and cook sauce for about 5 minutes to reduce and thicken. Or, mix 1 tablespoon of cornstarch to 1 tablespoon of water, and stir in sauce to thicken. Or, just pour sauce over rolls as is
Notes
Use 1 cup of beef broth or water for a 6 quart IP or 1.5 cups for the 8 quart.
See post for oven directions.
Nutrition
Calories:
215
kcal
Carbohydrates:
10
g
Protein:
13
g
Fat:
14
g
Saturated Fat:
5
g
Cholesterol:
46
mg
Sodium:
427
mg
Potassium:
467
mg
Fiber:
2
g
Sugar:
4
g
Vitamin A:
181
IU
Vitamin C:
27
mg
Calcium:
40
mg
Iron:
1
mg
How to Store
You can refrigerate leftover cabbage rolls for up to 4 days. For longer storage, freeze the rolls in the tomato sauce in a freezer safe container.