Instant Pot Buffalo Chicken Sliders made with pulled chicken, provolone cheese and ranch dressing are perfect for a quick and easy dinner or game day party!
So, the other day I posted a quick and easy Instant Pot Buffalo chicken recipe. It's completely delicious on it's own, and while I could definitely eat it plain, you're probably looking for something a little more substantial -- like these amazing Buffalo chicken sliders!
Instead of posting the shredded Buffalo chicken and sliders as one recipe, I decided to to post two separate recipes --because you really can make so many different meals from one batch of Instant Pot pulled chicken. And I will be talking about all of them soon!
Anyway, back to the sliders. I love slider recipes, but I hate soggy buns. Know what I mean?
So I found a way to make sliders that don't fall apart under the weight of lots of meat and cheese. We make these all the time, friends -- no soggy buns allowed!
How to make Instant Pot Buffalo Chicken Sliders
You'll need to buy rolls that can hold up to the weight of pulled chicken. I love Hawaiian rolls, but they tend to fall apart with Buffalo chicken. You can usually find firmer rolls in your grocery store deli or bakery.
I like to cut the rolls and bake them for about 5 minutes to firm them up even more.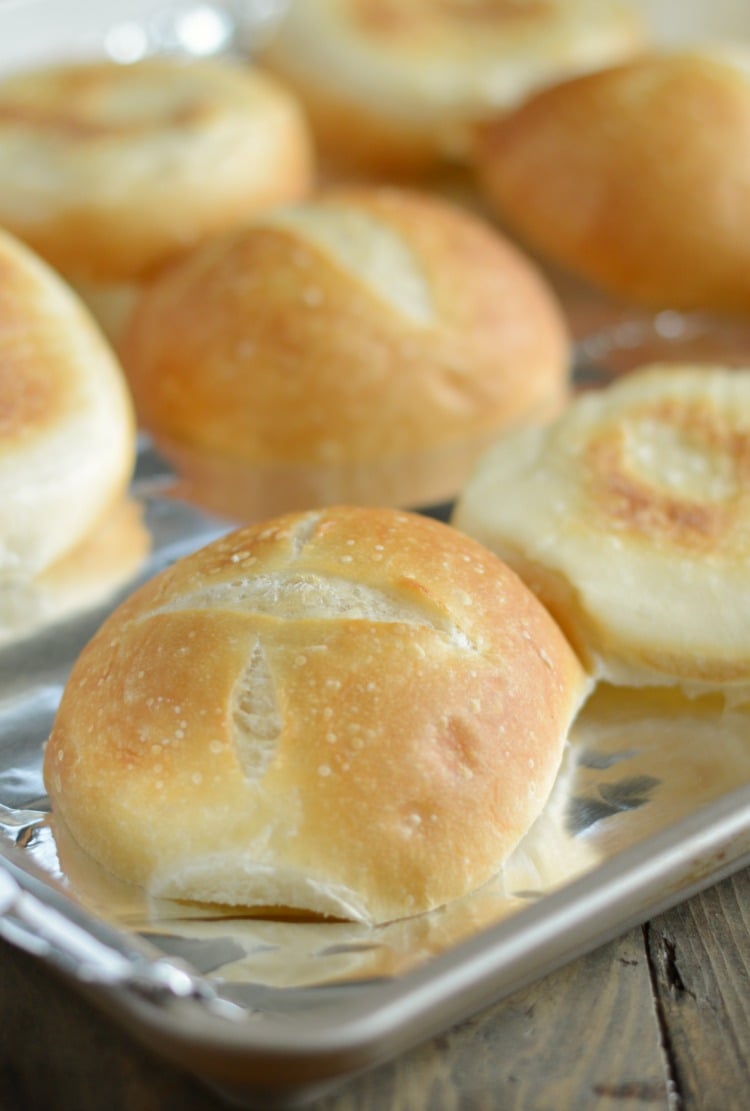 Then, you pile on some hot Buffalo chicken, and top that off with some sliced provolone cheese.
Pop the sliders into the oven for about 5 minutes or until the cheese is nice and melted. Then, take them out, add some ranch dressing, and you're ready to eat!
Buffalo chicken sliders are perfect to serve on game day or for a quick dinner anytime. We even made some on vacation because they're so easy! If you don't have an Instant Pot, you can make Buffalo chicken if the Crock-Pot, too!
Recipe for Instant Pot Buffalo Chicken Sliders
Recipe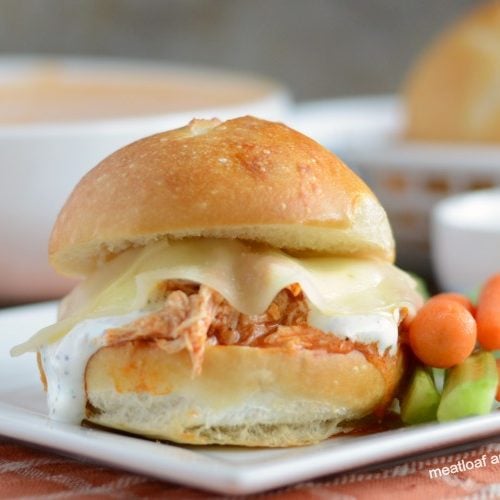 Instant Pot Buffalo Chicken Sliders
Instant Pot Buffalo Chicken Sliders made with pressure cooker pulled chicken, Buffalo sauce, ranch dressing and provolone cheese are perfect for a quick and easy dinner or game day party.
Ingredients
8

small slider buns

precooked shredded Instant Pot Buffalo chicken

8

slices provolone cheese
Instructions
Preheat oven to 350 degrees

Slice buns open, arrange face down on large baking sheet, and bake for about 5 minutes, then remove

Turn buns face up, add cooked Buffalo chicken to bottom half and 1 slice of provolone cheese to each top half. Bake open until cheese is melted, then remove from oven, top with ranch dressing, close and serve.
Nutrition information is estimated. Please do your own calculation to fit special diets.
Nutrition
I hope you enjoy these Instant Pot Buffalo chicken sliders as much as we do!