Easy Instant Pot Italian Beef Sandwiches made from chuck roast and pepperoncini are ready in just over an hour -- faster than the Crock-Pot and so good!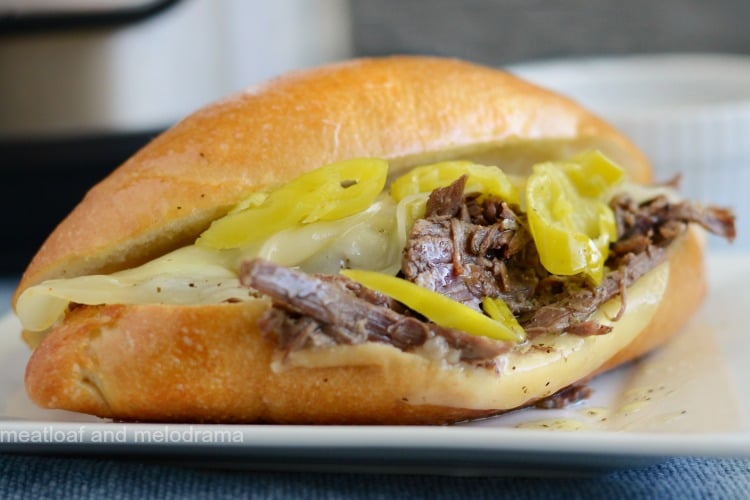 Loaded with tender, juicy shredded beef and topped with tangy pepperoncini and melted provolone cheese, these Instant Pot Italian beef sandwiches are simply the best! It's one of our favorite Instant Pot recipes to make for an easy dinner or game day!
I love Portillo's Italian beef sandwiches, and Polish sausage, but since we don't have a restaurant close by, we don't go there that often. Since it's hard to get a decent Italian beef sandwich near me, I started making this quick Italian beef recipe in the Instant Pot.
This Instant Pot Italian roast beef is super simple -- It's pretty much a dump and start recipe with practically no prep. It does take about an hour to cook, so while it's not the fastest Instant Pot recipe on the planet, it's much faster than making Italian beef in the Crock-Pot!
And that's what I love most about the Instant Pot -- You can cook a roast in just an hour or two. Incredible -- especially if you're like me and forget to plan ahead!
How to make easy Instant Pot Italian beef sandwiches
Like I said, this recipe requires hardly any prep, but I do like to cut the roast in 3 large pieces to help it cook evenly, especially if it's a thick roast.
What kind of meat do you use for Italian beef?
I use chuck roast because it shreds beautifully and has a melt-in-your-mouth texture that makes the best shredded beef sandwiches. You could also use a rump roast or round roast.

I like to avoid seasoning packets to keep the sodium level down, so I just throw in Italian seasoning, garlic and a few other ingredients. I also use low-sodium beef broth and, of course, pepperoncini peppers!
You can use as many peppers as you want here. I used about a half of a 16-ounce jar, which is roughly 1 cup, plus some juice. If you want extra spice, use the entire jar and as much of the juice as you want.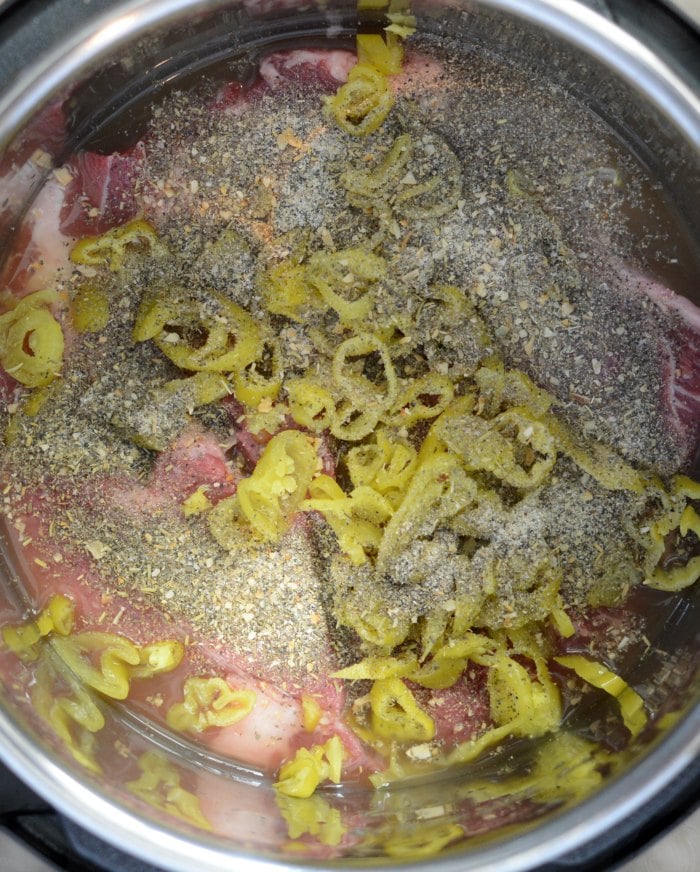 After the roast is done, use two forks to shred the meat -- honestly, it practically shreds itself. It's so tender! Then, you can use the meat for Italian beef sandwiches or eat it with a fork for a low carb, keto dinner.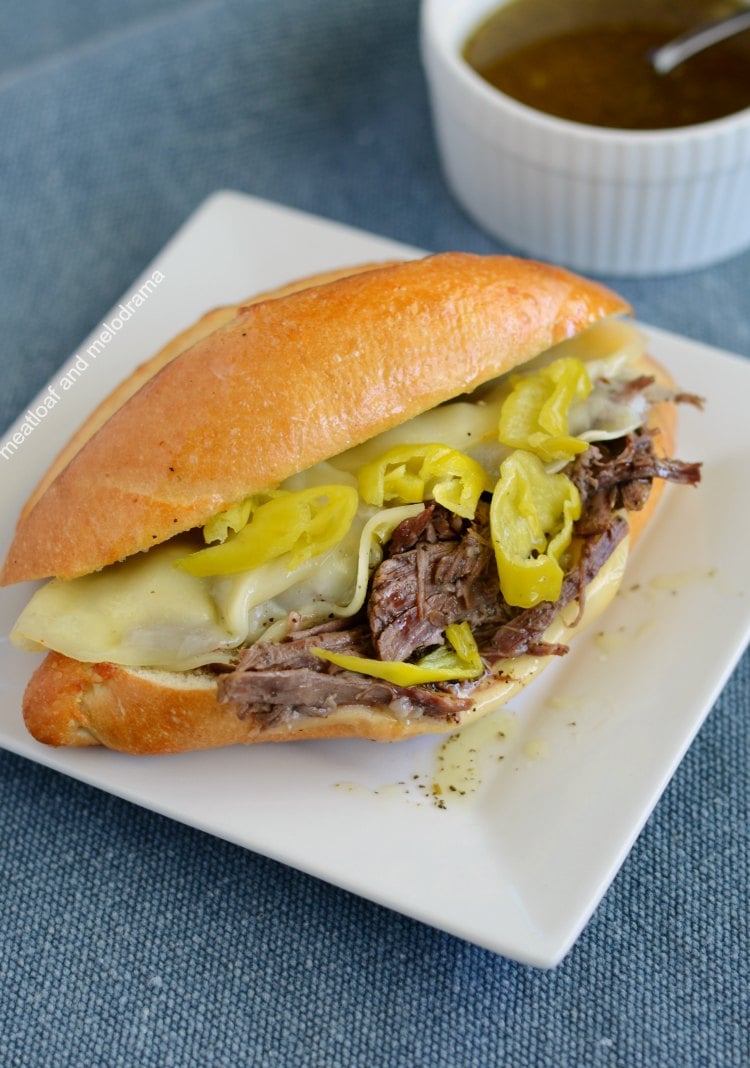 If you make Italian beef sandwiches, add some extra peppers and plenty of provolone cheese -- yum! Then, pile on the juice or dunk the sandwich in the juice. Double yum!
You can even add giardiniera for a more authentic Chicago style Italian beef.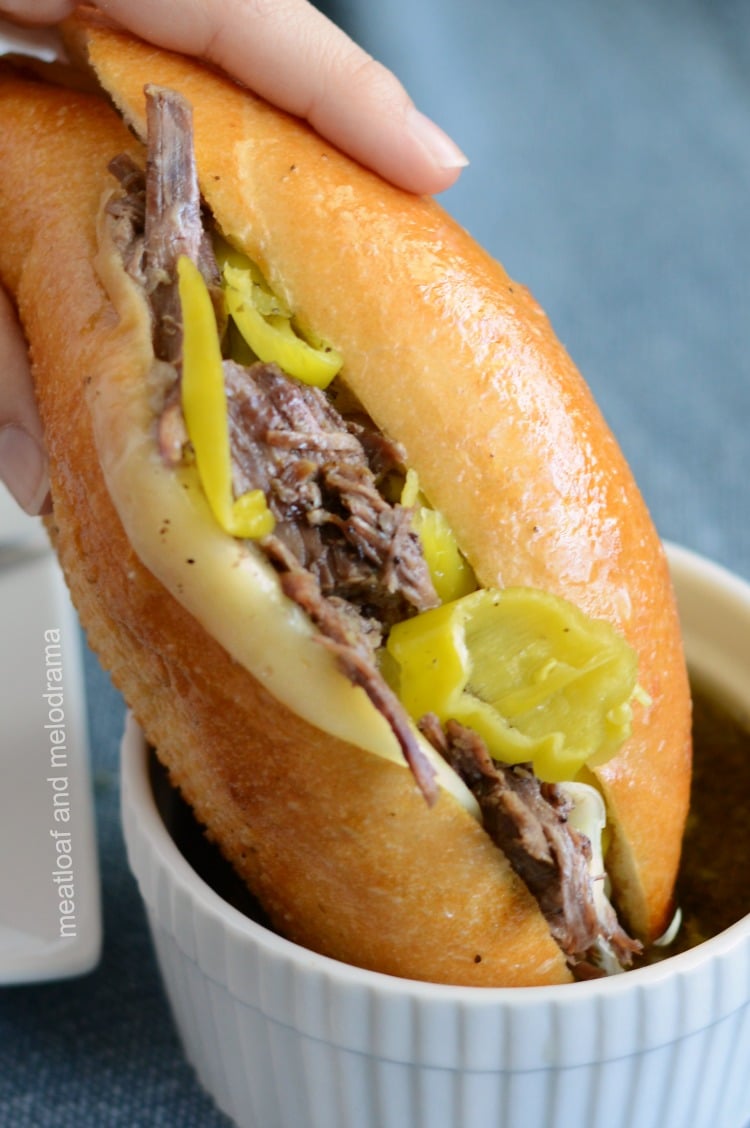 More Instant Pot sandwich recipes
Recipe for Instant Pot Italian Beef Sandwiches
Recipe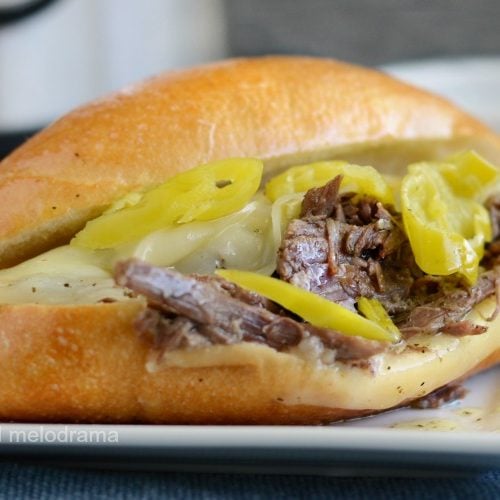 Instant Pot Italian Beef Sandwiches
Easy Instant Pot Italian Beef Sandwiches made from chuck roast and pepperoncini and no seasoning packets are ready in just over an hour -- faster than the Crock-Pot and so good! Makes the best hot beef sandwiches ever!
Ingredients
1

3 pound

chuck roast

1

cup

low sodium beef broth

1

teaspoon

sea salt

1

teaspoon

garlic powder

1

teaspoon

dried minced onions

½

teaspoon

ground black pepper

1

tablespoon

Italian seasoning mix

1

cup

sliced pepperoncini peppers with juice (about ½ of a 16-ounce jar)

hard rolls

provolone cheese
Instructions
Cut chuck roast into 3 pieces, and place in the Instant Pot

Season with Italian seasoning, sea salt, garlic powder, onions and pepper

Pour beef broth around the meat, and top with pepperoncini peppers and small amount of juice

Place lid on Instant Pot, turn vent to Sealing position, and hit PRESSURE COOK for 50 minutes. Pot will take a few minutes to come to pressure, then cook for 50 minutes and beep when done. Allow 10 to 15 minutes natural release, then do quick release to release remaining pressure

When pin drops, open lid, and shred beef -- you can do this on another plate. Return meat to pot to soak up more juice, or make sandwiches, and serve with juice on the side

To make sandwiches, place sliced provolone cheese on both sides of a cut roll, add shredded beef, place on baking sheet, and bake in 350 degree oven until cheese melts. Top with additional pepperoncini and more juice, if desired
Notes
Recipe was made in 6-quart Instant Pot electric pressure cooker.
For 8 quart, increase liquid amount to 2 cups.
Nutrition information is estimated. Please do your own calculation to fit special diets.
Nutrition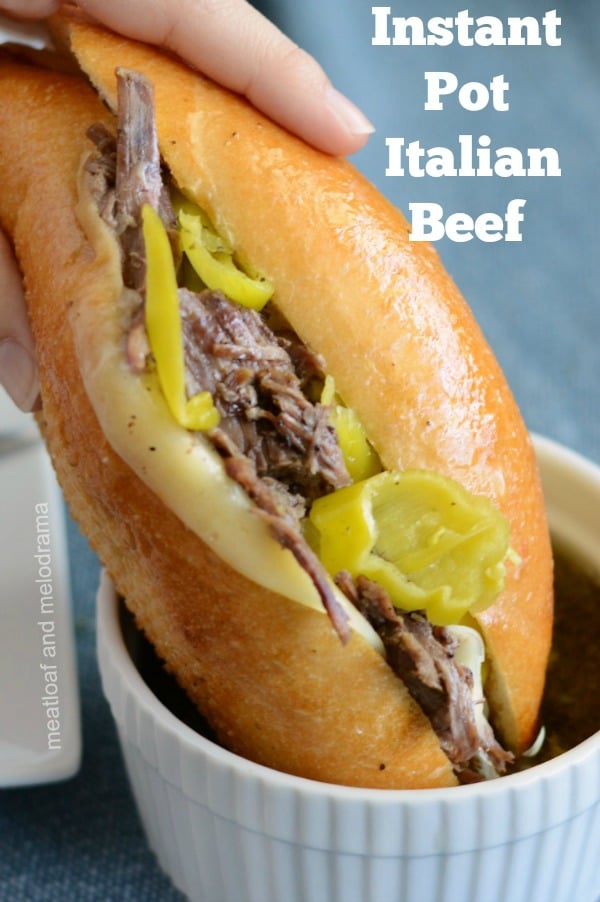 My family loves these easy Instant Pot Italian beef sandwiches. I hope you enjoy them as much as we do!