Learn How to Cook Pasta in the Instant Pot electric pressure cooker. Use this easy recipe for plain pasta with a simple sauce or for side salads.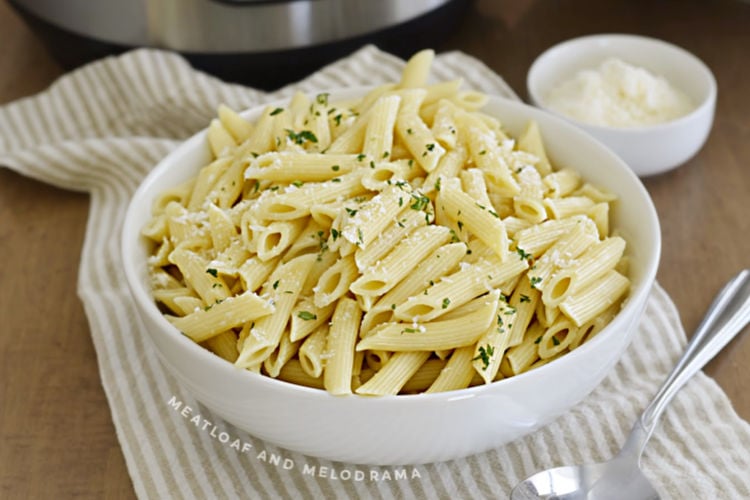 This easy recipe for plain old Instant Pot pasta is perfect when you want to make pasta without sauce. Use it for short pasta, macaroni, spaghetti, egg noodles and tortellini.
So many of my Instant Pot recipes are for pasta with some type of meat in the sauce. As much as I love making spaghetti with meat sauce, creamy shells and beef and creamy chicken pasta in the Instant Pot, sometimes, you just need a bowl of plain old buttered noodles!
Or, maybe you need to make pasta salad or macaroni salad. Whatever you need it for, plain pasta is quick and easy in the pressure cooker!
How to Cook Plain Pasta without Sauce in the Instant Pot
Pour the pasta into the inner liner. Then, add your water and some sea salt.
For spaghetti noodles, you need to break them in half and stack them first. Otherwise, they may stick together.
Pasta to Water Ratio
Generally, you want to use 4 cups of water for 16 ounces of pasta or 2 cups of water for 8 ounces of pasta. Keep in mind, this is for plain pasta only.
If you're adding sauce or meat, you might use less water as you're adding extra liquids. I usually use 1 cup less water when adding sauce, but this may change with each recipe.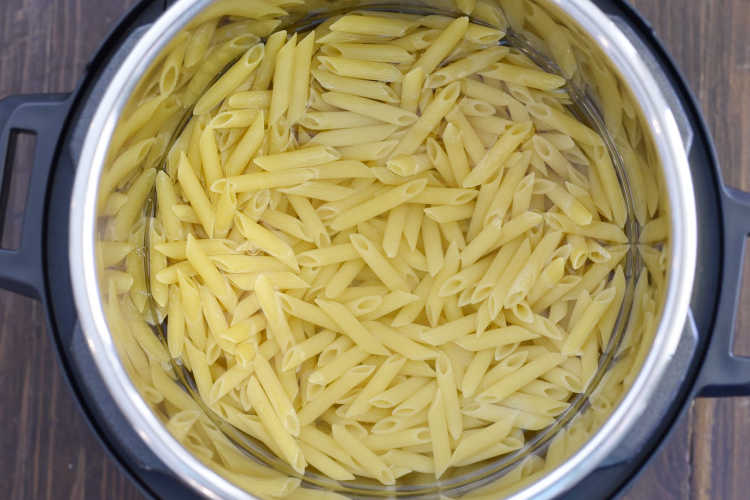 How Long to Pressure Cook Pasta
The general rule of thumb for Instant Pot pasta is to cook it for half the time recommended on the box. I usually cook most pastas for 4 minutes or 5 minutes if I want the pasta a little softer.
When the pasta is done, you may still have some water in the bottom. Just stir it well, and the pasta should absorb the water.
If there is still some water remaining, drain the pasta before serving.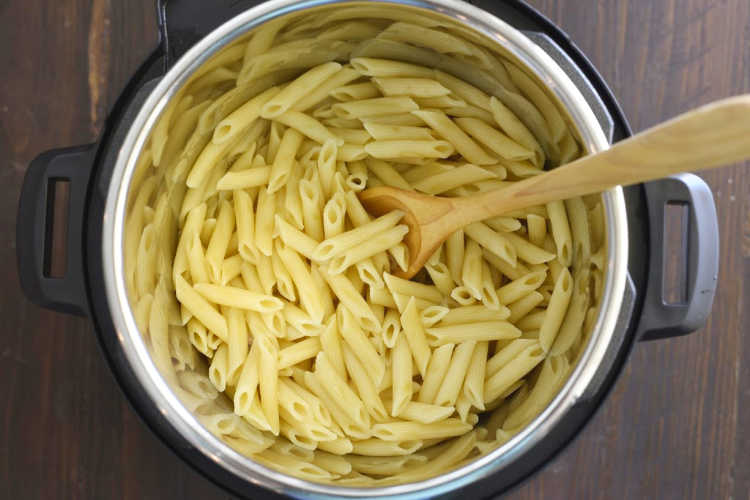 Instant pot Egg Noodles
Egg noodles usually cook faster than other types of pasta. I usually pressure cook egg noodles for 3 minutes.
Fresh Tortellini
Refrigerated fresh tortellini or other filled pasta cooks faster than dried pasta. I cook this pasta in the Instant Pot for 3 minutes.
What to Serve with Plain Pasta
Stir in a little butter, and add grated Parmesan and parsley for a simple side dish or main dish. If you like to cook your tomato sauce separately, pour some on top!
You can also serve pasta with any saucy main dish, like Instant Pot Cranberry Chicken, Instant Pot Honey Mustard Chicken or Instant Pot Apricot Chicken.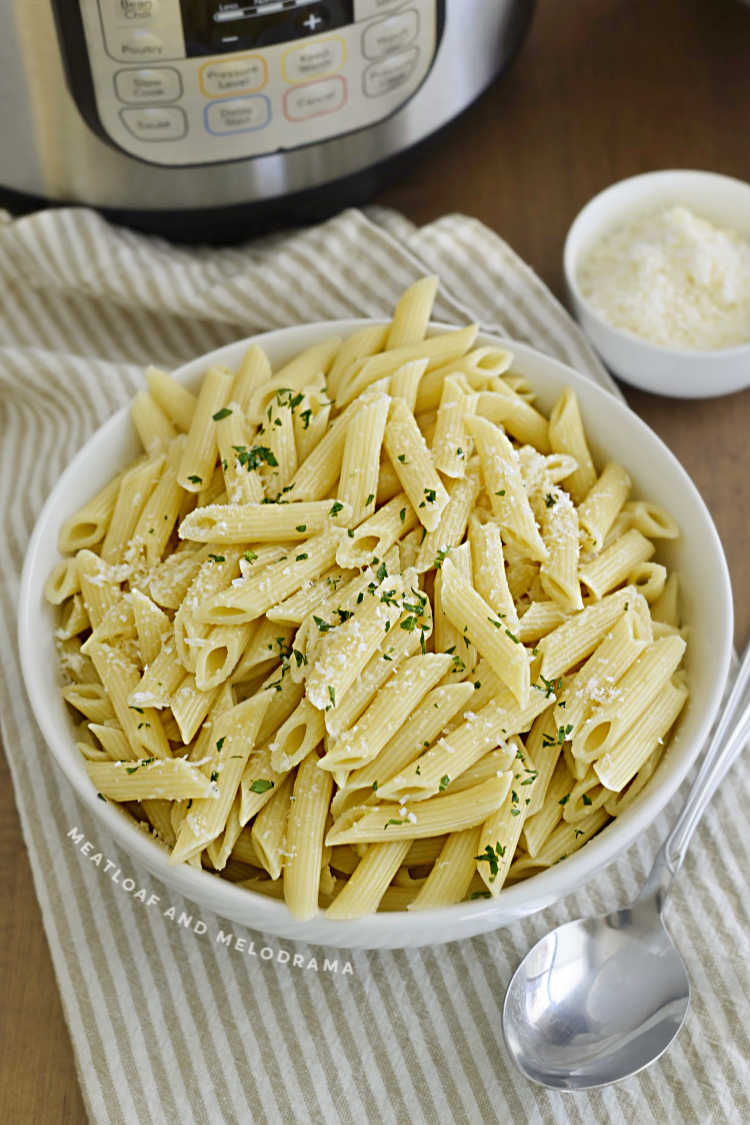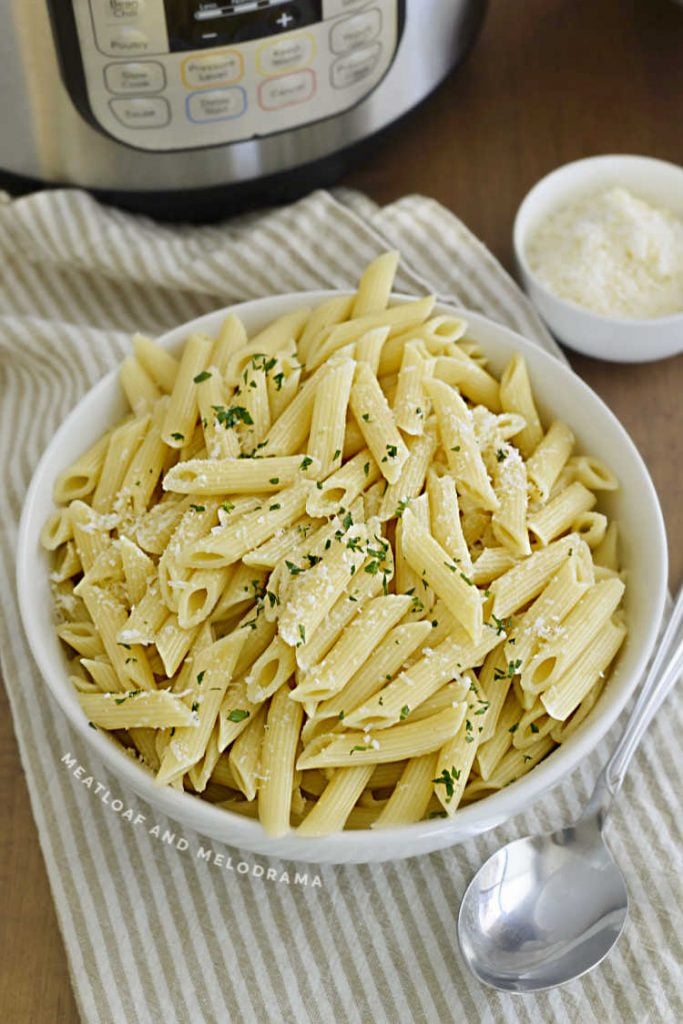 What about Gluten Free Pasta?
I don't personally have experience with gluten free pasta or other types of pasta. But, I have heard from readers who say cooking this pasta for half the time suggested on the box works for them.
How to Cook Pasta in the Instant Pot
Instant Pot Pasta
Learn How to Cook Pasta in the Instant Pot electric pressure cooker. Use this easy recipe for plain pasta with a simple sauce or for side salads.
Ingredients
16

ounces

pasta

4

cups

cold water

1

teaspoon

sea salt
Instructions
Place pasta in the Instant Pot

Pour water over pasta and sprinkle with sea salt

Place lid on pressure cooker, make sure vent is on Sealing position, and hit PRESSURE COOK for 4 minutes. You may also have to hit START depending on your model.

Pot will take a few minutes to reach pressure then will count down and cook for 4 minutes. When pot beeps, allow a 1 minute natural release, then do a gradual release by slowly turning the valve to minimize foam spraying out.

When pin drops, remove lid, stir to allow pasta to absorb water, then drain remaining water if necessary, and remove to platter or bowl to serve or to top with sauce.
Notes
Recipe has been tested with 6 and 8 quart Instant Pot pressure cookers but can be used with any brand.
For firmer pasta, do a gradual quick release after cook time is complete.
For pasta salads, rinse with cold water after cooking to stop the cooking process.
Nutrition information is estimated. Please do your own calculation to fit special diets.
Nutrition
Calories:
168
kcal
Carbohydrates:
34
g
Protein:
6
g
Fat:
1
g
Saturated Fat:
1
g
Sodium:
235
mg
Potassium:
101
mg
Fiber:
1
g
Sugar:
1
g
Calcium:
10
mg
Iron:
1
mg