Learn How to Cook Pasta in the Instant Pot electric pressure cooker with this easy recipe for plain pasta. Only 3 ingredients for perfect pasta that you can use with a simple sauce or for pasta salad recipes.
Jump to:
This easy Instant Pot pasta recipe is perfect when you want to make pasta without sauce. Use it for short pasta, like penne pasta, shell pasta or macaroni, or long pasta, like spaghetti, and even egg noodles or tortellini.
So many of my Instant Pot recipes are for pasta with some type of meat or spaghetti sauce. But sometimes, you just need a bowl of plain old buttered noodles! Perfect for easy weeknight meals!
Or, maybe you need to make pasta salad or macaroni salad. Whatever you need it for, plain pasta is quick and easy in the pressure cooker!
Why make pasta in the Instant pot? No hot stove to stand over, no pot boiling over, no messy stove to clean up -- cooking pasta in the Instant Pot is the best way and my favorite method of cooking pasta. I have been cooking Instant Pot pasta for 6 years with this foolproof method!
Ingredients
You only need 3 ingredients to cook perfect pasta in the Instant Pot.
Pasta -- any brand of pasta and any type of pasta or different pasta shapes. We tend to cook plain penne pasta in the Instant Pot most often.
Water -- cold water
Salt -- I use sea salt in all of my recipes, but kosher salt or table salt will work
Pasta to Water Ratio
Generally, you want to use 4 cups water for 16 ounces of pasta ( 1 pound of pasta ) or 2 cups of water for 8 ounces of pasta. You need enough liquid to cover the pasta. Keep in mind, this is for plain pasta only.
If you're adding tomato sauce, marinara sauce or ground beef, chicken or any meat, you might use less water as you're adding extra liquids. I usually use 1 cup less water when adding sauce, but this may change with each recipe.
If you are cooking a pasta dish that calls for adding pasta water to the sauce, you can add more water to the Instant Pot and drain the excess water after cooking the pasta.
How to Cook Plain Pasta in the Instant Pot
First, I like to spray the bottom of the Instant Pot with non stick spray or add a little bit of olive oil.
This prevents pasta from sticking to the bottom of the pot and helps prevent the burn notice, although you almost never get a burn notice with plain pasta.
Next, pour the uncooked pasta into the inner liner. Then, add your water and some sea salt. Salt flavors the pasta as it cooks. And generally, you want to add about 2 teaspoons salt for 16 oz of pasta or 1 teaspoon salt for 8 oz pasta.
For spaghetti noodles, fettuccini or linguine, you need to break them in half and stack them first in a criss cross pattern. Otherwise, they may stick together.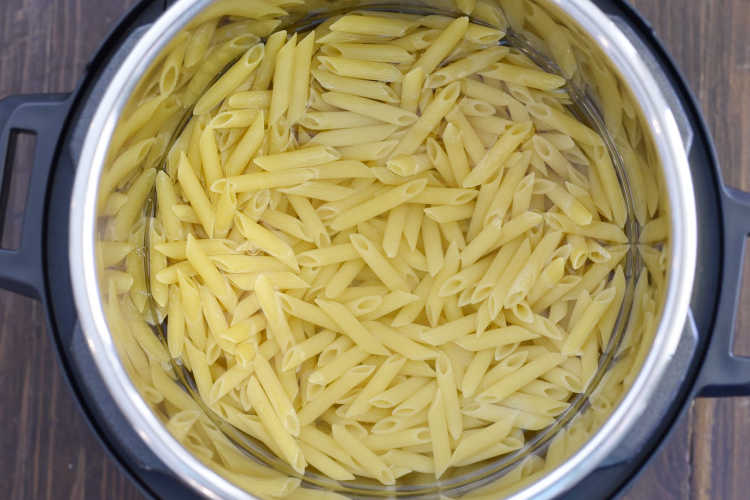 How Long to Cook Pasta in Instant Pot
The general rule of thumb for Instant Pot pasta is to cook it for half the time recommended on the box. The Instant Pot pasta formula actually recommends subtracting a minute for perfect cook time, but I have an easier way.
I usually cook most types of pasta for 4 minutes on high pressure for al dente pasta or 5 minutes if I want the pasta a little softer. This easy formula works every time!
When the pasta is done, do a quick release or gradual pressure release by toggling the pressure release valve. The gradual release will help keep starchy water from spraying all over your kitchen!
You may still have a little bit of water in the bottom of the pot. Just stir it well, and the pasta should absorb the water.
If there is still some water remaining, drain the pasta before serving.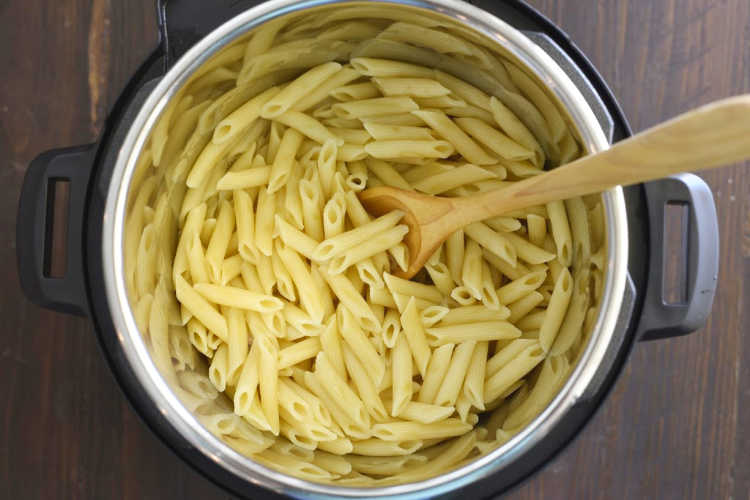 Egg Noodles in Instant Pot
Egg noodles usually cook faster than other types of dry pasta. I usually pressure cook egg noodles for 2 minutes.
They will continue cooking even after pressure release, and if you find they are too al dente, just stir them for 30 seconds or so until they soften up. I love this recipe for making noodles for Haluski.
Fresh Tortellini in Instant Pot
Refrigerated fresh tortellini or other fresh filled pasta like ravioli cooks faster than dried pasta. I cook this fresh pasta in the Instant Pot for 1-2 minutes.
What about Gluten-Free Pasta?
I don't personally have experience with gluten free pasta or other types of pasta like whole wheat pasta or chickpea pasta. But, I have heard from readers who say cooking this pasta for half the time suggested on the box works for them.
You may have to experiment or use a recipe for cooking gluten-free pasta in the pressure cooker.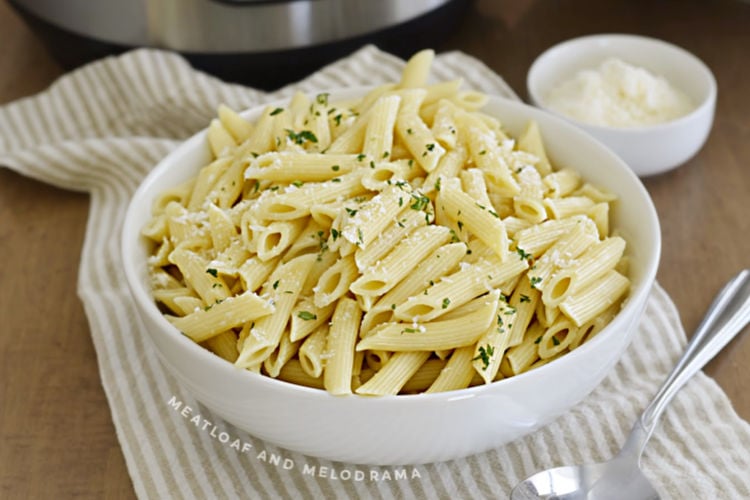 Expert Cooking Tips
Spray the bottom of the inner pot on the Instant Pot with non stick spray or add a little bit of olive oil to prevent pasta from sticking.
Add salt to the water to flavor the pasta just as you would for the stove top version.
Always break spaghetti noodles or other long pasta in half before cooking.
Never stir pasta with water or sauce before pressure cooking.
Do a controlled quick pressure release or gradual quick release to control starchy pasta water from spraying everywhere. Don't use a full natural release with pasta.
Be sure to stir the pasta well right after cooking to break up any pasta that is stuck together.
Recipe FAQ
Can you overcook Pasta in the Instant Pot?
Yes, you can. Always cook pasta for the shortest recommended time. You can always add another minute of cooking time if needed or stir the pasta for a little bit on the saute setting if you have enough water in the pot. It will continue to cook until done.
Why do you not stir pasta in the Instant Pot?
You don't stir pasta before pressure cooking in the Instant Pot because it may begin to absorb the water and affect the amount needed to bring the pot to pressure. You always stir pasta and sauce or liquid after pressure cooking.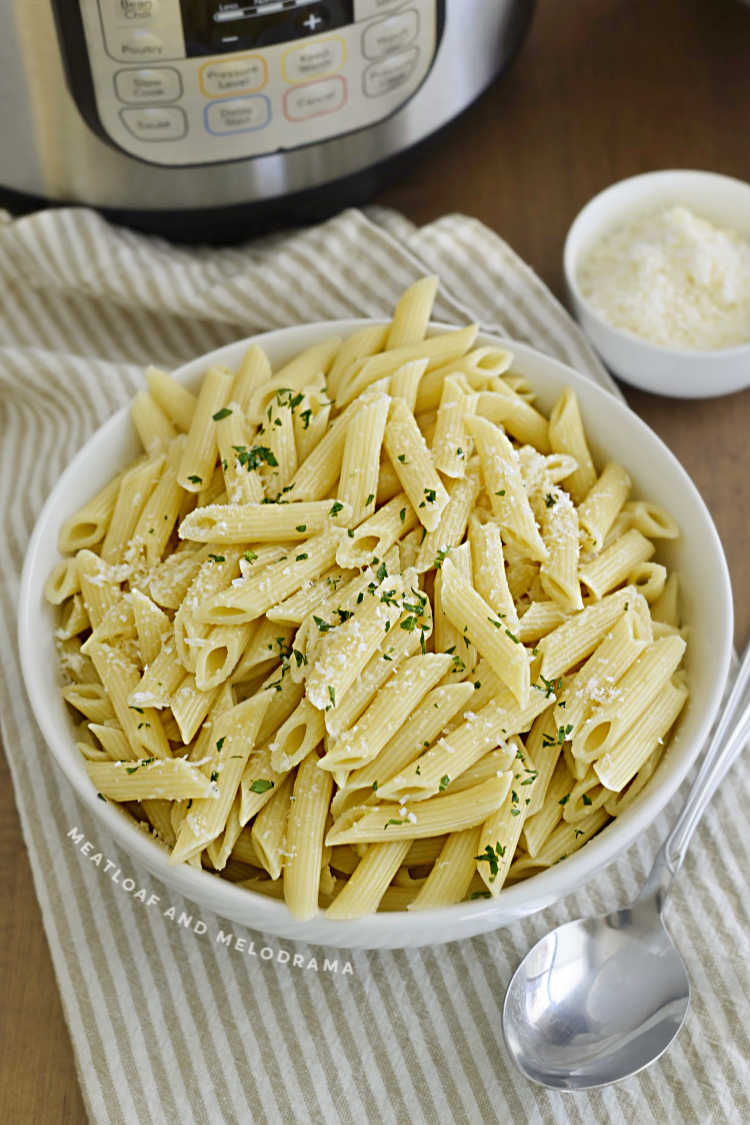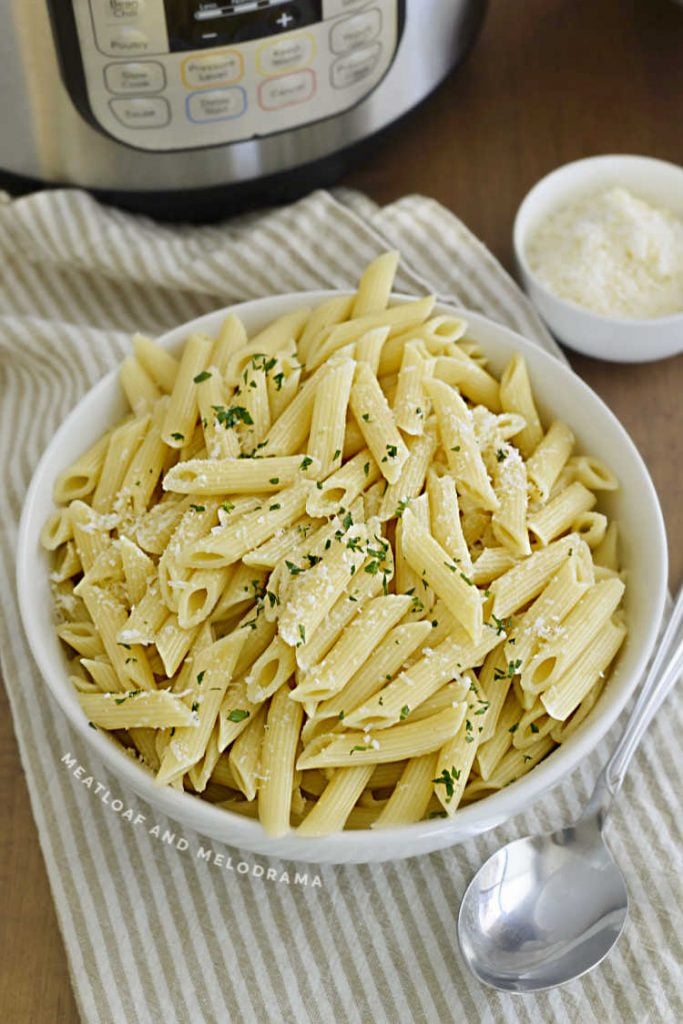 More Instant Pot Pasta Recipes
Some of our favorite Instant Pot pasta recipes are Instant Pot Spaghetti with meat sauce, Instant Pot creamy shells and beef and creamy Instant Pot chicken pasta. These are reader favorites, too!
I make Instant Pot Baked Ziti and assemble the dish and then bake it in the oven.
Try my Instant Pot Kraft Mac and Cheese. Works every time, and even my teens can make it.
Recipe
How to Cook Pasta in Instant Pot
Learn How to Cook Pasta in the Instant Pot electric pressure cooker with this easy recipe for plain pasta. Only 3 ingredients for perfect pasta that you can use with a simple sauce or for pasta salad recipes.
Ingredients
16

ounces

pasta

4

cups

cold water

1-2

teaspoon

sea salt
Instructions
Spray bottom of pot with non stick cooking spray. Place pasta in the Instant Pot

Pour water over pasta and sprinkle with sea salt

Place lid on pressure cooker, make sure vent is on Sealing position, and hit PRESSURE COOK for 4 minutes. You may also have to hit START depending on your model.

Pot will take a few minutes to reach pressure then will count down and cook for 4 minutes. When pot beeps, do a gradual release by slowly turning the valve to minimize foam spraying out.

When pin drops, remove lid, stir to allow pasta to absorb water, then drain remaining water if necessary, and remove to platter or bowl to serve or to top with sauce, butter and or Parmesan cheese
Notes
Recipe has been tested with 6 and 8 quart Instant Pot pressure cookers but can be used with any brand.
For firmer, more al dente pasta, do a gradual quick release after cook time is complete. For softer pasta, cook for 5 minutes with a quick pressure release or gradual quick release.
For pasta salads, rinse with cold water after cooking to stop the cooking process.
Nutrition information is estimated. Please do your own calculation to fit special diets.
Nutrition
Calories:
168
kcal
Carbohydrates:
34
g
Protein:
6
g
Fat:
1
g
Saturated Fat:
1
g
Sodium:
235
mg
Potassium:
101
mg
Fiber:
1
g
Sugar:
1
g
Calcium:
10
mg
Iron:
1
mg
Pasta is one of our favorite easy dinners. You can't go wrong with a delicious bowl of flavorful pasta!
If you try this easy Instant Pot cooking method, please leave a star rating and/or comment.
For more easy recipes, Instant Pot pasta recipes and easy dinner recipes, sign up for the weekly newsletter and follow on social media.