Lemon Cheesecake Cookie Cups are made in a mini muffin tin with a sugar cookie dough crust and a delicious no-bake lemony cheesecake filling. This quick and easy dessert is perfect for spring or summer and elegant enough for entertaining!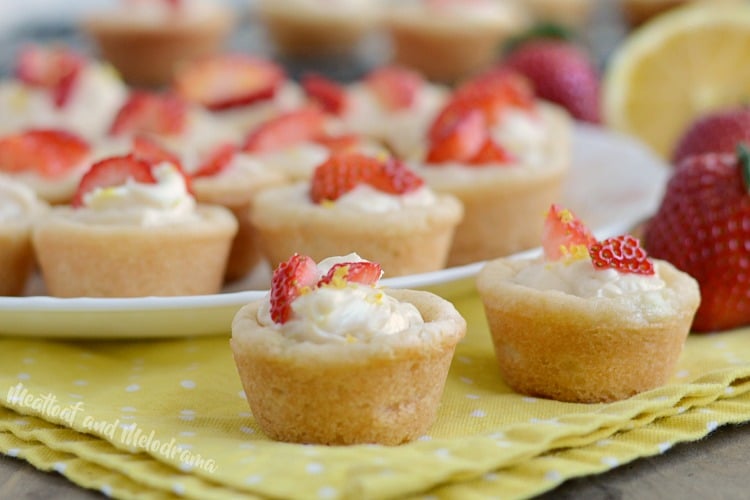 These mini cookie cups are easy to make and fun to eat. If you like bite-sized desserts, you'll love these lemon cheesecake cookie cups. Make them for Easter, Mother's Day, showers, graduations or whenever you want a quick and easy dessert!
My family is crazy about cheesecake. In fact, we've been known to stop by the Cheesecake Factory just to pick up a couple of slices and share them for dessert. Yummy but definitely pricey!
I've baked homemade cheesecakes a few times, but it's so much easier and faster to whip up mini cheesecakes or no-bake cheesecakes. You get all of that delicious flavor without the work. And if you stuff the filling into a sugar cookie crust -- even better! And, that brings us to these mini cookie cups.
The sugar cookie cups are made from store bought cookie dough, which makes this part super easy. I found some all natural Pillsbury sugar cookie dough to use, but you can use any brand or any flavor. Since we're making a lemon filling, plain sugar cookies work best here.
How do you make cookie cups?
To make the cookie cups, all you do is spray a mini muffin tin with non-stick spray. This is important because you don't want the cookies to stick when it comes time to take them out of the muffin tin. You can also use butter or oil if you don't have the spray.
Next, you just put the individual pieces of dough into the muffin cups and bake. Easy peasy!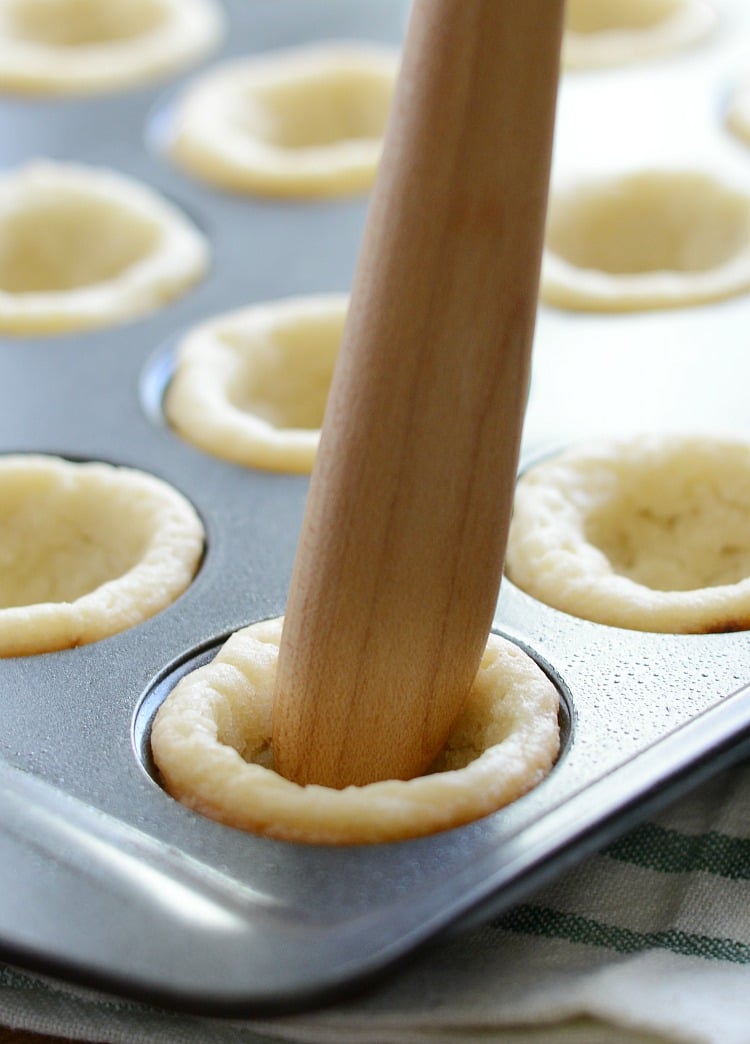 After the cookies are done, take the handle of a wooden spoon and press down gently to form indentations. The cookie cups will be soft, but they'll firm up when they cool down. You can transfer them to a baking rack or a plate to cool completely while you make the filling.
After that, just drop some of the filling into each cup, garnish with fresh fruit and a little extra lemon zest, and you are done!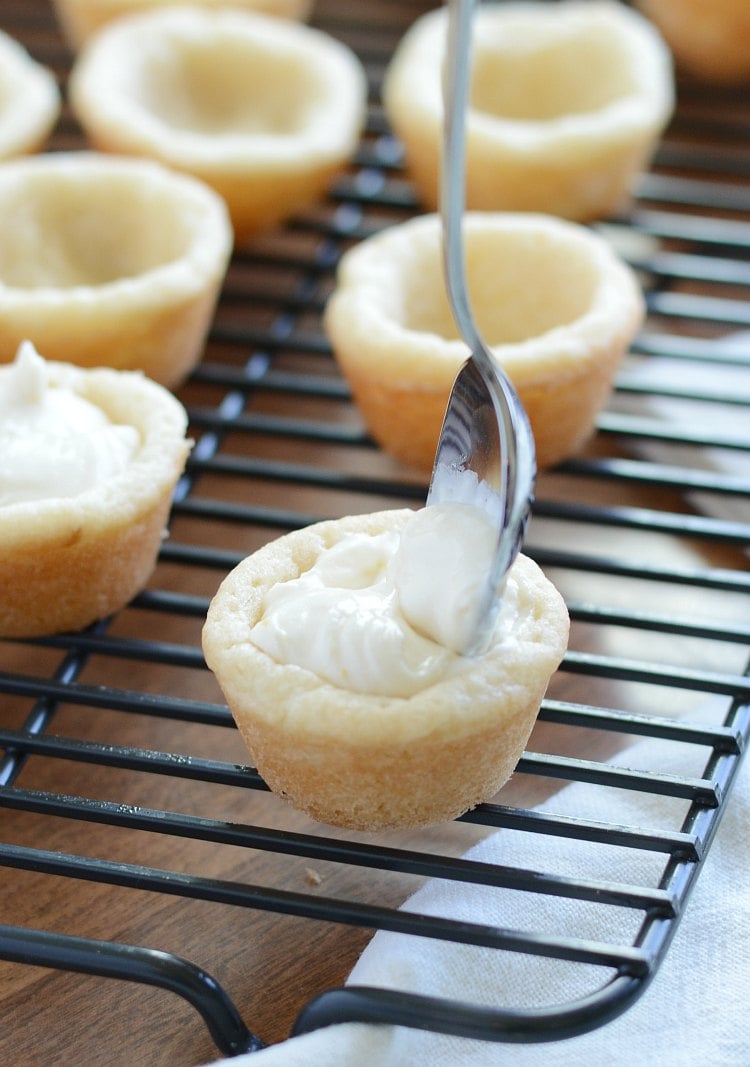 I made a lemon filling this time, and I used strawberries for garnish -- perfect for spring! The lemon flavor isn't too strong, but it's definitely tangy and lemony -- and cool and creamy. Yum!
Once you taste on of these little cheesecake bites, you'll want another and another. They are oh, so good!
That's the only problem with bite-sized desserts -- It's hard to stop eating them! Oh well, you have to live it up sometimes, know what I mean?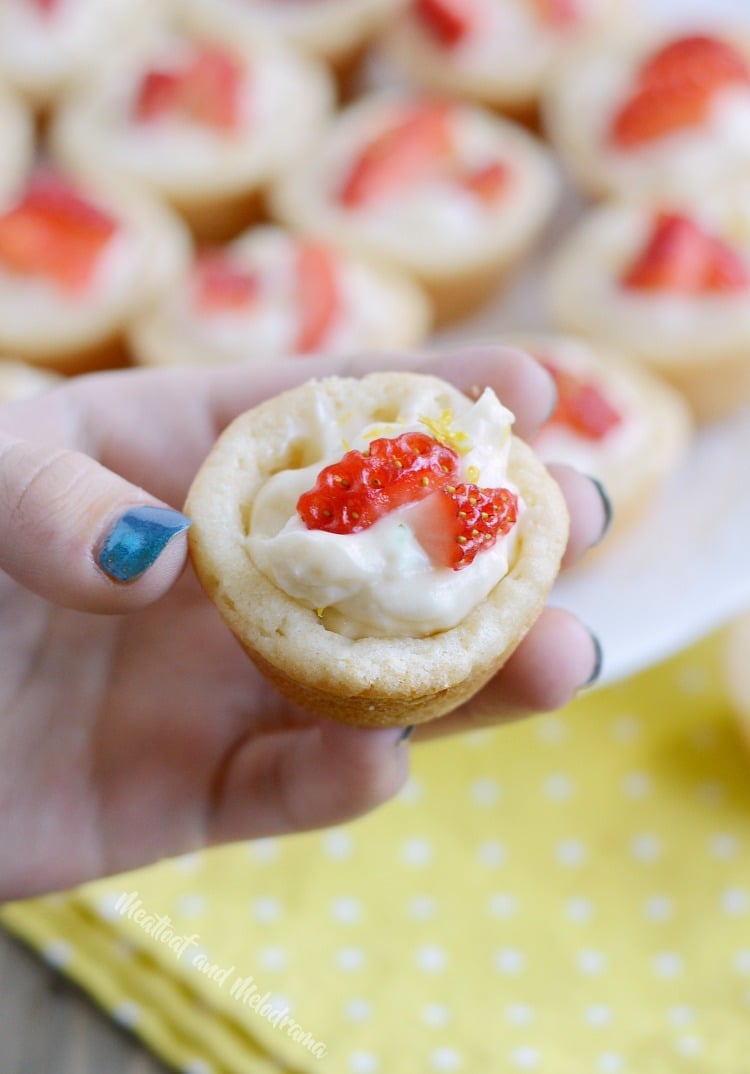 Looking for more quick and easy cheesecake recipes?
Recipe for Lemon Cheesecake Cookie Cups
Recipe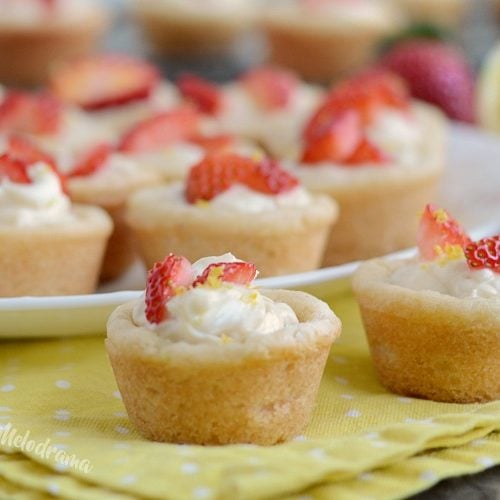 Lemon Cheesecake Cookie Cups
Lemon Cheesecake Cookie Cups are made in a mini muffin tin with prepared sugar cookie dough and a lemony cheesecake filling. It's a quick and easy spring or summer dessert!
Ingredients
1

24-count package

prepared sugar cookie dough

1

8-ounce package

cream cheese, softened

2

teaspoons

vanilla extract

½

cup

powdered sugar

1

tablespoon

lemon juice

1

teaspoon

lemon zest

sliced strawberries, if desired
Instructions
Preheat oven to 350 degrees

Spray a 24-cup mini muffin tin with cooking spray

Add a square of cookie dough to each muffin cup, and bake for 12 minutes or until outside is light golden brown

Remove from oven, allow to cool slightly, and gently make an indentation in each cookie with handle of wooden spoon. Set aside

Meanwhile, add the softened cream cheese and vanilla extract to a large mixing bowl, and beat with hand mixer until creamy

Gradually add powdered sugar, and beat until well combined. Mix in lemon juice and zest until smooth and creamy. Refrigerate until cookie cups are ready to fill.

Carefully remove cookie cups from muffin tin, and when completely cooled, spoon cheesecake filling into middle of cups. Top with additional lemon zest and sliced strawberries, if desired
Nutrition information is estimated. Please do your own calculation to fit special diets.
Nutrition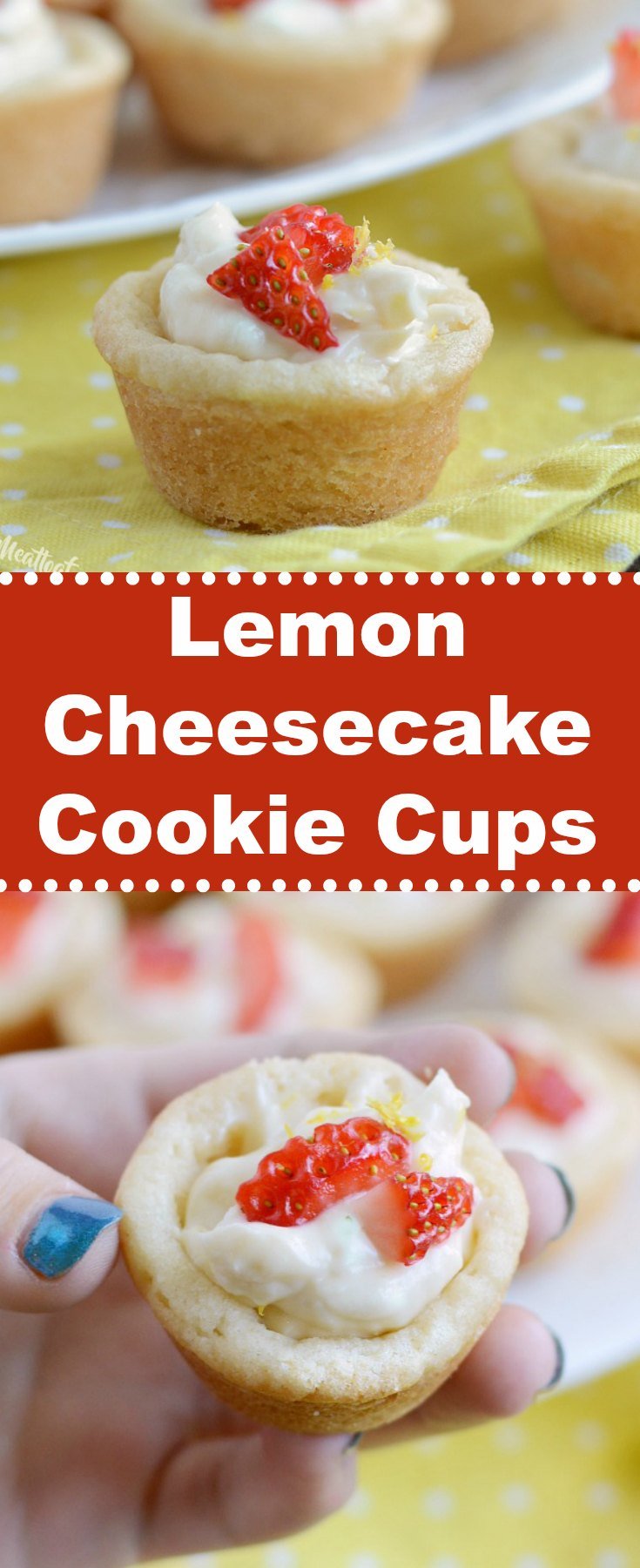 My family loved these mini lemon cheesecake cookie cups, and I hope you'll love them as much as we did!
Happy Spring,