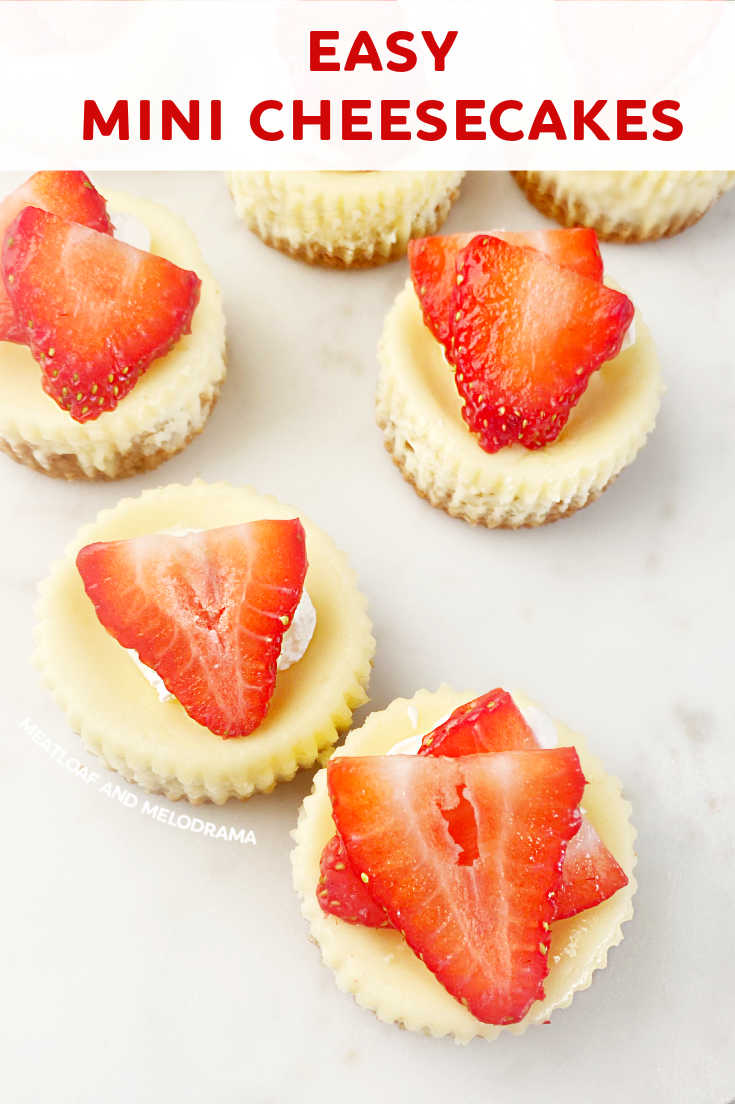 Mini Cheesecakes with graham cracker crust and creamy filling are baked in a muffin pan for a simple bite sized dessert. This cheesecake recipe is easy and delicious. Top with your favorite fresh fruit or pie filling for a delicious dessert the whole family will love!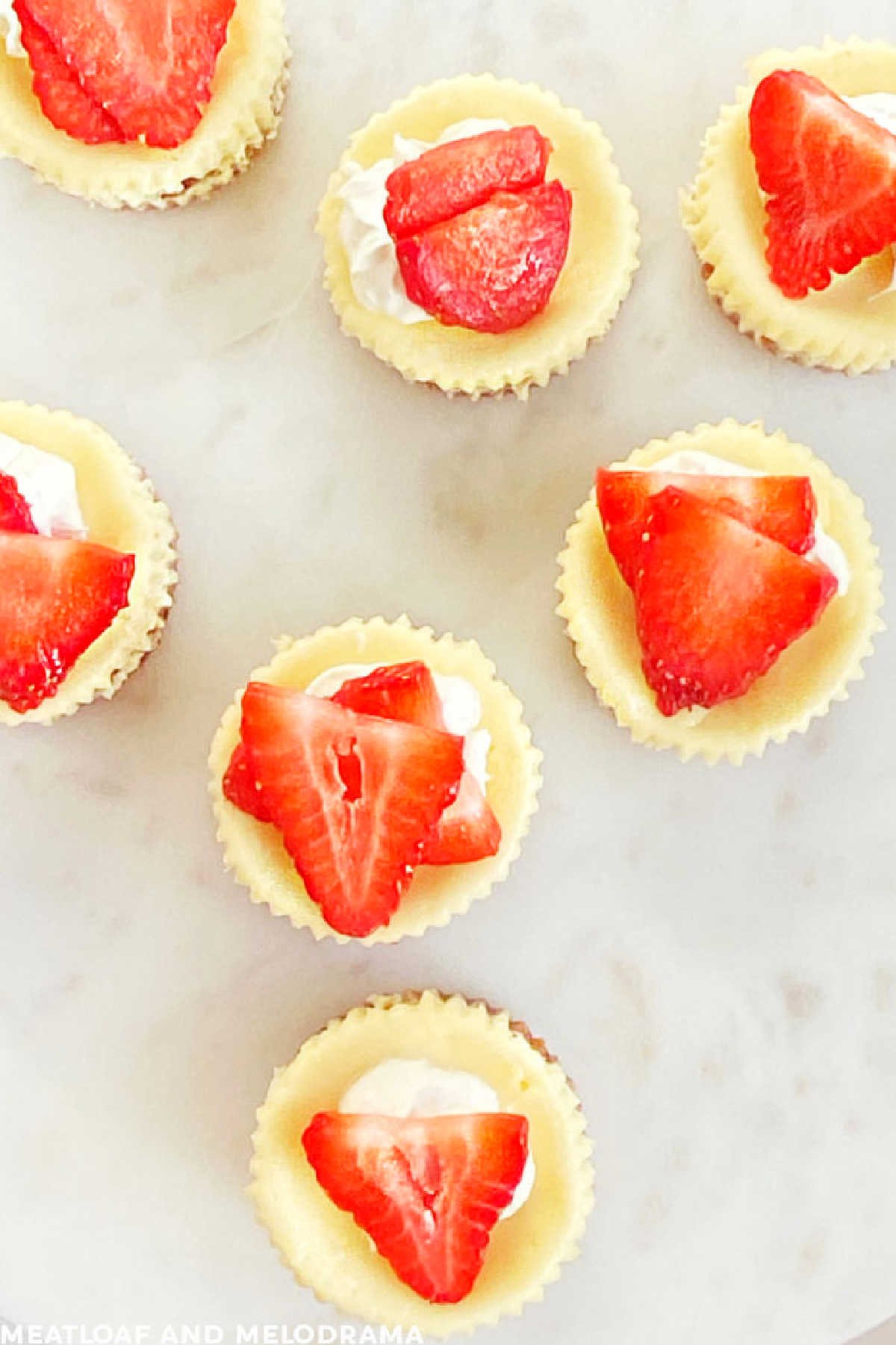 These baked individual cheesecakes are perfect for holidays and entertaining and easy enough for an everyday dessert! You don't even need a special cheesecake pan -- a regular muffin tin or muffin pan will do!
My little boy has always been obsessed with cheesecake. It started long ago when we were out for lunch, and I let him talk me into ordering a slice for dessert. Because it was so rich, we were able to divide one slice between four of us, and my son was hooked!
He pestered me to make homemade cheesecake ever since that day, and I finally gave in -- sort of. Instead of making a full cake, we made mini cheesecakes in a muffin tin. Even though I love making cheesecake in the Instant Pot, this method is even easier.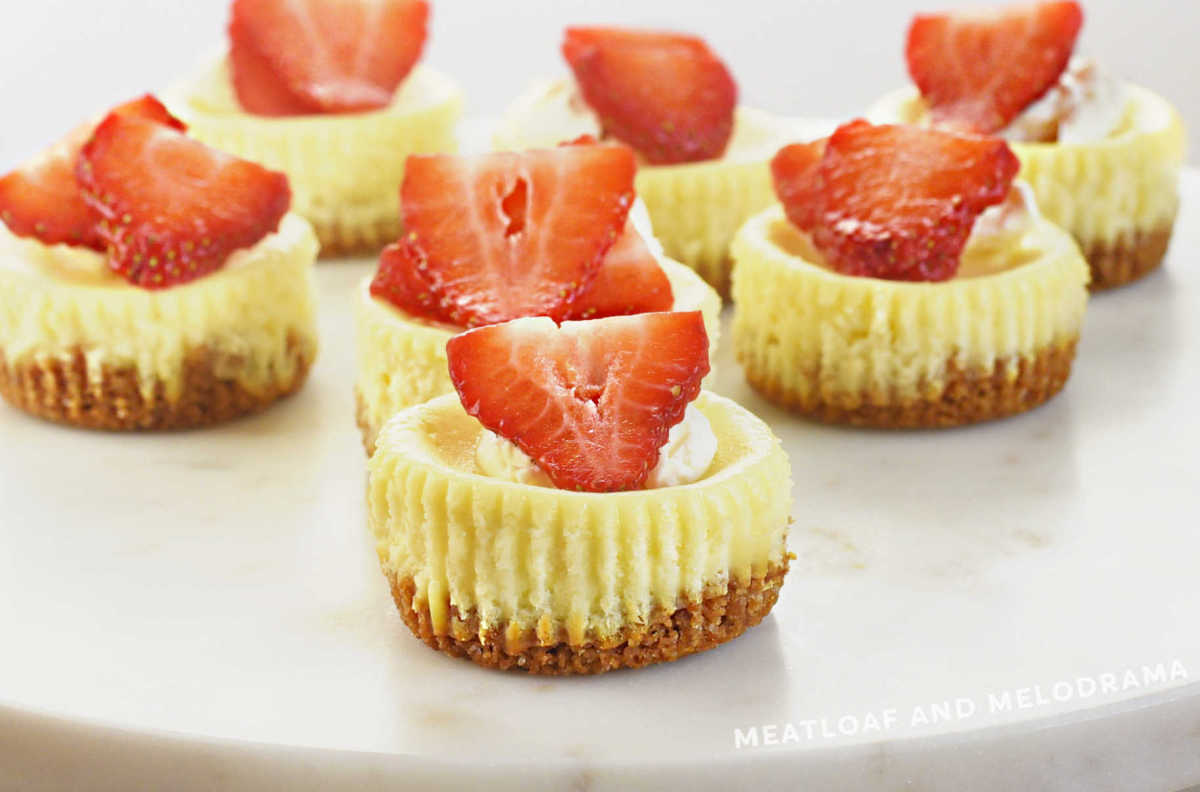 Ingredients
You only need a few basic ingredients, plus a muffin tin and paper or parchment liners to make easy mini cheesecakes:
Cream cheese -- at room temperature
Sugar
Vanilla extract
Salt
Eggs -- at room temperature
Graham crackers
Butter -- I prefer salted butter
Like the Philadelphia mini cheesecakes recipe, my mini cheesecake recipe does not include sour cream. I don't use sour cream in my regular cheesecakes either.
How to Make Mini Cheesecakes
First, make the graham cracker crust.Finely crush up graham crackers -- you can do this with a food processor or by putting graham crackers into a freezer bag and smashing them with a meat tenderizer or rolling pin.
Add the crushed graham crackers to a large bowl and mix them with melted butter and sugar. They should be the consistency of wet sand.
Next, line a muffin tin with paper baking cups or cupcake liners. Spoon the graham crackers into the baking cups, and press to form an even layer.
Bake the crusts for 5 minutes or until light golden brown. You can start on the cheesecake batter while you wait for them to cool.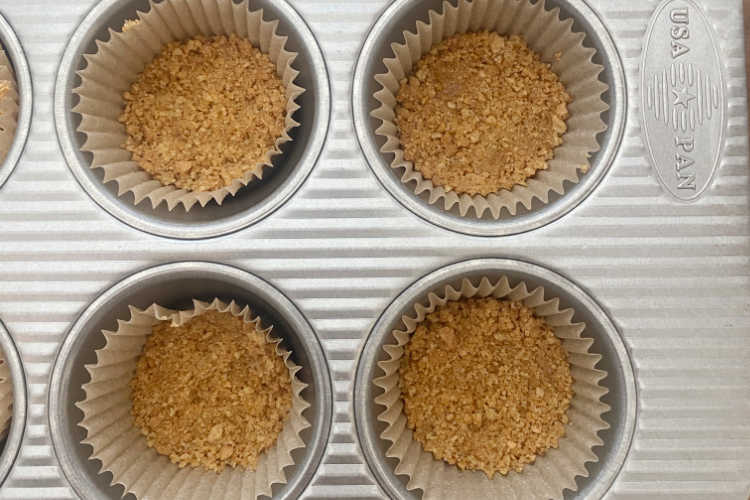 Use an electric mixer to beat the cream cheese and sugar until creamy and smooth. Then, add the vanilla and then, the eggs, one at a time. Don't over mix -- otherwise, the cheesecakes may turn lumpy.
I let my little guy crack the eggs, which was brave of me. He did a good job, but I had to clean up the mess. Still, he's learning, and that's what counts!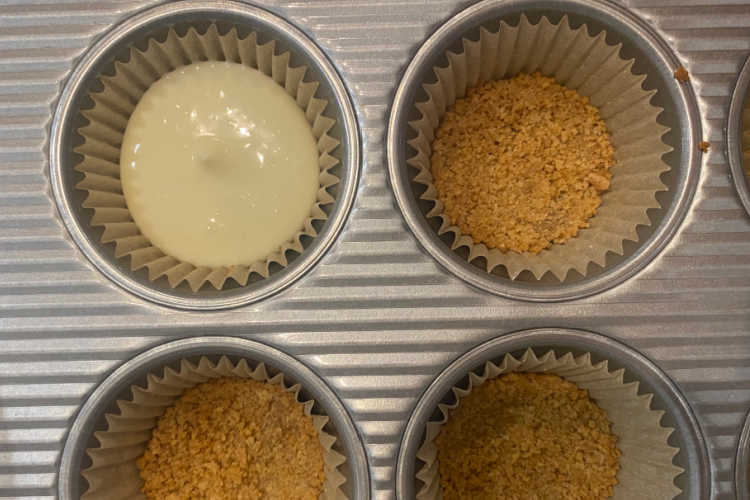 Next, spoon the batter evenly over the crusts. The muffin cups should be about ¾ full.
Bake Time
The nice thing about making individual cheesecakes is that they don't take much time at all! Bake cheesecake minis for only take about 18 to 20 minutes.
You can tell the cheesecakes are done when they are firm around the edges and slightly golden brown. The centers may be soft, but they shouldn't be super jiggly.
You'll want to refrigerate the cheesecakes for about 2 hours or until they firm up more. I usually let the muffin tin cool on the counter until it's cool enough to handle. Then, I pop it into the fridge for a couple of hours.
To serve the cheesecakes, you'll want to carefully peel off the paper liners. Don't worry if they aren't perfect or if the centers of the cheesecakes sink in a little.
You can fill these delicious mini cheesecakes with toppings, and nobody will care or notice!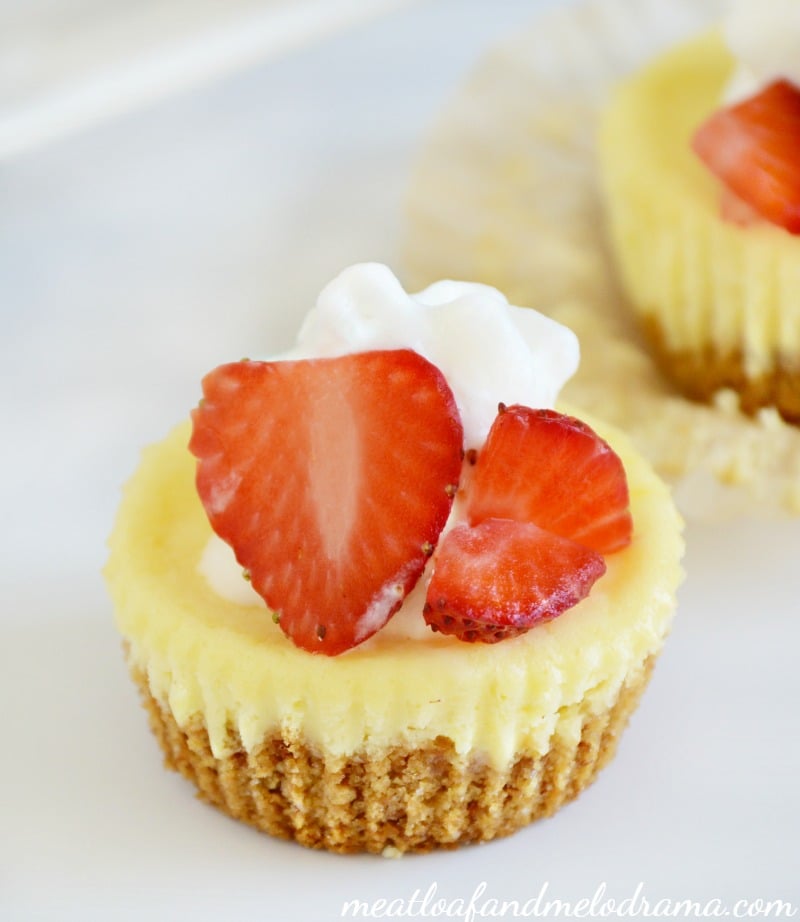 Variations
There is no one way to enjoy these perfect mini cheesecakes -- customize these little guys however you want!
Instead of the classic cheesecake graham cracker crust, crush vanilla wafers into fine crumbs with the crackers for a little extra sweetness. Or, smash up Oreos for a tasty Oreo crust.
There's a variety of toppings for these little cheesecakes. Fruits are always a great option -- try sliced strawberries, macerated strawberries, fresh blueberries, lemon curd, kiwi slices, or cherry pie filling.
Top your creamy mini cheesecakes with whipped cream, melted chocolate chips, chocolate ganache, peanut butter, or caramel sauce.
How to Store
Store your mini cheesecakes in an airtight container in the refrigerator, where they'll last for 3 to 4 days.
I would recommend storing the cakes plain and without their toppings, and just adding toppings where you're ready to serve.
This will keep things from potentially getting soggy.
Recipe
Mini Cheesecakes
Mini Cheesecakes with graham cracker crust and creamy filling are baked in a muffin pan for a simple bite sized dessert. This cheesecake recipe is easy and delicious. Top with your favorite fresh fruit or pie filling.
Ingredients
For the Crust
⅔

cup

crushed graham crackers

1

tablespoon

white sugar

2

tablespoons

melted butter
For the Filling
1

8-oz

package plus 3 ounces softened cream cheese

11 ounces total

¼

cup

white sugar

1

teaspoon

vanilla extract

2

eggs
Instructions
Preheat the oven to 350 degrees

Line a 12-cup muffin tin with parchment or paper baking cups
For the Crust
Mix the melted butter with the crushed graham crackers and 1 tablespoon of sugar

Press about 1 tablespoon of the graham cracker crust mixture into each muffin cup, and bake for 5 minutes and set aside
For the Filling
In a medium-sized mixing bowl, beat the sugar and cream cheese until smooth and creamy

Add the vanilla extract

Beat in the eggs, one at a time until blended. Don't over mix

Pour the filling over the graham cracker crusts, and fill each muffin cup about ¾ full

Bake for 18 to 20 minutes or until filling is firm

Remove from oven, and let cool, then cool in refrigerator for 2 hours. Top with fresh strawberries and whipped cream or your favorite topping.
Notes
Recipe requires about 25 total minutes to cook for crust and filling and 2 hours to chill before serving.
Use a standard muffin tin for this recipe.
Nutrition information is estimated. Please do your own calculation to fit special diets.
Nutrition
Calories:
64
kcal
Carbohydrates:
8
g
Protein:
1
g
Fat:
2
g
Saturated Fat:
1
g
Cholesterol:
32
mg
Sodium:
52
mg
Potassium:
16
mg
Sugar:
6
g
Vitamin A:
100
IU
Calcium:
7
mg
Iron:
0.3
mg
First published in 2016 and updated in 2022.
This mini cheesecake recipe is the best way to get big cheesecake flavor in adorable little packaging! I hope you enjoy this fun, simple recipe as much as my family does!
For more mini desserts, easy recipe ideas, and some of my favorite desserts ever, subscribe to the newsletter and follow me on social media!