This Lemon Lime Soda Cake is light, fluffy and probably the easiest cake recipe you'll ever make. You only need 3 things to make this easy dessert, and it's perfect for summer picnics, potlucks and parties!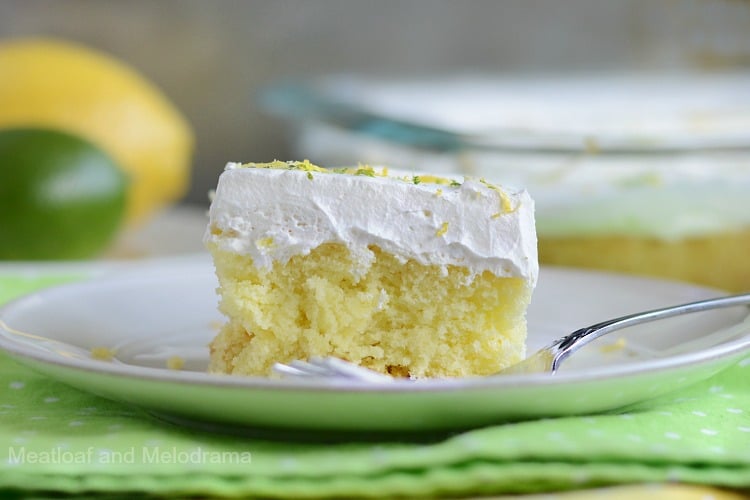 Whether you're watching your weight or just looking for a light summer dessert, you can't go wrong with this incredibly easy lemon lime cake. There's no eggs or oil -- just cake mix and Sprite. Seriously! And friends, this cake is completely delicious!
And now for the big question of the day: When you're talking about your favorite carbonated beverage, do you say soda or pop? Inquiring minds want to know.
My parents grew up in Pittsburgh, so we always said pop. Here is Arizona, they say soda. So, I say pop, and the kids say soda -- fun times!
Maybe I should have called this a lemon lime soda pop cake, but that sounds kind of awkward. So, we can just call it a soda cake, instead. The incredible thing about this cake is that it's made with just a can, or bottle, of Sprite and a box of cake mix -- that's it!
I first heard of this 2-ingredient cake when I tasted it at a potluck a few years ago. I've been wanting to make it myself for the longest time, and I finally got around to it last weekend. All I have to say is what the heck took me so long?!
How to make lemon lime soda cake
Now for the hard part, so pay attention, you guys. Just kidding. Honestly, you hardly need a recipe for this lemon lime cake!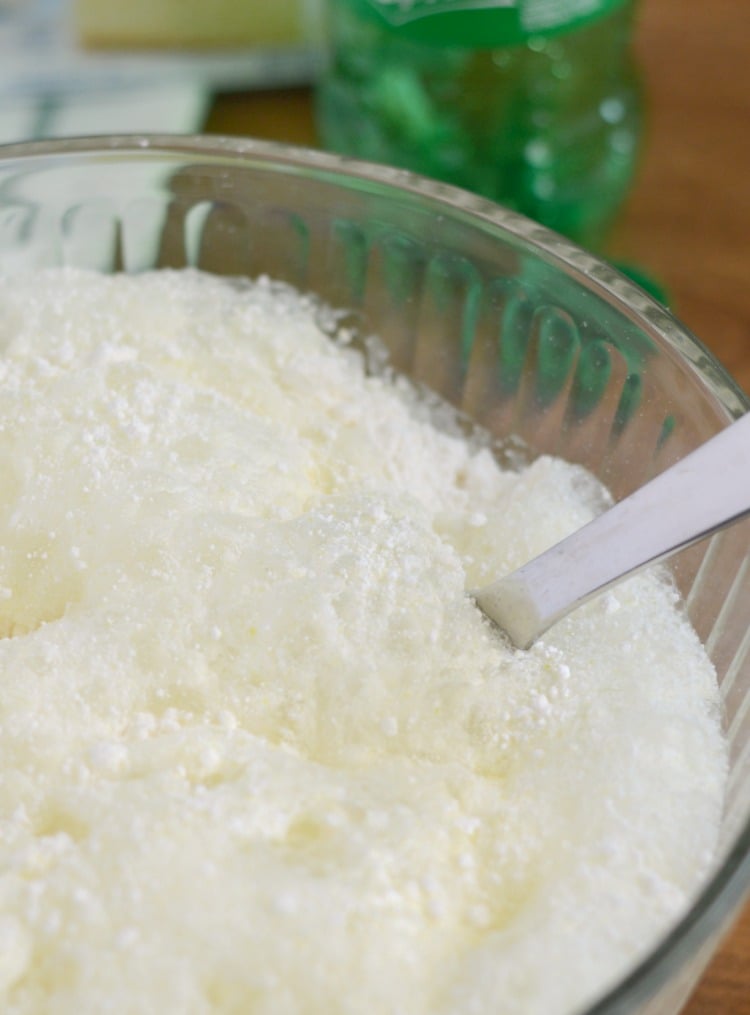 All you need to make this 2-ingredient cake is cake mix and Sprite, and all you do to make it is mix the 2 ingredients together -- in a bowl, that is.
The batter foams up like a science experiment, but once you mix it together, it calms down.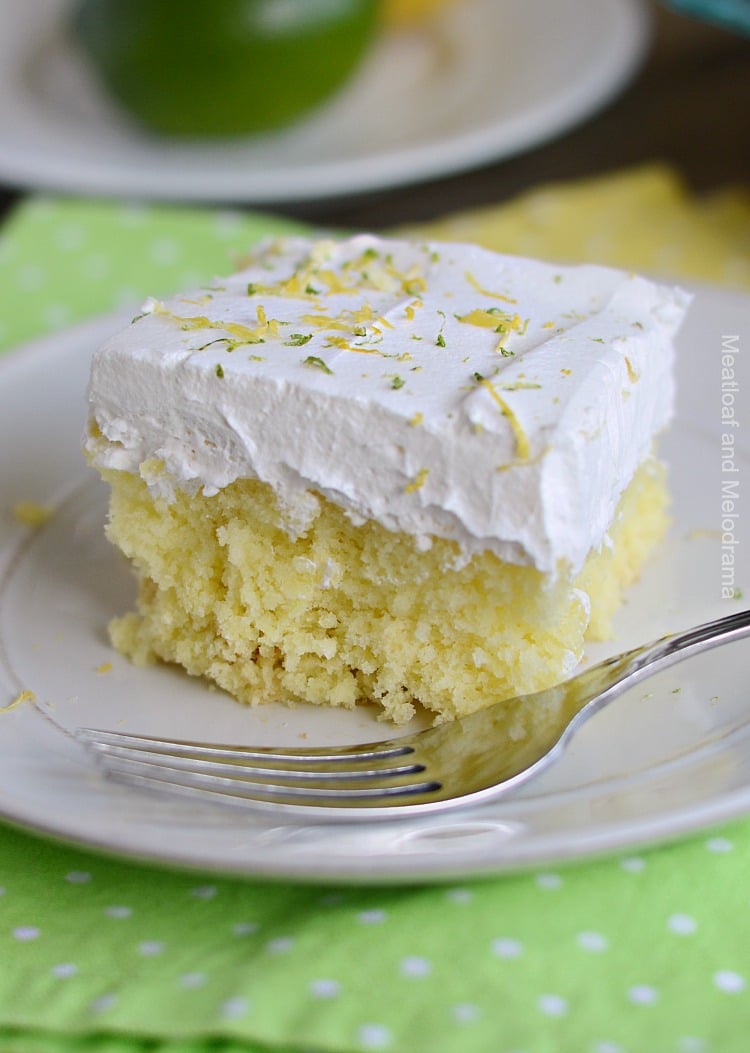 The cake takes about 30 minutes to bake. Mine took barely 30 minutes, so be sure to start testing it at about 25 minutes.
When the the cake is completely cool, you frost it with whipped topping, aka Cool Whip. I sprinkled some lemon and lime zest over the top for extra color and flavor, but this part is optional.
Pop the cake back into the fridge until you're ready to eat, and that's all, folks! Good stuff!
Can I use diet soda pop?
Absolutely. That's actually a Weight Watchers recipe, and you can use light whipped topping, as well.
Can I use 7-Up instead of Sprite?
Definitely! Any lemon lime soda works in this recipe, including generic soda.
Recipe for Lemon Lime Soda Cake
Recipe
Lemon Lime Soda Cake
Easy Lemon Lime Soda Cake is made with just cake mix and soda pop and frosted with whipped topping for a light, fluffy summer dessert that's perfect for picnics, parties and potlucks
Ingredients
1

box

lemon cake mix

1

12-ounce bottle

lemon lime soda pop

1

8-ounce

container

whipped topping, like Cool Whip

lemon and lime zest (optional)
Instructions
Preheat oven to 350 degrees

Grease a 13 X 9 baking dish

In a mixing bowl, pour lemon lime soda into cake mix, and mix until smooth and well combined

Pour batter into greased baking dish, and bake for 30 minutes or until toothpick inserted into center of cake comes out clean

Remove from oven, allow to cool completely, then top with whipped topping and lemon and lime zest, if desired
Notes
Recipe was made using Pillsbury Moist Supreme lemon cake mix and Sprite
Nutrition information is estimated. Please do your own calculation to fit special diets.
Nutrition
My family absolutely loved this easy lemon lime soda cake. The Hubs couldn't stop saying how good it was! I hope you enjoy it as much as we do!