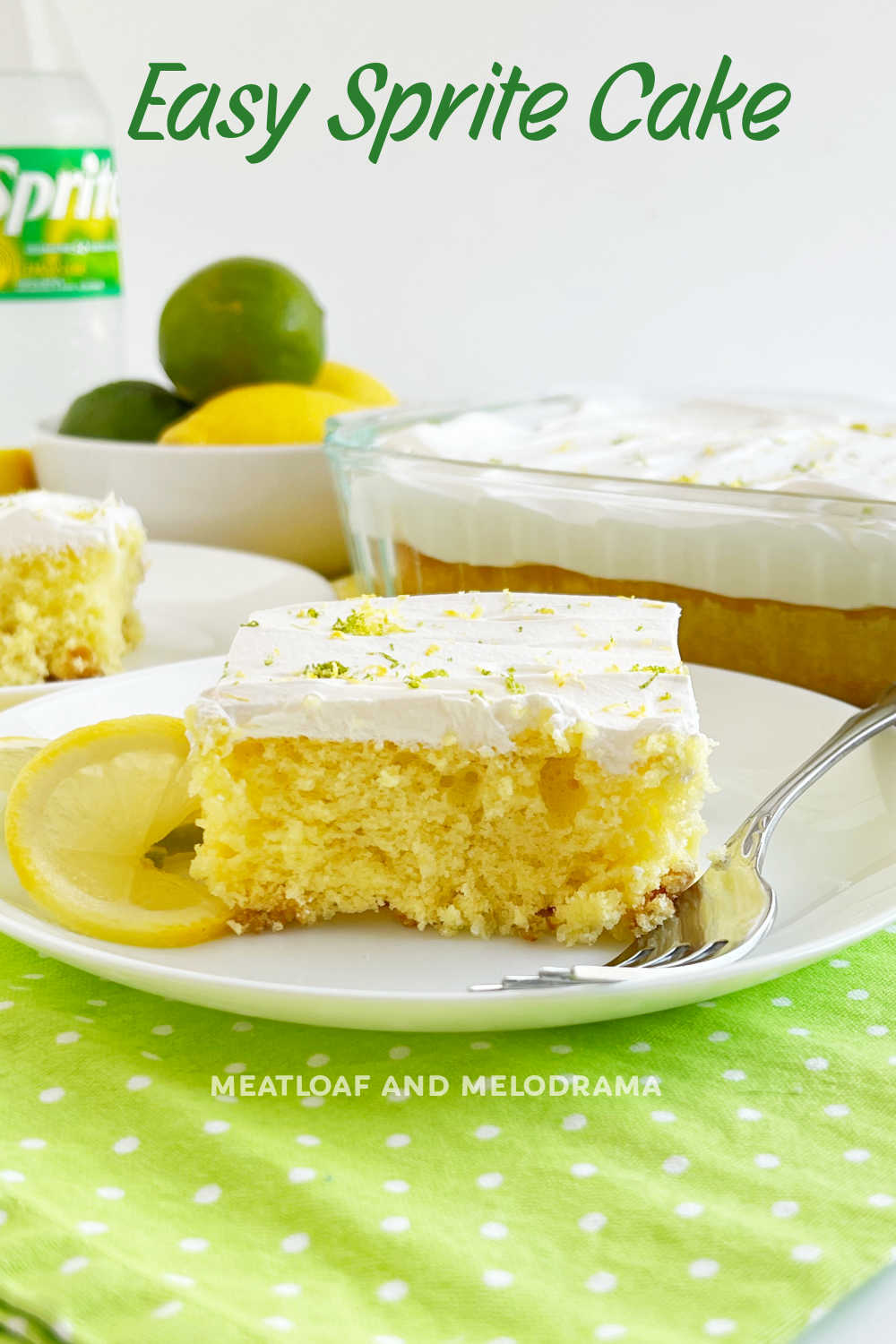 Lemon Lime Soda Cake or Sprite Cake recipe is made with boxed cake mix and a can of soda pop. This 2 ingredient cake is an easy dessert everyone loves!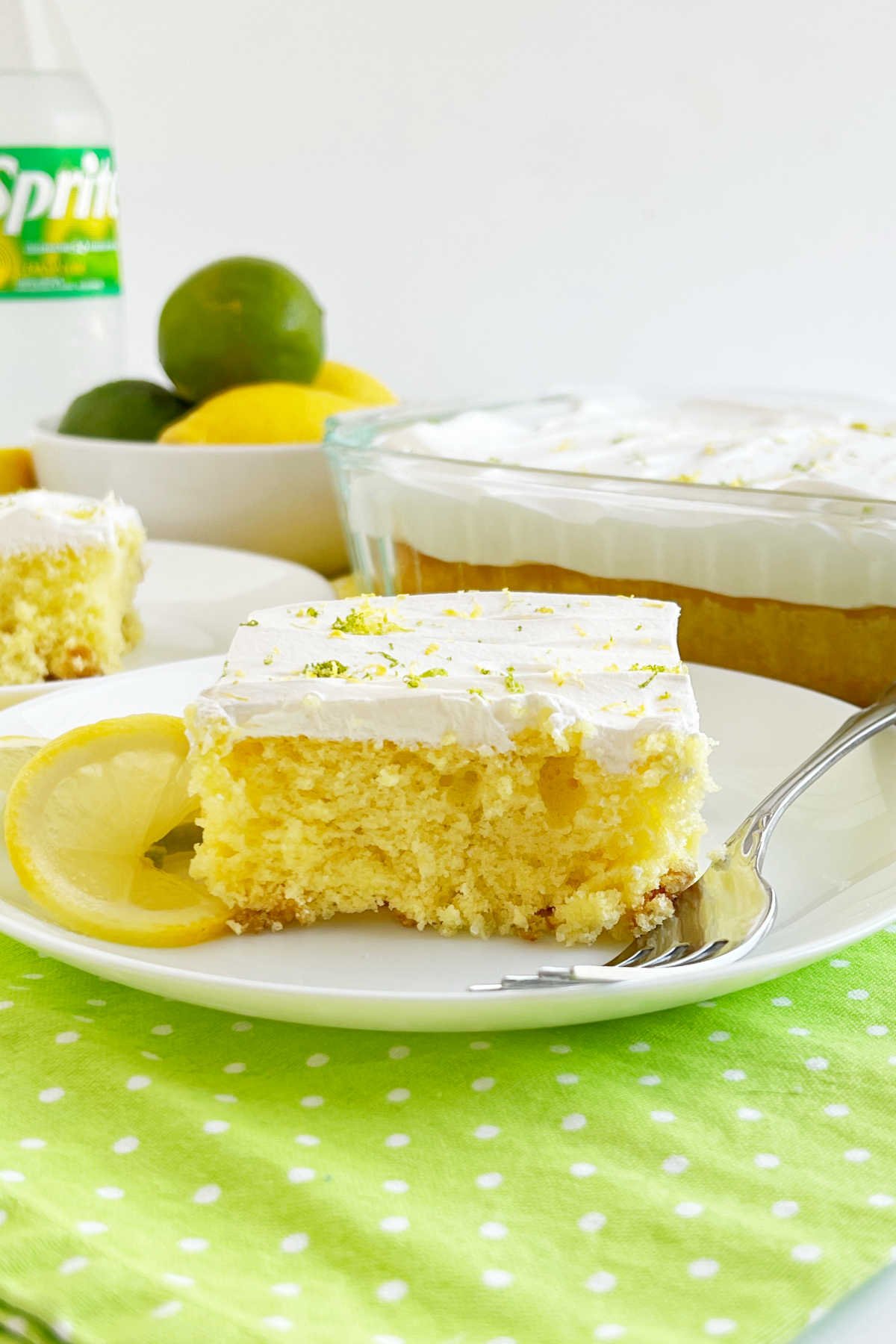 Jump to:
Whether you're watching your weight or just looking for a light summer dessert, you can't go wrong with this incredibly easy Sprite cake recipe.
My refreshing lemon lime cake is bursting with lemon-lime flavor and is a super light moist cake with a very fluffy texture. It's probably the easiest cake recipe you'll ever make.
You only need 3 things to make this easy dessert, and it's perfect dessert for summer picnics, potlucks and parties anytime!
This easy cake recipe is made without eggs and without oil -- just cake mix and Sprite or any lemon-lime soda. Seriously!
Ingredients for Lemon Lime Soda Cake
You can find these simple ingredients in your local grocery stores.
Box Cake Mix -- I used lemon cake mix, but white cake mix, vanilla cake mix or yellow cake mix works.
Sprite -- Or any lemon lime soda. Sierra Mist or Mountain Dew works too. You need 12 ounces.
Cool Whip -- for frosting, but any light frosting or whipped cream will work. Avoid a thick, heavy frosting since the cake is super light.
How to Make Sprite Cake
Now for the hard part, so pay attention, you guys. Just kidding. Honestly, you hardly need a recipe for this lemon lime cake!
Just pour the dry cake mix into a large bowl or large mixing bowl.
Then, pour the can of Sprite into the mixing bowl.
The batter foams up like a science experiment or magic trick, but once you mix it together, it calms down.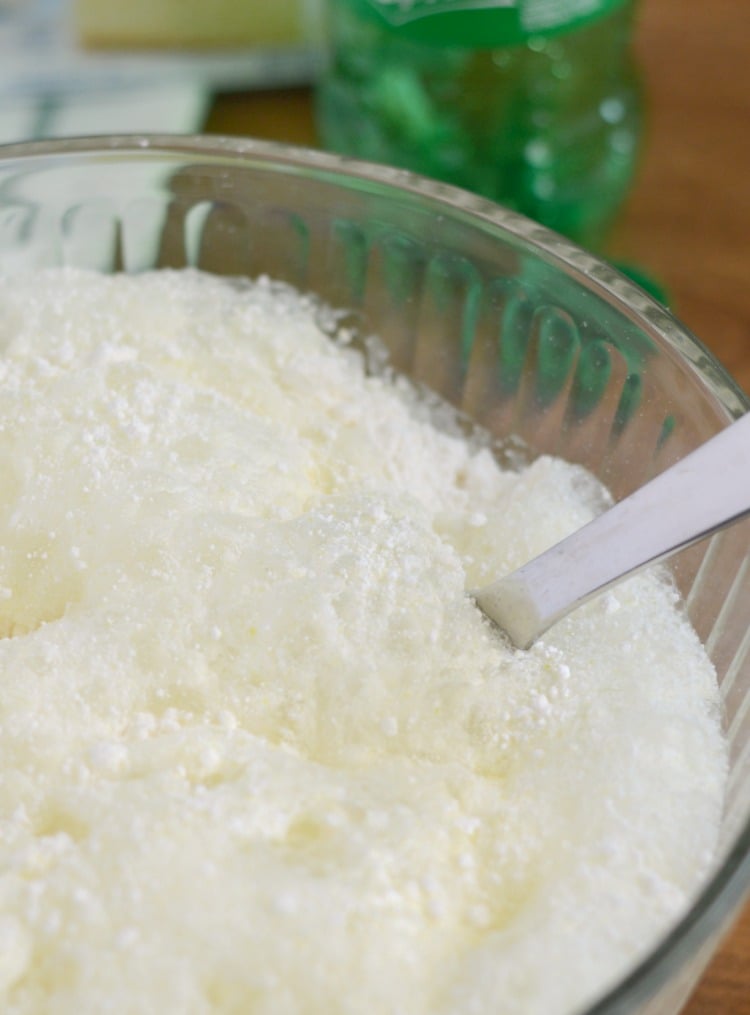 Mix the soda and cake mix together until well combined. You can use an electric mixer or a spoon.
Make sure to scrape the sides of the bowl so the batter is well blended.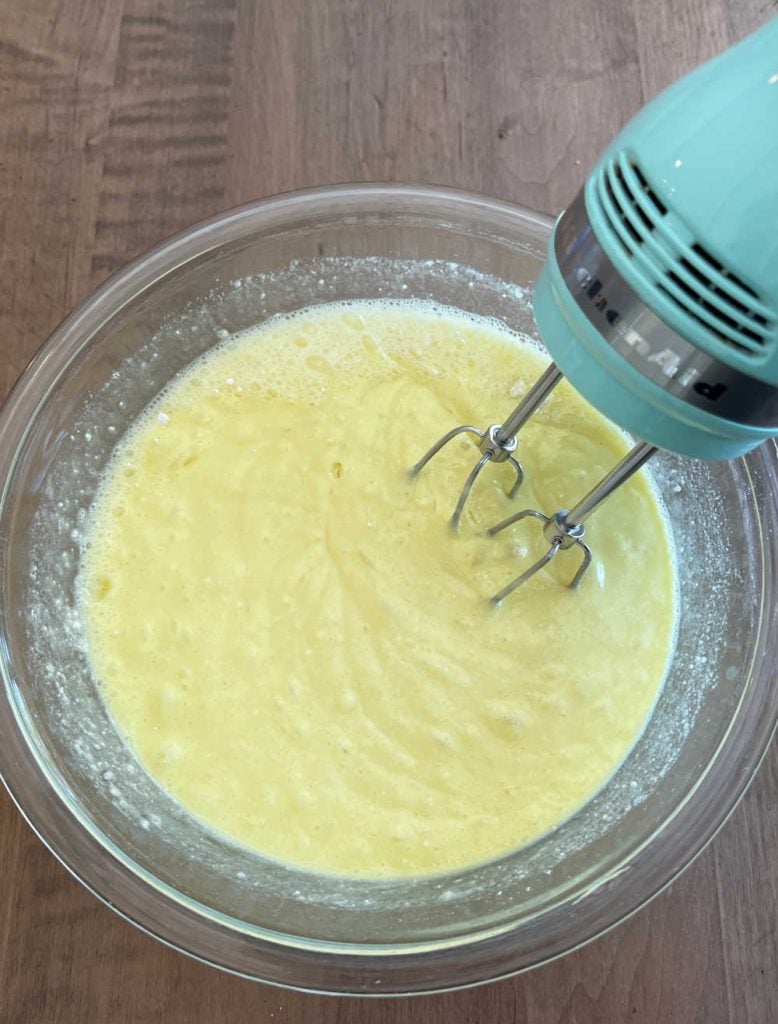 Then, pour batter into a prepared cake pan. You'll want to grease the pan well with non stick spray.
Bake Time
The cake takes about 30 minutes to bake. Mine took barely 30 minutes, so be sure to start testing it at about 25 minutes.
When done, the center of the cake should be firm and spring back when touched and a toothpick inserted into the center should be clean.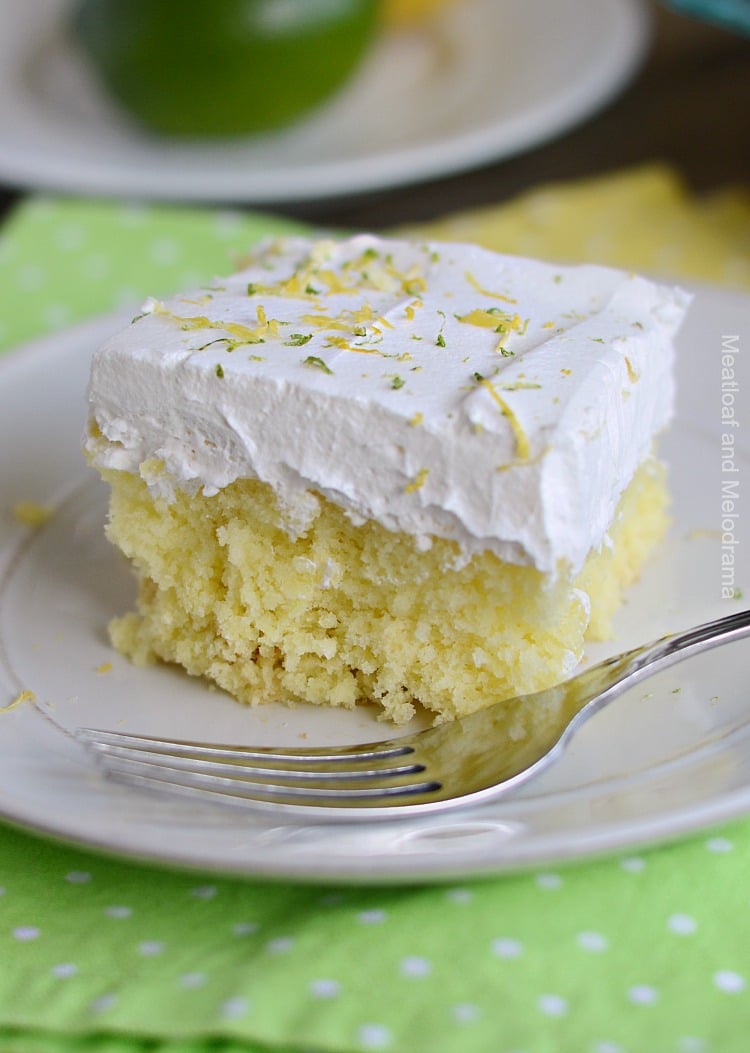 Let the cake cool at room temperature for about 30 minutes. When the the cake is completely cool, you frost it with whipped topping, aka Cool Whip. I sprinkled some lemon zest and lime zest over the top for extra color and flavor, but this part is optional.
Pop the cake back into the fridge until you're ready to eat, and that's all, folks! Good stuff!
How to Store Lemon Lime Soda Cake
Refrigerate leftover cake in an airtight container or cover the cake pan with plastic wrap. It keeps fresh for about 4 days. You can make the cake ahead of time, and frost it before you are ready to serve.
Recipe Tips
You need 12 ounces of Sprite for this recipe. You may need more than 1 can of soda if you have mini cans. If you have a larger bottle of lemon lime soda, measure out 12 ounces.
Use non stick cooking spray or butter to grease the cake pan. Since there is no oil in the cake, this light fluffy cake tends to stick to the pan.
Make sure Cool Whip is thawed completely before frosting the cake.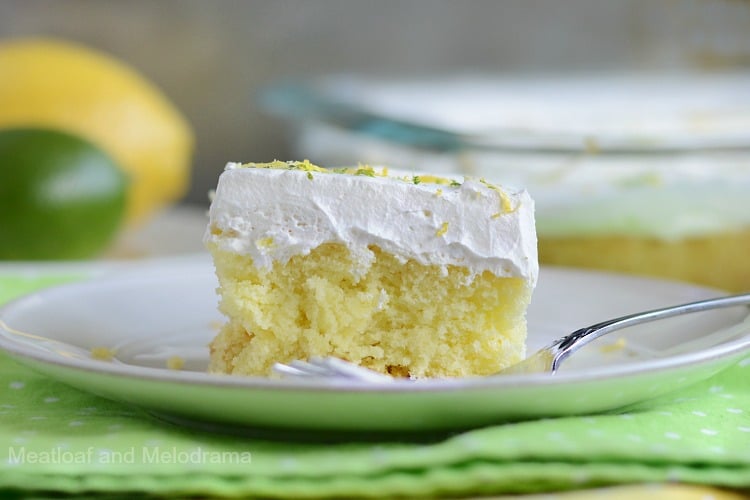 Can I use diet soda pop?
Absolutely. That's actually a Weight Watchers recipe, and you can use light whipped topping, as well.
Can I use 7-Up instead of Sprite?
Definitely! Any lemon lime soda works in this recipe, including generic soda.
More 2 Ingredient Cake Recipes
Check out these easy cake recipes made with different cake mixes and more easy desserts to try!
Recipe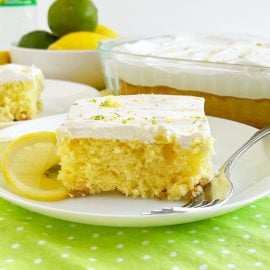 Sprite Cake Recipe (Lemon Lime Soda Cake)
Lemon Lime Soda Cake or Sprite Cake recipe is made with boxed cake mix and a can of soda pop. This 2 ingredient cake is an easy dessert everyone loves!
Ingredients
1

box

lemon cake mix

1

12-ounce bottle

Sprite or lemon lime soda pop

1

8-ounce

container

Cool Whip, thawed

lemon and lime zest (optional)
Instructions
Preheat oven to 350 degrees

Grease a 13 X 9 baking dish

In a mixing bowl, pour lemon lime soda into cake mix, and mix until smooth and well combined

Pour batter into greased baking dish, and bake for 25-30 minutes or until toothpick inserted into center of cake comes out clean

Remove from oven, allow to cool completely, then top with whipped topping and lemon and lime zest, if desired
Notes
Recipe was made using Pillsbury Moist Supreme lemon cake mix and Sprite.
Test the cake at 25 minutes to see if done. When center of cake springs back when lightly touched and toothpick comes out clean, it is done.
You can use any white or yellow cake mix and any lemon-lime soda.
Nutrition information is estimated. Please do your own calculation to fit special diets.
Nutrition
Calories:
159
kcal
Carbohydrates:
36
g
Protein:
2
g
Fat:
1
g
Saturated Fat:
1
g
Polyunsaturated Fat:
0.1
g
Monounsaturated Fat:
0.3
g
Trans Fat:
0.1
g
Cholesterol:
0.01
mg
Sodium:
314
mg
Potassium:
20
mg
Fiber:
1
g
Sugar:
19
g
Vitamin A:
0.1
IU
Calcium:
91
mg
Iron:
1
mg
My family absolutely loved this easy lemon lime soda cake. The Hubs couldn't stop saying how good it was! I hope you enjoy it as much as we do!
And now for the big question of the day: When you're talking about your favorite carbonated beverage, do you say soda or pop? Inquiring minds want to know.
My parents grew up in Pittsburgh, so we always said pop. Here is Arizona, they say soda. So, I say pop, and the kids say soda -- fun times!
Maybe I should have called this a lemon lime soda pop cake, but that sounds kind of awkward. So, we can just call it a soda cake, instead.
If you try this easy recipe, please leave a star rating and/or comment and sign up for the weekly newsletter for more easy delicious recipes!

Recipe first published in 2018 and updated in 2023.