This Low Carb Sausage Egg Breakfast Scramble with colorful peppers and Parmesan cheese is a delicious way to start your day!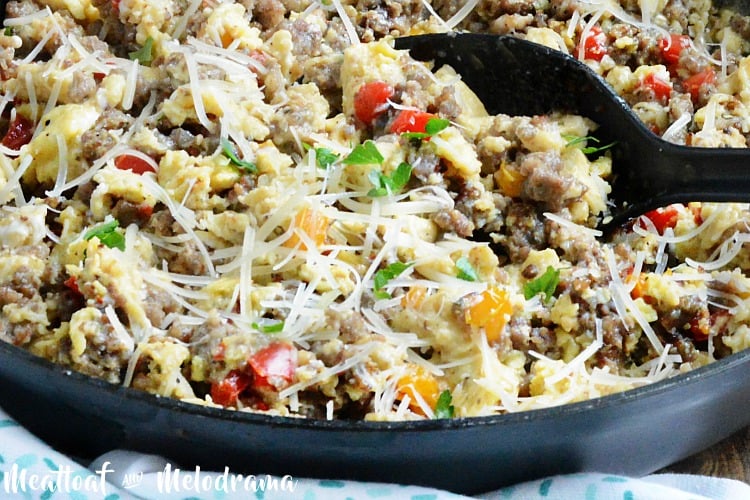 I think I told you this before, but I'm really not much of a breakfast person, which is why I don't share breakfast recipes that often on the blog. We do usually have a big breakfast at least once on the weekends. The kids are all about the carbs -- pancakes, muffins, waffles, you name it. And really, I don't blame them!
But since the Hubs is on a low carb diet, we try to make low carb breakfast recipes whenever we can. Sometimes, we make simple scrambled eggs, and sometimes we make sausage and egg cups or ham and egg cups.
But lately, we've been making this easy low carb sausage and egg skillet with peppers for breakfast. It's made in one pan, and it's got tons of flavor. Even the kids like it, and that definitely means it's edible!
The key to making this breakfast scramble work is to cook it in two separate parts and then combine the ingredients at the end. If you try to cook the sausage and eggs at the same time, you end up with egg coated sausage. And that's definitely not a good thing!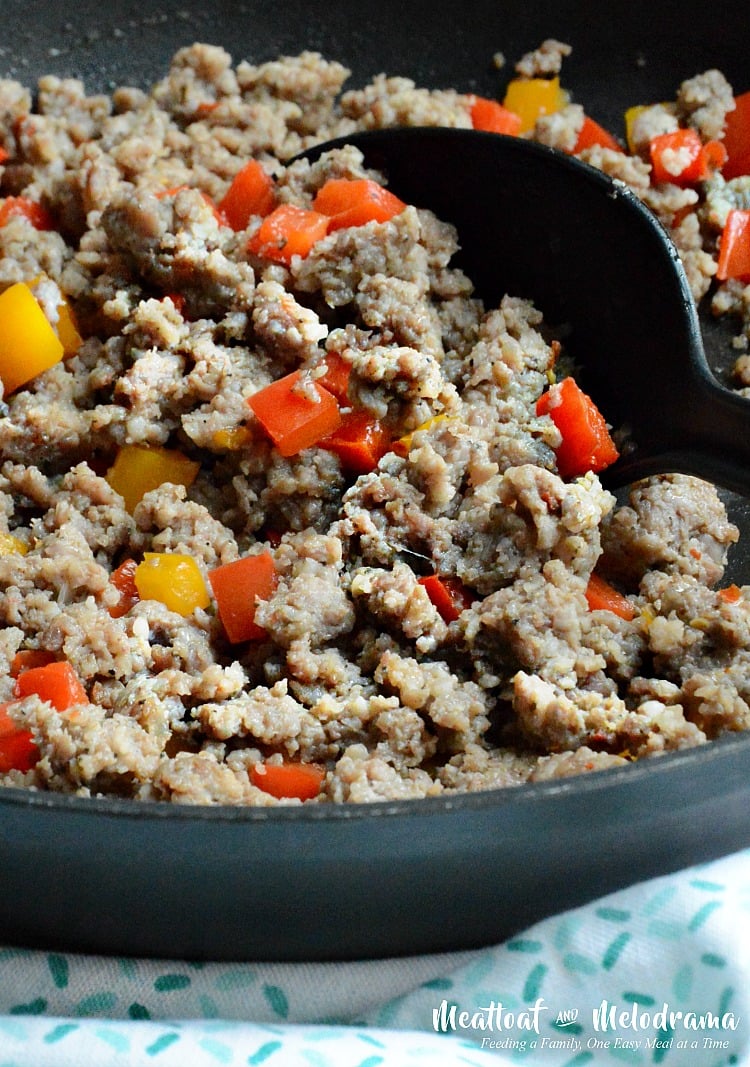 Basically, you cook the sausage and peppers together. Then, when they're done, you put them on a plate and let them sit for a few minutes while you cook the eggs.
When the eggs are starting to set, but not completely done, you add the sausage and pepper mixture to the eggs and stir gently until the eggs are done. Then, you top the sausage and egg mixture with some shredded Parmesan cheese, and breakfast is served!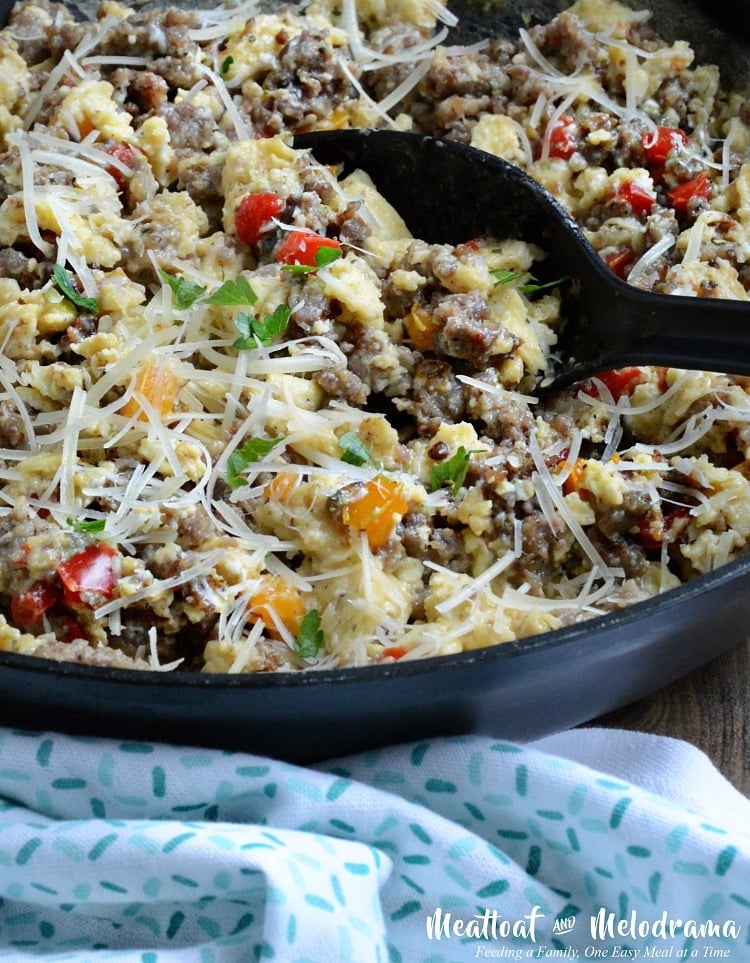 I should probably try doing a video for this recipe because it sounds more complicated than it is. If you know how to scramble eggs, you've got this! And even if you're not a pro at cooking scrambled eggs, you'll definitely master this recipe in no time.
This breakfast scramble is also very easy to customize. You can add different cheese or sausage, some potatoes or different spices -- whatever works for you!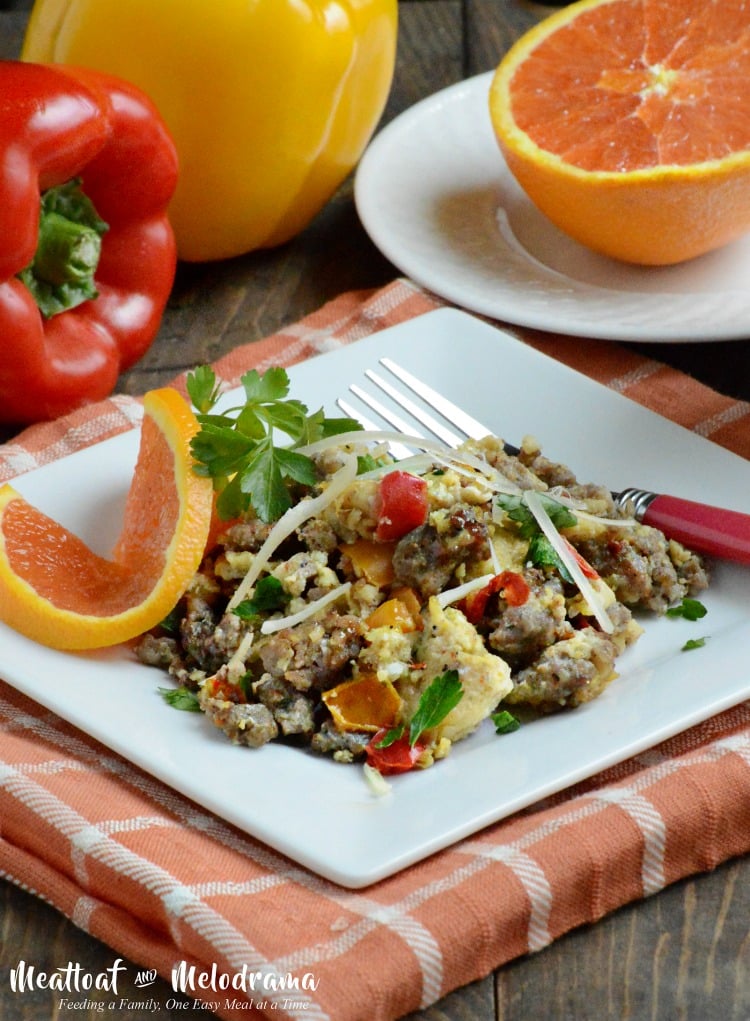 How to Make Low Carb Sausage Egg Breakfast Scramble
Recipe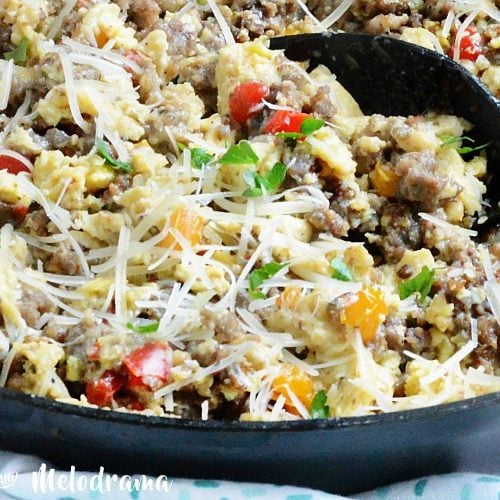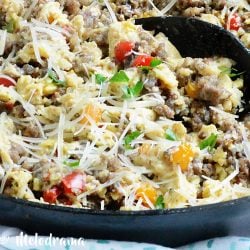 Low Carb Sausage Egg Breakfast Scramble
Eggs, sausage and colorful bell peppers are scrambled together in one skillet for a quick and easy low carb breakfast
Ingredients
1

pound

breakfast sausage

2

cups

red and yellow bell peppers, chopped

10

eggs, whisked together

2

tablespoons

olive oil or butter

1

teaspoon

Italian seasoning

1

teaspoon

sea salt

½

teaspoon

black pepper

½

cup

shredded Parmesan cheese

fresh parsley, chopped, if desired
Instructions
In a large non-stick skillet, fry sausage and peppers over medium-high heat until peppers are slightly soft and sausage is done

While sausage is cooking, crack eggs into large bowl or measuring cup, and whisk together

Remove sausage from pan and transfer to paper-towel-lined plate, and drain off any excess liquid from pan

Heat butter or olive oil in same pan over medium heat, then add eggs

Cook, stirring often, until slightly set, but not completely done

Add sausage and pepper mixture, sea salt, pepper and Italian seasoning, and gently stir until eggs are firm but still slightly soft

Sprinkle with Parmesan cheese, fresh parsley, if desired, and serve immediately
Nutrition information is estimated. Please do your own calculation to fit special diets.
Nutrition
Calories:
106
kcal
Protein:
9
g
Fat:
7
g
Saturated Fat:
2
g
Cholesterol:
210
mg
Sodium:
464
mg
Potassium:
83
mg
Vitamin A:
350
IU
Calcium:
104
mg
Iron:
1.1
mg
I really think you are going to love this easy low carb sausage egg breakfast scramble. Like I mentioned before, even my picky eaters ate this right up. If you try it, let me know how it goes.
Happy Cooking,