This Pierogi Pizza Recipe (Pagach) is made with pizza dough topped with cheesy potato filling, onions and cheddar cheese. Tastes just like pierogi! This easy recipe is a great way to enjoy the taste of Pittsburgh pierogies without the work!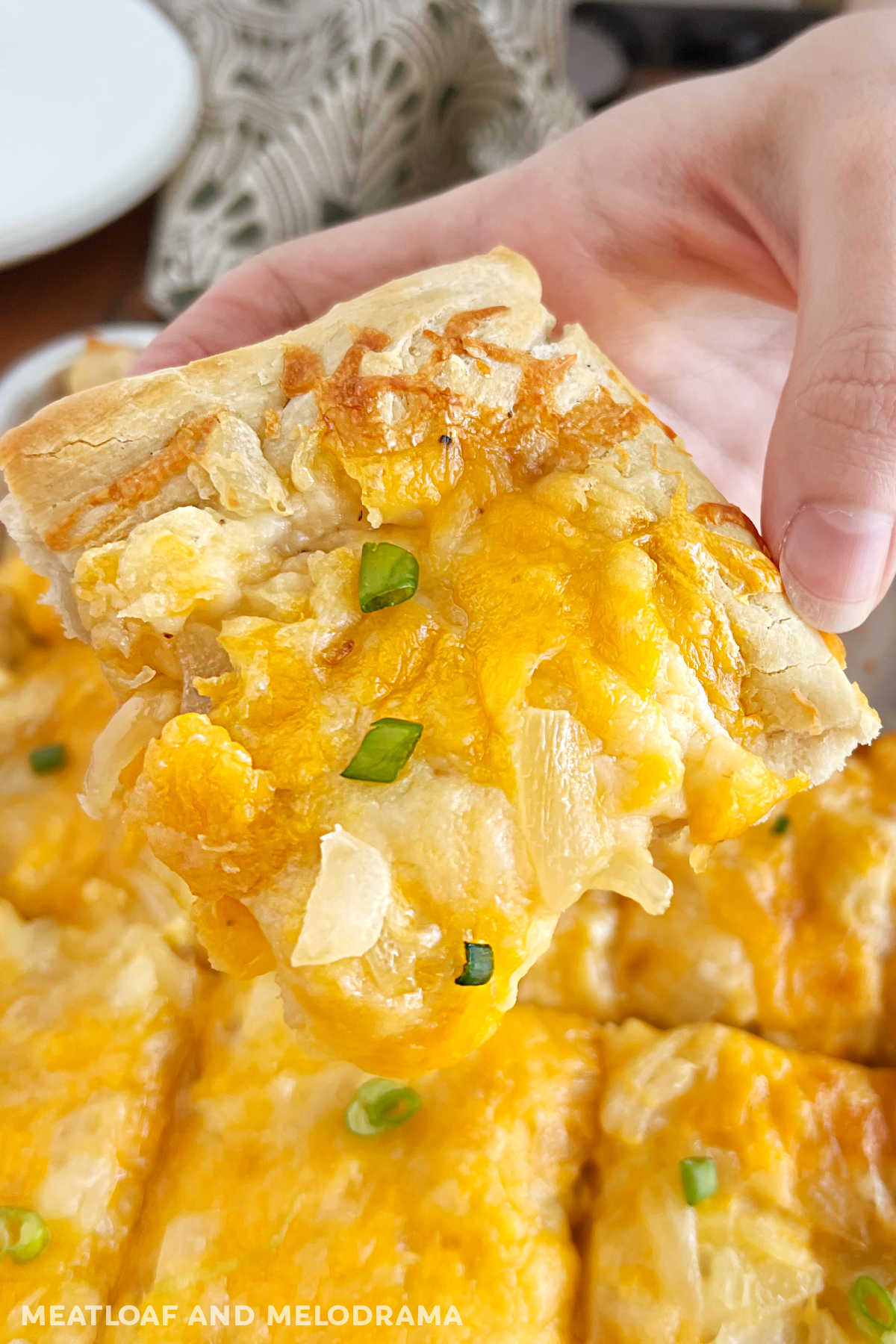 There really are no words to describe how incredibly delicious pierogi pizza is. Imagine potato pierogi and pizza had a baby. There you go!
Pierogi pizza is sometimes called Slovak pizza, or pagach. Traditional pagach can be made with a filling between 2 layers of dough or with the dough folded over.
Or, you can make pagach with a crust and toppings, just like pizza. Some say perogi pizza is a Pittsburgh area invention, but you don't have to be Slovak or from Pittsburgh to love this cheesy potato pizza!
My Slovak family from Pittsburgh used to make pagach during Lent or on Christmas Eve as part of the traditional meatless meal, along with haluski, halupki and nut roll.
I first tasted pierogi pizza years ago. You can find it in many a pizza shop and concession stands in Pittsburgh, especially during football season.
Now, I make easy pagach anytime, using store bought pizza dough and leftover mashed potatoes for convenience!
Ingredients
You only need a few simple ingredients to make pierogi pizza. You can find them in the grocery store or online:
Pizza dough
Onion -- yellow onion or white onion
Melted butter
Mashed potatoes
Shredded cheddar cheese
Cheddar blend cheese or mozzarella cheese
Green onions -- chopped, for topping
You will also need a cookie sheet or large round pizza pan for baking the pizza.
I use leftover mashed potatoes and premade pizza dough. You can definitely make your own dough, though.
If you don't have mashed potatoes, you can easily make Instant Pot mashed potatoes or follow my homemade pierogi recipe (Pittsburgh pierogi) to boil potatoes and make the cheesy potato filling.
How to Make Pierogi Pizza
Follow the directions for the pizza dough you are using. I usually buy Kroger pizza dough, which needs to sit out for about 20 minutes before using.
So, while the dough is warming up, you'll need to chop and sauté an onion in butter on your stove over medium heat. Buttery onions or caramelized onions are a must for pierogi pizza!
Next, heat oven to 400 degrees f. The instructions on the dough actually call for 375, but I find 400 works better.
Very lightly spray a pizza pan or cookie sheet with cooking spray or olive oil spray. Using too much makes the crust soggy, so wipe some off if there is too much oil.
Press dough and shape it into a rectangle or 12 inch circle, depending upon the pan you are using.
Then, poke the dough a bunch of times with a fork. This prevents the crust from bubbling up.
Bake the crust for 5 minutes. Then, remove the crust to assemble the pizza.
Reheat leftover mashed potatoes just until they are warm. Mix the mashed potatoes and shredded cheese together.
Then, brush the bottom and sides of the crust with melted butter or extra virgin olive oil. Spread the cheesy mashed potatoes over the prepared pizza crust.
Next, sprinkle the cheddar cheese and cheese blend or mozzarella cheese on top of the mashed potatoes.
Then, add the sauteed onions on top of the cheese layer.
Cooking Time
Bake the pierogi pizza for 10 to 15 minutes. When done, the crust should be golden brown and the cheese should be melted and bubbling.
Make sure that your pizza is at oven rack bottom position--it won't cook right on the top or middle rack.
Keep in mind, the crust may be soft, but this is a good thing. You want a softer crust for this pizza recipe.
Slice the pizza into squares or triangles, if you made a round pizza, and let the pizza cool at room temperature for a bit. This cheesy pierogi pizza is best enjoyed warm, just like pierogi!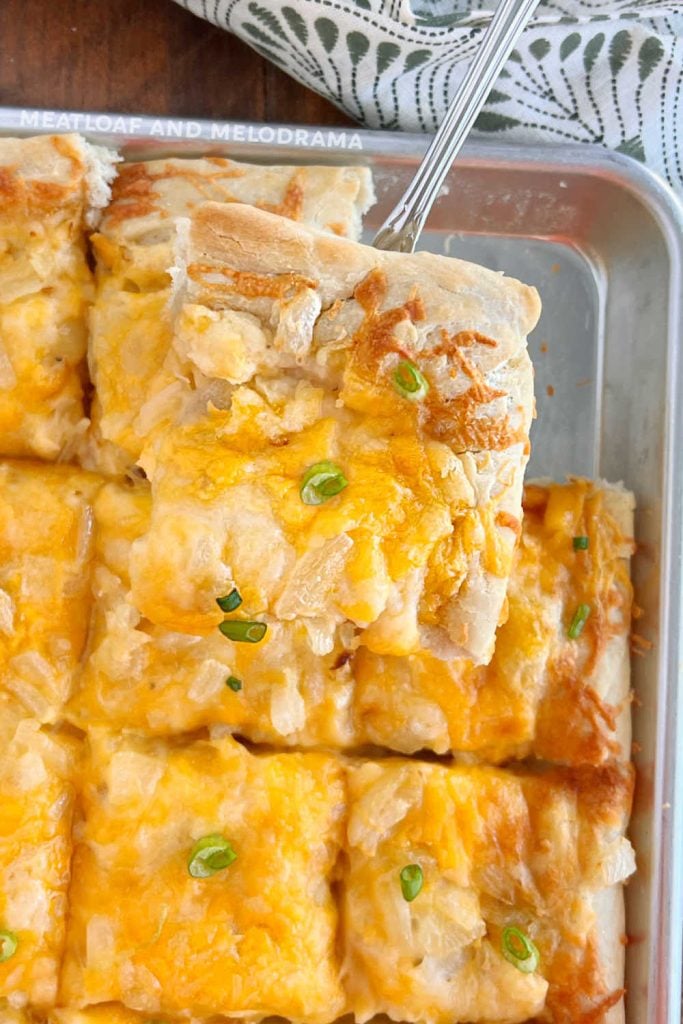 What to Serve with it
Serve pierogi pizza topped with green onions along with sour cream for dipping. My kids actually love dipping slices in cheese sauce or nacho cheese sauce! You can also use pizza sauce if you want.
A simple side salad goes well, too.
Variations
There are a few simple ways to customize this delicious pagach to your tastes!
Pagach with cabbage or sauerkraut filling is a great option if you're not a potato lover.
Not all perogis have cheese mixed into the mashed potatoes, so if you don't normally make your perogies like that, then just make your mashed potatoes plain, and add shredded cheese as a topping. Or, mix farmers cheese, cream cheese, sour cream or cottage cheese in with the mashed potatoes, instead.
Instead of cheddar, use Parmesan cheese, American cheese, sharp cheddar cheese, or simply whatever is your favorite!
If you're in the mood for a spicy pierogi pizza, sprinkle some red pepper flakes on top of the pizza, and mix a little cayenne pepper, chopped jalapeño peppers or chili powder into the mashed potatoes for a spicy potato base.
Instead of fresh diced onion, use onion powder or minced onion.
Since this is definitely an American take on a classic Slovak dish, you can add bacon or some of your favorite pizza toppings if you like.
How to Store and Reheat
Store any leftover pierogi pizza in an airtight container in the refrigerator, where it'll last for 2 to 3 days.
Reheat the pizza in an air fryer, or bake in the oven for best results. If needed, you can reheat in the microwave, but the air fryer or conventional oven will give best results.
Recipe
Pierogi Pizza (Pagach)
This Pierogi Pizza Recipe (Pagach) is made with pizza dough topped with cheesy potato filling, onions and cheddar cheese. Tastes just like pierogi! This easy recipe is a great way to enjoy the taste of Pittsburgh pierogies without the work!
Ingredients
1

pizza dough

1

cup

chopped onion

about 1 yellow or white onion

4

tablespoons

melted butter

divided

1½

cups

mashed potatoes

leftover

3

cups

shredded cheddar cheese

divided

1

cup

cheddar blend

or mozzarella cheese
Instructions
Preheat oven to 400 degrees f

Set the pizza dough out to rest or follow instructions according to brand

Sauté chopped onions in 2 tablespoons melted butter until soft and light golden brown. Set aside

Lightly spray pizza pan or cookie sheet with non stick cooking spray, and form pizza crust on pan

Prick dough several times with a fork, and bake crust for 5 minutes

Heat leftover mashed potatoes until warm and mix in 2 cups of cheddar cheese

Remove crust, brush with remaining melted butter, and spread mashed potatoes over crust, leaving about ½ inch from the edges

Sprinkle remaining cheddar cheese and cheddar blend or mozzarella cheese over the mashed potatoes

Top cheese layer with onions

Bake pizza for 10 to 15 minutes or until crust is golden brown and cheese is melted and bubbling

Remove from oven and cut into slices
Notes
This recipe uses leftover mashed potatoes. If you don't have leftover mashed potatoes, you can make your own or use store bought mashed potatoes.
Use your favorite pizza dough for crust and a pizza pan or cookie sheet to bake it.
Nutrition information is estimated. Please do your own calculation to fit special diets.
Nutrition
Calories:
284
kcal
Carbohydrates:
22
g
Protein:
13
g
Fat:
17
g
Saturated Fat:
9
g
Polyunsaturated Fat:
1
g
Monounsaturated Fat:
4
g
Trans Fat:
1
g
Cholesterol:
42
mg
Sodium:
470
mg
Potassium:
111
mg
Fiber:
1
g
Sugar:
2
g
Vitamin A:
401
IU
Vitamin C:
6
mg
Calcium:
225
mg
Iron:
1
mg
I hope you enjoy this homemade perogy pizza as much as I do! From the first time I made this Pittsburgh pierogi pizza, I knew it would be a new favorite food for my whole family.
It was a huge it! In fact, my son swears it's one of the best pizzas he's ever tasted!
Creamy potatoes, gooey cheese, golden brown dough -- these are a few of my favorite ingredients in one delicious dish!
For more Friday night finger foods, quick dinner ideas, and favorite things to make on time-strapped days, subscribe to the newsletter and follow me on social media!
If you enjoy this favorite Pittsburgh-area invention as much as we do, please leave a comment and star rating!