Hi Friends! Can you believe it's March already? It's been raining and much cooler this weekend, so it doesn't feel a lot like March, but time is definitely moving on. The kids will be on spring break soon, and Easter is only a month away -- wow! Anyway, My front door has been looking pretty forlorn and bare since I took down the wood slice heart wreath after Valentine's Day, and it really needed a little spring cheer. Since Easter is early this year, I made this rustic Easter egg wreath for early spring.



I've been wanting to make an Easter egg wreath for a long time. I really like how they look, but the ones in the store are so expensive. I was going to make one last year, but I ended up with a cute little bunny wreath instead. So when I found some pastel eggs in the craft store last week, I knew that this was the year of the egg wreath!

I saw a gorgeous wreath in Pottery Barn that had pussy willows and eggs, so that was my inspiration. Their wreath was slightly different, but I already had a grapevine wreath and I decided to re-use that one. I was able to use a coupon for the faux eggs, and the flowers were half off. I found the pussy willow branches and more flowers at the Dollar Store, so I saved a ton of cash.


Supplies
1 grapevine wreath

1 package of Faux speckled eggs

Faux flower and stems

Thin burlap ribbon for hanging

Hot glue gun

Thin craft wire

Wire cutters
First, I snipped the flower and pussy willow stems apart with the wire cutters so that they were off of the main branches. Then, I began tucking the stems in the grapevine so that they circled the entire wreath. I decided I like the lighter colors, so I ended up not using the yellow flowers. When I was satisfied with the arrangement, I used the craft wire to tie the stems in place.
The wreath was shedding a lot, so I did this part outside. Luckily, the weather was cooperating that day!
Then, I used a hot glue gun to attach the eggs to the grapevine. I kept most of them towards the center of the wreath, but I glued two eggs so that they were sticking out a little, just to make the wreath a little bit more whimsical.
I took off the old blue ribbon that had been hanging on the wreath, and I threaded some thin burlap ribbon through one of the grapevine branches instead. Then, the wreath was complete!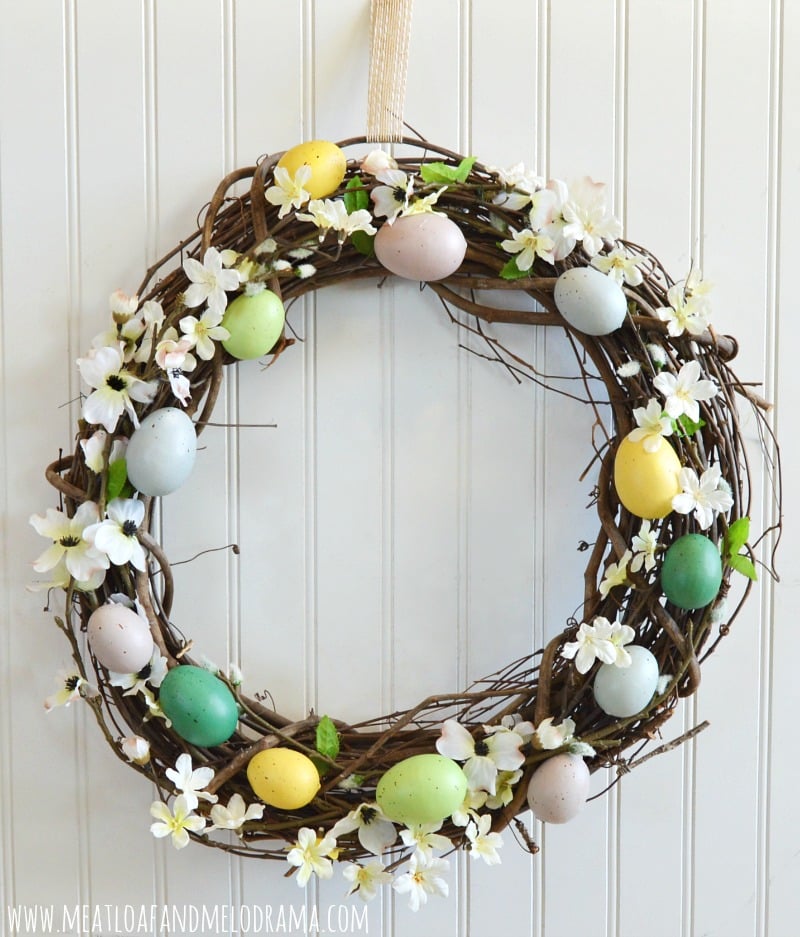 I kept it simple and rustic, and I really don't think it needs any more embellishment -- do you? Now, I just have to wait for the rain to stop so that I can hang it on the door. I thought about keeping the wreath inside, but the eggs remind me of malted milk candy eggs, and I really don't need the temptation!
Best of all, this Easter egg wreath cost me less than ten dollars to make -- yea!
Have you made a spring wreath yet or any spring crafts?
Thanks so much for visiting!
You may also like