This Sausage, Egg and Cheese Breakfast Sandwich recipe on an English muffin makes the BEST breakfast sandwiches! Perfect for a busy day or whenever you need a handheld breakfast on the go!
These homemade sausage Mcmuffin breakfast sandwiches are better than takeout and super easy to make.
Start off with a seasoned sausage patty, add a perfectly cooked fried egg, a slice of melted American cheese and serve on toasted English muffins. What's not to love about that?!
Whip up a batch of these egg breakfast sandwiches on the weekend and reheat them during the week. You can even freeze them for a quick grab and go meal later!
We've been making these sausage and egg sandwiches for breakfast since way back when.
I've just updated the post with new step by step instructions and pictures! You can skip to the full recipe card below.
Ingredients
You only need a few simple ingredients for this breakfast egg sandwich recipe. You should be able to find whatever's not already in your pantry online or in your local grocery store:
Butter
Sausage patties
Eggs
Cheese -- sliced
English muffins
Salt and black pepper, to taste
How to Make an Egg Breakfast Sandwich
Since the sausage takes the longest to cook, you'll want to cook them first. You can make air fryer breakfast sausage or fry them on the stove in a large nonstick skillet.
Next, fry the sunny side up eggs over medium heat, and season with salt and pepper, to taste. My kids hate a runny egg yolk, so we cook the eggs until the yolks are nice and firm. If you prefer a runny yolk, just cook eggs for less time.
You can also bake the eggs if you're cooking a bunch. Personally, I don't like the texture, so the stovetop method works for me!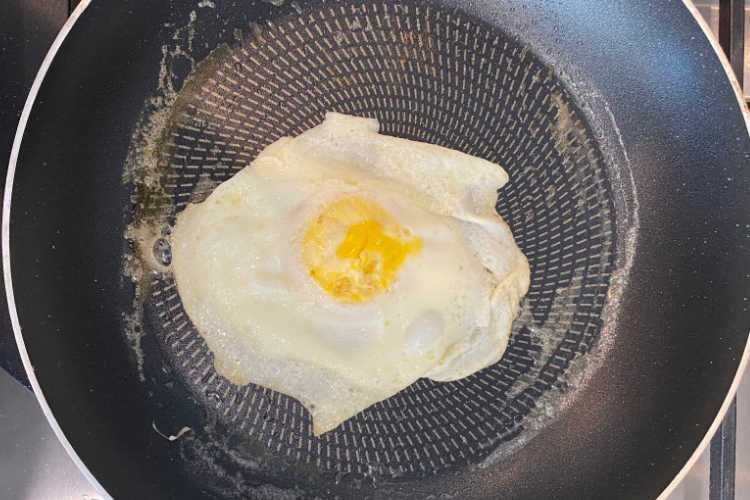 Then, toast the English muffins. You can also toast the muffins in the air fryer or bake them in the oven. Whatever works best for you!
Now, it's time to assemble the sandwich. Start by placing a slice of cheese on the cooked egg.
Of course, you can add as much cheese as you like!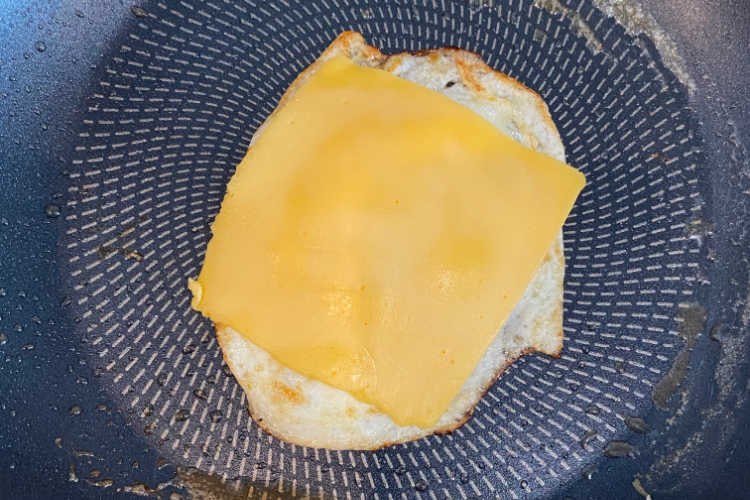 Then, place the cooked sausage patty on the bottom half of the English muffin. Top it with the fried egg.
Top the egg with cheese if you haven't done so already. Finally, add the top of the muffin over the cheese. Easy peasy, right?!
How to Store
Store any leftover breakfast sausage patties in an airtight container in the refrigerator, where they'll last for 3 to 4 days.
You can also freeze the breakfast egg sandwiches for later. Just wrap them in freezer paper or wax paper and store in a freezer bag.
To reheat, wrap the sandwiches in a paper towel, and heat on the reheat setting or defrost in the microwave.
Variations
There are a few easy ways to customize this easy breakfast sandwich recipe.
Instead of English muffins, use toasted bread slices, such as sourdough bread, sub sandwich bread, or rye bread.
Use whatever type of cheese you want. We like American cheese, but gouda cheese, pepper jack cheese, sharp cheddar cheese, and Monterey jack cheese are all great options.
Want more flavor? Top this delicious egg sandwich with a couple dashes of hot sauce, your favorite salsa, ketchup or BBQ sauce. Or, butter the English muffins before assembling the McMuffin.
Add some crispy bacon or Canadian bacon for extra meat.
You can also make these breakfast sandwiches meatless! Just leave out the patty, and add some fresh veggies, such as red peppers, red onions, green onions, or tomato slices.
More Sausage and Egg Recipes
Recipe
Sausage Egg and Cheese Breakfast Sandwiches
This Sausage, Egg and Cheese Breakfast Sandwich recipe on an English muffin makes the BEST breakfast sandwiches! Perfect for a busy day or whenever you need a handheld breakfast on the go!
Ingredients
butter for frying

4

sausage patties

4

eggs

4

slices cheese

4

English muffins

salt and pepper, to taste
Instructions
Form breakfast sausage into patties, and air fry for 10 minutes, flipping halfway or cook on the stove until done. Internal temperature should be at least 160°.

Fry the eggs on medium heat, flipping once, until the yolk is firm.

Top with slice of cheese, or add cheese when assembling sandwich

Toast the English muffins.

Then, layer the sausage patty, egg and cheese on one half of the toasted muffin and top it all off with the other half.
Notes
Keep sausage warm in oven until ready to assemble sandwiches.
You can also use precooked sausage.
Nutrition information is estimated. Please do your own calculation to fit special diets.
Nutrition
Serving:
1
ounce
Calories:
330
kcal
Carbohydrates:
27
g
Protein:
17
g
Fat:
17
g
Saturated Fat:
5
g
Trans Fat:
1
g
Cholesterol:
195
mg
Sodium:
606
mg
Potassium:
242
mg
Fiber:
2
g
Sugar:
1
g
Vitamin A:
278
IU
Vitamin C:
1
mg
Calcium:
66
mg
Iron:
2
mg
This tasty breakfast egg & cheese sandwich is definitely one of my favorite breakfast sandwich recipes ever! I hope you like it as much as we do!
For more easy recipes, breakfast recipes, and full recipe ideas, be sure to subscribe to the newsletter and follow me on social media!

Recipe was originally published in 2015 and updated in 2022