Crispy Air Fryer Breakfast Burritos stuffed with scrambled eggs, sausage, peppers and cheese are quick and easy to make and easy to reheat. Perfect for meal prep!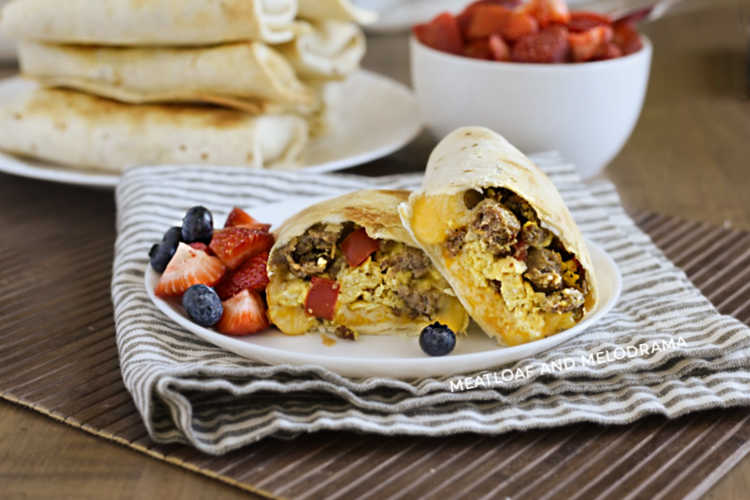 Searching for easy air fryer recipes? Need simple grab and go breakfast ideas? Friends, these crispy air fried breakfast burritos are for you!
Scrambled egg burritos are loaded with scrambled eggs, sausage, cheese and bell peppers. They're easy to make ahead of time and reheat when you need them, so they're perfect for meal prep.
We've been making breakfast burritos for ever. I just turned my family's favorite recipe for sausage and egg breakfast burritos into an air fryer recipe, and you know what? We like the air fryer burritos better!
How to Make a Breakfast Burrito
Burritos are super easy to make, but you do need to roll them the right way. Otherwise, the filling might fall out when you're air frying them. If you don't know how to make a burrito, just follow these easy steps!
You'll need to cook the sausage and scrambled eggs first. Then, you can start making the burritos. Just add the sausage, eggs and some cheese to the center of a large tortilla.
Next, fold the sides of the tortilla in so that they partially cover the filling. Note -- it's easier to fold the tortilla when it's fresh. So if you can, start with a new package.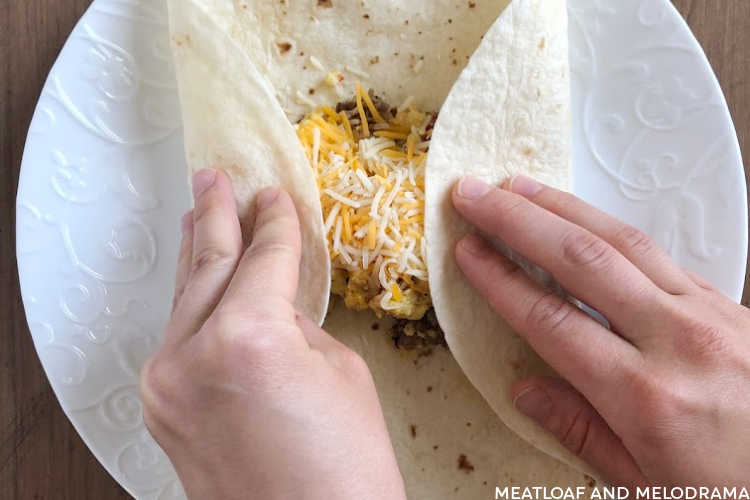 Then, fold the bottom of the tortilla up over the filling. You want to tuck and roll the tortilla tightly and end with the seam on the bottom.
How to Cook Breakfast Burritos in the Air Fryer
Spritz a little bit of olive oil spray over the burrito, and pop it into the air fryer for 3 minutes. You get crispy breakfast burritos without using a ton of butter or oil -- works for me!
Note -- There's only one burrito in the picture, but I was able to cook 3 at a time. Your mileage may vary with what brand of air fryer you have.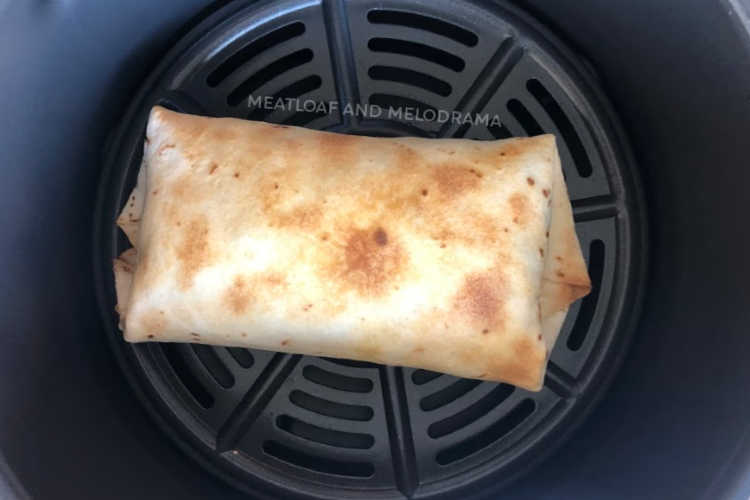 Can You Make These Burritos in Any Air Fryer?
This recipe should work with any air fryer, although the cooking time may vary with different brands. I made these burritos in my Ninja Air Fryer, but I just ordered the new Instant Pot Vortex Air Fryer, and I'm definitely going to be making these crispy burritos in that next!
UPDATE! I tried the new Vortex, and while I love that I can cook more burritos at one time, I found that I had to adjust the cook time to only 2 minutes and rotate the trays about halfway through cooking. I love the texture of the tortilla in the Vortex air fryer better -- It's a little crispier and flakier -- closer to deep fried.
Pin to save the recipe!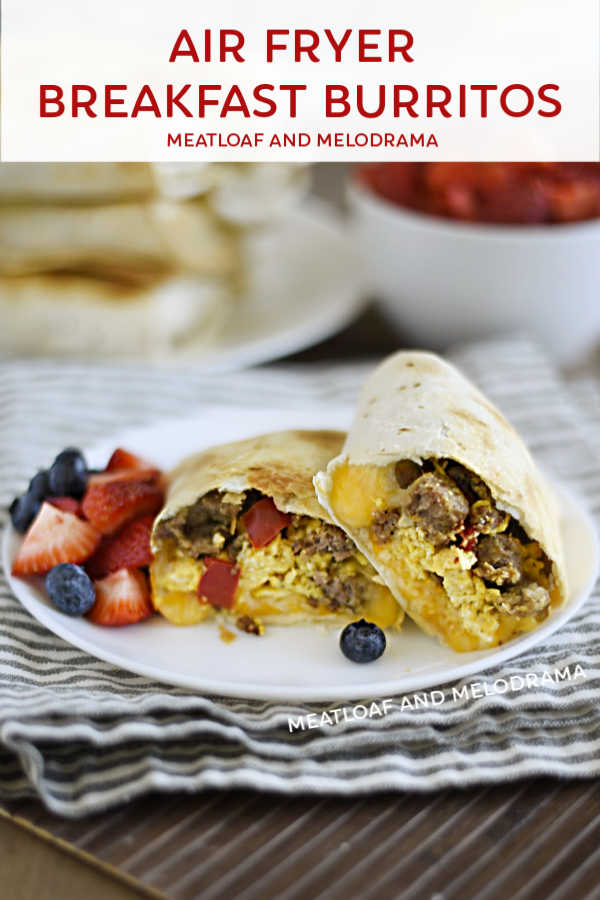 Air Fryer Breakfast Burritos Recipe
Recipe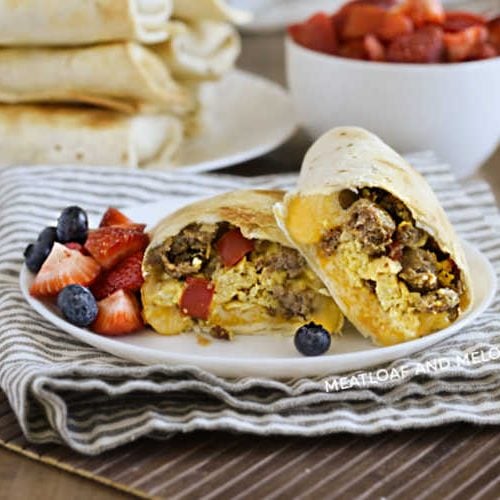 Air Fryer Breakfast Burritos
Crispy Air Fryer Breakfast Burritos stuffed with scrambled eggs, sausage, peppers and cheese are quick and easy to make and easy to reheat. This easy air fryer recipe includes Instant Pot Vortex instructions and is perfect for meal prep and grab and go breakfasts! Includes time


Ingredients
1

pound

breakfast sausage

1

bell pepper, chopped

12

eggs

beaten together

½

teaspoon

black pepper

1

teaspoon

sea salt

8

flour tortillas

burrito size

2

cups

shredded colby jack cheese

or use your favorite cheese
Instructions
Crumble and cook the sausage in a large skillet until brown. Stir in chopped peppers. Drain grease, place sausage on paper towel-lined plate, cover and set aside

In a large skillet, melt 1 tablespoon of butter, add eggs, salt and pepper, and cook over medium heat, stirring continuously, until mostly set and no longer runny

Stir in cooked sausage, then remove from heat

Add some of the egg and sausage mixture to the middle of a tortilla, top with some of the cheese, fold sides, and roll up

Preheat air fryer to 390 degrees

Spray burritos lightly with olive oil spray

Place as many burritos as will fit into the air fryer or Instant Pot Vortex trays, and cook for 3 minutes at 390 degrees for basket air fryers and 2 minutes in the Vortex, rotating trays halfway through. For extra dark or crispier burritos, cook for 3 minutes in the Vortex

Remove and serve immediately, or allow to cool slightly, then wrap well and freeze for meal prep
Notes
To make make ahead freezer breakfast burritos, allow the burritos to cool slightly, then wrap each in freezer paper, parchment paper or wax paper, followed by plastic wrap. Then store in a large freezer bag in the freezer.
To reheat frozen breakfast burritos in the air fryer, unwrap and use the reheat setting. Mine took about 15 minutes at 350.
To reheat frozen breakfast burritos in the microwave, remove wrapping, wrap in paper towel or place on microwaveable plate and cover with paper towel, then and cook for 2 to 3 minutes, flipping over halfway through. Time will vary depending upon microwave wattage.
Nutrition information is estimated. Please do your own calculation to fit special diets.
Nutrition
Calories:
283
kcal
Carbohydrates:
16
g
Protein:
16
g
Fat:
17
g
Saturated Fat:
8
g
Cholesterol:
234
mg
Sodium:
750
mg
Potassium:
149
mg
Fiber:
1
g
Sugar:
2
g
Vitamin A:
580
IU
Calcium:
266
mg
Iron:
2.1
mg
I hope you enjoy these crispy breakfast burritos as much as we do!