Lime Jello Salad is an easy retro salad recipe that is made with just four ingredients and is perfect for picnics and potlucks!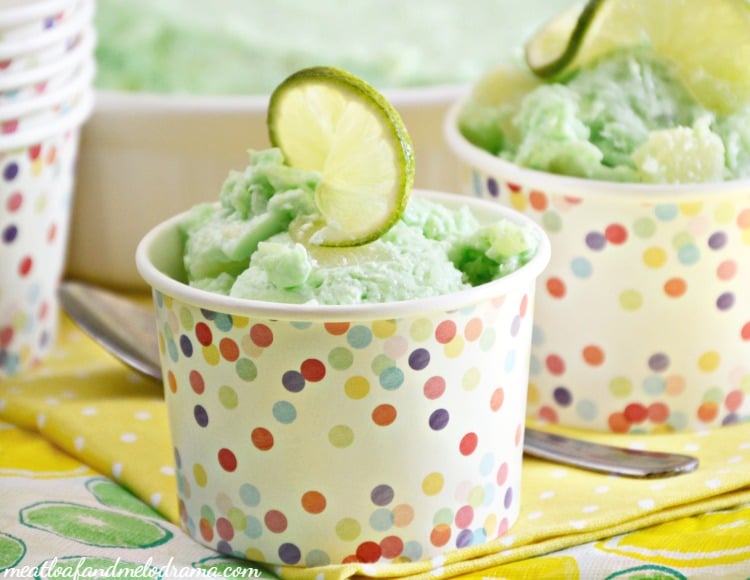 I think I've told you how much I love retro recipes. I get the biggest thrill from browsing through old cook books, and I adore the fact that one bite of an oldie but goodie can immediately take you back to your childhood and bring back some happy memories. And that's exactly what happened when I made this retro lime Jello salad for the Hubs. He grew up on this stuff, but I didn't. We usually had Jello when we were sick or maybe at parties or potlucks.
My mom didn't even have one of those salad molds, and I've never really liked having any fruit or anything floating around in the gelatin.
So when I was planning what summer side dishes I wanted to make, the Hubs mentioned that Jello salads were some of his favorite, and he kept mentioning this lime one over and over.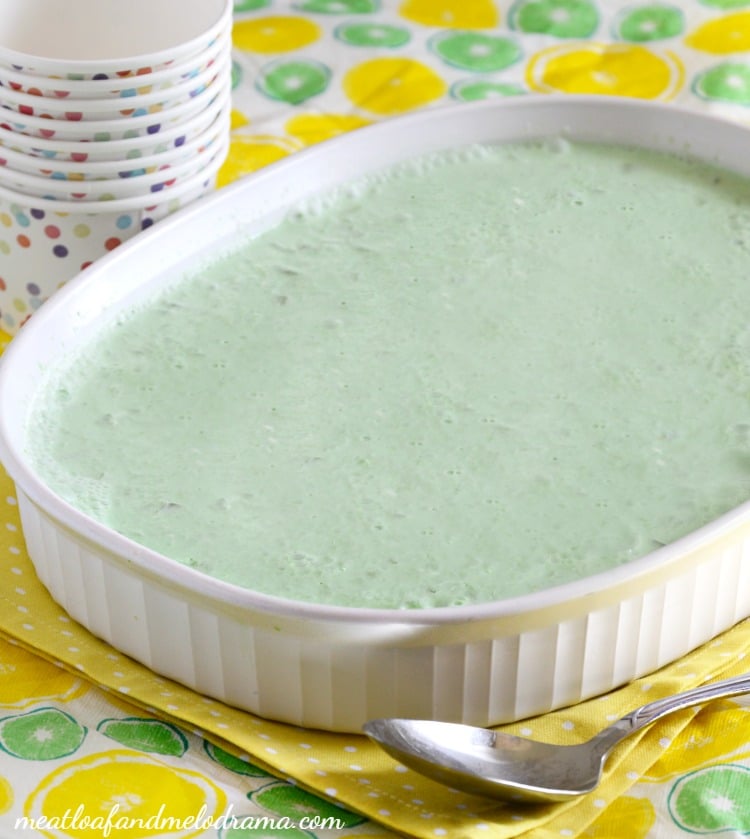 He said that his mom used to make a salad with lime Jello, sour cream, pears and pineapple, and even though I admit that this sounded kind of weird, and I really dislike pears and any fruit in Jello, I decided to give it a try.
Actually, the kids and I referred to this dish as Jello Ewww. But then we tried it, and we actually liked it!
My oldest and I made this, and we pretty much just added everything to a large dish and let it set. I couldn't find anything that contained these exact ingredients, even in my grandma's old cookbooks, so I'm not sure if this is the "right" way or not.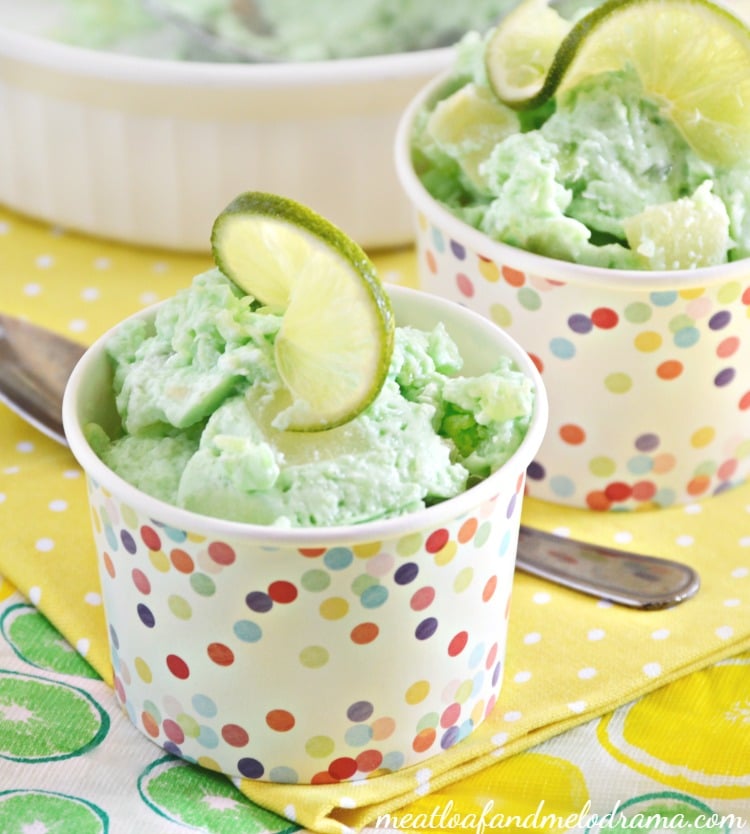 How to Make Lime Jello Salad
Lime Jello Salad
A refreshing summer salad made with lime Jello, pears, pineapple and sour cream. It's an oldie but goodie!
Ingredients
1 6-

oz

box of Lime Jello

1 15-

oz

can diced pears

drained

1 15-

oz

can crushed pineapple

do not drain

1 16-

oz

tub of sour cream

1

cup

boiling water
Instructions
In a small pot, boil the water

In a large bowl or shallow serving dish, mix the Jello and the boiling water until fully dissolved

Stir in the pineapple, pears and sour cream, and mix until well blended

Refrigerate for about 4 hours or until firm

Enjoy
Nutrition
Calories:
195
kcal
Carbohydrates:
35
g
Protein:
3
g
Fat:
5
g
Saturated Fat:
3
g
Cholesterol:
16
mg
Sodium:
127
mg
Potassium:
211
mg
Fiber:
1
g
Sugar:
28
g
Vitamin A:
190
IU
Vitamin C:
6.7
mg
Calcium:
79
mg
Iron:
0.3
mg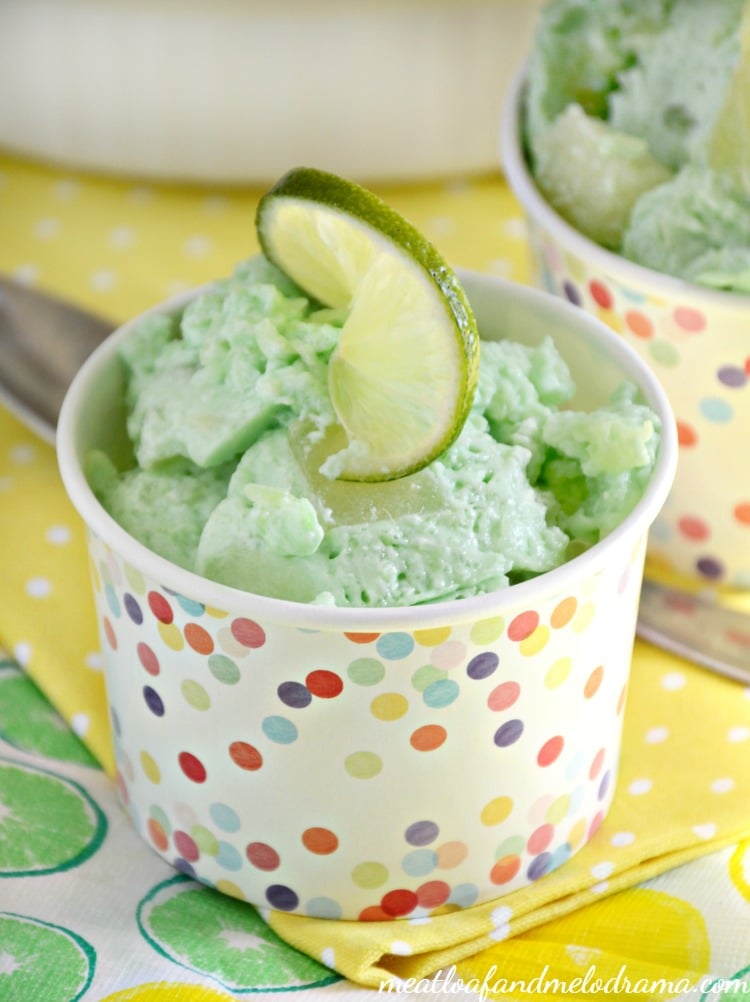 The Hubs says he remembers this salad being a little creamier, but he still liked it. Actually, he loved it, and he ate it with the same enthusiasm that I reserve for chocolate, so I think I did something right!
So, if you're looking for a refreshing summer salad that's a blast from the past, give this one a try. It's creamy, tangy and tastes wonderful on a warm summer day. And if you happen to remember this or have a recipe for a similar dish, I'd love to hear about it!
Have a super day!

Sharing at
Met Monday, Wow Us Wednesdays, TT&J, Weekend Potluck