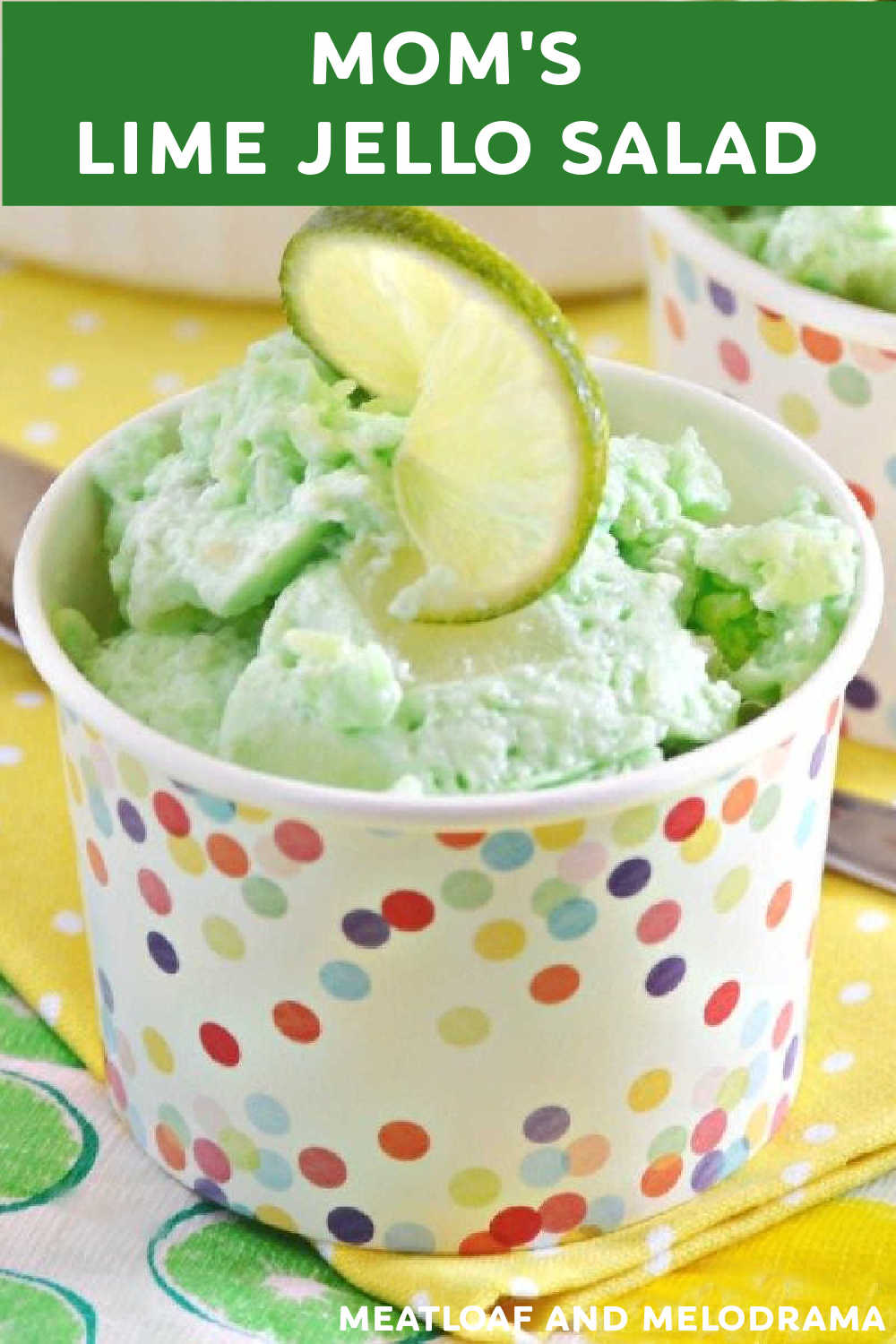 Lime Jello Salad with sour cream and pineapple is an easy vintage Jello recipe that you make with just 4 ingredients. This dessert salad is perfect for potlucks and holidays and tastes just like Mom and Grandma used to make!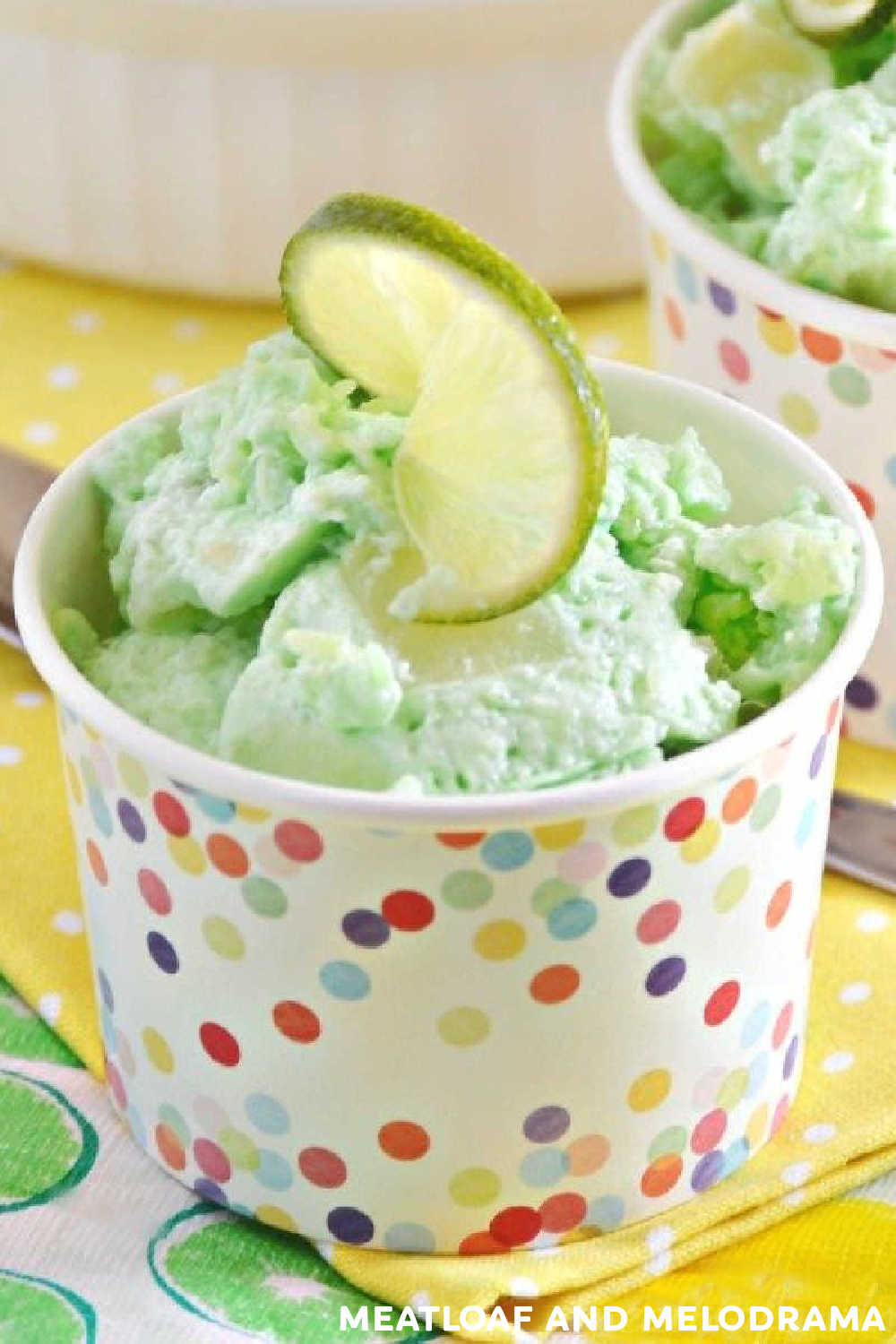 Jump to:
I think I've told you how much I love vintage recipes, especially vintage Jello salads! I get the biggest thrill from browsing through old cook books, and I adore the fact that one bite of an oldie but goodie can immediately take you back to your childhood and bring back some happy memories. And that's exactly what happened when I made this retro lime Jello salad.
My husband's mother used to make this fruit salad with lime Jello, sour cream, pears and pineapple for family gatherings. That's it! This is one of the easiest jello salad recipes I've ever made. It's practically foolproof!
He grew up on this Jello recipe, but I didn't. Some of my favorite Jello recipes are Strawberry Jello Salad, Orange Jello Salad, Strawberry Pretzel Salad and Pistachio Salad for parties or potlucks. You can find more Jello recipes on my salad recipes page and my dessert recipes page.
Ingredients
This green Jello salad is an easy 4-ingredient recipe. You can find everything you need to make this dessert salad in your grocery store.
Lime Jello -- or any brand of lime gelatin
Sour cream -- makes the salad smooth and creamy
Canned Pears -- a can of diced pears, drained
Canned Pineapple -- a can of crushed pineapple, including pineapple juice-- do not drain
Water -- boiling water or very hot water to dissolve the gelatin
I have a similar lime salad recipe from my grandma that uses cream cheese instead of sour cream. This one is much simpler, though.
How to Make Lime Jello Salad
First, add the Jello gelatin powder to a large bowl or a large casserole dish.
I usually just mix it in the same dish as I serve it. But, you can mix the Jello in a mixing bowl if you want.
Then, pour in a cup of very hot water or boiling water, and mix until the gelatin is dissolved.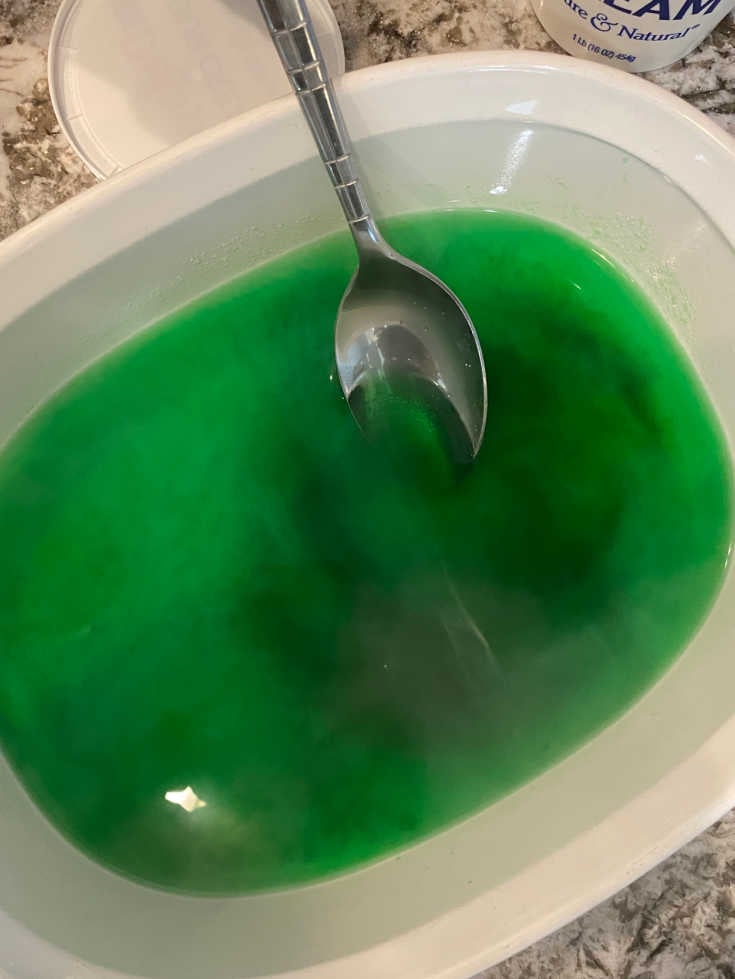 After the gelatin is completely dissolved, add the pears, pineapple and sour cream. Next, stir the Jello mixture together until well blended.
You can use a hand mixer, a whisk or a large spoon.
The sour cream took the longest to blend into the hot Jello. You might have some small lumps of sour cream, but just mash them with the spoon until they dissolve.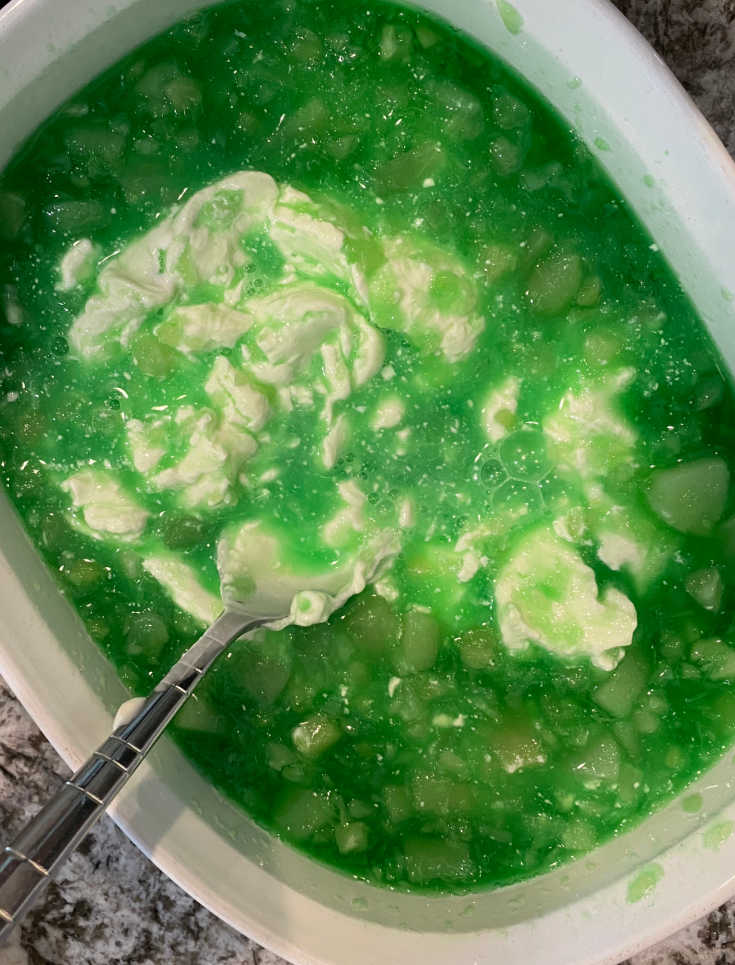 When the salad is nice and creamy, smooth it out in the casserole dish. Then, pop it into the fridge to set.
It takes about 4 hours for the Jello to set completely. After that, go ahead and dig right in!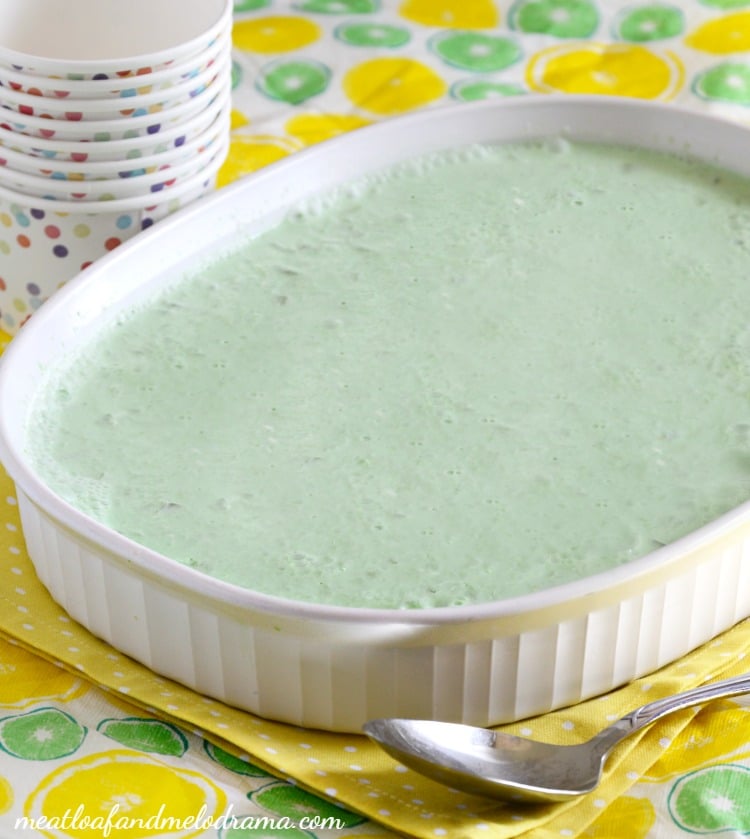 Actually, the kids and I used to refer to this pineapple lime Jello salad dish as Jello Ewww. But then we tried it, and we actually liked it!
The Hubs loved this lime Jell-o salad, and he ate it with the same enthusiasm that I reserve for chocolate, so I think I did something right!
How to Store
Store this lime gelatin salad in the refrigerator covered with plastic wrap or in an airtight container. Don't leave it at room temperature for more than 2 hours.
Like many creamy Jello salads, it keeps for about 4 days before it starts to break down. You can make this classic lime Jello salad a day or 2 ahead of time.
Variations
There are so many versions of this vintage recipe. One popular variation of the lime Jello salad recipe uses small curd cottage cheese and Cool Whip with mini marshmallows instead of sour cream. Another version of the recipe uses mayonnaise and another version uses cream cheese and walnuts.
Substitute lemon Jello instead of lime, and leave out the pears if you like. You can sub Greek yogurt for the sour cream.
You can use a Jello mold to form the congealed salad instead of a casserole dish or baking dish. Non stick cooking spray will help the salad release easily.
Serve this dessert salad sliced in squares or scoop the salad into individual bowls. Add a lime twist, maraschino cherries or whipped cream for decoration.
Recipe Tips
There is no cold water in this recipe. The sour cream and pineapple juice will cool the hot Jello down.
You can heat the water in a glass measuring cup in your microwave. 2 minutes works -- it doesn't have to be a full boil, just very hot.
Make sure to allow the salad to set in the refrigerator for at least 4 hours or overnight. This isn't a green Jello fluff salad, it's supposed to be firm.
Recipe
Lime Jello Salad
Lime Jello Salad with sour cream and pineapple is an easy vintage Jello recipe that you make with just 4 ingredients. Perfect for potlucks and holidays and tastes just like Mom and Grandma used to make!
Ingredients
1

6 oz

box of Lime Jello

1

cup

boiling water

1

15 oz

can diced pears

drained

1

15 oz

can crushed pineapple

do not drain

1

16 oz

tub of sour cream
Instructions
boil the water on the stove or in the microwave

In a large bowl or shallow serving dish, mix the Jello and the boiling water until fully dissolved

Stir in the pineapple, pears and sour cream, and mix until well blended

Refrigerate for about 4 hours or until firm

Enjoy
Notes
Or use 2 3-ounce boxes of Jello
Store in refrigerator.
Nutrition information is estimated. Please do your own calculation to fit special diets.
Nutrition
Calories:
130
kcal
Carbohydrates:
1
g
Protein:
1
g
Fat:
6
g
Saturated Fat:
2
g
Monounsaturated Fat:
1
g
Cholesterol:
10
mg
Sodium:
15
mg
Potassium:
1
mg
Fiber:
1
g
Sugar:
10
g
Vitamin A:
3
IU
Vitamin C:
3
mg
Calcium:
13
mg
So, if you're looking for a refreshing summer salad that's a blast from the past, give this retro recipe a try. It's creamy, tangy and a great recipe to enjoy on a warm summer day.
And if you happen to remember this classic side dish or have a version of this recipe to share, I'd love to hear about it!
For more vintage recipes, no bake dessert recipes and old fashioned family favorites, sign up for the weekly newsletter and follow on social media.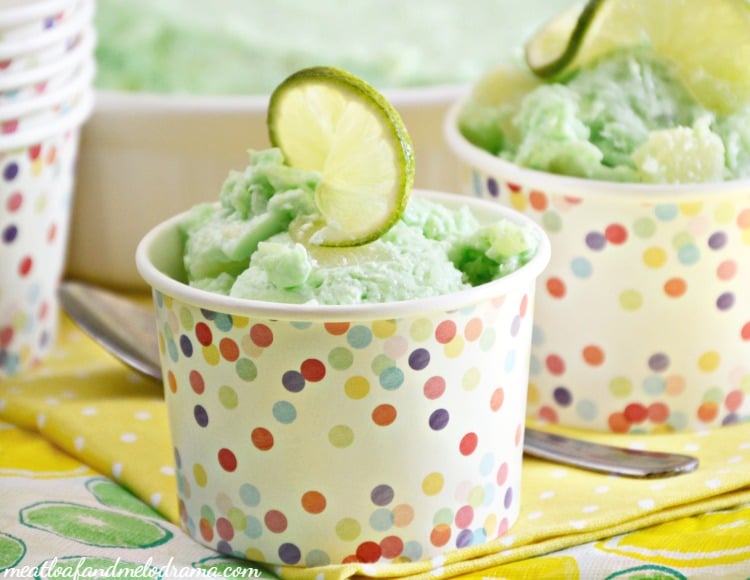 Recipe first published in 2016 and updated in 2023