This easy Juicy Air Fryer Pork Chops recipe starts with a simple dry rub -- no breading -- and makes the best tender, juicy, flavorful pork chops in 20 minutes!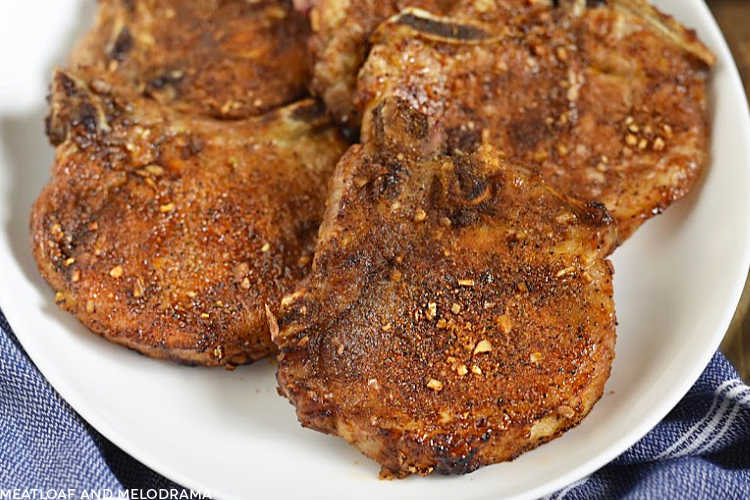 If you're looking for quick and easy dinner, you're going to love these delicious air fryer pork chops! They're tender, juicy and cooked to perfection in just 20 minutes!
I've been testing so many air fryer recipes lately, and I am super excited to share this easy pork chop recipe with you! It's super simple and doesn't take much prep, so it's perfect for busy weeknights.
Cooking pork chops in the air fryer is definitely a game changer. There's no breading, no oil and no pan searing.
All you need is a simple dry rub to bring out the flavor. Then, you just air fry the pork chops, and you're good to go.
How to Cook Bone-In Pork Chops in the Air Fryer
First, set your chops out while you make the dry rub. They'll cook more evenly if they're not straight from the fridge. Then, pat them dry with a paper towel to remove excess moisture.
I used my Instant Pot Omni Plus Air Fryer for this recipe, and I was able to cook all 5 chops at the same time. You can use the same method for any air fryer, but you'll need to cook them in batches with a smaller air fryer.
Dry Rub No Breading
I have a basic dry rub recipe that I love to use for recipes with pork. It's a mix of sea salt, pepper, garlic powder and smoked paprika.
For this recipe, I added dry minced onions, brown sugar and ancho chili powder. You can use regular chili powder or leave it out for a milder flavor.
Mix the dry rub ingredients together, and sprinkle some on both sides of each pork chop. Make sure to rub it into the chops so that they're coated with seasoning.
Then, preheat your air fryer. When it's ready, place the pork chops on the air fryer rack or in the basket if you have a basket-type air fryer.
Don't crowd the chops -- Make sure there's room for air to circulate. You also want to flip them halfway through the cooking process so that they brown evenly on both sides.
Air Fryer Cook Time
Pork chops are done when they reach an internal temperature of 145 degrees, according to a meat thermometer. I used bone-in pork chops that were about ¾ inch thick, and they took 20 minutes to cook in the air fryer.
If you're using boneless chops or smaller chops, check them around 15 minutes since those usually cook faster. If your chops are over an inch thick, they may take 25 minutes.
Check out these gorgeous juicy pork chops! Seriously, don't they look amazing?!
Let Pork Chops Rest
Take the pork chops out of the air fryer, cover them, and let them sit for about 5 minutes. They'll be nice and juicy this way.
I served these tasty pork chops with Instant Pot Jasmine Rice, Instant Pot Applesauce and Air Fryer Brussels Sprouts. Talk about keeping everything in the same family!
More Easy Pork Chop Recipes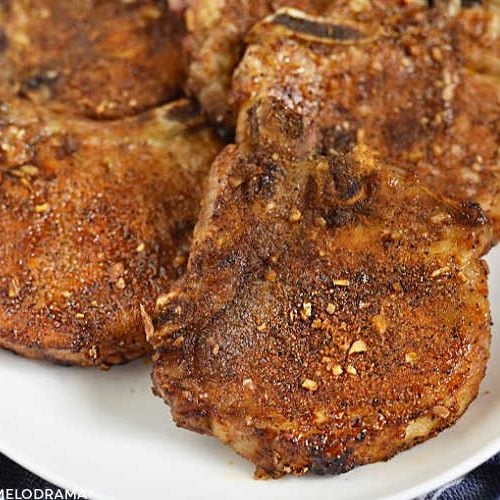 Air Fryer Pork Chops
This easy Air Fryer Pork Chops recipe starts with a simple dry rub -- no breading -- and makes the best tender, juicy, flavorful pork chops in 20 minutes!
Ingredients
5

pork chops

center cut, bone-in ¾-inch thick

1

teaspoon

sea salt

1

teaspoon

garlic powder

1

teaspoon

smoked paprika

1

teaspoon

brown sugar

1

teaspoon

dried minced onions

½

teaspoon

pepper

¼

teaspoon

ancho chili powder
Instructions
Mix the sea salt, garlic powder, smoked paprika, brown sugar, onions, pepper and chili powder together in a small bowl

Pat pork chops with paper towel, then rub both sides of chops with the seasoning mixture

Preheat air fryer to 380 on air fry setting, and when ready, place pork chops on oven rack

Cook for 20 minutes, or when internal temperature reaches 145 degrees, turning over halfway through cooking process

Remove to a platter, cover and allow to rest for 5 minutes before serving
Notes
Recipe was made in an Instant Pot Omni Plus but can be used in any air fryer. You may need to cook in batches if using a smaller air fryer.
For thinner pork chops or boneless chops, check for doneness at 15 minutes.
More time may be needed for thicker pork chops.
Nutrition
Calories:
218
kcal
Carbohydrates:
2
g
Protein:
29
g
Fat:
9
g
Saturated Fat:
3
g
Cholesterol:
90
mg
Sodium:
532
mg
Potassium:
532
mg
Fiber:
1
g
Sugar:
1
g
Vitamin A:
227
IU
Vitamin C:
1
mg
Calcium:
12
mg
Iron:
1
mg