This easy Air Fryer Pork Chops recipe starts with a simple dry rub and makes the best tender juicy pork chops in 20 minutes! An easy dinner for busy weeknights that your whole family will love!
Jump to:
If you're looking for quick and easy dinner, you're going to love these delicious air fryer pork chops! They're tender, juicy and cooked to perfection in just 20 minutes!
I've been testing so many air fryer recipes lately, and I am super excited to share this easy pork chop recipe with you! It's super simple and doesn't take much prep, so it's perfect for busy weeknights.
Even though we love baked breaded pork chops, Instant Pot pork chops, crock pot pork chops and juicy grilled pork chops, Cooking pork chops in the air fryer is definitely a game changer. There's no breading, no oil, no firing up the grill and no pan searing.
All you need is a simple dry rub to bring out the flavor. Then, you just air fry the pork chops, and you're good to go.
Ingredients
You only need a few simple ingredients for this air fryer pork chop recipe. You can find them in your grocery store or online:
Pork chops center cut, bone-in ¾-inch thick
Sea salt
Garlic powder
Smoked paprika
Brown sugar
Dried minced onions
Pepper
Ancho chili powder
How to Cook Pork Chops in the Air Fryer
First, set your chops out while you make the dry rub. They'll cook more evenly if they're not straight from the fridge. Then, pat them dry with a paper towel to remove excess moisture.
I used my Instant Pot Air Fryer, the Omni Plus, for this amazing air fryer recipe. Since it is an air fryer oven, I was able to cook all 5 chops at the same time.
You can use the same method for the Vortex, Duo crisp, Ninja Foodi or any air fryer. But you'll need to air fry pork chops in batches with a smaller air fryer.
I have a basic dry rub recipe that I love to use for recipes with pork. It's a mix of sea salt, pepper, garlic powder and smoked paprika.
For this recipe, I added dry minced onions, brown sugar and ancho chili powder. You can use regular chili powder or leave it out for a milder flavor.
Mix the dry rub ingredients together, and sprinkle some on both sides of each pork chop.
Make sure to rub it into the chops so that they're coated with seasoning.
Then, preheat your air fryer. When it's ready, place pork chops on the air fryer rack, or in the air fryer basket if you have a basket-type air fryer.
Don't crowd the chops -- Make sure there's room for hot air to circulate by keeping them in a single layer.
You also want to flip them halfway through the cooking process so that they brown evenly on both sides.
Cooking Time
Pork chops are done when they their internal temperature reaches 145 degrees f, according to a meat thermometer -- Use an instant read thermometer if you can. I used bone-in pork chops that were about ¾ inch thick, and they took 20 minutes to cook in the air fryer.
If you're using boneless chops or smaller chops, check them around 15 minutes since those usually cook faster. If your chops are over an inch thick, they may take 25 minutes.
Of course, thin pork chops will take less time while thick pork chops will take more time to cook, so just make sure to check up on them in the fryer depending on their size, instead of going by an exact time limit!
Check out these gorgeous juicy pork chops! Seriously, don't they look amazing?!
Take the pork chops out of the air fryer, cover them, and let them sit for about 5 minutes at room temperature. You'll have perfectly tender pork chops that are nice and juicy this way.
Serving Suggestions
So what to serve with air fryer pork chops? I served these tasty pork chops with Instant Pot Jasmine Rice, Instant Pot Applesauce and Air Fryer Brussels Sprouts. Talk about keeping everything in the same family!
Variations
The best way to vary these juicy air fryer pork chops is to add your favorite flavors!
To switch-up the seasoning rub, use cayenne pepper or a taco seasoning blend for a little more kick. Garlic and onion powder go great with most flavor profiles as well.
Using a powder ranch mix is also a great option for a more subtle, but classic, taste.
You can also ditch the dry rub completely and simply marinate the pork chops. We like to marinate them in Italian dressing, but you can use whatever flavors you prefer!
This recipe will also work for boneless pork chops. They'll take less time to cook though--about 10 minutes.
How to Store and Reheat
Store any leftover pork chops in an airtight container. They'll keep in the refrigerator for 3 to 4 days. For longer storage, freeze the leftovers in a freezer safe container.
You can reheat the pork chops in the microwave, but reheating these flavorful pork chops in the Air Fryer typically gives the best results.
May contain affiliate links. See disclosure for more information.
Recipe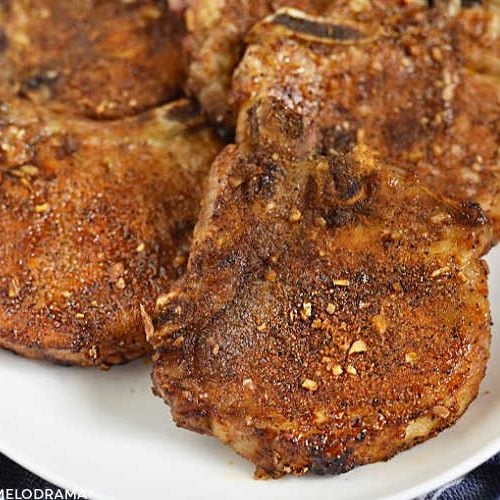 Air Fryer Pork Chops
This easy Air Fryer Pork Chops recipe starts with a simple dry rub -- no breading -- and makes the best tender, juicy, flavorful pork chops in 20 minutes!
Ingredients
5

pork chops

center cut, bone-in ¾-inch thick

1

teaspoon

sea salt

1

teaspoon

garlic powder

1

teaspoon

smoked paprika

1

teaspoon

brown sugar

1

teaspoon

dried minced onions

½

teaspoon

pepper

¼

teaspoon

ancho chili powder
Instructions
Mix the sea salt, garlic powder, smoked paprika, brown sugar, onions, pepper and chili powder together in a small bowl

Pat pork chops with paper towel, then rub both sides of chops with the seasoning mixture

Preheat air fryer to 380 on air fry setting, and when ready, place pork chops on oven rack

Cook for 20 minutes, or when internal temperature reaches 145 degrees, turning over halfway through cooking process

Remove to a platter, cover and allow to rest for 5 minutes before serving
Notes
Recipe was made in an Instant Pot Omni Plus but can be used in any air fryer. You may need to cook in batches if using a smaller air fryer.
For thinner pork chops or boneless chops, check for doneness at 15 minutes.
More time may be needed for thicker pork chops.
Nutrition information is estimated. Please do your own calculation to fit special diets.
Nutrition
Calories:
218
kcal
Carbohydrates:
2
g
Protein:
29
g
Fat:
9
g
Saturated Fat:
3
g
Cholesterol:
90
mg
Sodium:
532
mg
Potassium:
532
mg
Fiber:
1
g
Sugar:
1
g
Vitamin A:
227
IU
Vitamin C:
1
mg
Calcium:
12
mg
Iron:
1
mg
Recipe originally published in 2019 and updated in 2022.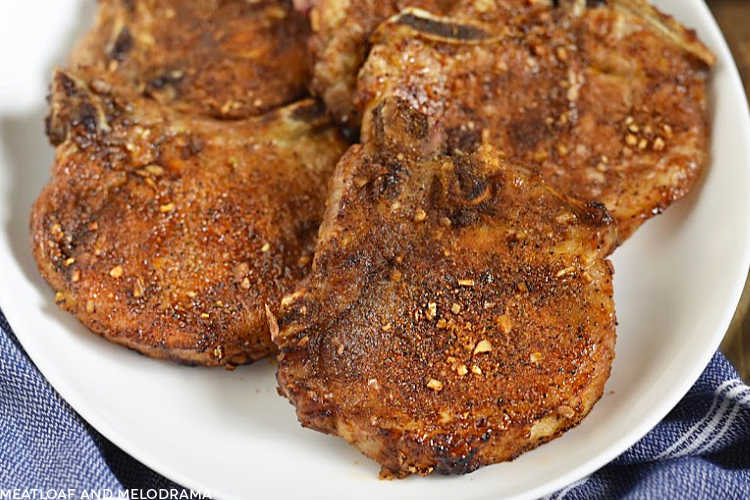 These are some of the best pork chops I've ever made! Air frying them instead of using a regular oven saves so much time, keeping this a super easy recipe!
For more great recipe ideas for adventurous Air Fryer cooks, including air fryer chicken recipes, be sure to subscribe to the newsletter!
If you love these flavorful air fryer pork chops as much as we do, be sure to leave a star rating and comment! Also, be sure to follow me on your favorite social media platforms!