This delicious Sonoran Hot Dog Recipe is basically Mexican hot dogs wrapped in bacon and topped with black beans, salsa fresca, Cotija cheese and crema on a bolillo roll. Enjoy a taste of the Southwest and make Sonoran hot dogs for your next cook out!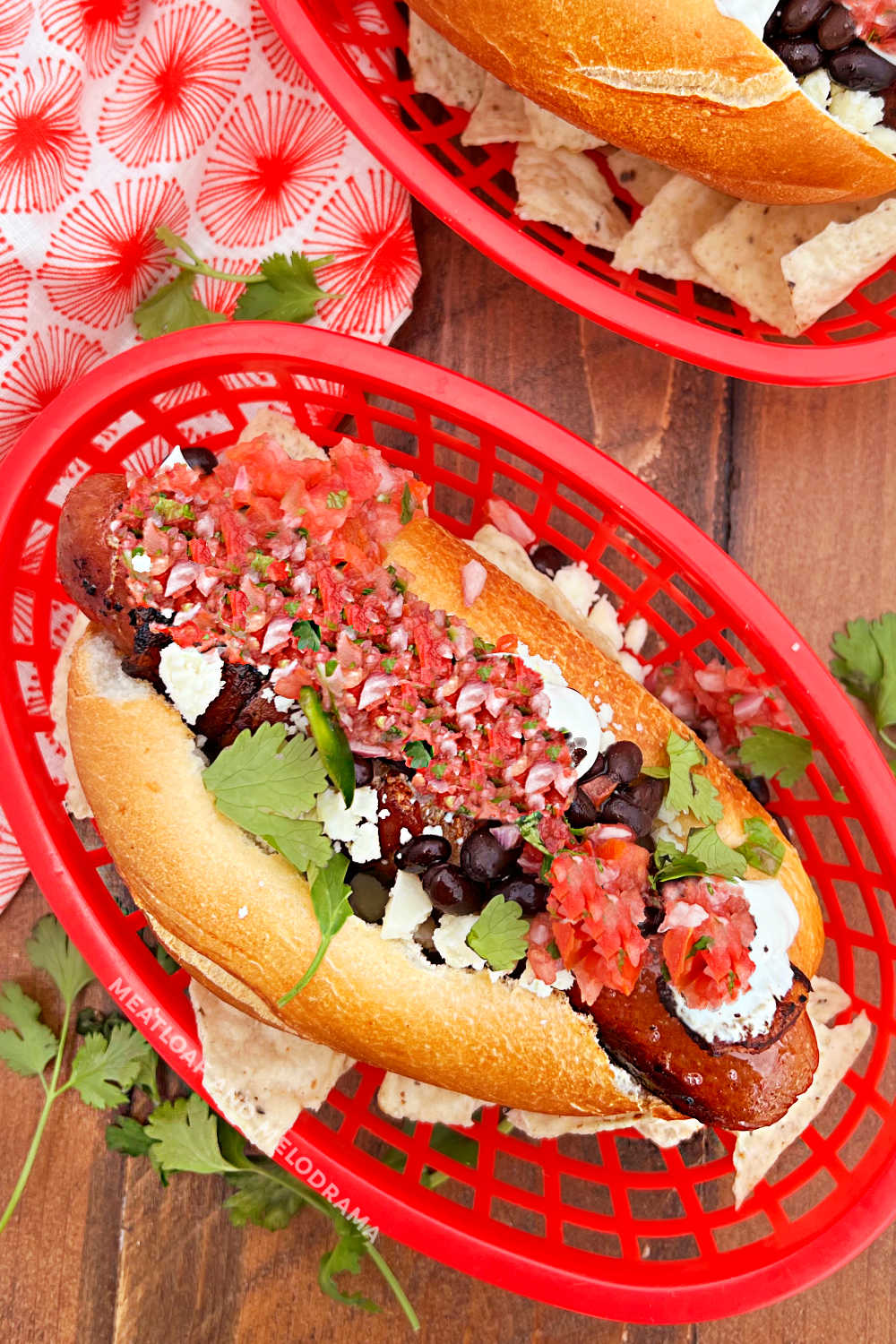 Jump to:
As a native Arizonan, I love Mexican food, especially Sonoran food. While most people don't think of hot dogs as Mexican food, Sonoran dogs are popular street food both south of the border and north of the border in the Phoenix area and in Southern Arizona.
These Mexican hot dogs are said to have originated in Hermosillo, the capital of the Mexican state of Sonora.
Sometimes they are called Arizona hot dogs, but you definitely don't have to live in Az or near Mexico to try them. You can easily make these delicious hot dogs at home!
I make Sonoran hot dogs like the ones we get at one of our favorite Mexican restaurant. But, there are many different variations, and you can use your favorite toppings.
If you love different hot dogs recipes, try my Cheeseburger Hot Dogs, Air Fryer Hot Dogs, Mummy Dogs or Polish Sausage Dogs.
Ingredients
You only need a few ingredients to make this Sonoran hot dog recipe. You can find them in grocery stores or online.
Hot dogs -- we use all beef, but any kind works here
Bacon -- thin bacon strips work best
Pico de gallo -- I make my own
Cotija cheese
Black beans
Sour cream, mayo or crema
Hot dog buns -- we use a bolillo-style bun
We cooked these bacon wrapped hot dogs on the Blackstone griddle. It's super easy, and the texture turns out perfect. Check out my Blackstone Arizona Cheesesteak and smash burger recipes!
If you don't have a griddle, you can cook bacon wrapped hot dogs on the grill, in the air fryer, on the stove or in the oven.
How to Make Sonoran Hot Dogs on Blackstone Griddle
First, wrap each hot dog with a slice of bacon. I used large beef hot dogs here, so I used 2 pieces of bacon per hot dog. If you use regular hot dogs, you only need 1 slice of bacon per hot dog.
Make sure the ends of the bacon are on the bottom of the hot dog. This way, they will stay on the hot dog when you place them on your cooking surface.
You can also hold the bacon in place with toothpicks, but be sure to soak the toothpicks in water first so that they don't burn during cooking.
Cook the hot dogs on a preheated flat top griddle on medium heat.
Be sure to place the hot dogs on the griddle with the ends of the bacon on the bottom.
Turn the hot dog every few minutes so that all sides cook evenly.
Cooking Time
The bacon wrapped hot dogs take about 10 minutes to cook on the Blackstone griddle.
The internal temperature should be 140 to 150 degrees according to a meat thermometer, and the hot dogs should be steaming. The bacon should be nice and crispy!
Keep in mind these are thicker hot dogs. Total cook time depends on the thickness of the hot dogs and bacon.
Place the hot dogs in the bolillo rolls. Then, top them with Cotija cheese, pico, black beans, sour cream or crema to make loaded Sonoran style hot dogs!
Variations and Substitutions
There are a few ways to customize a Sonoran dog to your tastes.
The strip of bacon wrapped around the hot dog is optional -- it is delicious though! Use bacon crumbles if you want.
You can make you own Mexican crema with sour cream, mayo and lime juice. Or, you can leave it off and just use mayonnaise or sour cream alone.
Instead of pico de gallo, add diced tomatoes or Rotel.
Use pinto beans or refried beans instead of black beans.
If you're not a fan of Cotija cheese, try feta cheese or queso fresco.
Of course, you can top your Sonoran style hot dogs with your favorite hotdog toppings. Red onions, white onion, bell peppers, banana peppers, salsa verde, avocado pico de gallo, jalapeño salsa, and good old yellow mustard are all great options!
Instead of bolillo buns, use a French roll or a regular soft roll. Soft hot dog buns don't tend to hold up as well with all of the toppings.
What Sides to Serve
What sides go with Sonoran dogs? We love Grilled Corn on the Cob or Mexican street corn with these Mexican style hot dogs. Air fryer Curly Fries are good, too.
You can check out my side dishes category for more recipes.
My favorite restaurant serves them with chicharrones, but I usually place the dogs on tortilla chips. That way, when the toppings fall off, you can scoop them up with tortilla chips!
How to Store and Reheat
Store leftover hot dogs in an airtight container or covered with plastic wrap. They'll keep for 3 to 4 days in the refrigerator.
Reheat hot dogs on the stove or in the microwave or air fryer.
Recipe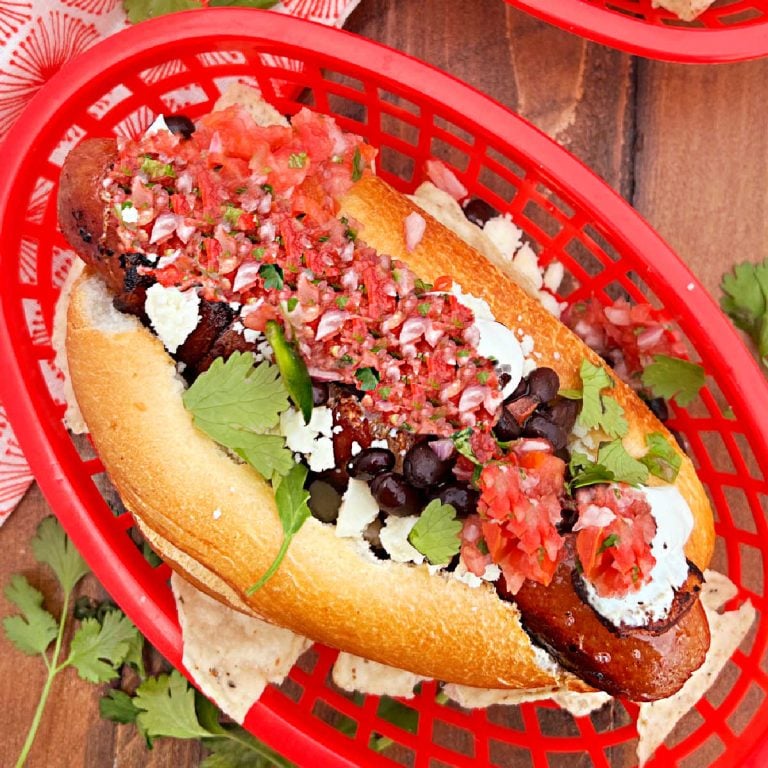 Sonoran Hot Dog Recipe
This delicious Sonoran Hot Dog Recipe is basically Mexican hot dogs wrapped in bacon and topped with black beans, salsa fresca, Cotija cheese and crema on a bolillo roll. Enjoy a taste of the Southwest and make Sonoran hot dogs for your next cook out!
Ingredients
8

hot dogs

8

bacon strips

8

bolillo rolls

pico de gallo

black beans

Cotija cheese
Instructions
Wrap 1 slice of bacon around each hot dog

Heat a Blackstone griddle or flat top griddle to medium heat

Place hot dogs with ends of bacon side down on hot griddle. Turn to cook on each side until bacon is crispy and hot dog is steaming and 150 degrees according to meat thermometer

Remove, place hot dogs in bolillo rolls, and top with pico, black beans, Cotija cheese and other toppings of your choice
Notes
Nutrition info is approximate.
To cook bacon wrapped hot dogs in air fryer, cook at 390 degrees for 4 to 5 minutes for small hot dogs and 6 to 7 minutes for larger hot dogs.
See blog post for ingredient substitutions.
Nutrition information is estimated. Please do your own calculation to fit special diets.
Nutrition
Calories:
376
kcal
Carbohydrates:
41
g
Protein:
13
g
Fat:
18
g
Saturated Fat:
5
g
Polyunsaturated Fat:
2
g
Monounsaturated Fat:
7
g
Trans Fat:
1
g
Cholesterol:
35
mg
Sodium:
746
mg
Potassium:
109
mg
Fiber:
1
g
Sugar:
4
g
Vitamin A:
8
IU
Vitamin C:
1
mg
Calcium:
18
mg
Iron:
12
mg
These Mexican-inspired bacon wrapped hot dogs are some of my favorite things to grill! I hope you enjoy this delicious recipe as much as we do!
For more Blackstone Recipes, American southwest inspired recipes, grill recipes, and to catch future recipes, be sure to subscribe to the newsletter and follow me on social media!