No-bake Chocolate Chip Cookie Dough Truffles are made with eggless cookie dough balls and coated with a layer of semi sweet chocolate. Once you start eating, it's hard to stop!
Out of all the cookies in the world, chocolate chip cookies are my favorite. And the only thing that may be slightly better than a freshly baked chocolate chip cookie is the cookie dough.
Waaaaaay back when, in the dark ages, I used to love snacking on bits of dough before I popped the cookies into the oven. But when my own kiddos came along, this practice was pretty much verboten, and since I've always been an overprotective mama, I would just let the kids have a taste before I added the eggs.
But then, some brilliant person figured out how to make chocolate chip cookie dough without eggs, and all over the world, people rejoiced. At least, I know I did. And so did my kids.
We've been using this eggless dough recipe from the Cookie Puzzle for the past two years, and it's awesome, although we did change it slightly to match the real dough we normally use. In fact, it's just slightly hard to stop snacking once you start. But, it's also super easy to make, and my kids make it all the time.
So the other day, they made a batch and decided to take it to the next level by making chocolate chip cookie dough truffles. All you do is mix the ingredients together, and then you form the dough into 1-inch balls.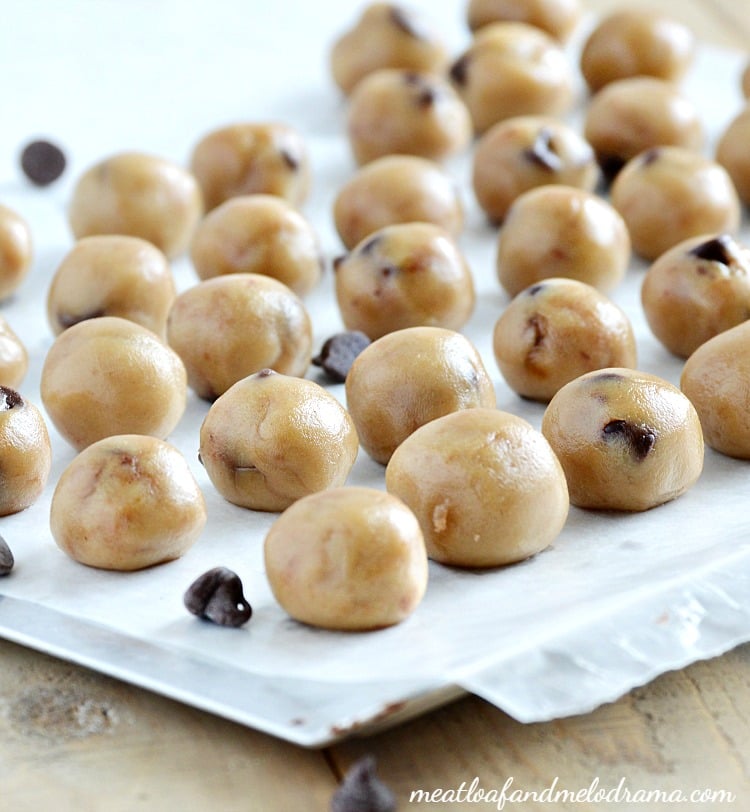 Since it's warm here, we placed the balls in the freezer so that they would be nice and firm before we dunked them in the chocolate. If it's cool where you are, you might be able to skip this step or maybe just refrigerate them, instead.
We let the balls set in the fridge, but after the chocolate hardened, they were ready to eat. We also drizzled a little white chocolate over the truffles, but this is optional. It makes them look nice and fancy, though!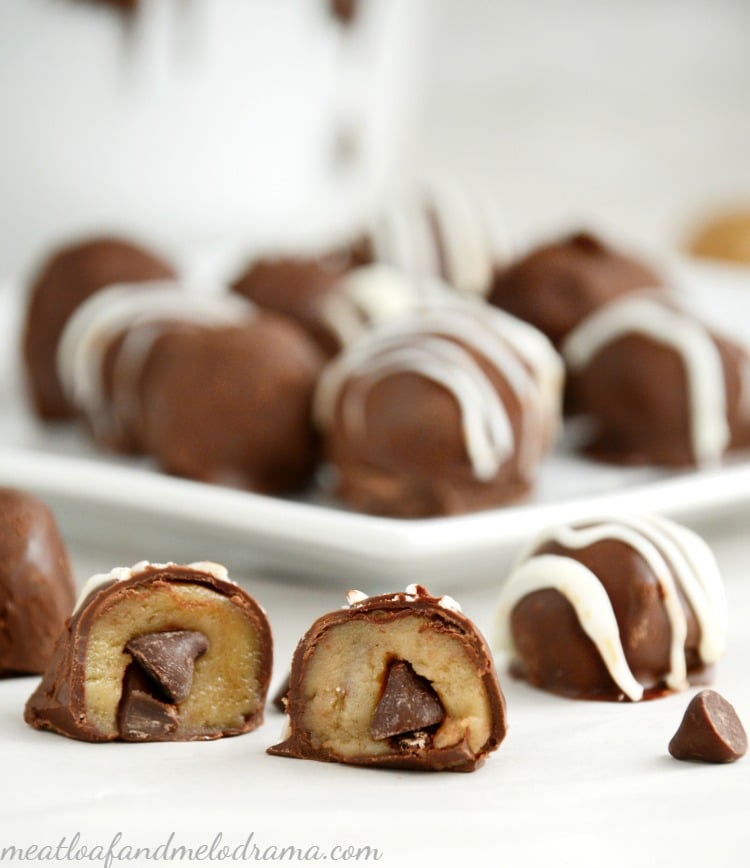 How to Make Chocolate Chip Cookie Dough Truffles
Chocolate Chip Cookie Dough Truffles
Chocolate Chip Cookie Dough Truffles are edible cookie dough made without eggs and dipped in chocolate
Ingredients
¾

cup

brown sugar

½

cup

softened butter

1 ¼

cup

all purpose flour

3

tablespoons

milk

2

teaspoons

vanilla extract

1

teaspoon

ground cinnamon

1

cup

semi sweet chocolate chips

2

cups

semi sweet chocolate chips

for the coating
Instructions
In a large bowl, mix the softened butter and brown sugar

Add the vanilla extract, and cinnamon, and gradually add the flour until mixture is firm

Add the milk (this makes the mixture soft, like cookie dough, and you can add more if needed)

Mix in the chocolate chips, cover and refrigerate until mixture is firm

Form mixture into 1-inch balls, and place on wax-paper lined cookie sheet. Refrigerate or freeze until firm, if necessary

Melt 2 cups of chocolate chips, and dip cookie dough balls into chocolate until fully coated

Place on cookie sheet, and refrigerate until chocolate is set

Drizzle with white chocolate, if desired
Nutrition
Calories:
103
kcal
Carbohydrates:
11
g
Protein:
1
g
Fat:
6
g
Saturated Fat:
3
g
Cholesterol:
5
mg
Sodium:
18
mg
Potassium:
70
mg
Sugar:
7
g
Vitamin A:
60
IU
Calcium:
12
mg
Iron:
0.8
mg
If you think the dough itself is good, then you have to know that cookie dough dipped in chocolate is pure heaven!
This recipe makes approximately 50 cookie dough balls. Of course, some of them were eaten by nameless people before they could be made into truffles.
So, it took about 2 cups of chocolate chips to make enough coating for the remainder.
You may need more or less chips depending upon your willpower or if you have young people who forage treats when you aren't looking!
These cookie dough truffles are perfect whenever you're craving a little something sweet, and they also make wonderful holiday treats.
Have a wonderful day, friends.
Happy snacking!

Sharing At
Met Monday, The Scoop