Hi Everyone!

I love decorating with pretty plates. Now, I have to admit that I'm not that good at designing beautiful tablescapes, but I do enjoy showcasing decorative plates in a variety of ways throughout my home. So, I was beyond thrilled when Hometalk asked me to curate a board on creative ways to decorate with plates!

There are countless ways that you can incorporate plates into your home decor, and it doesn't matter if they are thrift store finds, family heirlooms or your own creations. So, after viewing the many creative posts on Hometalk, I chose these 15 sensational plate ideas.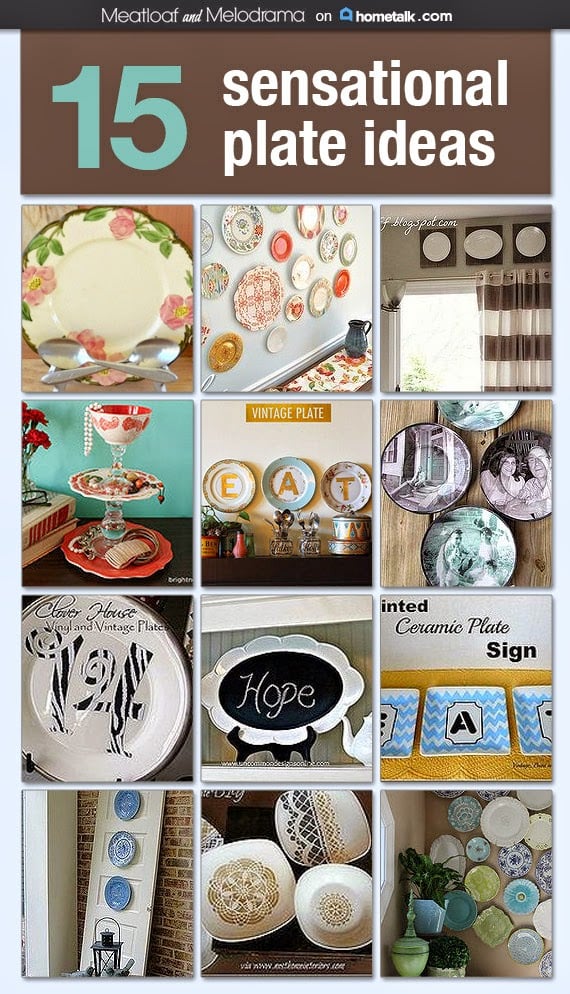 I'll highlight just a few of them here.
My Pinterventures created these cute plates to decorate a bare wall in her kitchen. I love how they turned out!
Uncommon Designs turned a simple oval platter into a pretty chalkboard plate. I've done this before, and it's so much fun!
Our Southern Home used thrift store plates to decorate her porch -- love that pretty shade of blue!
A Stroll Through Life shows you several different ways to display plates in your home and create a cohesive look.
Of course, I had to include one of my own ideas along with the others!
I made this Anthropologie Inspired Plate Holder out of my grandmother's vintage spoons and used it to hold one of her vintage plates. Hometalk was kind enough to feature this post on their Facebook page, and wow, did it get a lot of attention! It seems a lot of people remember this Desert Rose pattern.
Unfortunately, my grandmother's plates are all chipped, so we can't use them, but that doesn't mean we can enjoy looking at them. I think that displaying heirloom plates is such a sweet thing to do, especially during family gatherings.
You can read more about creative ways to display plates on my
Hometalk Plate Board
and hopefully, get some inspiration. I know that with the holiday season coming up, a lot of us are trying to spruce up our homes a little before we open them up to guests!
If you're on Hometalk, I hope you'll connect with me and say hi! The link is on my sidebar. If you haven't joined yet, you really should! It's a lot of fun, especially if you love decorating, DIY projects or anything related to house and home. I joined not that long ago, and I really wish I had signed up sooner!
Thanks so much for stopping by. Have a wonderful day!