It's that time of year when I like to craft and decorate as almost as much as I love to cook. And, I did a little bit of both this weekend -- yea! I love those pallet trees that are so popular now, but since I don't have any pallets, I had to get creative. This DIY wood pallet Christmas tree was actually a toddler bed in a former life, but with a little cutting, gluing and painting, it's a Christmas decoration now!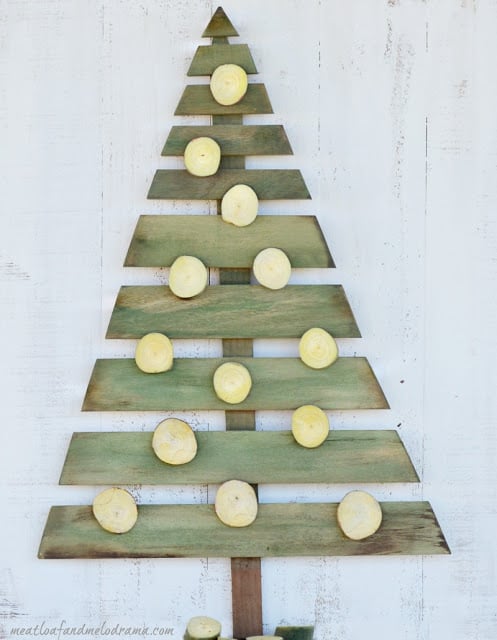 I love to repurpose things whenever I can, but this is probably the most unique upcycle I've ever tried.

After my youngest outgrew the toddler bed, the Hubs and I moved it to our bedroom and used it for extra seating so that the kids could watch movies, TV or just hang out with us. This arrangement was also convenient whenever the younger kiddos couldn't sleep and came wandering in at night.

But one day, my teen queen plopped down on the bed, and it was a goner. She was fine, but the bed was not. The frame was completely broke, so there was no way to salvage it, as a bed, anyway.
Luckily, the Hubs knows not to throw things out right away, so we stashed the remnants in the garage. Then, when I talked about wanting to make a wood pallet-type Christmas tree, I saw that the boards from the bed frame were about the perfect size for branches.

So, I had the Hubs cut the boards in different lengths so that they would resemble pine tree branches. He also sanded them until they were fairly smooth. Then, we used a garden stake for the tree's spine.
Then, we glued the boards to the stake, starting with the smallest pieces at the top and ending the longest pieces at the very bottom -- just like a pine tree.
I was tempted to leave the tree unfinished, but the wood looked too new and plain. So, I used burnt umber paint to darken the wood. Then, I watered down some green paint and applied this over the burnt umber. This made the wood look faded and aged instead of brand new.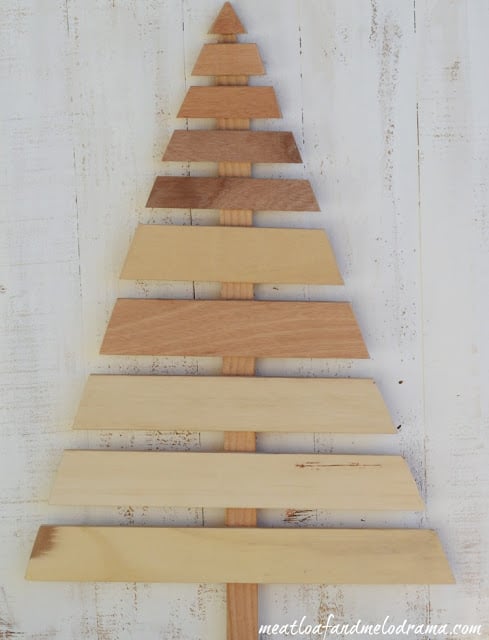 The Hubs had just cut a bunch of wood slices from our palo verde tree, and I thought these would be perfect to use as natural ornaments. Palo verde branches are green anyway, so the sides look like they are painted, but it's all natural! After the wood slices were glued to the tree, this little wood pallet Christmas tree was complete!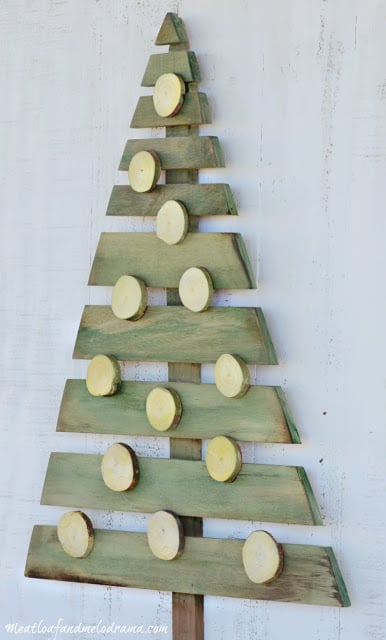 It's definitely different, but I love the way it turned out. And, I definitely don't think it resembles a toddler bed at all!
I'm thinking about using this little wood pallet Christmas tree as part of our Christmas mantel this year, but I still have a few more days to decide. So, if you have an old toddler bed sitting around, don't throw it out. You never know what you can make with it!
You Might Also Like