Hi friends! Ever since I started using essential oils, I have been utterly amazed at all of the different things you can do with them. I mean, I knew there were health benefits, but when I started really reading about the oils, I discovered so many other possibilities too. I love making my own salt and sugar scrubs, and I don't think my skin has ever been so smooth. Plus, the scrubs smell awesome and so does the bathroom!

So I thought it would be great to have some of the other rooms in the house smell just as fresh, and after a little research and time spent on Pinterest, I found an easy DIY air freshener recipe that only uses two ingredients. And not only is this completely inexpensive, but it's also chemical free!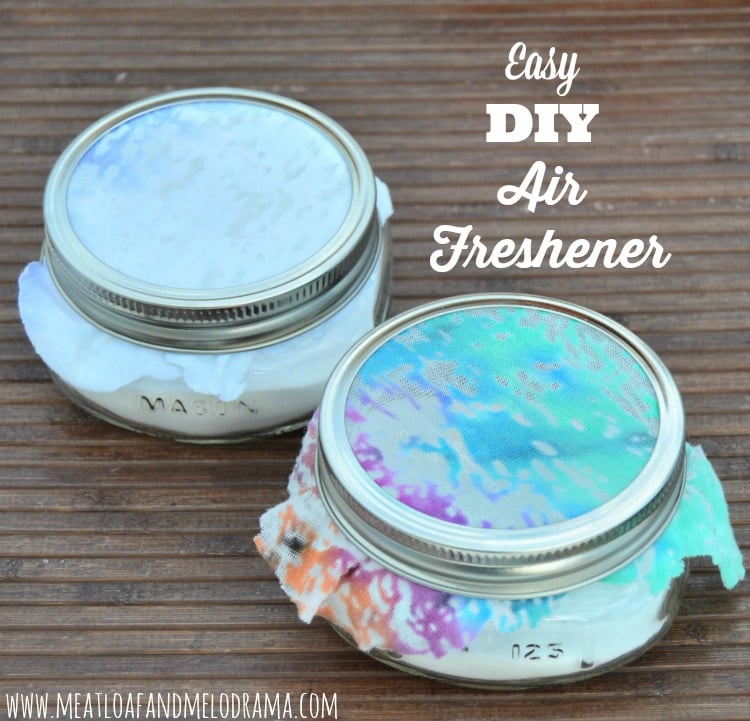 I think I told you before that I'm really sensitive to perfumes and fragrances. I just can't stand heavy artificial scents, so most room air fresheners are definitely out. But there are some rooms in the house that could use some help, like the laundry room/mud room where everyone kicks off their shoes. And the kids' bathroom -- oh yeah! So I was so happy to find a natural way to deodorize the air in those rooms. And so far, the natural method is working.


Ingredients and Supplies
Baking soda

Mason jars

Scrap fabric

Essential oils of your choice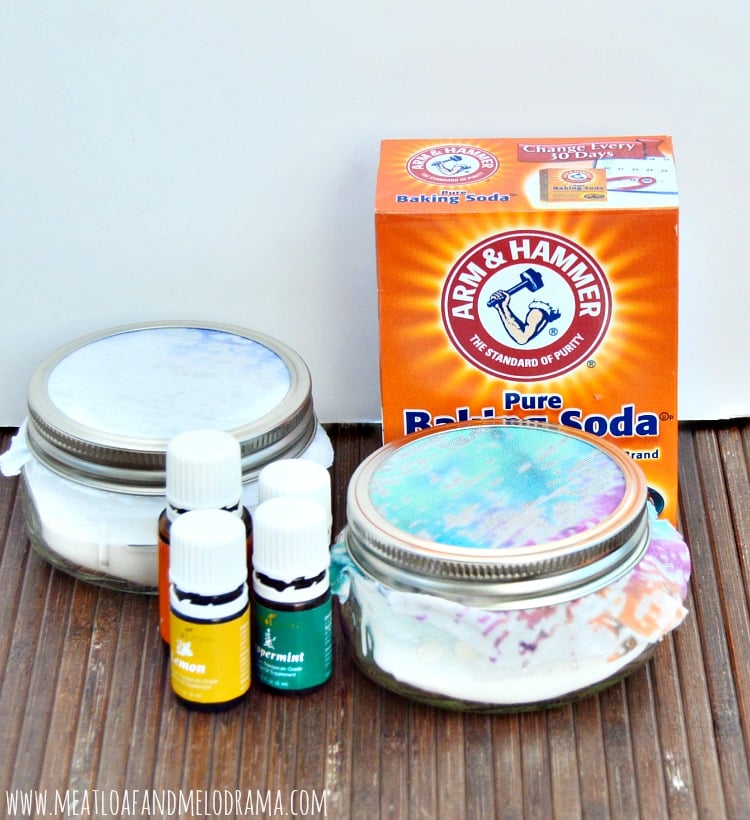 Now for the hard part -- just kidding! All you do is pour some baking soda into the empty mason jars. I used half pint jars and about a cup of baking soda per jar. Then, I added a few drops of the essential oils I wanted to the baking soda and stirred.

There are a few clumps in the picture, but I left it that way so that you could see where I added the oils.


I love fresh, fruity scents, so I used Young Living orange and peppermint in one jar and a mix of lemon and lavender in the other one. The lemon lavender combo is one of my favorites, and the kids like that one too.



Since I don't sew, I don't have a fabric stash to rummage through, but I found some old T shirts that my daughter outgrew, and I cut some circles out of those. The material is thin and stretchy, which is perfect for letting the fragrance to come through. I also poked a few holes in the fabric with a pin.

I just covered the openings of the jars with the material and screwed the rings back on. And that's all it takes to make your own air freshener!



I gave the jars a little shake before I put them into the rooms, and these DIY air fresheners are really doing their jobs, without being overpowering at all. I love it!



Thanks so much for visiting!
You May Also Like