Easy Flip Flop Cookies are made from Nutter Butters, candy coating and colorful candies. This easy no bake dessert is perfect for summer parties!
I've been busy making plans for my teenage daughter's summer birthday party. She wants to keep it pretty simple and invite just a few close friends, but a party's a party, and I want the girls to have some fun and easy snacks to enjoy.
So, the kids and I made these cute no bake flip flop cookies to serve at the pool party. These sweet treats are so easy to make, and they are the perfect dessert to bring to just about any summer celebration!
Summer is all about casual fun, and what's more casual than wearing flip flops? Actually, I love flip flops, and I wear them practically all year round, except when it's super cold out. And in the desert, there aren't that many snow days!
These no bake cookies start out with store bought peanut butter cookies that are dipped in candy coating and embellished with a little more candy. I know that sounds like it may be too sugary, but you get a salty and sweet combination that the kids love. Well, I love them too!
How to make easy flip flop cookies
These summer treats are easy enough for kids to make. We used Nutter Butter cookies because they're shaped like flip flops, but you can use Vienna Fingers or any generic long, oval sandwich cookie.
Basically all you have to do to make flip flop cookies is melt the candy coating, dip the cookies and decorate!
We made the flip flop straps from thin strips of Twizzlers candy. Just snip off a short section, and bend it to form the straps. Then, stick it into the coating while it's still soft.
You can use Skittles or any small colorful candies to go on top of the bend in the strap. Use a dab of melted candy coating to attach the candies to the straps.
We found that it was easier to add the candy to the cookies when the coating was starting to firm up but not fully dry. Otherwise, the straps just slid right off.
When the flip flop cookies were done, I arranged them on a plate and added a bunch of Skittles in the middle. One of the kids thought it looked like a beach ball, and I guess it kind of does!
For extra fun, you can crush up some graham crackers to resemble sand. Super cute, right?!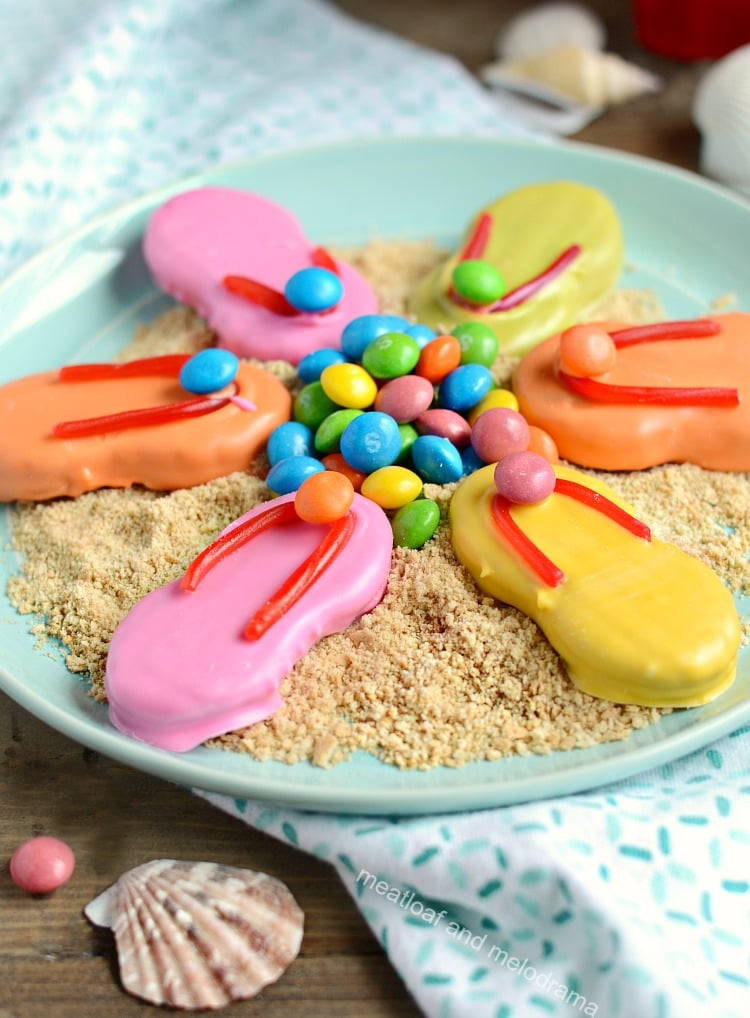 Tips for making perfect no bake flip flop cookies
Melt the candy coating in the microwave in short increments
Use a fork to dip and remove the cookies
Let cookies dry on wax paper-lined plates or trays
Allow coating to dry slightly before adding candy straps
For a fun presentation, place cookies on crushed graham crackers to resemble a beach
Recipe for Easy Flip Flop Cookies
Recipe
Easy Flip Flop Cookies
Easy flip flop cookies are made with Nutter Butter cookies dipped in candy coating and decorated with colorful candies. This easy no bake dessert is perfect for summer parties!
Ingredients
1

16-ounce

package of Nutter Butter cookies

3

12-ounce

packages of candy melts in assorted colors

Twizzlers candy ropes

Skittles
Instructions
Melt the candy coating in the microwave according to package directions

Dip the cookies into the coating so that they're completely covered, and then let them partly dry on wax paper-lined plates.

Snip strands of the Twizzler twists and bend so that they looks like flip flop straps, and put them onto the coated cookies.

Add a dab of coating to the Skittles and place them on the folded centers of the straps.

Sprinkle some colored sugar on the cookies for added sparkle, if desired.
Notes
You can use any long sandwich cookie, Vienna Fingers also work well.
Nutrition information is estimated. Please do your own calculation to fit special diets.
Nutrition
So, if you're looking for a quick and easy summer treat, you can whip up a bunch of these easy flip flop cookies in no time at all. But be sure to make as many as you can because they go fast!
This is an update of a post originally published in 2015.