Hi friends! I hope you had a wonderful long weekend. We sure did -- for one thing, the weather was absolutely gorgeous, especially for this late in May, and we got to enjoy some family time in the backyard. Since we were spending so much time outside, I made a very easy red, white and blue centerpiece that can be used in the house as well as on the picnic table.

I just combined a planter box, some flowers and ribbon, and I've got a centerpiece that I can use from now until the Fourth of July!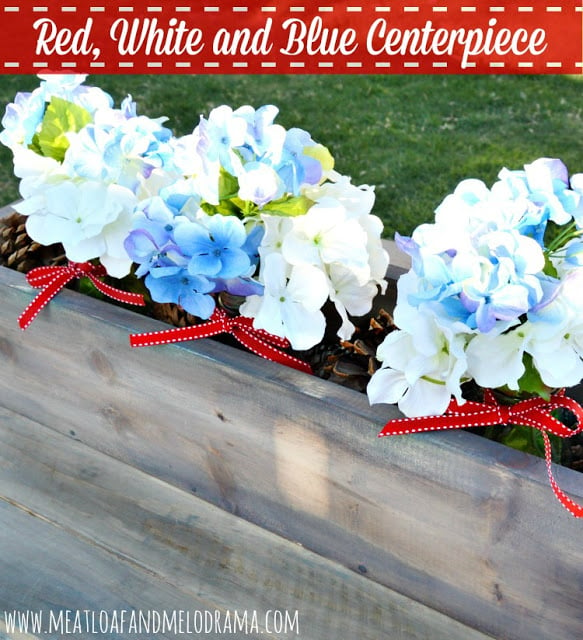 I like to decorate for each holiday, but I also love it when I can use holiday decorations every day. Don't you? It's just a lot easier that way, especially during the summer when the kids are home, and I don't have much time to fuss with the house. So I usually add a little red, white and blue around Memorial Day and leave those colors up until after July 4th.

The Hubs made this planter box last fall, and I love it so much that I keep it on the dining room table year round. All I have to do is just change the flowers and whatever else is in there.

And remove any stray candy wrappers or Lego figures that I find -- just keeping it real here!



You've probably seen empty milk bottles used in home decor, but what I like to do is use empty Starbucks Frappuccino bottles. One of my teens just loves those drinks, and whenever I buy them, I just save the bottles. Gotta love that kind of recycling!

I added faux white and blue hydrangeas to the bottles and tied some pretty red and white ribbon around the neck. Subtle, but it works!



And pine cones. I love pine cones, and I use them all year round -- not just for fall and winter. Plus, they help separate the bottles and fill in the gaps on the sides of the box.



The best part about this red, white and blue centerpiece is that you can easily move it from your dining room table to a picnic table in no time at all. It's rustic enough for the patio, and it doesn't weigh much either. So there's no need to make a separate centerpiece for outside if you're short on time or have unexpected guests.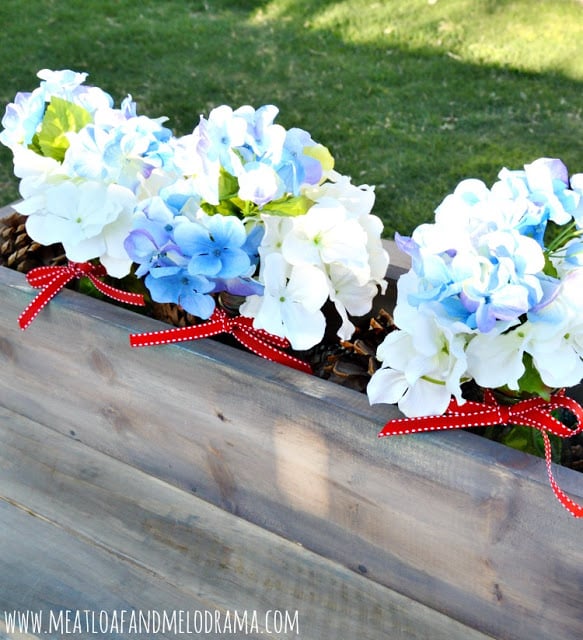 Oh, I have to say that this little patriotic centerpiece was thrifty too. I already had the box, pine cones and red ribbon. I found the white flowers on sale at the craft store, and the blue flowers are from the Dollar Store.

And if I need more glass bottles, all I have to do is buy some more Frappuccinos. I mentioned that my daughter loves them, but sometimes, I'll use them to flavor my coffee too -- yum!

Do you have any red, white and blue around your house?

Thanks so much for visiting. Have a wonderful day!
You May Also Like