Instant Pot Chicken Noodle Casserole recipe is a chicken casserole with noodles, leftover rotisserie chicken and vegetables in a creamy cheese sauce. This easy dinner takes minutes in the electric pressure cooker and is perfect comfort food for busy weeknights!
Jump to:
If you like quick and easy chicken recipes, you'll love this Instant Pot chicken noodle casserole! It's one of our favorite easy Instant Pot recipes, and it's made from scratch with leftover rotisserie chicken, egg noodles and mixed vegetables in a cheesy cream sauce -- no canned soup! Plus, it's ready in just 30 minutes!
We make Instant Pot whole chicken or Roast Chicken in a Dutch Oven nearly once a week, so I'm always looking for easy recipes using leftover chicken. This chicken casserole with egg noodles is super easy!
This quick chicken casserole recipe is definitely a dump and go Instant Pot dinner since there is virtually no prep work needed. Just add everything to the Instant Pot pressure cooker, pressure cook it, and stir in cream and cheese at the end. It's the perfect easy dinner for crazy busy days or when you're too tired to cook.
If you love Instant Pot casserole recipes, try my Instant Pot tuna casserole, Instant Pot pierogi casserole or Instant Pot turkey casserole.
Ingredients
You need a few basic ingredients for this easy chicken casserole. You should find everything online or at your local grocery store.
Cooked chicken -- cubed
Egg noodles
Herbes de Provence seasoning or Italian seasoning
Dried minced onions
Sea salt
Garlic powder
Ground black pepper
Chicken broth or chicken stock
Frozen mixed vegetables
Heavy cream
Shredded Colby Jack cheese or cheddar blend
How to Make Instant Pot Chicken Casserole with Noodles
First, add your leftover cooked chicken to the bottom of the Instant Pot. You can cut it into smaller pieces or tear it -- whichever is easier.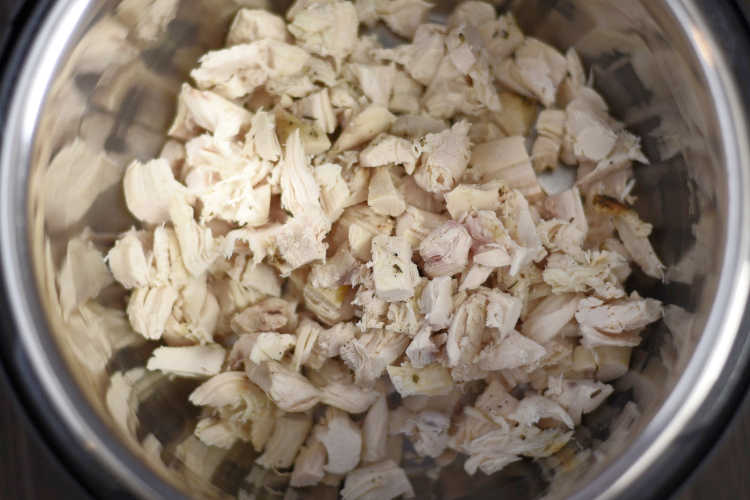 Next, add the uncooked egg noodles, seasoning and chicken broth. The noodles may not be completely covered in broth, but this is fine.
Just press the noodles down a little. They'll continue to cook even after the pressure cooking is over.
Cooking Time
Pressure cook the noodles and chicken for 2 minutes on high pressure. The short cook time will give you firmer egg noodles.
If you want softer egg noodles, cook the casserole for 4 minutes. When the Instant Pot beeps, turn the vent for a quick release.
After pressure cooking, stir in mixed veggies. You can thaw them if you want, but the heat will cook them!
If you don't have frozen veggies, you can use fresh. You'll need to pressure cook those, though.
You might think there's too much liquid, but believe me, it will quickly get absorbed. Egg noodles suck up a ton of liquid!
Stir in some heavy cream and shredded cheese, and you're done!
I used to use a mix of shredded Parmesan cheese and Monterey Jack cheese. More recently I've been adding shredded Colby Jack or cheddar blend.
They all work. It just depends on the flavor you're looking for.
The Colby or cheddar cheese blend make it taste more like traditional chicken pot pie. Nothing screams comfort food more than a big bowl of creamy, cheesy chicken and noodles!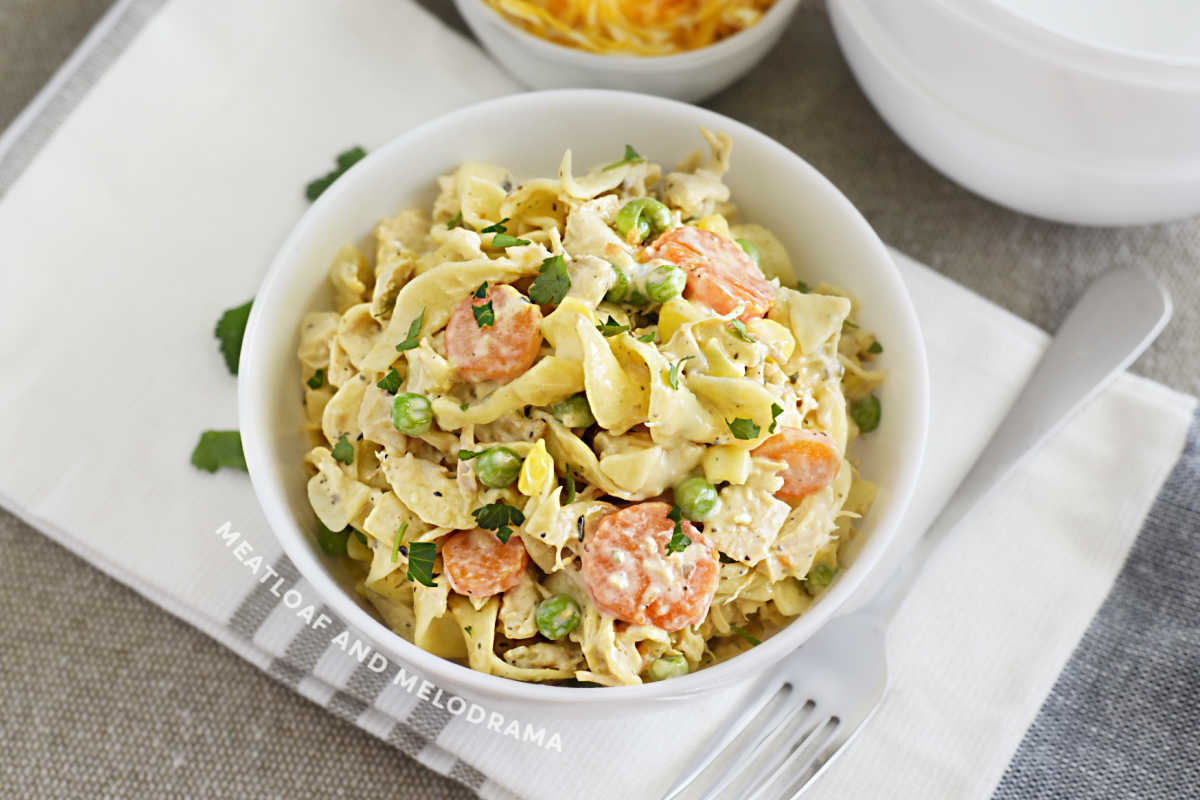 How to Store and Reheat
Store leftover chicken noodle casserole in an airtight container in the refrigerator, where it'll last for 3 to 4 days.
You can also freeze the casserole for longer storage.
Variations
There are a couple ways to customize this pressure cooker chicken recipe to your tastes.
Instead of heavy cream, use canned cream of chicken soup. Add the soup on top of the noodles before cooking, but do not stir soup in until pressure cooking is complete. Cream of mushroom soup will work as well.
Use your favorite type of noodles. I think that thick egg noodles work great with the creamy sauce, but spaghetti, fettuccini, penne, or other noodles are great options.
As far as vegetables go, you can try carrots, green beans, broccoli florets, or really any veggies you want.
I like to keep this Instant Pot meal as easy as possible, but if you don't mind the extra step, go ahead and use fresh boneless skinless chicken breast or boneless skinless chicken thighs. You will need to cook the chicken first, so the cooking time will be longer.
If you're looking for a delicious chicken and rice casserole you can make with brown rice or white rice, check out my Instant Pot Chicken and Rice casserole.
Recipe
Instant Pot Chicken Noodle Casserole
Instant Pot Chicken Noodle Casserole is a chicken casserole with noodles, leftover cooked chicken and vegetables in a creamy sauce with cheese. This easy dinner takes minutes in the electric pressure cooker and is perfect comfort food for busy weeknights!
Instructions
Add the cooked chicken to the Instant Pot, and top with egg noodles

Add Herbes de Provence, minced onions, sea salt, garlic powder and pepper, and pour chicken broth over and around egg noodles. Press down lightly with wooden spoon or spatula

Place lid on Instant Pot, turn vent to Sealing, and hit PRESSURE COOK for 2 minutes

Pot will take a few minutes to reach pressure, then cook for 4 minutes. When pot beeps, turn vent for a quick release

When pin drops, remove lid, and stir. There will be liquid in the pot, but this will be absorbed the egg noodles.

Stir in frozen vegetables, then stir in heavy cream. Stir in cheese, one cup at a time, and mix until thick and creamy. Casserole will continue to get thick and creamier as it cools
Notes
Recipe was made in a 6-quart Instant Pot pressure cooker but can be made in an 8 quart without any adjustments.
You can use a combination of Parmesan cheese and Monterey Jack if desired.
Can substitute Italian seasoning for Herbes de Provence.
Can use store bought low sodium chicken broth or homemade stock.
To make with cream of chicken soup, add the soup over the uncooked noodles. Don't stir. Pressure cook as directed and stir after cooking. For softer noodles, cook for 4 minutes.
Nutrition information is estimated. Please do your own calculation to fit special diets.
Nutrition
Calories:
270
kcal
Carbohydrates:
5
g
Protein:
25
g
Fat:
16
g
Saturated Fat:
9
g
Cholesterol:
81
mg
Sodium:
578
mg
Potassium:
283
mg
Fiber:
1
g
Vitamin A:
1385
IU
Vitamin C:
2.8
mg
Calcium:
312
mg
Iron:
1.5
mg
This easy Instant Pot chicken casserole is a great recipe for when you need a complete meal the whole family will love in a hurry! I hope you enjoy this Instant Pot casserole recipe as much as we do!
For more Instant Pot chicken recipes, delicious meal ideas, and family favorite easy meal options, subscribe to the newsletter and follow me on social media!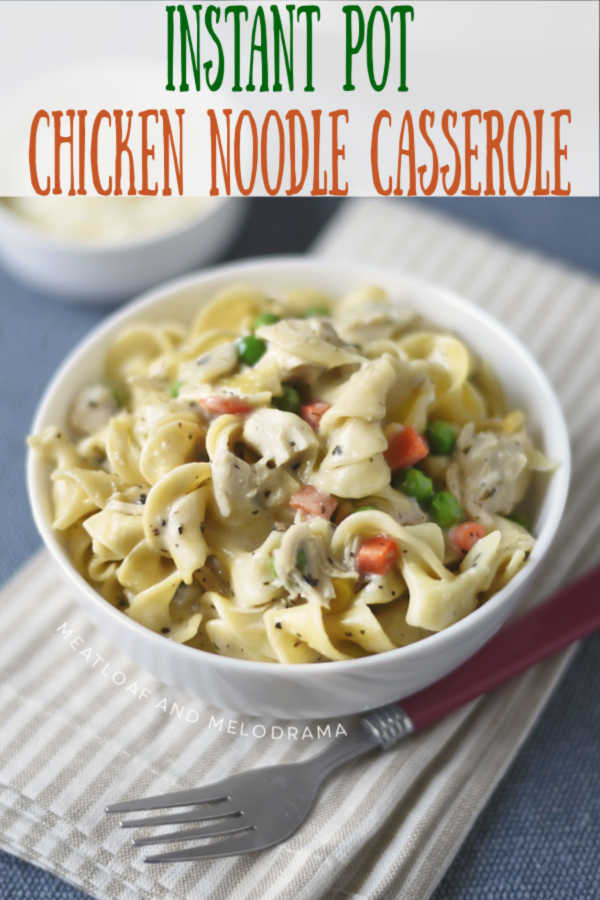 Originally published in 2019 and updated in 2022