This Instant Pot Whole Chicken recipe lets you make tender, juicy rotisserie style chicken in the pressure cooker in less than an hour. Pop it in the oven and broil for crispier skin and extra flavor, and you have a delicious dinner the whole family will love!
If you like rotisserie style chicken from the grocery store, you can save money and make your own whole chicken in the Instant Pot. Pressure cooker chicken is quick, easy and so delicious. Plus, you can use the bones to make homemade chicken stock or bone broth!
Who doesn't love rotisserie chicken? It's perfect for a quick dinner in a pinch, and you can use the leftovers or meat in recipes that call for cooked chicken. Of course, you can always make your own roast chicken in the oven, but that's definitely not a quick dinner!
I have to admit that when I first heard that you can make a whole rotisserie style chicken in the pressure cooker, I was skeptical. So was the Hubs. We were both sure the chicken would be bland and mushy. But we were curious, too.
So when the Hubs brought home a chicken from the local butcher, I just had to make a whole chicken in the Instant Pot. You guys, this was probably the best chicken ever! And it was so much quicker than making oven roasted chicken.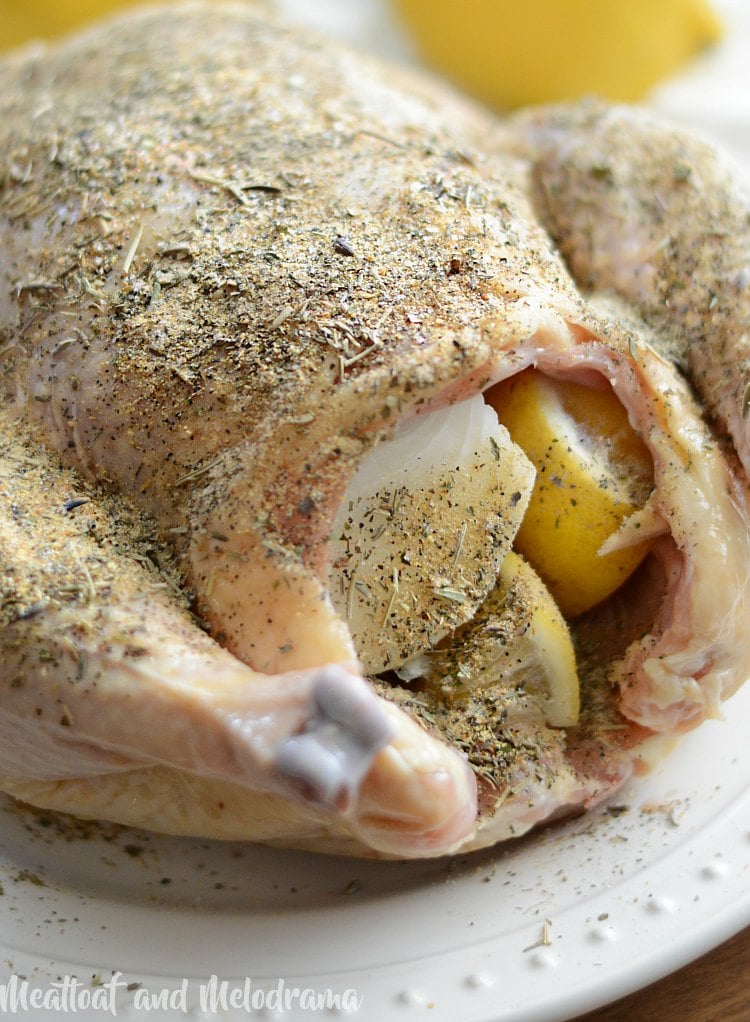 Back in the dark ages, before we had 5 kids, I used to make roast chicken every so often. So, I just used the same basic recipe.
I seasoned the chicken all over and inside the cavity, too. I also stuffed it with a cut-up onion, a lemon and a couple of garlic cloves. There was a little bit of onion and lemon that didn't fit in the chicken, so I just threw the pieces into the pot.
The first time I made a whole chicken in the Instant Pot, I added chicken broth for the liquid. The second time, I somehow forgot to thaw the broth I had in the freezer, and I didn't have any more in the pantry. Horrors!
So, I just added some water, and honestly, I couldn't tell the difference in the end. The kids even said they liked the second one better, so there you go. Use what liquid you have!
The only problem with pressure cooker whole chicken is that you won't get that amazingly delicious crispy skin we all know and love. Personally, I think it's easiest to broil the chicken in the oven for a few minutes after it's done pressure cooking. Just place the chicken in an oven safe casserole dish, and broil until the skin is brown and crisp.
If you don't want to have an extra dish, you can saute the chicken in the Instant Pot first and then proceed with pressure cooking. Personally, I think the oven method is easier, so that's what I do.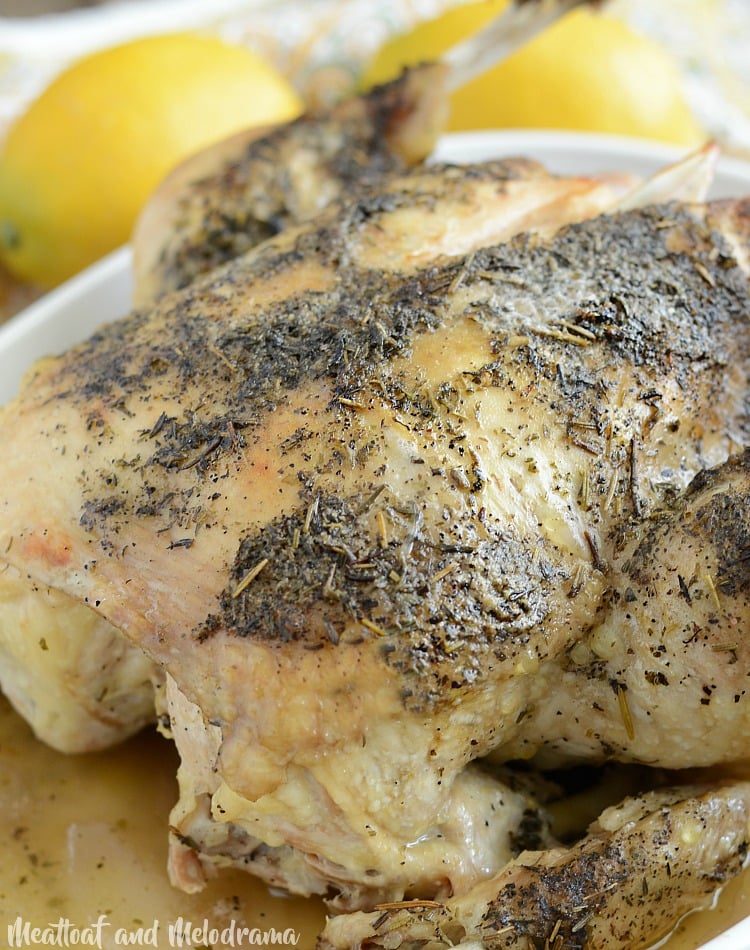 This recipe for Instant Pot whole chicken is naturally gluten free and probably fits most healthy diets. I'm not an expert on Whole 30 or others, but this chicken is about as simple as it gets. And like I said, you can use the bones for homemade stock!
Tips for Making Whole Chicken in the Instant Pot Electric Pressure Cooker
Season chicken well on the outside and inside
Use a trivet to keep chicken out of liquids and for easier removal
Plan to cook whole chickens for 6 minutes per pound
Broil after pressure cooking for extra flavor and crispier skin
Looking for More Instant Pot Chicken Recipes?
How to Make Rotisserie Style Instant Pot Whole Chicken
Instant Pot Whole Chicken
This Instant Pot Whole Chicken recipe shows you how to make rotisserie style chicken in the pressure cooker in less than an hour. Pop it under under the broiler for extra crispy skin and even more flavor!
Print
Pin
Rate
Ingredients
1

4 to 5-pound

whole chicken

1

tablespoon

olive oil

1

tablespoon

herbes de Provence seasoning

1 1/2

teaspoons

sea salt

1

teaspoon

garlic powder

1/2

teaspoon

ground black pepper

1

white or yellow onion peeled and quartered

1

lemon, quartered

2

cloves

garlic, peeled

1 1/2

cups

chicken stock or water
Instructions
Pat chicken with paper towel to remove excess moisture, and rub with olive oil

Sprinkle herbes de Provence, sea salt, pepper, garlic powder over chicken and in cavity, then stuff garlic cloves, onion and lemon into cavity. If not all pieces fit, add extra pieces of lemon or onion to the pot with the chicken.

Place trivet in Instant Pot, pour stock or water into pot, and place chicken, breast side up on trivet.

Place cover on pot, turn knob to Sealing position, and hit PRESSURE COOK or manual for 30 minutes

Allow 10 to 12 minutes natural release, then hit CANCEL, and do quick release, and open pot when pin drops. Internal temperature should be at least 165, according to meat thermometer

Lift up trivet, and remove chicken to baking pan or casserole dish, along with some of the cooking liquid. Broil for about 5 minutes or until skin is golden and crisp, if desired
Notes
Recipe was made in 8-quart Instant Pot.
For a 6-quart, use 1 cup of water.
If you don't have herbes de Provence seasoning, you can use Italian seasoning
Nutrition
We can't get enough of this easy Instant Pot Whole Chicken. My family loves it, and I hope you will too!
Happy Cooking,