This Instant Pot Whole Roast Chicken recipe shows how to cook a whole chicken in the pressure cooker. Use Duo Crisp or broil for crispy skin after pressure cooking. Your whole family will love this easy chicken recipe, and it's so much faster than roasting a chicken in the oven!
If you like rotisserie chicken from the grocery store, you can save money and make your own roasted whole chicken in the Instant Pot with this easy recipe. As much as I love making a roast chicken dinner in the Dutch oven, it's a lot faster in the electric pressure cooker.
Use the bones to make the best homemade chicken stock or bone broth! You can freeze the broth for later. Or, make Instant Pot rotisserie chicken soup right away!
This chicken dinner is one of my favorite Instant Pot recipes because you get delicious, flavorful, juicy chicken every time. Plus, you get leftover chicken to use in any recipe that calls for cooked chicken.
Jump to:
Ingredients
You only need a few simple ingredients to make this Instant Pot roast chicken recipe:
Whole fresh chicken -- 4 or 5 pounds works best
Olive oil
Onion
Lemon quarters
Garlic cloves
Salt, pepper, garlic powder and herbes de Provence seasoning or Italian seasoning
How to Cook a Whole Chicken in the Instant Pot
Back in the dark ages, before we had 5 kids, I used to make roast chicken every so often. So, I just used the same basic recipe for Instant Pot roast chicken.
First, pat chicken dry, using paper towels. Then, remove the neck, giblets and chicken parts if the chicken has those. Stuff the chicken cavity with some of the onion, half of the lemon, 1 garlic clove and a little seasoning.
Next, rub the olive oil over the chicken skin. Then, sprinkle the remaining seasoning over the skin.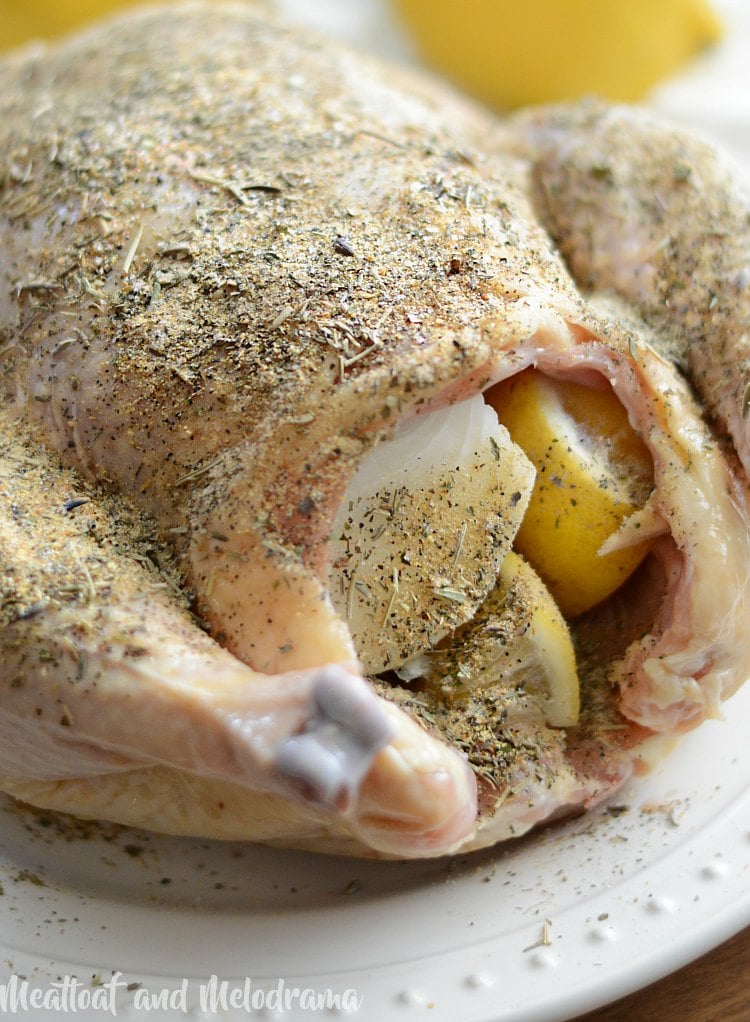 Next, place the trivet into the pressure cooker. Then, add the chicken broth or water to the bottom of the Instant Pot, and place the chicken breast-side up on the trivet.
It's optional, but I like to place a whole garlic clove on top of the chicken. After it cooks, you can mash the roasted garlic over the skin. Yum!
There was a little bit of onion and lemon quarters that didn't fit in the chicken, so I just threw the pieces into the bottom of the pot.
The first time I made a whole chicken in the Instant Pot, I added chicken broth for the liquid. The next time, I somehow forgot to thaw the broth I had in the freezer, and I didn't have any more in the pantry. Horrors!
So, I just added some water, and honestly, I couldn't tell the difference in the end. The kids even said they liked the second one better, so there you go. Use what liquid you have!
Cooking Time
So, how long do you pressure cook a whole chicken? The general rule of thumb is to cook a whole chicken for 6 minutes per pound. I like to buy 5 pound chickens and cook them for 30 minutes.
If I get a 4 pound chicken, I cook it for 25 minutes. You get a perfectly cooked whole chicken every time! The total cook time depends upon the size of your chicken.
After pressure cooking, allow a 10 minute natural pressure release. Then quick release the remaining pressure. Use an instant-read thermometer or meat thermometer to make sure the internal temperature is at least 165 degrees for both the dark meat and white meat.
How to Get Crispy Skin
The only problem with pressure cooker whole chicken is that you won't get that amazingly delicious crispy skin we all know and love. You can either broil the chicken in the oven for a few minutes after it's done pressure cooking.
Or you can use your air fryer lid (Duo crisp, Mealthy, Ninja Foodi) or whatever brand you have to crisp up the skin.
To broil the chicken, just remove the chicken from the pressure cooker, along with the lemon and onion from the chicken cavity. Then, place the chicken in an oven safe casserole dish or on a baking sheet, add a couple tablespoons butter on top, and broil under medium-high heat until the skin is brown and crisp.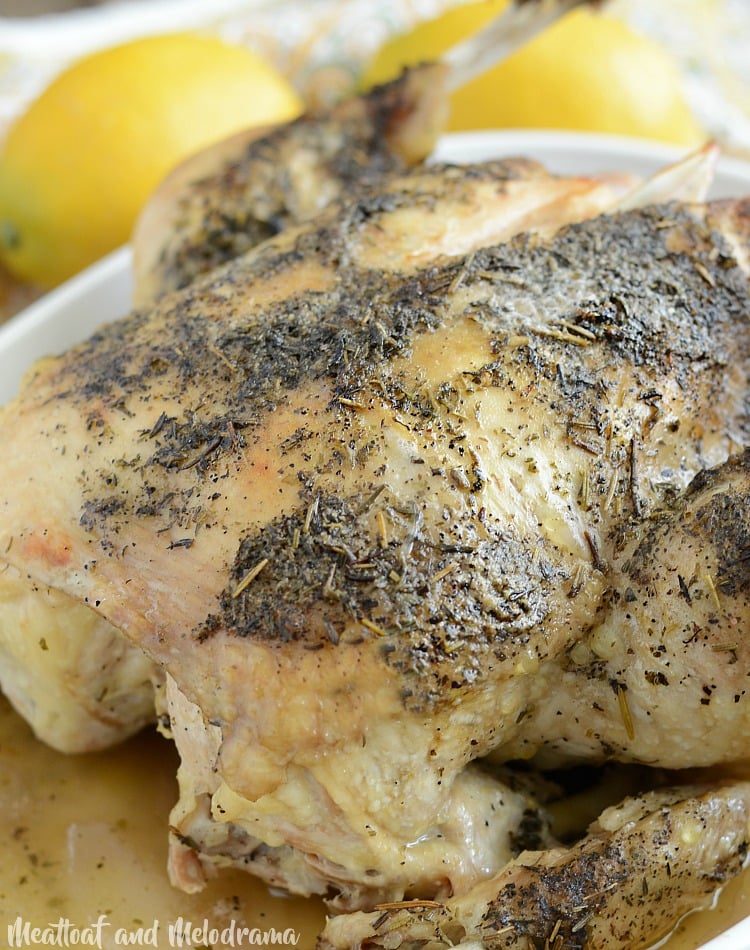 For the Instant Pot Duo Crisp air fryer or crisp lid or Ninja Foodi, cook the chicken on the trivet like the regular pressure cooker.
When it's done, remove the pressure cooker lid, and put the air fryer lid on top. Set it to Broil, and cook for 5 to 8 minutes.
You can easily add more time if you like darker, crispier skin. If you have the crisp lid, just follow the same directions.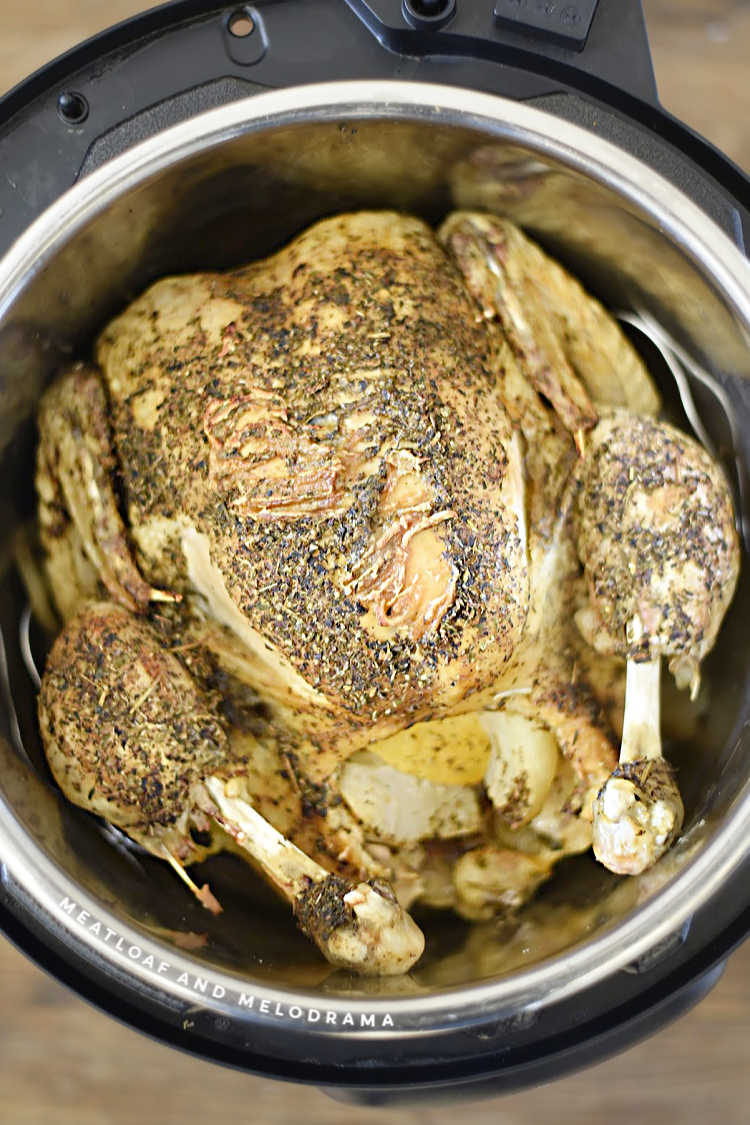 Let the chicken rest for about 5 minutes or so before cutting. You want to let the juices settle, which gives you juicy chicken! You can use the juices from the cooking liquid to make an easy chicken gravy!
What to Serve with Roasted Chicken
What side dishes go with Instant Pot roast chicken? We love to serve Instant Pot Baby Potatoes or mashed potatoes with this whole chicken recipe.
Jasmine rice, carrots and green beans are good side dishes, too.
How to Store
Store leftover roast chicken in an airtight container in the refrigerator for up to 4 days. Use the leftover chicken for meal prep or in any recipe that calls for cooked chicken, like chicken salad.
Recipe
Instant Pot Whole Roast Chicken Recipe
This Instant Pot Whole Roast Chicken recipe shows how to cook a whole chicken in the pressure cooker. Use Duo Crisp or broil for crispy skin after pressure cooking. Your whole family will love this easy chicken recipe, and it's so much faster than roasting a chicken in the oven!
Ingredients
1

4 to 5-pound

whole chicken

1

tablespoon

olive oil

1

tablespoon

herbes de Provence seasoning

1 ½

teaspoons

sea salt

1

teaspoon

garlic powder

½

teaspoon

ground black pepper

1

white or yellow onion

peeled and quartered

1

lemon

quartered

2

cloves

garlic

peeled

1 ½

cups

chicken broth or water
Instructions
Pat chicken with paper towel to remove excess moisture, and rub with olive oil

Sprinkle herbes de Provence, sea salt, pepper, garlic powder over chicken and in cavity, then stuff garlic cloves, onion and lemon into cavity. If not all pieces fit, add extra pieces of lemon or onion to the pot with the chicken.

Place trivet in Instant Pot, pour broth or water into pot, and place chicken, breast side up on trivet.

Place cover on pot, turn knob to Sealing position, and hit PRESSURE COOK or manual for 30 minutes

Allow 10 to 12 minutes natural release, then hit CANCEL, and do quick release, and open pot when pin drops. Internal temperature should be at least 165, according to meat thermometer

Lift up trivet, and remove chicken to baking pan or casserole dish, along with some of the cooking liquid. Broil for about 5 minutes or until skin is golden and crisp, if desired

For the Duo Crisp or crisp lid, once the pressure cooking is done, remove lid, and place air fryer/crisp lid on Instant Pot. Press CANCEL to turn off KEEP WARM cycle, then hit BROIL for 6 to 8 minutes or to desired doneness. Directions may vary with individual model/brand
Notes
Recipe was made in 8-quart Instant Pot and Instant Pot Duo Crisp.
For a 6-quart, use 1 cup of water or broth.
If you don't have herbes de Provence seasoning, you can use Italian seasoning.
Let chicken rest for 5 minutes before cutting for juicier chicken.
Nutrition information is estimated. Please do your own calculation to fit special diets.
Nutrition
Calories:
190
kcal
Carbohydrates:
1
g
Protein:
1
g
Fat:
2
g
Saturated Fat:
1
g
Cholesterol:
1
mg
Sodium:
437
mg
Potassium:
4
mg
Fiber:
1
g
Sugar:
1
g
Vitamin A:
19
IU
Vitamin C:
1
mg
Calcium:
9
mg
Iron:
1
mg
I've updated the original pressure cooker chicken recipe in that I published in 2018 as of 2021 to include directions for using the Instant Pot Duo Crisp or air fryer crisp lid. You can make crispy skin without transferring the chicken to the oven!
For more easy Instant Pot chicken recipes and other delicious recipes, be sure to sign up for our weekly newsletter!