Easy Two Ingredient Banana Muffins with cake mix and ripe bananas take minutes to make and are perfect a quick breakfast or snack! The easiest banana muffin recipe ever!
Jump to:
This quick and easy 2 ingredient muffin recipe is perfect for busy mornings when you want to use up a bunch of ripe bananas. We've been making these easy cake mix banana muffins for a long time, and they are light, fluffy and filled with delicious banana flavor!
I am SO not a morning person. I usually don't fully wake up until I have that first cup of coffee -- or maybe two.
Even though I love making homemade muffins like Banana Applesauce Muffins and Banana Zucchini Muffins from scratch, this cake mix banana muffin recipe is definitely the easy way to get freshly baked muffins in a matter of minutes!
This simple recipe is also perfect when you find yourself out of milk, flour, eggs or anything else in used in traditional muffins. The best part of all is you only need a box of cake mix and ripe bananas!
Ingredients
You only need 2 ingredients for this easy banana muffin recipe plus any mix-ins you want. You can find these simple ingredients in your grocery store.
Ripe or overripe bananas -- about 3 large bananas or 4 small bananas. You can use up to 5 small bananas, but they will be very moist muffins!
Cake mix -- I've tried a variety of cake mixes, and any brand works
I usually use yellow cake mix, white cake mix or vanilla cake mix for these easy banana muffins. But spice cake mix cake mix works, and you can make chocolate banana muffins with chocolate cake mix!
How to Make Banana Muffins with Cake Mix
Step 1. Peel and mash your bananas in a large mixing bowl or large bowl until they're nice and soft. A fork works perfectly here.
Next, get out your dry cake mix. Just plain cake mix -- you won't be needing any other ingredients listed on the cake mix box.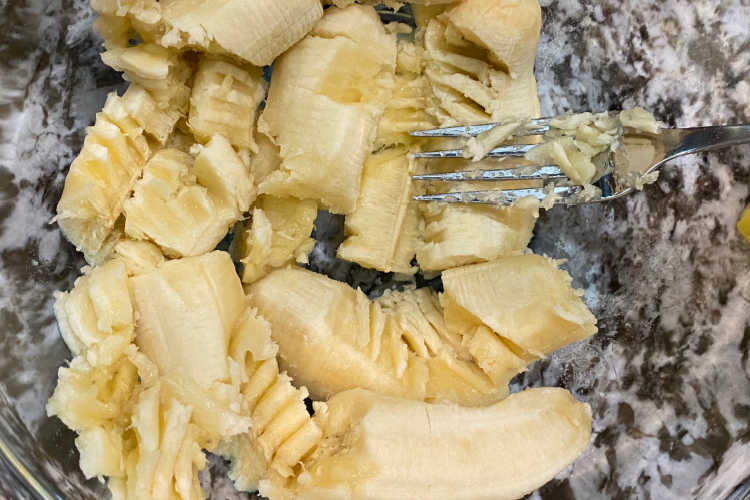 Step 2. Add the dry cake mix to the mashed bananas. Use the fork or a spoon to mix them together. You don't even need a hand mixer or stand mixer!
The batter should be well blended. But, it's fine if there are a few lumps.
So, these are the basic muffins. but you can add cinnamon and/or chocolate chips to make these muffins even better!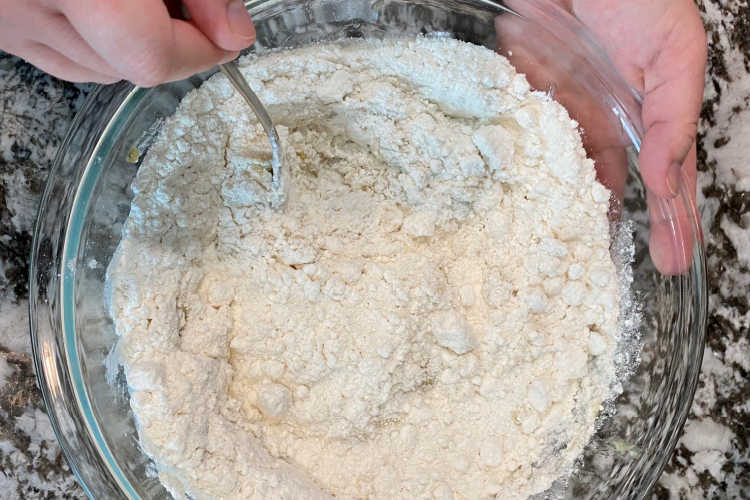 Step 3. Now, grease a muffin tin with butter or nonstick spray so the muffins don't stick to the pan. Pro tip -- Avoid non stick cooking spray on non-stick muffin pans as they may cause the coating to wear off.
Or, use paper liners or parchment paper muffin cups.
Spoon the batter into the muffin cups. Don't forget to clean up any batter spills. And, pop the muffin tin into the preheated oven!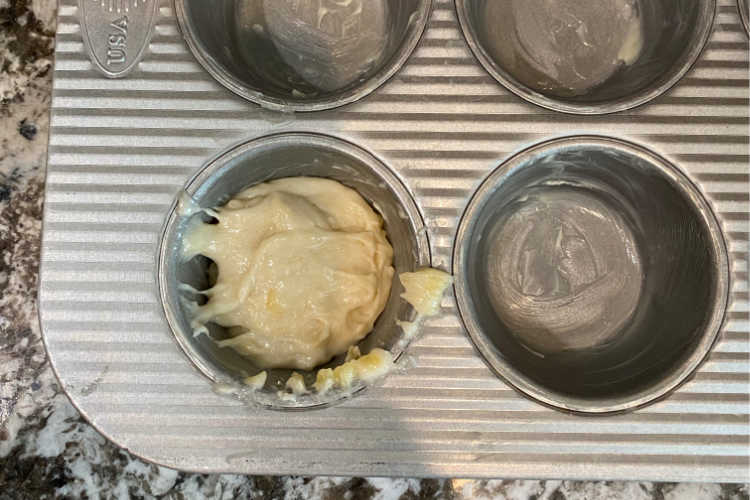 Cook Time
Step 4. Bake the muffins for about 15 to 18 minutes. The exact amount of time depends on your oven.
But generally, 15 to 17 minutes works for me. Test the muffins with a toothpick, and if it comes out clean, they're done!
These easy cake mix muffins are golden brown, soft and so delicious! And as a bonus, your home will smell amazing!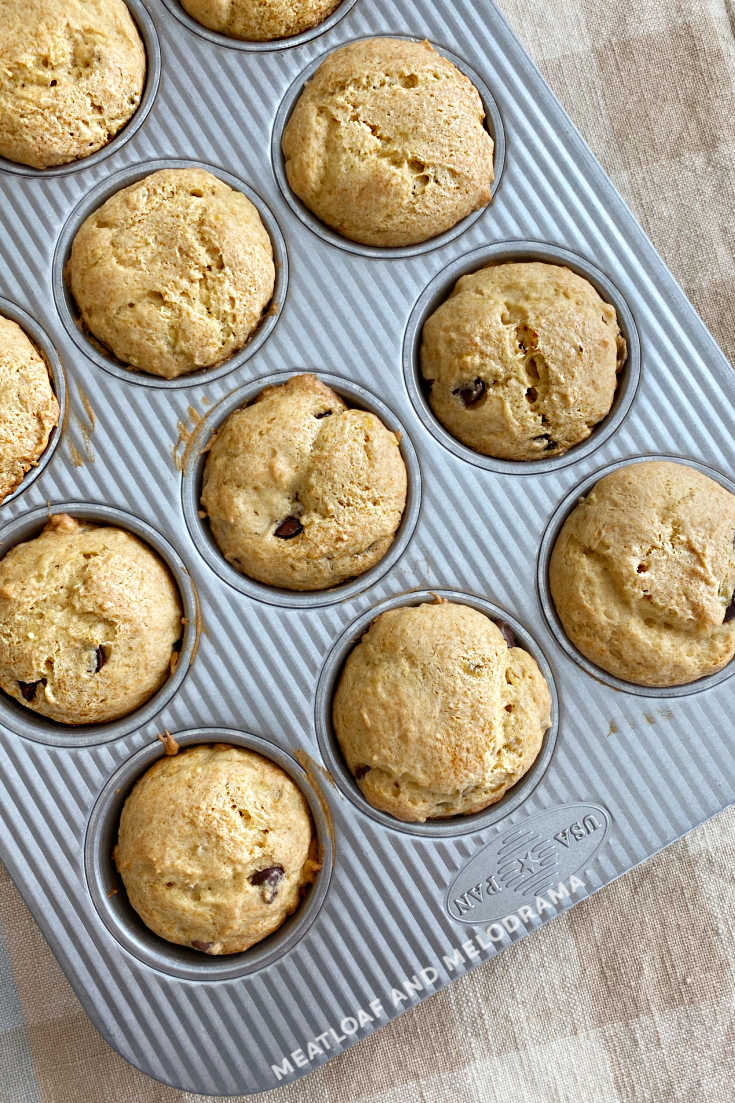 We added a little cinnamon and chocolate chips to some of these easy banana muffins since that's how we roll. The plain ones are just as good, though!
Let the muffins cool in the muffin pan a little until you can handle them. Then, remove the muffins from the pan to a wire rack to finish cooling.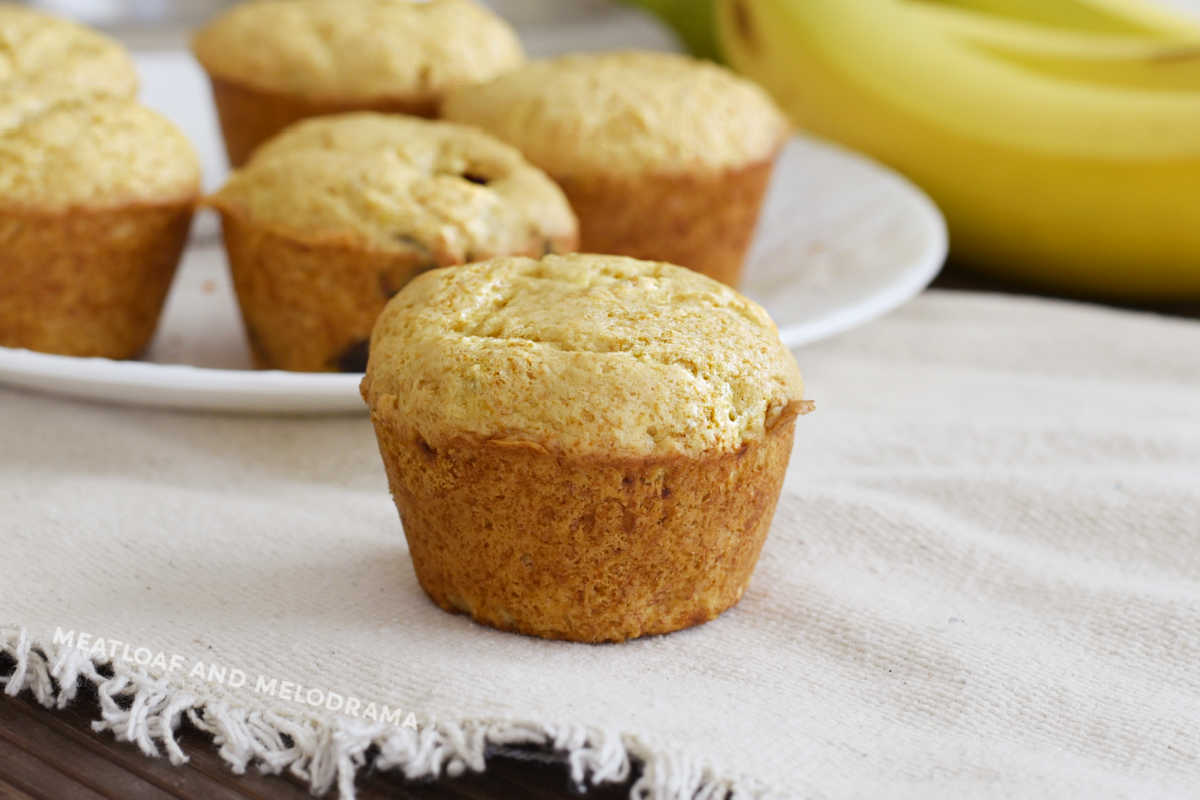 FAQ
Do banana muffins need to be refrigerated?
No, they don't. Store banana muffins in an airtight container at room temperature. They stay fresh for up to 4 days. Freeze for longer storage.
Can you use gluten free cake mix?
Yes. This cake mix banana muffin recipe works with gluten free cake mix.
Variations
Add 1 teaspoon of ground cinnamon to the muffin batter for extra flavor. Make banana nut muffins by adding chopped walnuts or pecans to the batter.
To make banana chocolate chip muffins, add 1 cup of chocolate chips to the batter before baking. You can even add a few chocolate morsels to the top of the muffins.
Sometimes we make half of the batter with chocolate chips and half without chips.
This easy recipe makes large muffins, but you can use a mini muffin tin for mini muffins.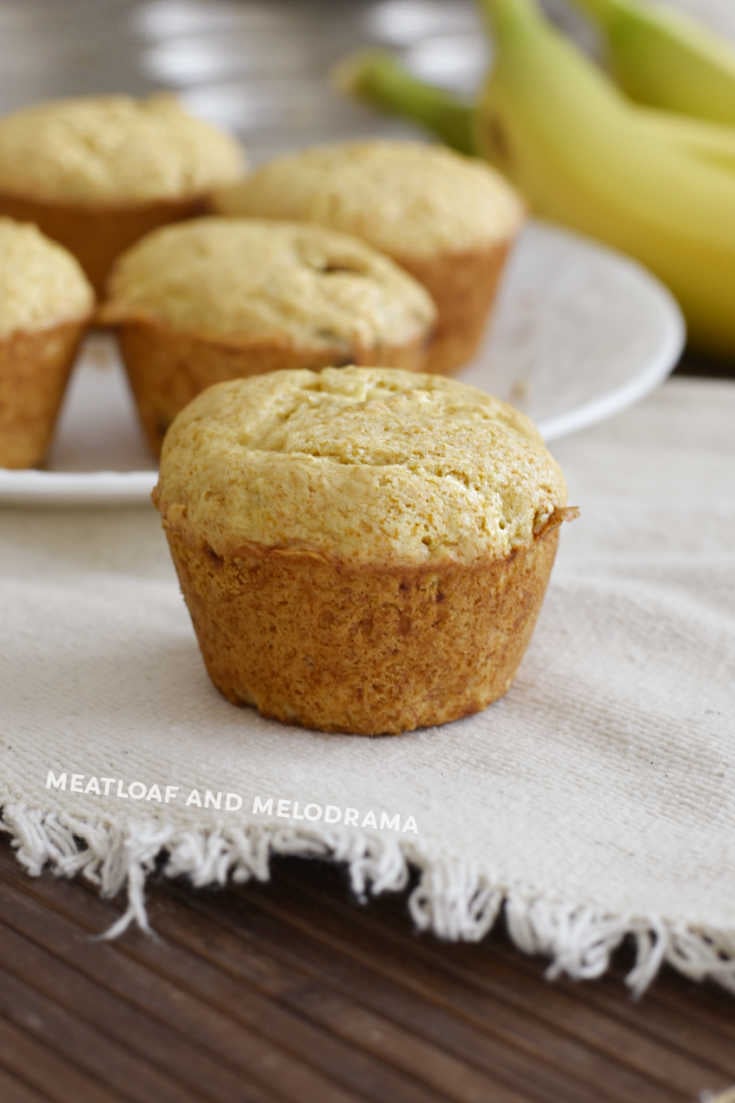 Recipe
Easy Two Ingredient Banana Muffins with Cake Mix
Easy Two Ingredient Banana Muffins with cake mix and ripe bananas take minutes to make and are perfect a quick breakfast or snack! The easiest banana muffin recipe ever!
Ingredients
15.25

oz

yellow cake mix

4

ripe bananas

mashed
Instructions
Preheat oven temperature to 350 degrees f, and mash bananas in a large mixing bowl until very soft

Add dry cake mix to bowl, and mix until well blended.

Grease a muffin tin, or use muffin liners, and scoop batter into muffin tin

Bake for 15 to 18 minutes, or until a toothpick in the middle of a muffin comes out clean. Allow to cool, then remove from muffin tin, and enjoy.
Notes
Do not follow recipe on cake mix box. You only need dry cake mix.
You can use yellow, vanilla or white cake mix or your favorite cake mix flavor.
Nutrition information is estimated. Please do your own calculation to fit special diets.
Nutrition
Calories:
168
kcal
Carbohydrates:
39
g
Protein:
2
g
Fat:
1
g
Saturated Fat:
1
g
Polyunsaturated Fat:
0.1
g
Monounsaturated Fat:
0.3
g
Trans Fat:
0.1
g
Sodium:
263
mg
Potassium:
158
mg
Fiber:
1
g
Sugar:
20
g
Vitamin A:
25
IU
Vitamin C:
3
mg
Calcium:
78
mg
Iron:
1
mg
My whole family loves these two ingredient banana muffins so much that we make them almost every week! I hope you enjoy this easy recipe as much as we do.
If you try this cake mix muffin hack and love it, please leave a star rating or comment! Sign up for the newsletter for more delicious recipes.
Love easy muffin recipes? You might also like Banana Cranberry Muffins or Chocolate Chip Banana Bread Muffins.
For more cake mix recipes, try cake mix banana bread and my easy pumpkin chocolate chip muffins.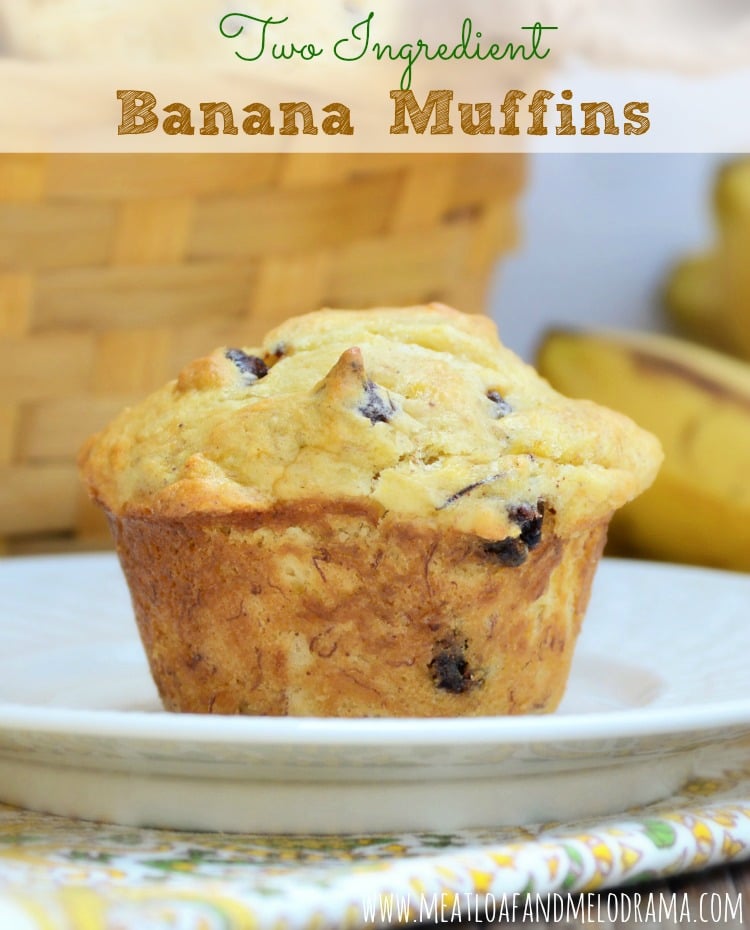 Post originally published in 2015 and updated in 2022.