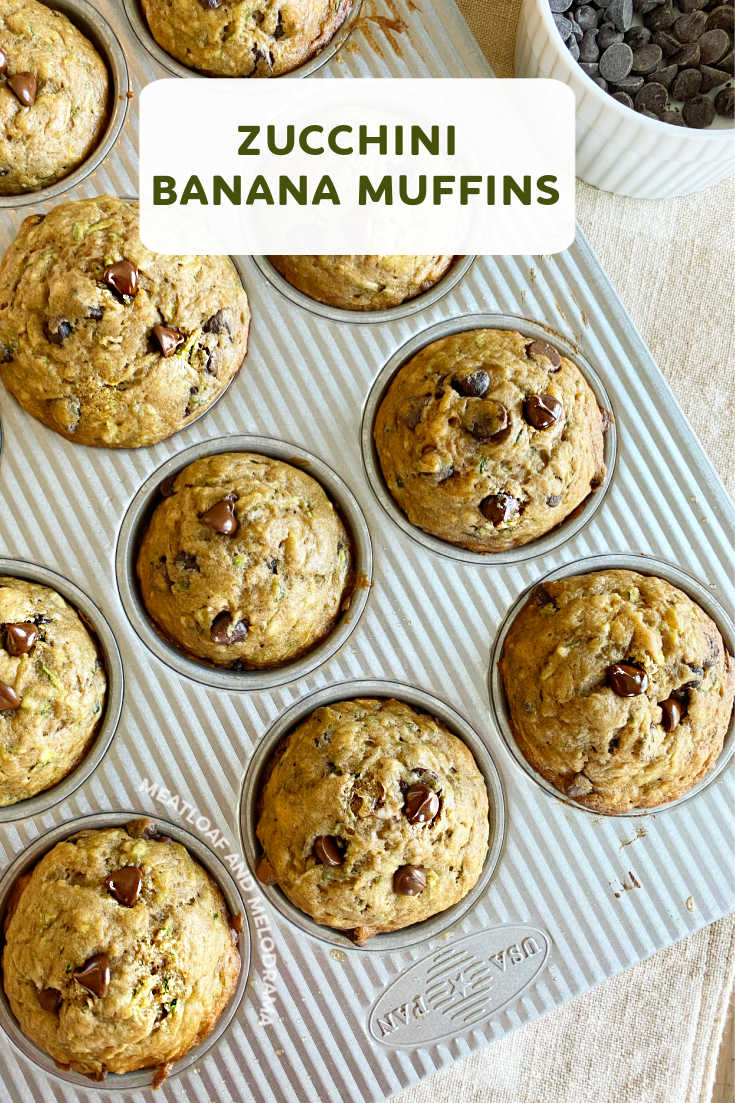 Zucchini Banana Muffins with Chocolate Chips is an easy recipe you make in just one bowl and a delicious way to use up zucchini.
If you're looking for an easy and delicious zucchini recipe, these banana zucchini muffins are for you. They're loaded with chocolate chips and made in just one bowl for easy clean-up! Perfect for a quick breakfast!
It's zucchini season, and although we don't have a garden, the Hubs stopped at the store the other day and brought an entire bag of the little green guys home. And yes, they were on sale!
Now, I really love grilled zucchini, but since we had so much to work with, I thought I would make something a little different. So, I baked up a batch of Zucchini Banana Muffins with Chocolate Chips, and let me tell you, they are some of the best muffins I've ever made!
How to Make Zucchini Muffins in One Bowl
So basically, I added some shredded zucchini to my go-to banana muffin recipe. And chocolate — lots of it. And extra cinnamon too.
First, you grate the zucchini and squeeze out extra liquid. You should have 1 1/2 to 2 cups of grated zucchini. Next, mash the banana, and set aside.
Add your dry ingredients to a large mixing bowl. Mix the ingredients together.
Then, add the zucchini, mashed banana and the other ingredients. You can beat the eggs in the same bowl and mix everything together.
Stir in the chocolate morsels last. I use about 1 1/2 cups, but you can use a little less or a little more if you want.
Then, lightly grease your muffin tin, and scoop the muffin batter into the muffin tin. Fill them almost to the top for nice, large muffins!
When the zucchini muffins were baking, the entire house was filled with the wonderful aroma of chocolate and cinnamon.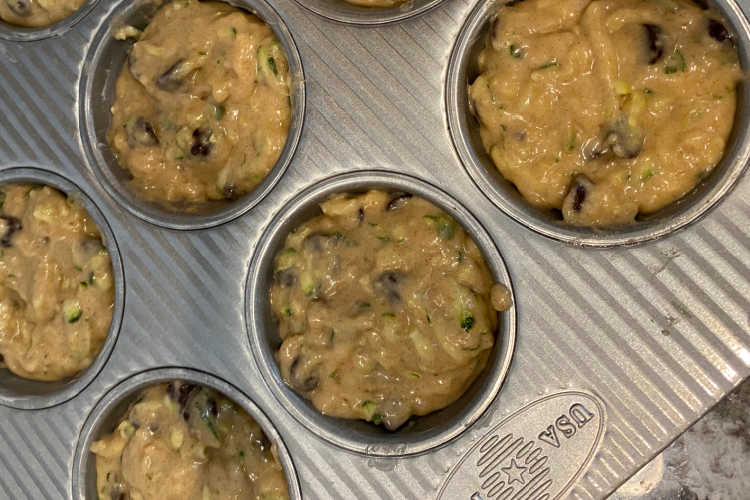 My teen Sleeping Beauty even came down for breakfast, which is something she normally avoids. I should also mention that she absolutely despises summer squash.
I even caught her trying to hide some grilled zucchini under her plate the other day when she thought I wasn't looking.
But our resident zucchini hater gave these muffins her stamp of approval. And so did the rest of the gang!
Zucchini Banana Muffins Recipe
Zucchini Banana Muffins with Chocolate Chips
Zucchini Banana Muffins with Chocolate Chips is an easy recipe you make in just one bowl and a delicious way to use up zucchini.
Ingredients
1 3/4

cup

all-purpose flour

2/3

cup

granulated sugar

1

teaspoon

baking soda

2

teaspoons

baking powder

1/4

teaspoon

sea salt

1

tablespoon

ground cinnamon

1/3

cup

melted butter

1

teaspoon

vanilla extract

2

ripe bananas

mashed

2

small zucchini

grated, about 2 cups

2

beaten eggs

2

tablespoons

milk

1 1/2

cups

semi-sweet chocolate chips
Instructions
Preheat oven to 350 degrees.

Mash the bananas and grate the zucchini, squeezing out extra liquid, and set aside.

In a medium bowl, add the flour, sugar, soda, baking powder, salt and cinnamon, and stir.

Add the butter, milk, eggs, extract, bananas and zucchini, and mix well.

Spoon batter into a lightly greased muffin pan. I filled all 12 cups to the brim, and this produced some nice monster muffins.

Add extra chips to the tops of the muffins, if you like, and bake for about 20 to 25 minutes, or until tops are firm and a toothpick comes out clean from the center of the muffins.
Notes
This recipe uses 1 1/2 to 2 cups of grated zucchini, which is usually 2 small to medium zucchini.
Squeeze out extra liquid from the zucchini and discard before adding to batter.
Nutrition
Calories:
322
kcal
Carbohydrates:
43
g
Protein:
4
g
Fat:
14
g
Saturated Fat:
8
g
Cholesterol:
42
mg
Sodium:
202
mg
Potassium:
383
mg
Fiber:
3
g
Sugar:
22
g
Vitamin A:
285
IU
Vitamin C:
7.6
mg
Calcium:
67
mg
Iron:
2.7
mg
Recipe was first published in 2015 and updated in 2020
More Easy Zucchini Recipes
If you like this recipe as much as we do, leave a comment or give me a shout-out on social media! Sign up to receive weekly recipes by email!