Homemade Chicken Noodle Soup from scratch is a quick and easy recipe made with Instant Pot chicken stock and a few other simple ingredients.
I've been making this quick chicken soup a lot lately, thanks to the kiddoes being overly generous with their germs! It's simple, easy, delicious, and best of all, this homemade chicken noodle soup is from scratch!
My mom, her mom and her mom's mom used to make homemade chicken soup that required boiling chicken bones on the stove for several hours. And, you had to skim the scum off every so often. My recipe for homemade chicken soup is so much faster -- and no scum skimming required!
I actually have several easy chicken soup recipes here on the blog, but those start out with store bought broth. Nothing wrong with that, but since I've had my Instant Pot, I try to make homemade chicken stock from a chicken carcass as often as possible. Then, I use the stock to make quick chicken soup.
This chicken soup is easy to make on the stove top, and there's something very comforting about inhaling the amazing flavor as it cooks. You can also make this an Instant Pot chicken soup if that's easier for you.
How do you make homemade chicken soup from scratch?
First, you need your aromatics -- celery, carrots and onions. You may know this classic combo as the Trinity or mirepoix. To make prep easier, I use baby carrots, and I try to keep frozen chopped onions in the freezer for when I need them. You can even keep a bag of these chopped aromatics in the freezer!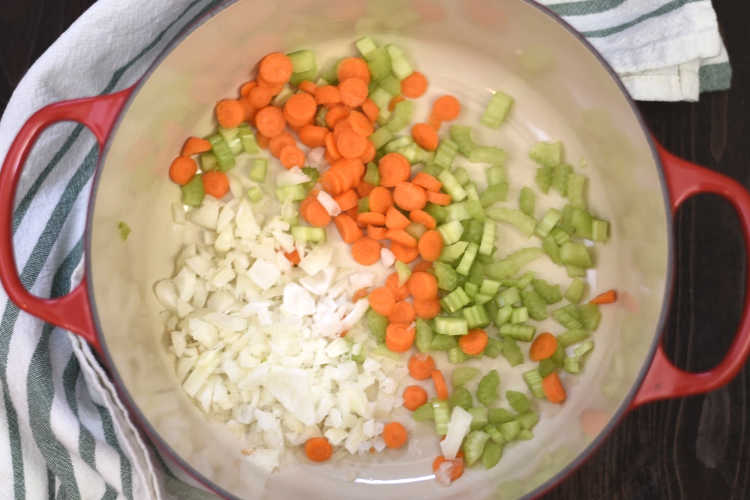 Cook the celery, carrots and onions in some butter or chicken fat (from the stock if you haven't skimmed it off) until they're slightly soft. Then add a little garlic, and cook until soft.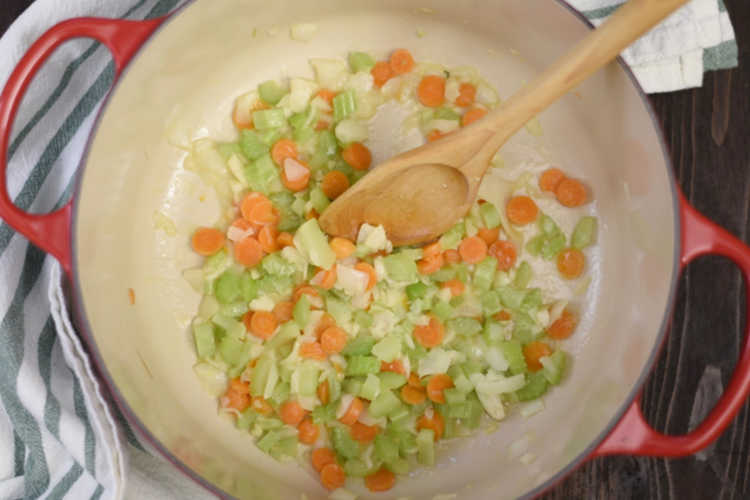 Next, pour in your homemade chicken stock. Stir it all together, add your seasonings, and bring it to a boil.
What do you add to chicken soup for flavor?
I usually throw in a few celery leaves, along with dried herbs, sea salt and pepper for extra flavor. If you're using my homemade stock recipe, keep in mind that it has additional flavor from lemon, garlic and onion.
What are the best herbs to use in chicken soup?
I love adding some Herbes de Provence to chicken soup because the flavor is bright and goes well with chicken. I also use this as a rub for the Instant Pot whole chicken, which is the base of the chicken stock and also the meat that you use in the soup. So it all ties together!
You can also use dill, thyme, parsley or even Italian seasoning blend. If you want to use fresh herbs, add those in at the end for maximum flavor.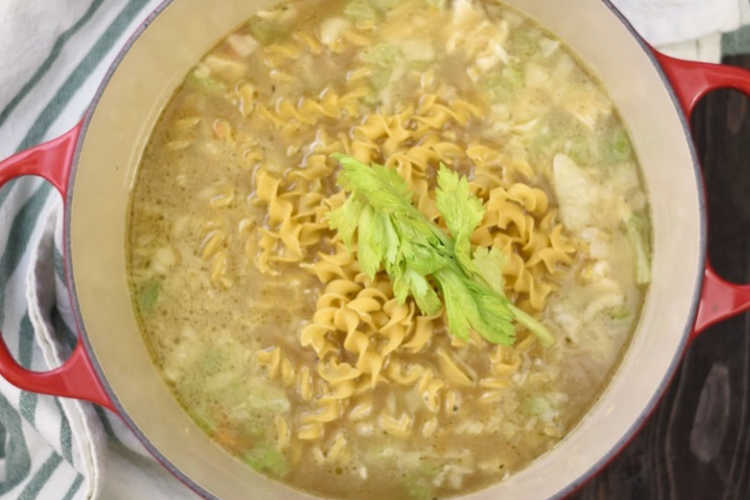 To make this an all-in-one-pot chicken noodle soup, you can add egg noodles when the soup boils. But, I would do this only if you plan on eating the soup up that day -- egg noodles suck up a ton of liquid! You can also serve cooked noodles on the side. If you do add in the egg noodles, you might have to add extra stock or water if you prefer a more liquidy soup.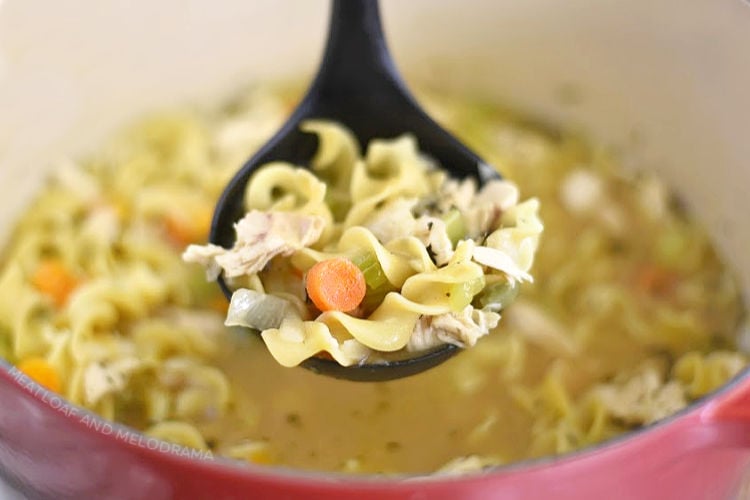 When the noodles are done or when the soup comes to a boil, turn heat down, and add your leftover cooked chicken or rotisserie chicken. Once it's heated through, you're ready to enjoy your healthy homemade chicken soup. Honestly, my family says this is the BEST chicken soup recipe ever!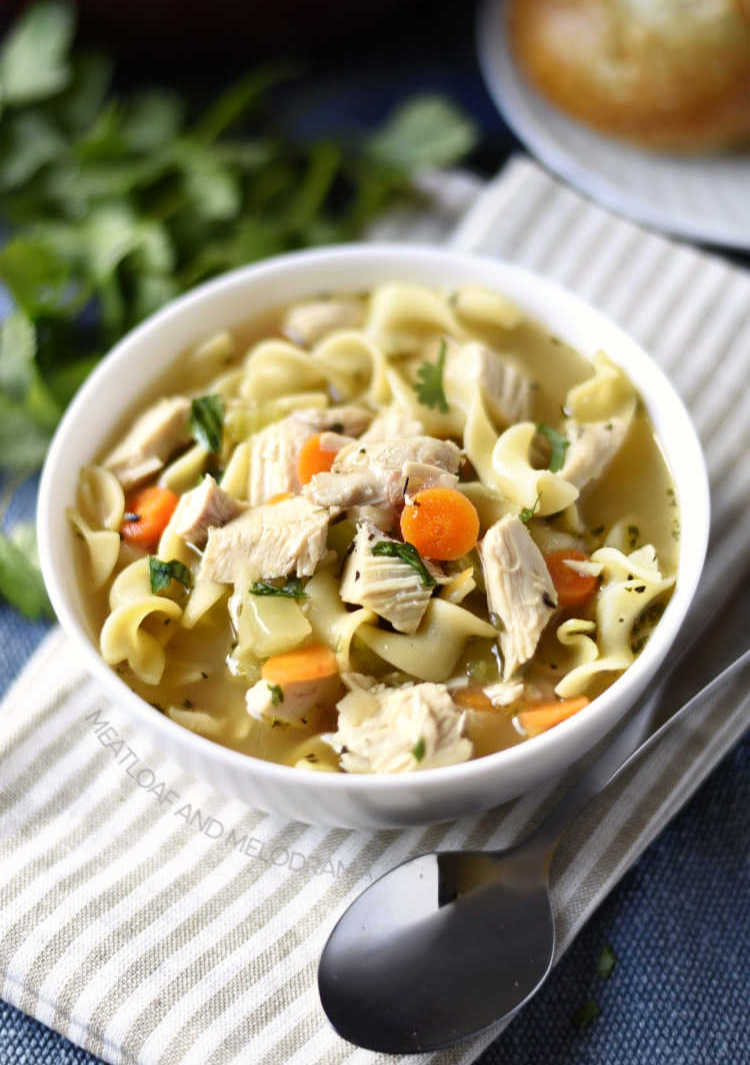 Homemade Chicken Noodle Soup Recipe
Recipe
Homemade Chicken Noodle Soup
Homemade Chicken Noodle Soup from scratch is a quick and easy recipe made with Instant Pot chicken stock and a few other simple ingredients.
Instructions
In a large Dutch oven or heavy bottomed pot, melt the butter, and add the carrots, celery and onion and a pinch of salt. Cook over medium heat until slightly soft

Add the garlic, and cook until soft

Add the chicken stock, remaining sea salt, Herbes de Provence and pepper, and bring to a boil

Add egg noodles, and cook until al dente. You may need to add more stock or broth if the noodles absorb too much.

Reduce heat, stir in cooked chicken, and simmer until heated through. Add additional salt and pepper, to taste.

Serve immediately, and top with fresh parsley, if desired
Notes
You can use any homemade chicken stock for this recipe or low sodium chicken broth from the store.
If soup seems too thick, add some broth or water to thin it out.
Can substitute any pasta for the egg noodles or cook noodles separately and add when serving. 
Nutrition information is estimated. Please do your own calculation to fit special diets.
Nutrition
Serving:
1
cup
Calories:
233
kcal
Carbohydrates:
28
g
Protein:
11
g
Fat:
8
g
Saturated Fat:
3
g
Cholesterol:
47
mg
Sodium:
710
mg
Potassium:
402
mg
Fiber:
2
g
Sugar:
3
g
Vitamin A:
2055
IU
Vitamin C:
5.1
mg
Calcium:
47
mg
Iron:
1.4
mg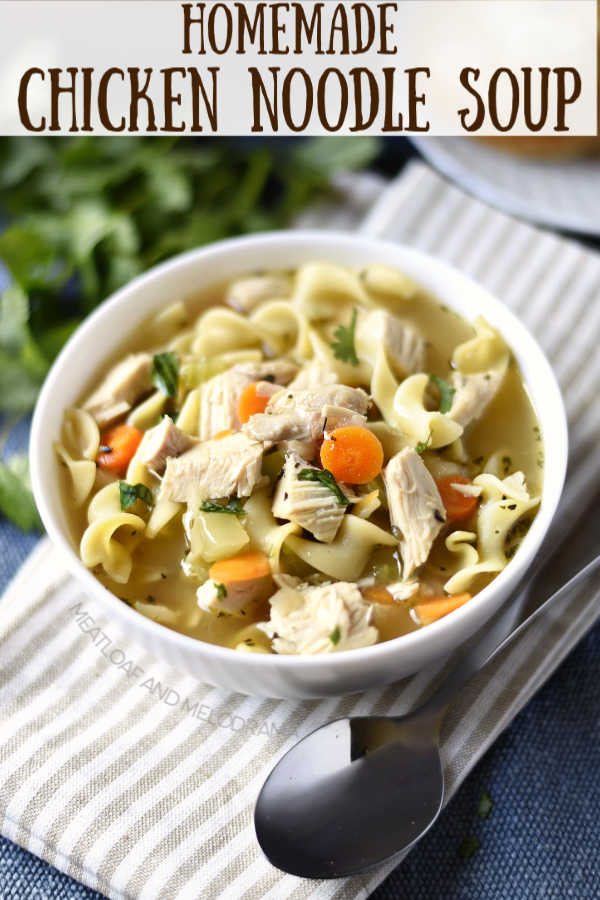 I hope you like this quick homemade chicken noodle soup recipe as much as we do!