Homemade chocolate candy hearts made with candy melts and melted chocolate are perfect homemade treats for Valentine's Day. Share these little hearts with your sweetheart or add them to Valentine's Day treat bags!
I can't say enough about chocolate. Really, I just love the stuff to pieces. It's and my favorite part of Valentine's Day.
I mean, the love, the hearts and flowers are wonderful, but if you really want to show someone you care, give them some chocolate.
And, if you give someone homemade chocolate treats, like homemade chocolate truffles, Oreo balls, Easter eggs or fudge, you must really and truly love them!
The kids and I have been wanting to make homemade chocolate candy hearts for a long time, and we finally got around to it last weekend. This is one of the easiest Valentine's Day recipes you can make!
Our Valentine's Day snack mix is easy too!
Ingredients
You only need a few simple ingredients for these easy homemade chocolate hearts. You can find them in grocery stores, your local craft store, or online:
Candy melts--colors of your choosing
Chocolate chips of your choosing-- semi sweet, white chocolate, dark chocolate
Candy sprinkles
Coconut oil -- optional, but makes semi sweet chocolate smoother when melting
The stores are already putting Valentine's Day decorations and baking stuff on sale, so I got a great deal on a silicone heart mold.
It's like an ice cube tray, but it has hearts instead of cubes. I also bought some candy melts and semi-sweet chocolate chips.
How to Make Homemade Chocolate Candy Hearts
Making the candy hearts is super simple. First, put the chocolate and candy melts into separate bowls.
Then, melt the chocolate in the microwave, in 30 second intervals, or according to directions on the packages. I love these colors -- almost looks like Neopolitan ice cream!
If you don't want to use the microwave, you can melt the chocolate in a double boiler on your stove.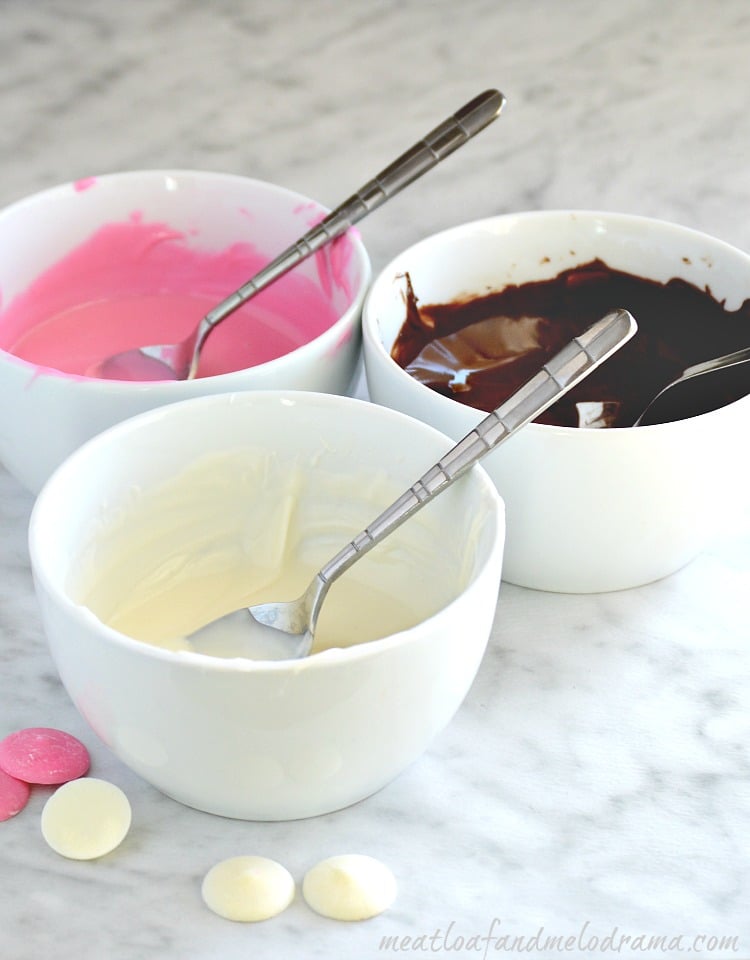 We tried two different ways of making the chocolate hearts. The first time, we poured the melted chocolate into the heart molds, and then we added sprinkles. You can use a spoon or measuring cup to pour the chocolate.
For more precision, use a piping bag. Or, make your own with a plastic baggie by snipping the lower corner of the baggie to make a small tip.
We also drizzled some stripes across a few of the hearts.
My little Diva just loved the pink and dark chocolate heart -- very diva like!
For the next batch, we poured the Valentine sprinkles in the heart mold first, so that they lined the bottom of the molds.
And then, we poured the melted chocolate and melted candy coating on top of the sprinkles.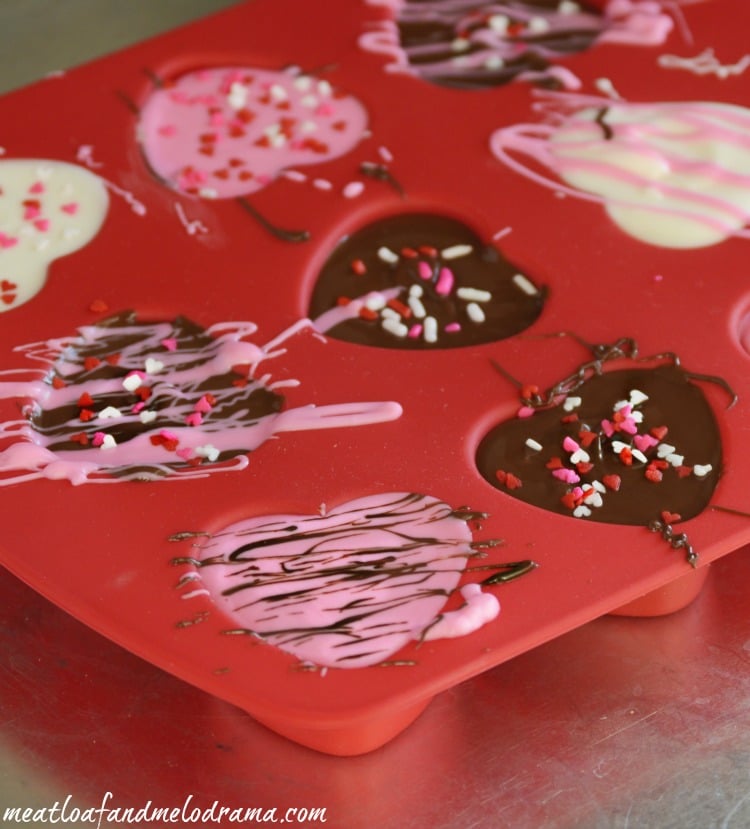 This way is a little faster if you just want sprinkles on the hearts.
But if you want to drizzle chocolate over the hearts, you would have to do that after taking the candy out of the mold.
You can use a fork, or piping bag/piping plastic baggie to drizzle the chocolate stripes.
If you want your melted chocolate to be thinner, melt chocolate morsels with a tiny bit of coconut oil and mix until desired consistency.
Either way is fine, and they all came out looking adorable!
Setting Time
Pop the molds into the refrigerator for about an hour to allow the hearts to set. Or, you can speed this process up by placing the candy hearts into the freezer.
Oh, for the second batch, we also didn't fill the hearts up as high with the chocolate, so some hearts are not as thick as others.
We also have super small heart molds, so we take any excess chocolate or melted candy coating and put it in those.
They make really small hearts, so it's fine if you just use solid candy melt or chocolate--it won't be overwhelming. I especially love little dark chocolate hearts!
Variations
There are so many ways to customize these adorable little hearts! Since there's no specific design you have to follow, feel free to use whatever chocolate, sprinkles, and colors your heart desires!
I usually use both white chocolate chips and semi sweet chocolate chips, because the colors go great with the pink candy melts. But you can also use milk chocolate chips, dark chocolate chips, or even butterscotch chips.
Vary the size of the candy hearts with different silicone chocolate molds. You can vary the thickness of the hearts by filling the molds differently as well. For super thick candy hearts, fill the mold all the way up. For thinner candy hearts, only fill the mold about half, or less.
One great thing about Valentine's Day is that there are so many cute candies in the stores! I love to mix up what sprinkles and candies I put in the chocolate hearts, from themed pink and white sprinkles, to mini marshmallow bits and Valentine's m&m's.
I think next time we do this, I may add in some flavored extracts or maybe even some cayenne pepper, just for something different.
How to Store
Store your chocolate candy hearts in an airtight container in the refrigerator. It might help to line the container with parchment paper, just in case things get melty.
Before serving the hearts, leave them out at room temperature for a bit, just so that they're not too hard to bite into!
Don't worry though, they don't melt super quickly, so they'll be able to sit out for awhile! They're the perfect gift to put in Valentine's Day treat bags!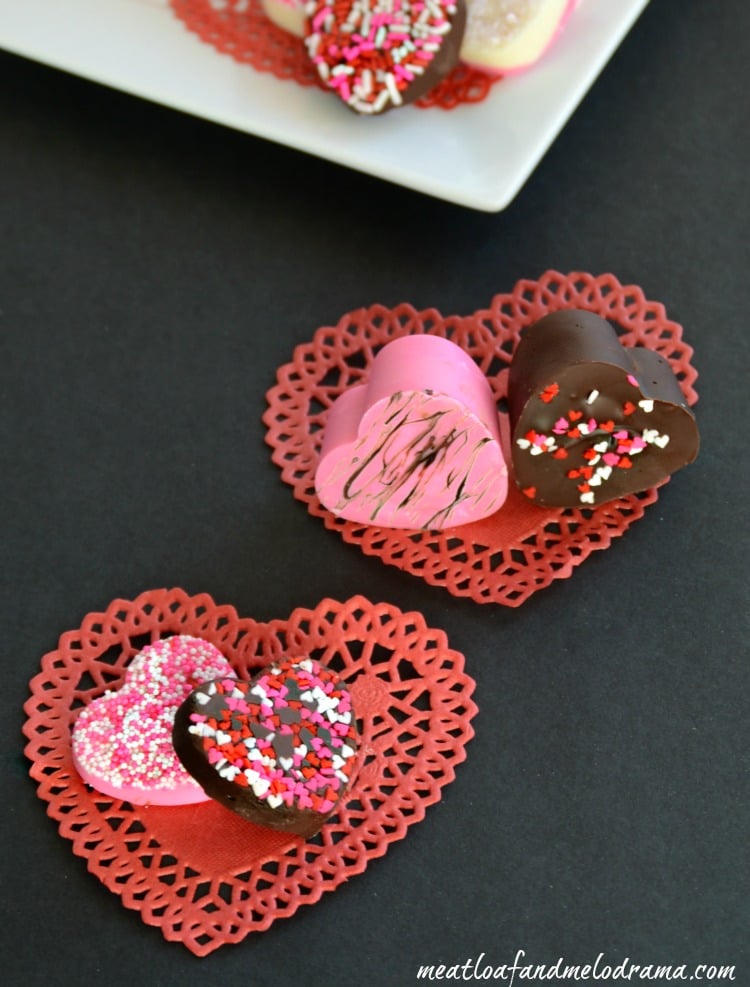 Recipe first published in 2016 and updated in 2022.
Recipe
Homemade Chocolate Candy Hearts
Homemade chocolate candy hearts made with candy melts and melted chocolate are perfect homemade treats for Valentine's Day. Share these little hearts with your sweetheart or add them to Valentine's Day treat bags!
Ingredients
2

cups

Pink and white candy melts

1

cup

Semi sweet chocolate chips

Candy sprinkles

1

teaspoon

coconut oil

optional
Instructions
Melt the chocolate and the candy melts in separate bowls according to package directions

Pour the chocolate and candy melts into the candy mold, add sprinkles or more chocolate, and refrigerate until firm

Or, add sprinkles to the bottom of the heart molds, and then add the chocolate

Refrigerate for 1 hour or until firm, then carefully remove the candies from the molds
Notes
You can use the double boiler or microwave to melt chocolate. For best results, follow manufacturers directions on package.
Add 1 teaspoon of coconut oil to the semi sweet chocolate for a smoother consistency, if desired.
Nutritional values are approximate.
Store covered, in a cool place.
Nutrition information is estimated. Please do your own calculation to fit special diets.
Nutrition
Calories:
85
kcal
Carbohydrates:
9
g
Protein:
1
g
Fat:
5
g
Saturated Fat:
4
g
Polyunsaturated Fat:
1
g
Monounsaturated Fat:
1
g
Trans Fat:
1
g
Cholesterol:
1
mg
Sodium:
9
mg
Potassium:
43
mg
Fiber:
1
g
Sugar:
8
g
Vitamin A:
4
IU
Calcium:
5
mg
Iron:
1
mg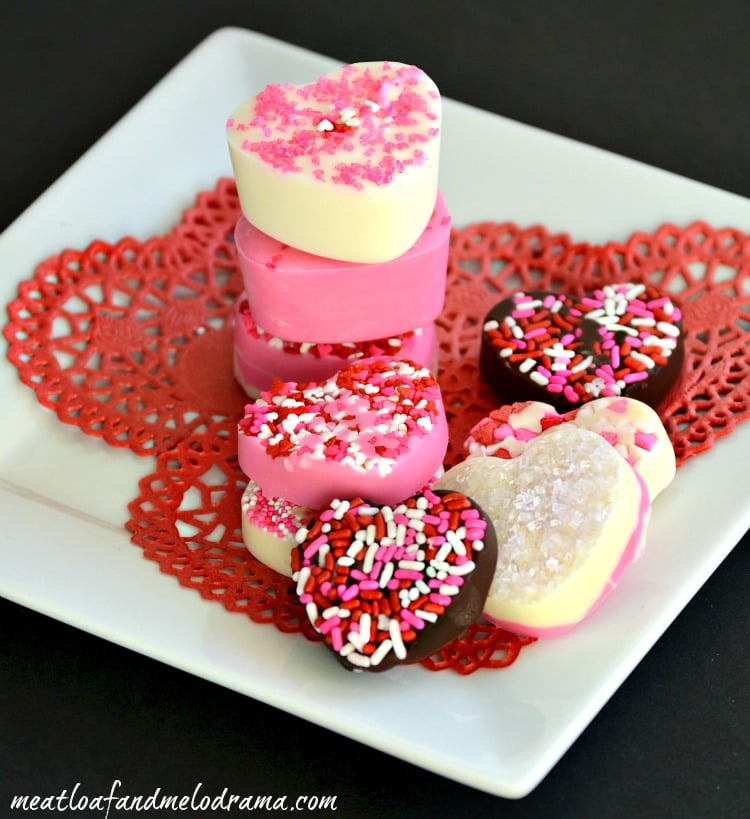 The kids already are planning to make more of these homemade chocolate candy hearts to give out as gifts, and I think their friends will be pretty happy!
For more simple recipe ideas, homemade candy recipes, and great recipes you can whip together in little time, be sure to subscribe to the newsletter. And, don't forget to follow me on social media!