Homemade chocolate candy hearts are perfect to give your sweetheart on Valentine's Day.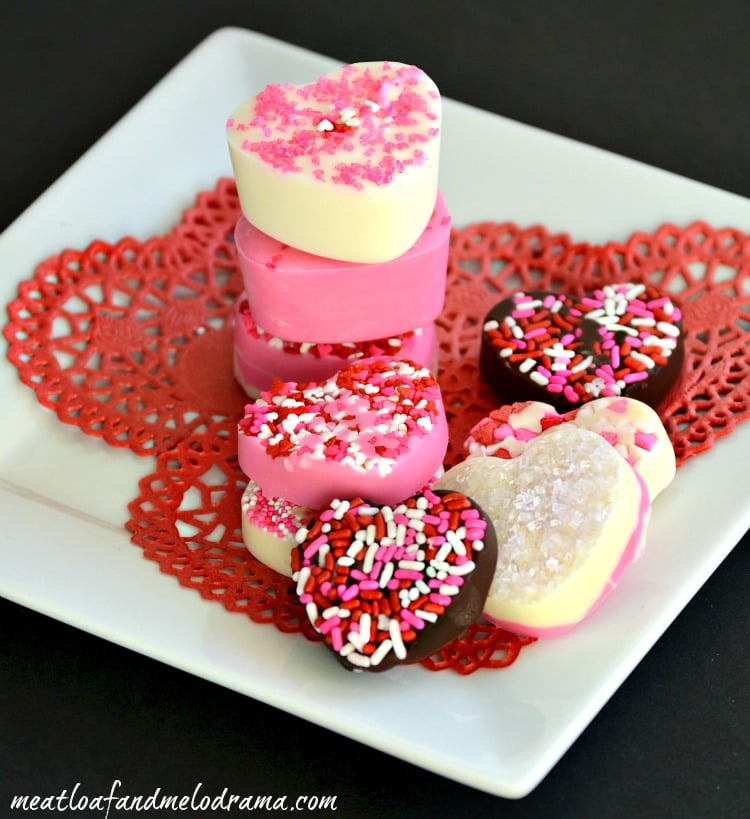 I can't say enough about chocolate. Really, I just love the stuff to pieces, and it's my favorite part of Valentine's Day. I mean, the love, the hearts and flowers are wonderful, but if you really want to show someone you care, give them some chocolate.
And, if you give someone homemade chocolate treats, you must really and truly love them!
The kids and I have been wanting to make homemade chocolate candy hearts for a long time, and we finally got around to it last weekend.
The stores are already putting Valentine's Day decorations and baking stuff on sale, so I got a great deal on a silicone heart mold. It's like an ice cube tray, but it has hearts instead of cubes. I also bought some candy melts and semi sweet chocolate chips.
Making the candy hearts is super simple. We started out by melting the chocolate in the microwave, in separate bowls. I love these colors -- almost looks like Neopolitan ice cream!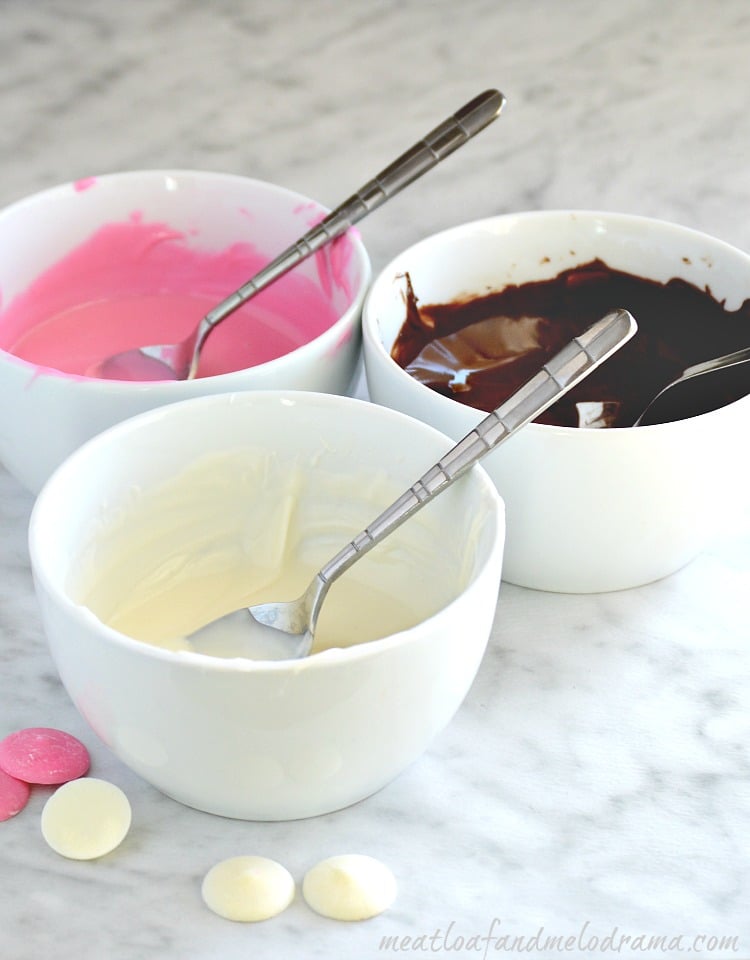 We tried two different ways of making the chocolate hearts. First, we poured the melted chocolate into the molds, and then we added sprinkles. We also drizzled some stripes across a few of the hearts.
My little Diva just loved the pink and dark brown heart -- very diva like!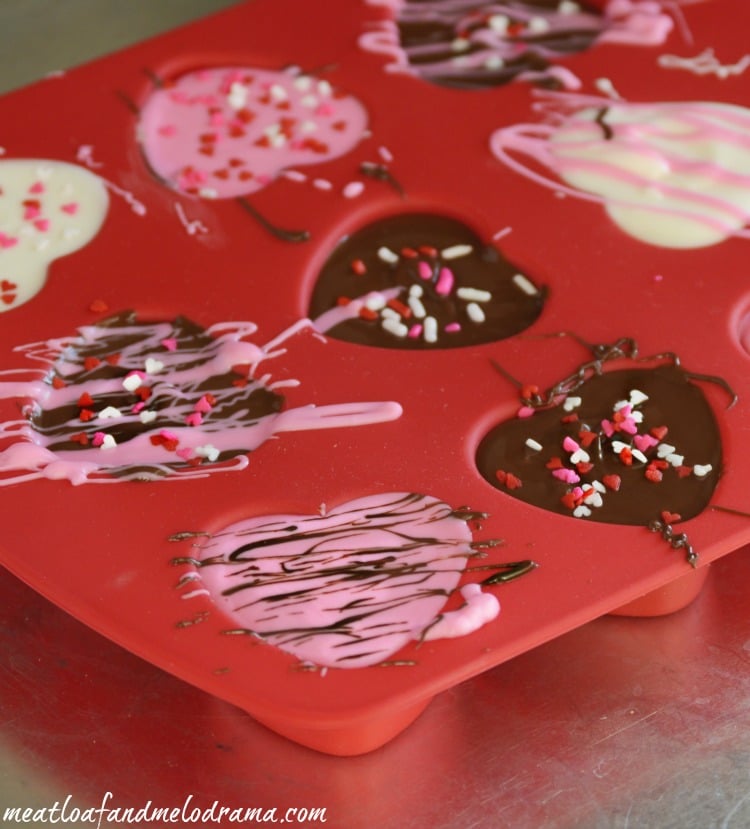 For the next batch, we poured the Valentine sprinkles in the heart mold first, and then we poured the chocolate on top of the sprinkles. This way is a little faster if you just want sprinkles on the hearts, but if you want to drizzle chocolate over the hearts, you would have to do that after taking the candy out of the mold.
Either way is fine, and they all came out looking adorable! Oh, for the second batch, we also didn't fill the hearts up as high with the chocolate, so some hearts are not as thick as others.
How to Make Homemade Chocolate Candy Hearts
Homemade Chocolate Candy Hearts
Heart-shaped candy made from melted chocolate and decorated with sprinkles
Ingredients
Pink and white candy melts

Semi sweet chocolate chips

Candy sprinkles
Instructions
Melt the chocolate and the candy melts according to package directions

Pour the chocolate into the candy mold, add sprinkles or more chocolate, and refrigerate until firm

Or, add sprinkles to the bottom of the heart molds, and then add the chocolate
Nutrition
I think next time we do this, I may add in some flavored extracts or maybe even some cayenne pepper, just for something different. I would be the only one to actually eat the spicy ones, though! But really, the hearts tasted pretty good just like this.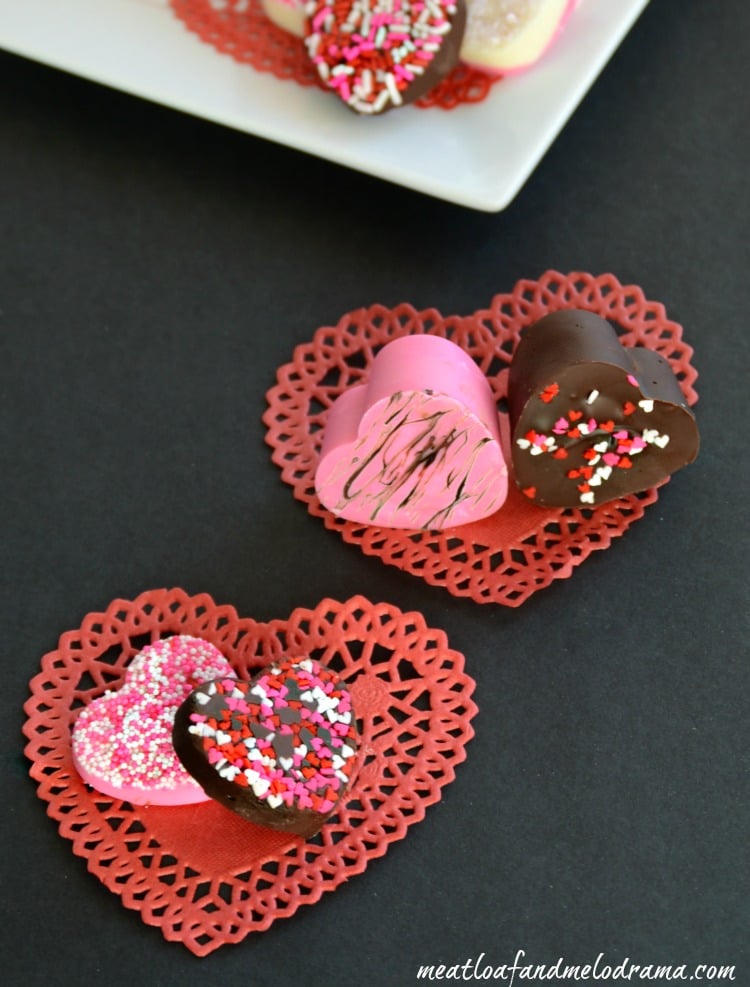 The kids already are planning to make more of these homemade chocolate candy hearts to give out as gifts, and I think their friends will be pretty happy!
Have you ever made homemade candy before?
Happy Snacking!

Sharing At
Weekend Potluck, TT&J, Inspiration Monday, Met Monday, The Scoop, Share It One More Time