Make Homemade Chocolate Covered Peanut Butter Eggs for an easy Easter dessert or treat! These 4 ingredient Easter eggs are better than store bought ones!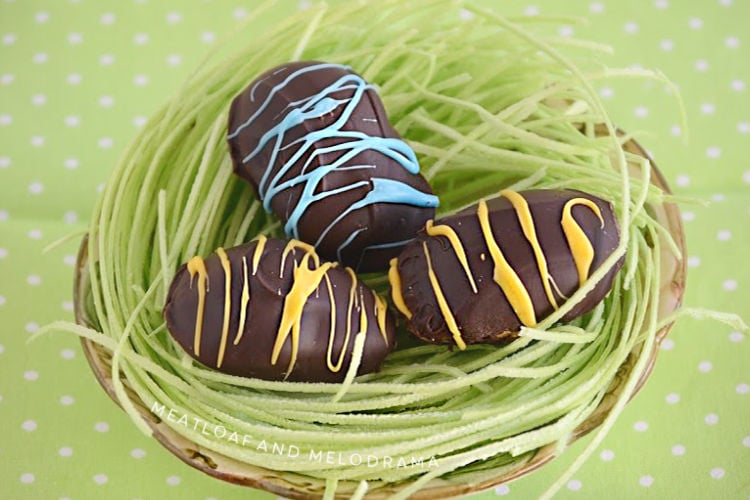 If you like Reese's eggs, you're going to love these homemade chocolate covered peanut butter eggs! These 4 ingredient peanut butter eggs are super easy and make a delicious addition to your Easter dessert table.
I'm not a huge fan of peanut butter, but cover it in chocolate, and that's a whole 'nother story! When I was younger, I absolutely loved finding chocolate peanut butter eggs in my Easter basket. They were one of my favorite types of Easter candy.
I would even sneak one (or more) for breakfast before we even left for church! At least they have some protein, you know?
My oldest baby is absolutely crazy about the chocolate and peanut butter combo. The other kids enjoy it too, but the oldest just loves it.
Really loves it. In fact, she usually gets the Reese's cups for birthdays, Christmas and Valentine's Day instead of any other type of chocolate, and they disappear pretty fast.
She's been home on spring break this week, and she suggested that we try making our own homemade chocolate covered peanut butter eggs. Of course, I was up for the challenge, and it really was a lot of fun — tasty too!
We actually attempted to make a low-fat version, using peanut butter powder, and while they tasted okay, they just weren't what we were looking for. Gotta stick to tradition when it comes to making Easter treats!
How to Make Chocolate Peanut Butter Eggs
First, you make the easy peanut butter filling. We ended up making a filling that's almost the same as the one we use for no bake chocolate peanut butter bars. It has graham cracker crumbs in it, so it's got the same kind of texture as Reese's eggs.
These would be 3 ingredient peanut butter eggs without the graham crackers, but I love the texture that you get with them added. It also helps the eggs hold their shape.
Easy Peanut Butter Egg Molds
After you make the filling, use a plastic deviled egg tray to form the egg shapes. Super easy and cheap! You can get these plastic deviled egg trays at the Dollar store or probably any store close to Easter.
How to Shape Peanut Butter Eggs
We didn't fill the egg-shaped openings completely with the peanut butter mixture. We used about a tablespoon of the mixture for each egg and pressed it into the egg cavity.
Then I put the tray into the freezer for just a few minutes so that the filling would be firm enough to dip into melted chocolate. You can also refrigerate the filling if you prefer.
Best Way to Coat Peanut Butter Eggs
We used semi sweet chocolate morsels for the chocolate coating. I like thick chocolate, but you can add a tablespoon of shortening or coconut oil to thin it out if you want. Or, you can use chocolate candy coating.
The best way to coat peanut butter eggs is to dip the peanut butter filling into the melted chocolate with a fork. After we dipped the peanut butter eggs into the chocolate, we placed them on a wax paper-lined plate to dry.
The eggs were way too plain. Don't you agree? So, we melted some candy coating and added colorful candy stripes to the eggs.
Much better!
Can you Freeze Peanut butter Eggs?
Yes, you can freeze the peanut butter eggs. If you freeze the filling before dipping in chocolate, make sure you let it thaw first! To make the eggs ahead of time, wrap them in wax paper, and keep tightly covered in a freezer-safe container.
The filling is just sweet enough and has just the right amount of texture from the graham crackers. And the chocolate? Yum! If you don't care for semi sweet chocolate, you can always use milk chocolate, instead.
More Easy Easter Treats
Homemade Chocolate Covered Peanut Butter Eggs Recipe
Homemade Chocolate Covered Peanut Butter Eggs
Make Homemade Chocolate Covered Peanut Butter Eggs for an easy Easter dessert or treat! These 4 ingredient peanut butter eggs are better than store bought ones!
Ingredients
For the peanut butter filling
for the chocolate coating
2

cups

semi sweet chocolate morsels

1

cup

each blue and yellow candy melts

optional
Instructions
Mix the peanut butter and powdered sugar until combined

Stir in the crushed graham crackers

Place a tablespoon of peanut butter mixture into an egg-shaped mold, and continue until all cavities are filled

Refrigerate or freeze until firm

Melt the chocolate and candy melts according to package directions

Dip the peanut butter centers into the chocolate until fully coated, and place on wax paper to dry (you can pop these into the refrigerator if you want)

Use a fork to make stripes over the eggs with the candy coating, if desired
Notes
For a thinner coating, add 1 tablespoon of coconut oil or shortening to the melted chocolate.
You can also use melted candy coating instead of chocolate.
Nutrition
Calories:
212
kcal
Carbohydrates:
19
g
Protein:
4
g
Fat:
13
g
Saturated Fat:
5
g
Cholesterol:
1
mg
Sodium:
75
mg
Potassium:
189
mg
Fiber:
2
g
Sugar:
14
g
Vitamin A:
10
IU
Calcium:
18
mg
Iron:
1.5
mg
Loved this recipe?
Leave a comment or share on social media
Now that we've got the technique mastered, we'll be making some more of these homemade chocolate covered peanut butter eggs for Easter. This batch of candy eggs definitely won't last that long!
Happy Snacking!

First published in 2016 and updated in April 2019
Shared At