Valentine's Day Snack Mix is a sweet and salty blend of popcorn, pretzels, candy and white chocolate. It's an easy party treat for kids of all ages!
Looking for a quick and easy treat for Valentine's Day? You can't go wrong with this salty and sweet snack mix!
It's made with popcorn, pretzels, M and M's and cinnamon red hots all tied together with white chocolate and pink candy coating. Once you start munching, it's hard to stop!
We make Bunny Bait Snack Mix for Easter, Patriotic Pretzel Popcorn for the 4th of July, a Monster Munch Halloween Snack Mix and Christmas Crunch Snack Mix . So, of course I had to make one for Valentine's Day!
Serve this snack along with Instant Pot Chocolate Cheesecake, Homemade Candy Hearts and Double Chocolate Chip Cookies, and you've got plenty of sweet treats to enjoy. Yum!
How to Make an Easy Valentine's Snack for Kids
You only need a few things to make this sweet and salty treat:
Popcorn
Pretzels
White chocolate
Valentine's Day candy
Pink candy melts
To make this treat even easier, I usually buy a bag of popcorn, like Boom Chicka Pop. We usually use most of the bag -- whatever fits on a large baking sheet.
Spread the popcorn and pretzels on the baking sheet. Then, melt the white chocolate, pour it over the popcorn and pretzels, and mix until well coated.
Mix in your M & M's, and let it dry a little. The white chocolate firms up as it drys.
Next, melt the candy coating, and drizzle it evenly over the popcorn. A fork works very well for this.
Sprinkle red hots and small candy sprinkles or jimmies over the candy coating. Then, let it sit until the chocolate firms up.
If you want to speed this part up, pop the snack mix into the fridge for about 30 minutes. We've even used the freezer, and it sets up super fast!
When it's firm, gently break the popcorn up into smaller pieces. Put it in a serving bowl, and you're ready to snack!
The only problem with this popcorn is it's addicting. Seriously, once you start, it's hard to quit munching!
How to Store Popcorn Snack Mix
You can store the pretzel popcorn in a covered container. If it's warm in your house, keep it in the fridge.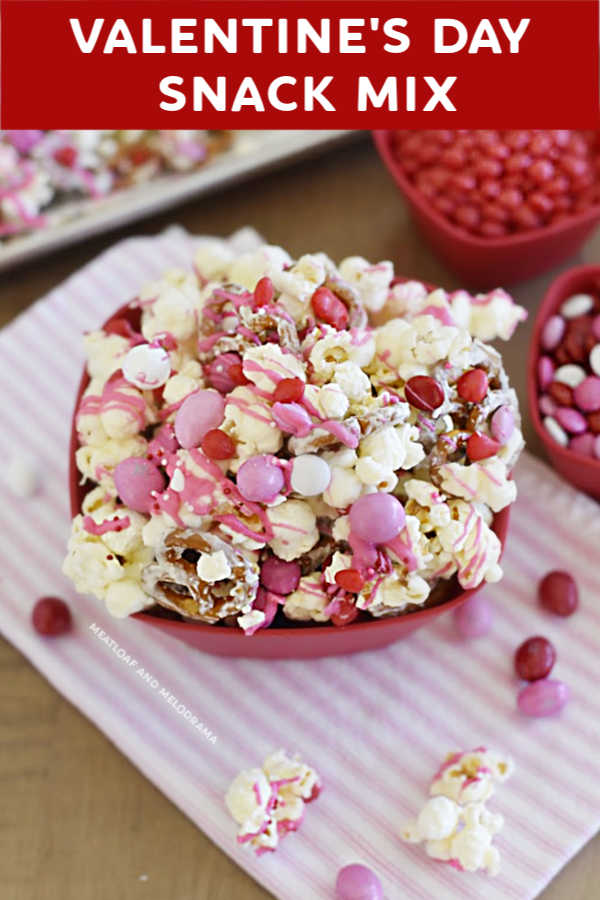 Valentine's Day Snack Recipe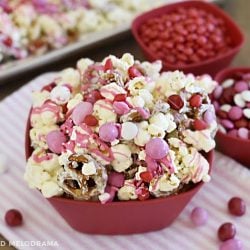 Valentine's Day Snack Mix
Valentine's Day Snack Mix is a sweet and salty blend of popcorn, pretzels, candy and white chocolate. It's an easy party treat for kids of all ages!
Ingredients
8

cups

popcorn

3

cup

pretzels

2

cups

white chocolate

1

cup

m & m candy

1

cup

pink candy melts

Valentine's sprinkles or jimmies

red hots

optional
Instructions
Line a baking sheet with parchment paper or wax paper, and spread popcorn and pretzels evenly on baking sheet

Melt white chocolate according to package directions, and use spoon to drizzle evenly over cereal and popcorn

Stir so that mix is evenly coated, and spread out on baking sheet

Drop M & M candy evenly over mixture

Melt candy coating according to package directions. Use a fork to drizzle it evenly over popcorn mix. Sprinkle cinnamon red hots, if using, and candy sprinkles over popcorn

Stir, and allow to chocolate to set and mixture to firm up -- about 30 minutes -- before serving. Store covered in cool place.
Notes
Use a mix of different M & M flavors or use your choice of Valentine's Day candy here.
Nutrition information is estimated. Please do your own calculation to fit special diets.
Nutrition
Calories:
211
kcal
Carbohydrates:
31
g
Protein:
3
g
Fat:
9
g
Saturated Fat:
5
g
Cholesterol:
4
mg
Sodium:
176
mg
Potassium:
69
mg
Fiber:
1
g
Sugar:
18
g
Vitamin A:
36
IU
Vitamin C:
1
mg
Calcium:
40
mg
Iron:
1
mg