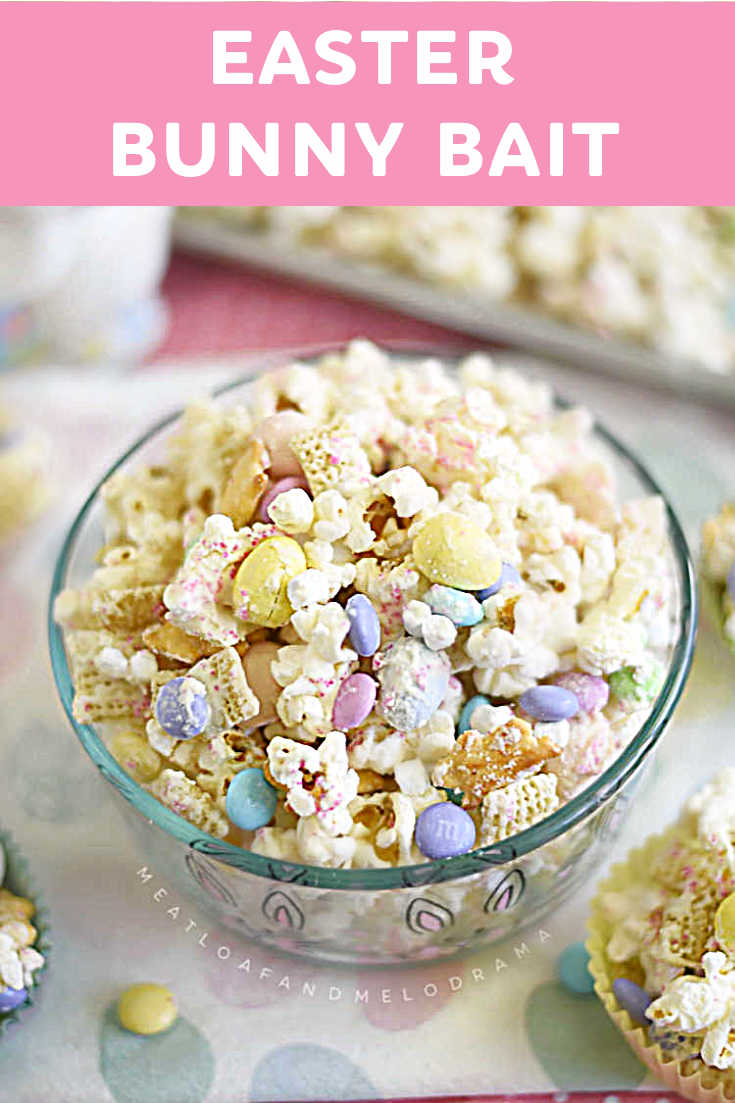 Bunny Bait Snack Mix is an easy Easter treat made with popcorn, Chex, marshmallows and candy in a white chocolate drizzle. Salty and sweet!
If you're looking for easy Easter snacks, you're going to love this bunny bait recipe! It's super easy to make, and it's definitely kid friendly. But hey, bunny bait isn't just for kids -- I can vouch for that!
It's never too early to be thinking about Easter recipes. Whether you're serving Easter brunch or dinner, you need something to munch on while you're waiting for the food to be served. Nothing against veggie trays and dips, but it's a holiday, and you want fun food, too!
What is Bunny Bait Popcorn?
Bunny bait is a salty and sweet snack mix made with popcorn, Rice Chex cereal, chocolate candies and mini marshmallows with a drizzle of white chocolate to hold it all together. Some people call it Bunny Chow, but these are all pretty much the same.
How to Make Bunny Bait Snack Mix for Easter
To make this snack mix recipe super easy, I started out with a bag of plain popcorn -- Boom Chicka Pop. You can pop your own or use any brand. Just layer some Chex cereal and popcorn on a baking sheet, and drizzle melted white chocolate all over it.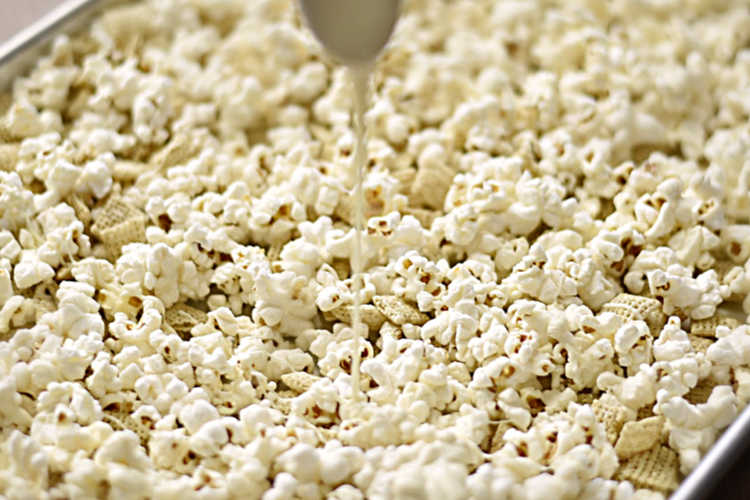 Next, toss in some mini marshmallow bits. You can find these with regular marshmallows, or you can use mini marshmallows. For an extra pop of color, I added some pink sugar sprinkles.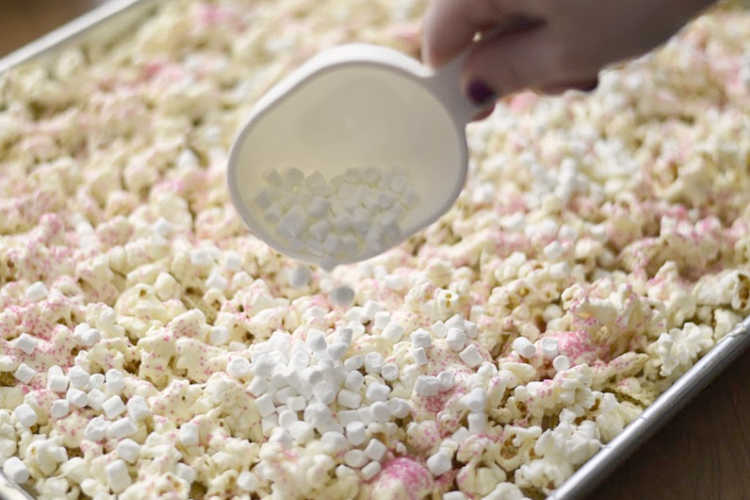 Then, add pastel Easter eggs and M & M candies. Toss it all together, and let it hang out and dry for about 30 minutes. Of course, you have to taste it!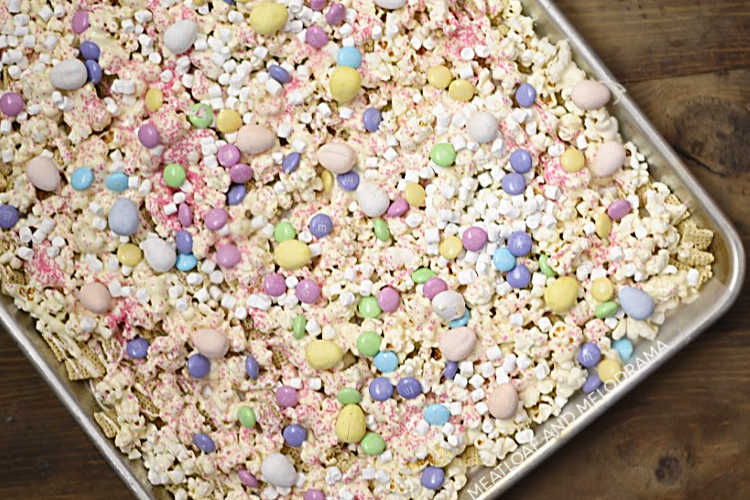 We happened to have some Annie's White Cheddar Bunnies, so I also tossed in a few of those. No rules here!
More Mix-ins
Mini pretzels
Peanuts
Almonds
Yogurt covered raisins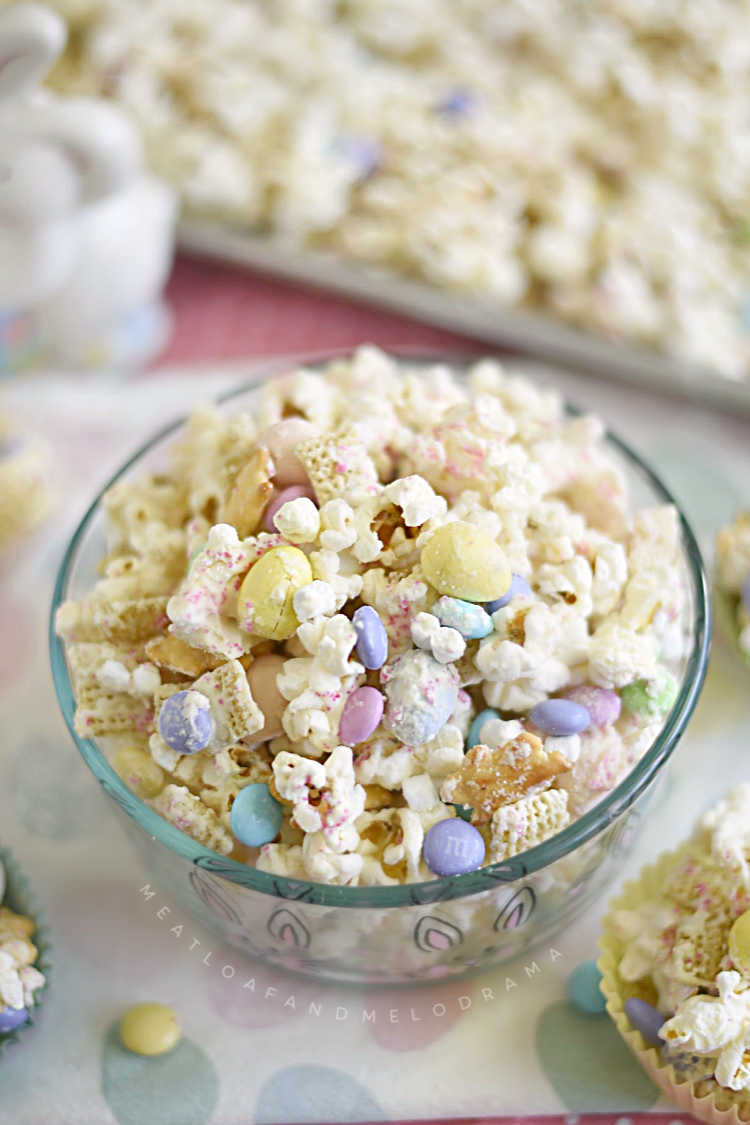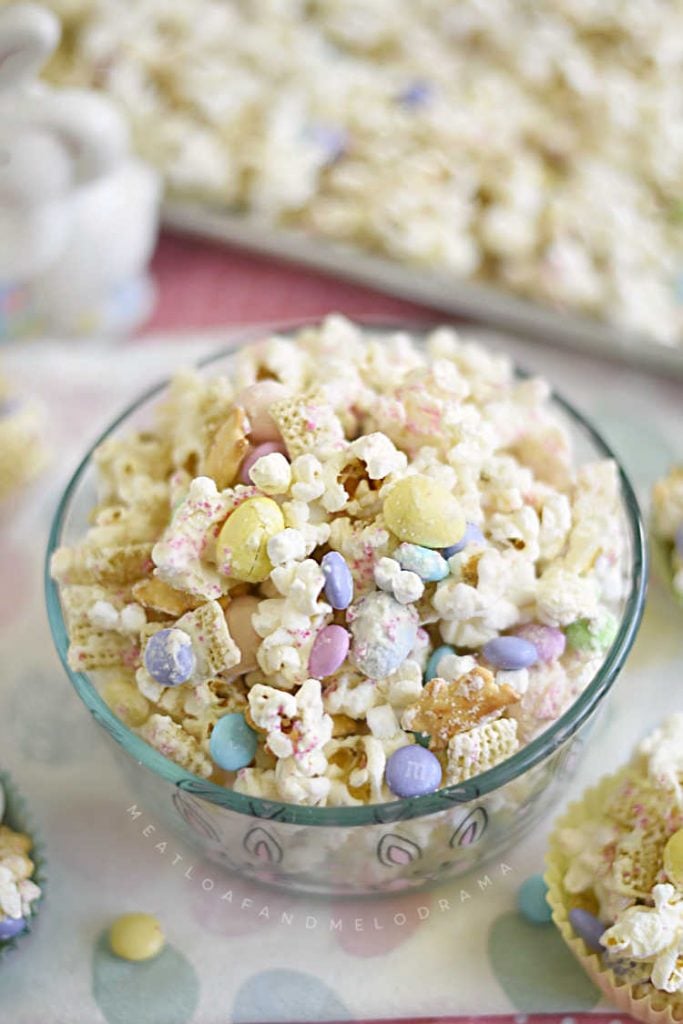 More Easy Easter Recipes
Bunny Bait Snack Mix
Bunny Bait Snack Mix is an easy Easter treat made with popcorn, Chex, marshmallows and candy in a white chocolate drizzle. Salty and sweet!
Ingredients
8

cups

popcorn

2

cups

rice chex cereal

2

cups

white chocolate

½

cup

candy eggs

1

cup

m & m candy

½

cup

mini marshmallow bits

colored sugar sprinkles
Instructions
Line a baking sheet with parchment paper or wax paper, and spread Rice Chex cereal and popcorn evenly on baking sheet

Melt white chocolate according to package directions, and use spoon to drizzle evenly over cereal and popcorn

Drop candy and marshmallows evenly over mixture, and sprinkle with colored sugar

Stir, and allow to chocolate to set and mixture to firm up -- about 30 minutes -- before serving. Store covered in cool place.
Nutrition
Calories:
276
kcal
Carbohydrates:
40
g
Protein:
4
g
Fat:
11
g
Saturated Fat:
6
g
Cholesterol:
7
mg
Sodium:
92
mg
Potassium:
125
mg
Fiber:
2
g
Sugar:
26
g
Vitamin A:
170
IU
Vitamin C:
1.6
mg
Calcium:
86
mg
Iron:
3.7
mg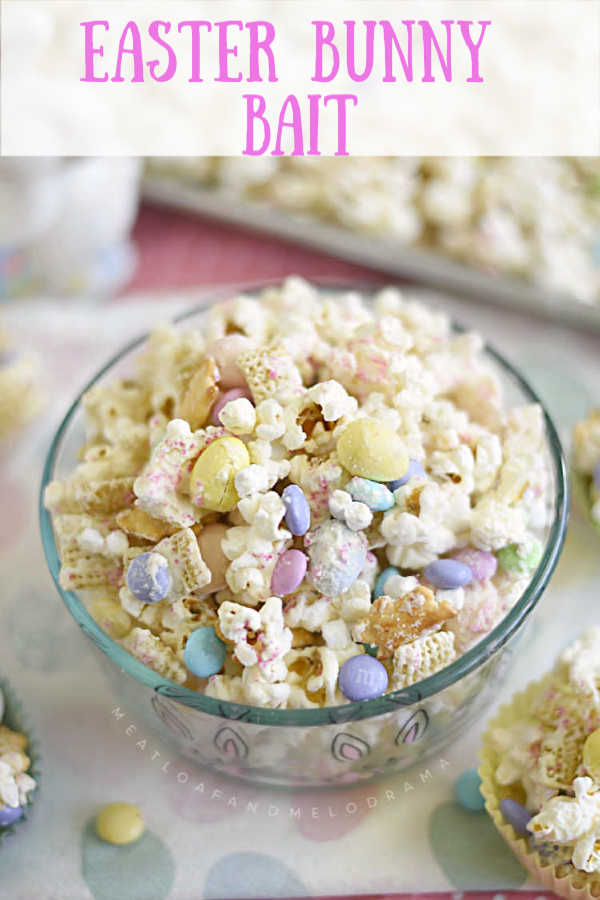 If you like this recipe as much as we do, leave a comment or give me a shout-out on social media! Sign up to receive weekly recipes by email!

Published first in 2019 and updated in 2021