Hi friends! Halloween is just around the corner, and up until yesterday, I still had my summer wreath hanging on the front door -- horrors! Well, it has been hot lately, but still, that definitely had to change. So, I made a quick trip to the Dollar Store and another quick trip to Michael's, and I found just about everything I needed to make this Easy Halloween Door Hanger. It only took me a few minutes to make, and it cost less than $10 dollars!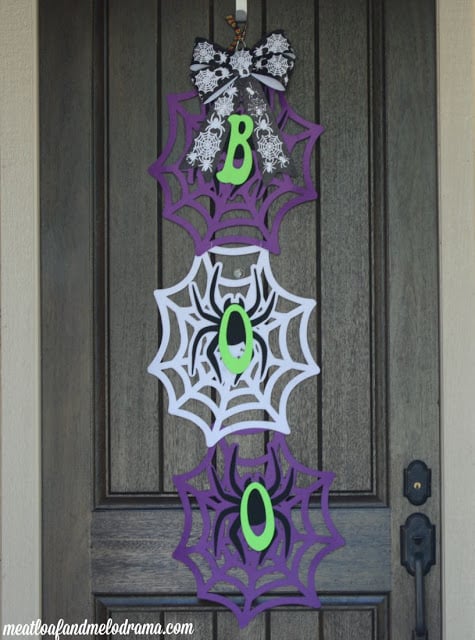 I've been wanting to make a Halloween door decoration that said BOO for a long time, but I couldn't find any letters in the size that I needed. So when I was at the Dollar Store, I spied some large felt spider webs and a big old bow with a spider theme, and my Spidey senses immediately told me that I could make something with these items.

Actually, my Spidey senses told me I could make a lot of stuff with the merchandise there. Don't you just love that place?!

Anyway, I bought the spider webs and a bunch of other things, and I found the wood letters and craft paint at Michael's. And then, I came home and went to work making the spider web door hanger.


Supplies for Halloween Door Hanger
3 large felt spider webs

Wood letters

Fine gauge wire

Wire cutters

Glue

Neon green paint

Large Halloween bow

I wanted the letters to really stand out, so I bought some neon green craft paint. It took a few coats to get the exact shade I was looking for, but I really wanted them to be nice and super bright.



I used a very fine-gauge wire to attach the spider webs together. I didn't want to use hot glue for this part because it's still warm here, and I didn't want the door decoration to come apart.

I placed the purple webs at the top and bottom and used the white web in the middle.



I used Tacky Glue to attach the letters to the webs, and I used the wire twist tie, which was already on the back of the bow, to attach the bow to the top spider web. Then, I looped some Halloween ribbon through the twist tie and hung this from the metal hanger on the door.

We have a very tall door, so this Boo sign is really the perfect fit. And, the colors stand out very well against the dark door. I also like that there's a little space in the web for the peep hole.



Like I said, this Halloween door hanger only cost me a few bucks, and it only took a few minutes to make. Not bad -- not bad at all!

Have you decorated your front door for fall or Halloween yet?

Thanks for stopping by!
You May Also Like