Instant Pot Chicken Alfredo penne pasta made from scratch in the pressure cooker is a delicious easy dinner that's ready in about 30 minutes!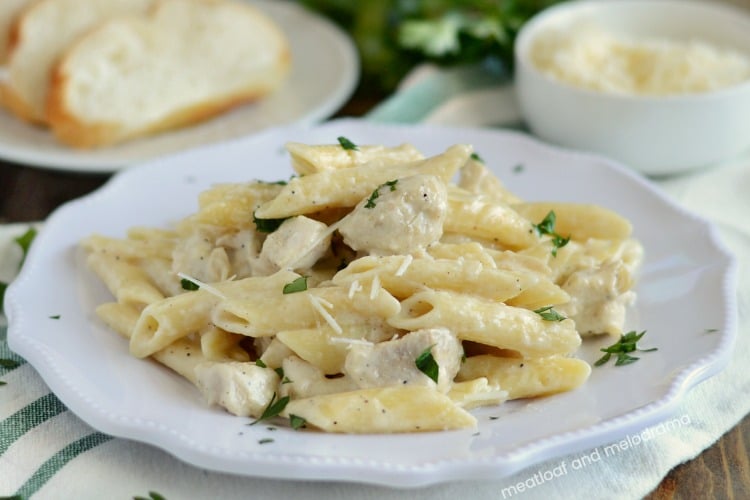 Let me say right now that this pressure cooker chicken Alfredo is not a diet recipe. But it's definitely one of those easy Instant Pot recipes that's simple, delicious and very kid friendly. Best of all, it only takes about 30 minutes to make!
The Hubs adores fettuccine Alfredo. It's his favorite meal, and even though I prefer pasta with tomato sauce, I make homemade chicken fettuccine Alfredo for his birthday every year. I'm nice like that!
It's really a super simple recipe, but because it's also rich, we usually save Alfredo for special occasions -- like birthdays! Since I've been converting a lot of my recipes to pressure cooker recipes, I decided to make chicken Alfredo in the Instant Pot. You guys, this one's a keeper!
How to make chicken Alfredo pasta in the Instant Pot
Traditional fettuccine Alfredo is heavy on the butter, and so is this Instant Pot version. You really need it to make the sauce rich and creamy. So even though you may be tempted to use jar sauce or cream cheese, you really don't need it!
Just cut up the chicken, and cook it for about 5 minutes on the Saute setting -- just until it's no longer pink. Then, season it, and add pasta, water and butter.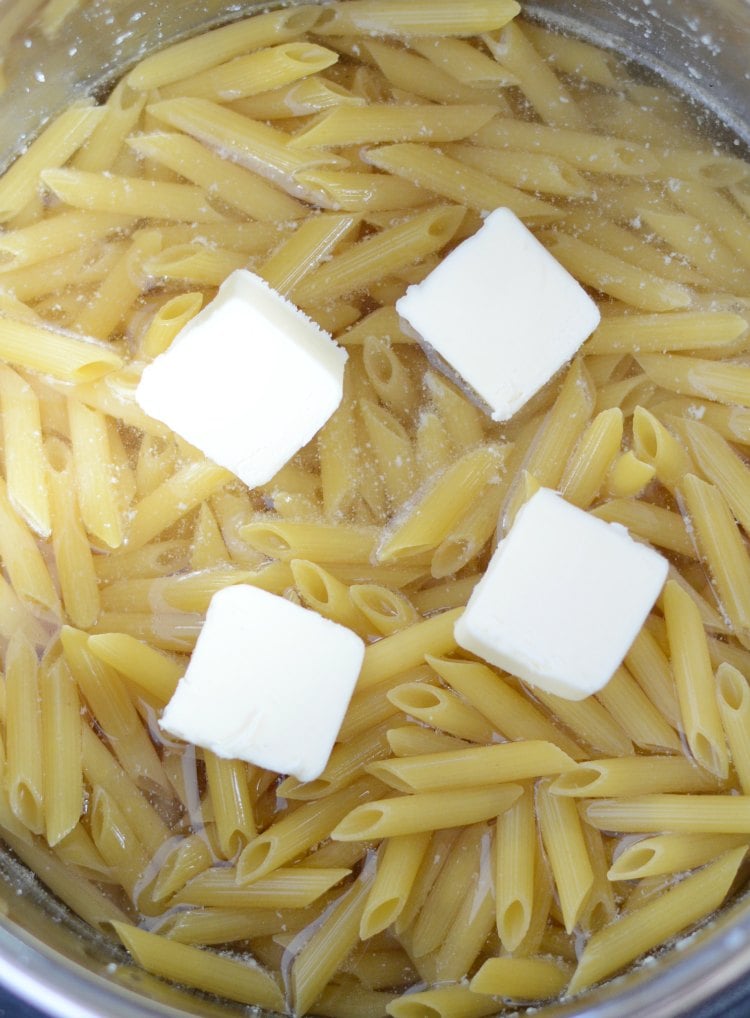 Pressure cook the pasta for 4 minutes, then do a gradual quick release. This recipe tends to spurt out all over the place, so unless it doesn't bother you, stick with a controlled release.
On a side note, I only seem to have a problem with pasta water making a mess when I use my 6-quart Instant Pot. When I use the 8 quart, it's fine.
Next, add some heavy cream, more butter, Parm and a little bit of nutmeg. The sauce looks thin at first, but it firms up in no time. You can even go back to Saute mode and reduce the sauce for a few minutes if you want.
Personally, I like to add heavy cream in the Instant Pot at the end, after pressure cooking. I just think it works better this way.
The sauce thickens as it rests, and by the time you eat it, you get an incredibly rich and creamy Instant Pot chicken Alfredo pasta.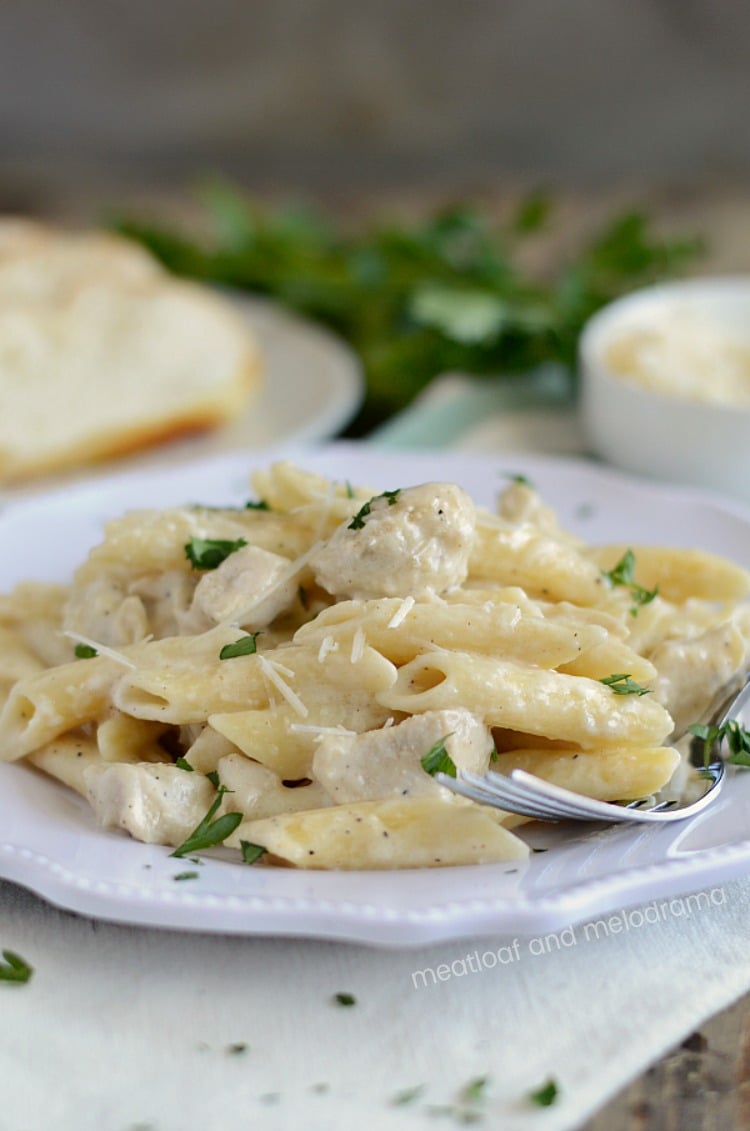 Check out more Instant Pot chicken and pasta recipes
Recipe for Instant Pot Chicken Alfredo
Instant Pot Chicken Alfredo
Instant Pot Chicken Alfredo penne pasta is made from scratch in the pressure cooker with heavy cream, pasta, chicken, butter and spices in about 30 minutes!
Ingredients
1

tablespoon

olive oil

1.5

pounds

boneless, skinless chicken breasts, cubed -- about 2 medium or 3 small

1

teaspoon

sea salt

1

teaspoon

garlic powder

½

teaspoon

ground black pepper

1

16-ounce box

penne pasta -- uncooked

8

tablespoons

butter, divided -- 1 stick

4

cups

water

1

cup

heavy cream

¼

teaspoon

nutmeg

1

cup

shredded Parmesan cheese
Instructions
Press SAUTE button, and when it reads Hot, add the olive oil, then the chicken. and cook until no longer pink, stirring frequently

Add sea salt, garlic powder and pepper, and stir, making sure no chicken bits are stuck to bottom. then hit Cancel

Add penne pasta over chicken, then pour water over and around the sides of the pasta. Top with 4 tablespoons of butter

Cover, turn valve to Sealing position, and hit PRESSURE COOK for 4 minutes

When pot beeps, do a gradual quick release to minimize liquid spurting out of valve. When pin drops, remove lid, and stir

Stir in remaining 4 tablespoons butter, heavy cream and nutmeg. Mixture will be thin, but will thicken up as sauce cools. You can hit SAUTE for about 5 minutes to help sauce reduce if you want.

Gradually stir in grated Parm, and add more, if desired. Taste, and add more salt, if desired. Serve with more Parm and fresh parsley, if desired. Sauce will continue to thicken as it stands
Notes
Recipe was made in 6-quart Instant Pot electric pressure cooker. Can also be made in an 8 quart using same ingredients.
Nutrition
I hope you enjoy this easy Instant Pot chicken alfredo pasta as much as we do!